Framed Chalkboard / Zinc Card Holder
Thought y'all might like to see how festive my chalkboard is for the holidays (excuse the grainy pic, I grabbed this photo from my phone).
It's festive alright! But in case it helps anyone out there who is maybe feeling a bit overwhelmed when it comes to keeping all of the holiday expectations in the air, so to speak, I thought I would mention a little something.
This chalkboard board literally had fall leaves drawn on this board since LAST YEAR.
I know.
Not fall leaves that we just drew on the chalkboard a couple of months ago fall. No, no. FALL LEAVES WE DREW LAST YEAR in the fall. As in 2016 Fall.
So that means we had fall leaves on our board in:
Christmas 2016
Winter 2017
Spring 2017
Summer 2017
Fall this year … again (note my logic that if you keep a season up long enough, at least you are totally on your game once a year).
So yeah. Don't let your chalkboards don't define you or tell you who we are.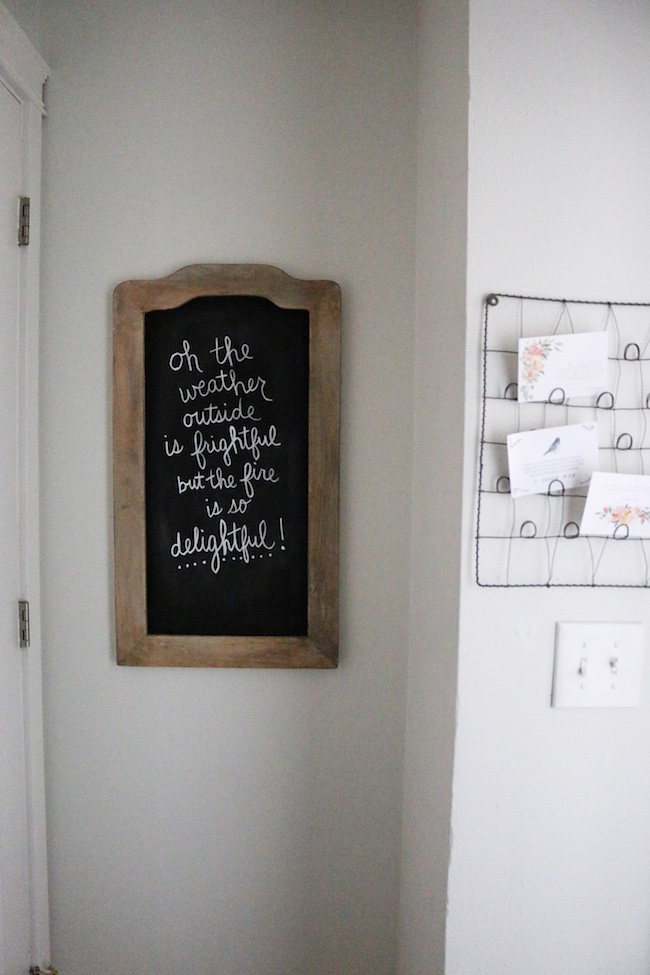 I know I had our tree up at Thanksgiving. Maybe that made me feel accomplished at the time. But remember, we also had fall leaves up on our chalkboard at Easter.
And if it makes any of you feel even better about the state of your holiday preparedness, our house is literally pitch black outside.
We were trying to install a new porch light and something went amiss. So when I say it's dark, I mean not only do we NOT have Christmas lights twinkling up the dark, but NONE of our outdoor lights or porch lights work.
Our house is probably actually scaring the neighbors right now. They must think we are members of the Scrooge family.
But y'all. I'm just gonna OWN IT. It is what it is. I'll walk inside with my HEAD HELD HIGH saying OUR LIGHT COMES FROM WITHIN. LOL!
So I clearly do not have it all together, but I'm going to make myself cozy by the tree anyway and just enjoy the season we have in front of us (and I hope you do the same, no matter what it looks like on your chalkboard or from the street, for that matter).
Hope you all are having a cozy Wednesday!
Post sources: Framed Chalkboard / Zinc Card Holder / Hallway Wall Color is Swan White by Glidden