Happy day after Christmas! Thank you so much for all your sweet comments on our Christmas house tour. My Christmas dreams came true and we ended up with a white Christmas Eve and Christmas day! Can you believe it? That's such a rare gift in Seattle. It's amazing what a fresh blanket of white snow can do to set a magical Christmas mood. It made staying home all the more special.
The snow started falling late afternoon, so our little family and pack of pups all nestled in safe and sound for a cozy Christmas Eve together. The dogs were mesmerized by the snow! They had a blast running around, tasting it and just enjoying the sensation of it all.
We all put on our jammies and comfy slippers (these are our family favorite slippers), played games, listened to Christmas songs, watched movies, and read the Christmas story.
Christmas morning we gathered in the kitchen to make our traditional family breakfast of "puffs" (puff pancakes, aka Dutch Babies) as well as bagels (for the vegan members of our family), French press coffee, mimosas and coconut milk holiday nog. We also had yummy apple sage "sausages" from Field Roast. Mmmm, it was all so good.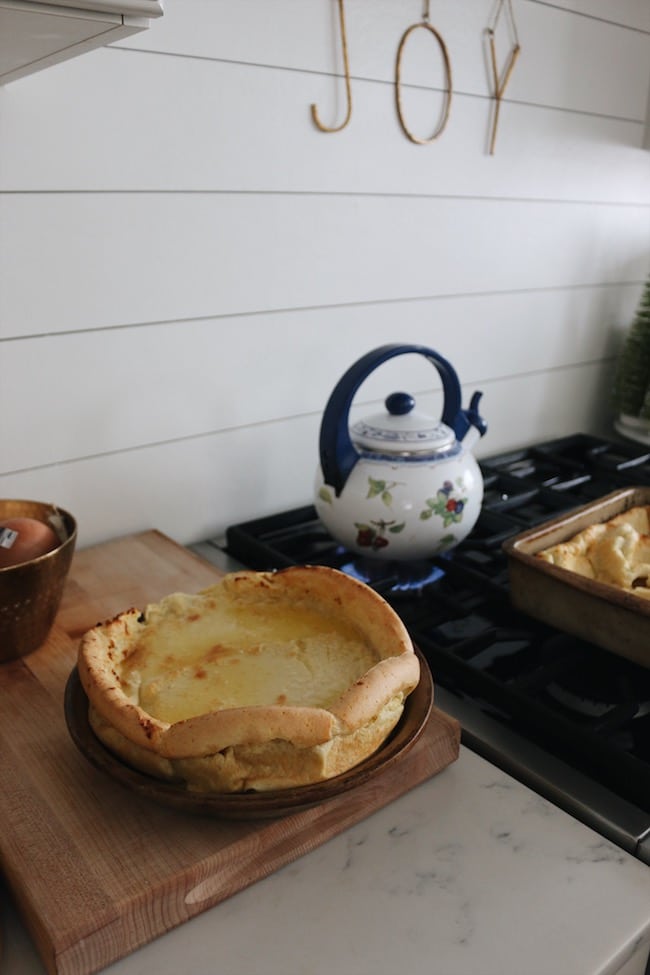 We've been making Dutch Babies since my girls were little. We add lemon and powdered sugar, but you can add fruit or syrup or whatever you like. Our Dutch Baby "Puffs" recipe is below:
Dutch Baby Recipe
Butter: 1/3 cup
Eggs: 4
Milk & Flour: 1 cup each
Vanilla: 1 tsp
Put butter in 3-4 qt. pan and set in 425 degree oven.
Mix batter as quickly as butter melts.
Put eggs in a blender and blend at high speed for 1 minute.
While motor is running, gradually pour in milk, the slowly add the flour; continue blending for about 30 seconds. Add a teaspoon or more (I love more!) of vanilla.
Remove pan from oven and pour batter into hot melted butter.
Bake until puffed, about 20 minutes.
Garnish with fresh squeezed lemon and powdered sugar.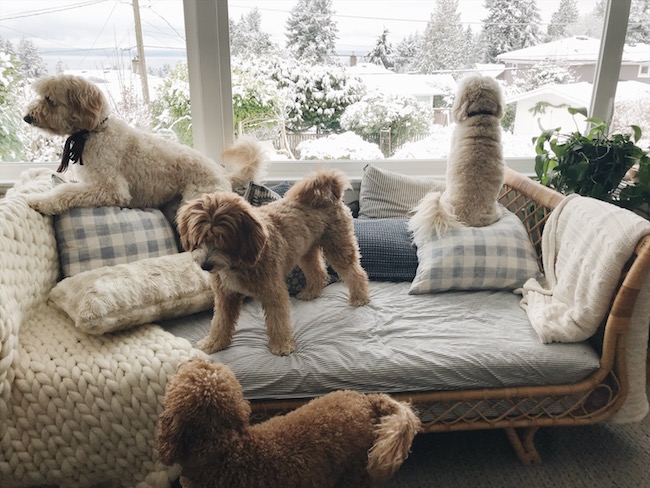 Never a dull moment with all these pups in the house.
For the next couple days we'll be continuing on the Christmas festivities with family in town! We'll be watching Father of the Bride (my fave) and hanging out in our cozy pants. :)
What are some of your family's favorite after-Christmas traditions? I'd love to hear!
The Inspired Room Christmas Shops