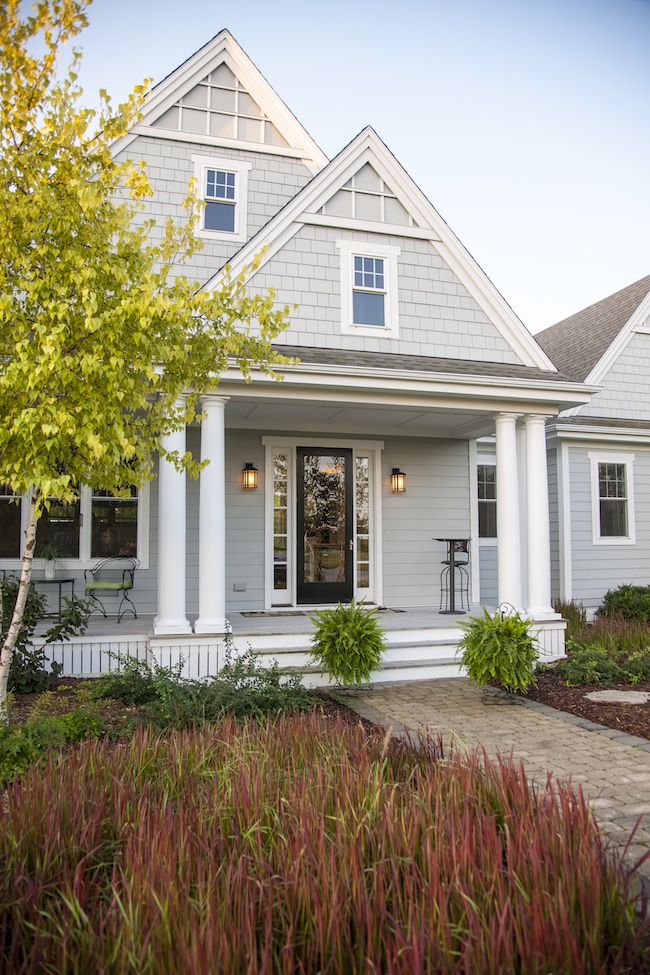 This post is sponsored by James Hardie
A well-designed house should make you happy when you see it. James Hardie's commitment to artistry and innovation allows for beautiful, timeless designs and uncompromising performance to elevate everyday life.
I'm always drawn to a house with inviting curb appeal. Driving through neighborhoods and looking for homes that have something special about them has long been one of my favorite pastimes! There seems to be a magic combination of elements that will make me stop and stare. It's really not just one thing or one style of house!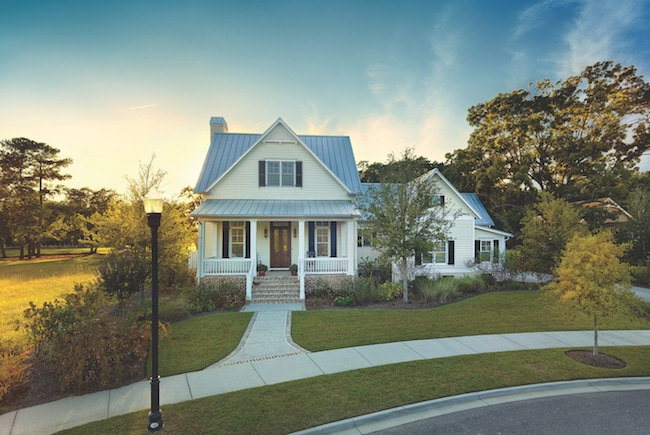 A beautiful setting, gorgeous landscaping or a favorite style of home will all speak to me, of course. But it's not only fancy houses that make my heart skip a beat! I find that effective use of color, accessories, lighting, siding material and trim detail can contribute to the curb appeal of a home.
Today I'm sharing a few tips and tricks that I believe can take any home from ordinary to extraordinary.

Make a Style Statement
If you're living in a neighborhood where homes are pretty basic or all look the same, this could be your opportunity to give your home the curb appeal advantage.
New exterior lighting can be an easy place to start. Switch out basic lighting and replace it with a look that is unique, but also highlights your home's personality. New landscaping can create a more welcoming statement and set your home apart on the street. New address numbers are like statement jewelry–they add a personalized touch.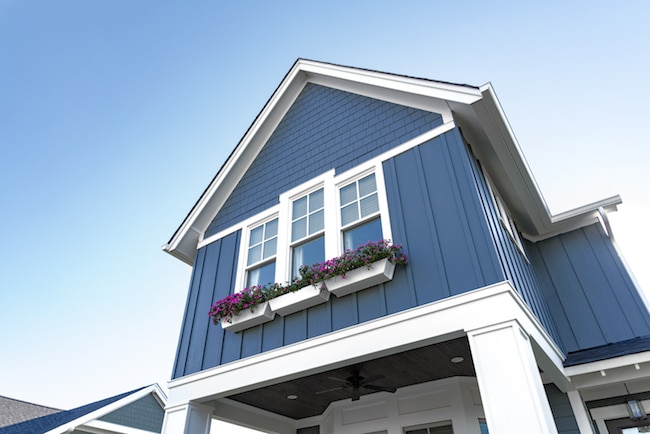 Mix Up Materials
You can enhance the look of your exterior with unexpected use of siding materials. You can consider highlighting a special feature of your home by using shingles or a rock or brick facade rather than lap siding in that section.
Just like texture is important inside a home, a unique combination of siding materials will add interest to the exterior of your home. James Hardie offers a variety of products and design versatility which helps to create a distinct look through a collection of profiles, textures, widths and colors. Mixing profiles can add visual interest and accentuate your homes' most interesting features.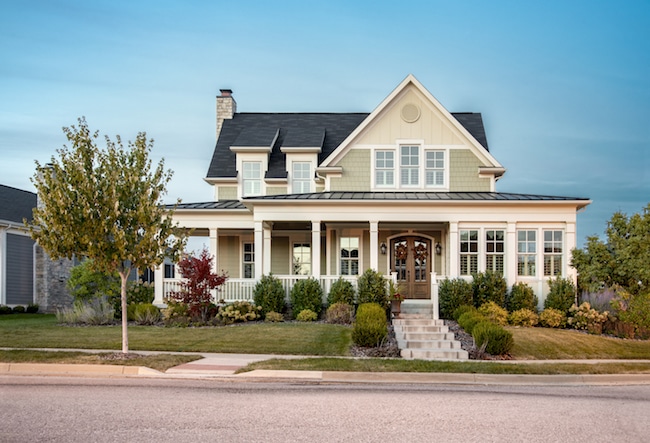 Play with Creative Color Combinations
Give your home more depth and contrast through the use of color. A darker more dramatic siding color might give your particular house more style than the typical builder beige tone found in the rest of the neighborhood. A lighter neutral color on the siding can pair with a bolder or fresher color accents to make other architectural features stand out. Or use several shades of neutrals for a soft look. Color can highlight your front door or shutters, or use color to minimize features you don't want to focus on.
If you're selecting new siding, try utilizing the interactive Home Color Tool on the James Hardie website! It will help take the uncertainty out of your color choices by visualizing them on your home. James Hardie provides hundreds of inspiring color combinations, with a color collection featuring both national colors (16) and regional specialty colors (up to 9). Check out their handy color tool here.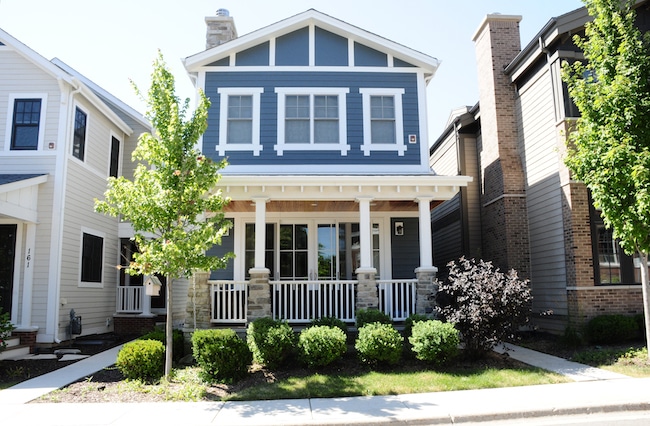 Use Trim to Give Your Home Presence
I think one of the main curb appeal tricks that draws me in is the effective use of trim work. Trim around windows can give them more presence and architectural interest. Trim can make even diminutive features appear larger and more dramatic. Thick trim work around a single door or columns can give an element more presence.
Add HardieTrim® boards to add a clean, finishing touch to porches, columns, doors, windows and more!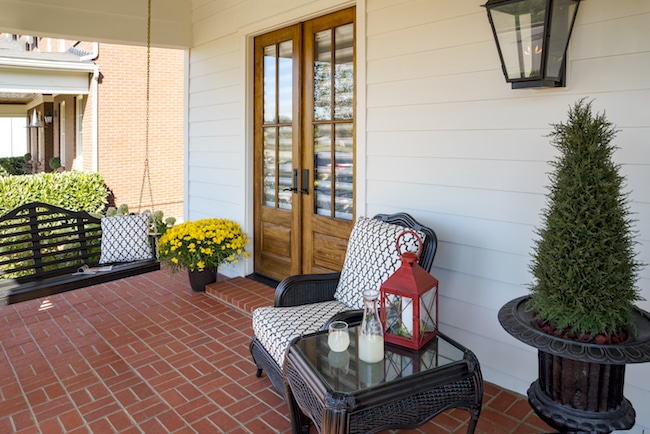 Why James Hardie?
James Hardie is America's #1 Brand of siding, offering a versatile collection of profiles, textures, widths and colors to grace homes with authentic character in the tradition of great American home design. Their products have multiple coats of paint baked on the boards for a brilliant finish and a strong bond that resists chipping, peeling, cracking and fading for years of lasting beauty. James Hardie® siding and trim are uniquely engineered to perform beautifully, despite what nature brings. So, even after years of wet or freezing conditions or blistering sun and hot, humid conditions, your exterior will continue to impress with its warm, inviting look! You can know that your home will maintain the look you love for many years to come.
James Hardie has a beautiful inspiration guide you can download for free to get inspired for exterior projects! Download the guide HERE.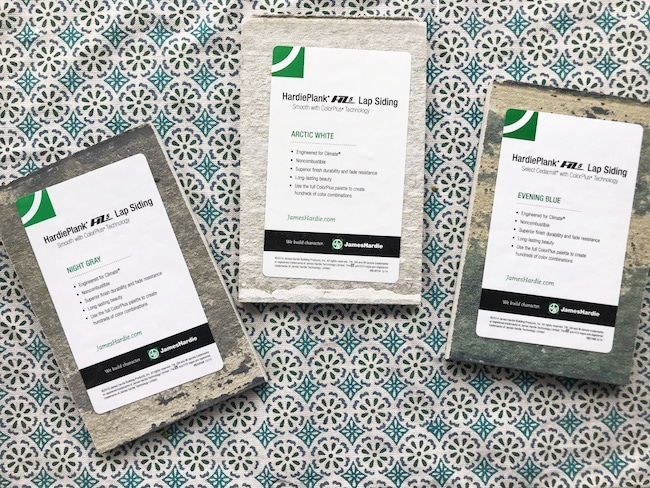 You can also request free siding samples HERE. I requested a few and was so impressed by the quality and color options!
Also, here's a fun fact…HardiePlank siding is what I used for my kitchen walls and backsplash!

Does your neighborhood have homes with great curb appeal?