Once upon a time I found a beautiful green garden stool at a flea market. I couldn't believe my eyes! I was so excited because I had been on the hunt for what felt like ages for green decor to add a richness and "depth" to my color scheme.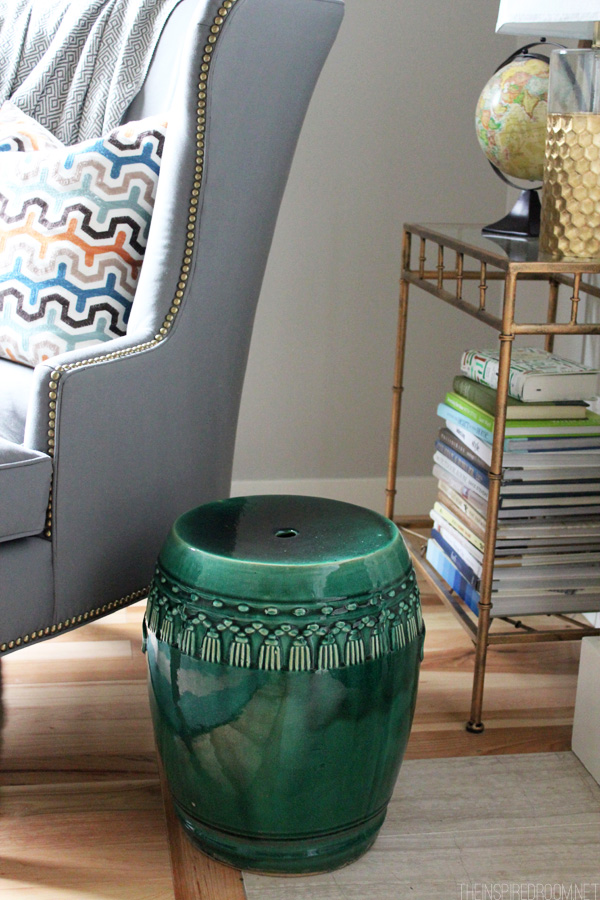 Well, my joy turned to sorrow because my husband accidentally broke this beloved dark green garden stool. He doesn't often break things, but when he does…it's usually my favorite things. Haha. I had a gorgeous turquoise textured lamp in my entry that he broke, too (you can see it on my entry table in this house tour). I'm still sad to have lost both of those favorites.
Anyway, ever since my husband accidentally smashed my green garden stool to bits leaving my heart broken (LOL) I've been back on the hunt for more green accessories.
It's actually been a bit difficult to find the rich dark forest green I'm looking for! I think it's maybe going to be a little easier now that people are getting back into green again.
Green has always been a favorite of mine. In fact, our first home had lots of green (speaking of being "on the hunt for green" who is old enough to remember the era of "hunter green" and English country style? My little cottage was definitely English country cottage and I LOVED IT! Yep, you might picture it looking like a grandma's house, but it was adorable.).
Oh, and remember my green barn light in my old laundry room? I miss that, too. Wish I had brought it with me when we moved :(. Wow, so many decorating sorrows for a Monday!
So anyway, back to a happy part of this post. I'm on the hunt for green! When I was scrolling Pinterest for inspiration I found a room I love (it's at the top of this post). Do you see the small touches of green in it? It's super subtle, but there's a green lamp on the left green birds on the coffee table, green apples, green in the artwork on the stairway gallery wall, and even a few green books on the wood table. Love it! I really like the whole vibe of the colors and textures in that room.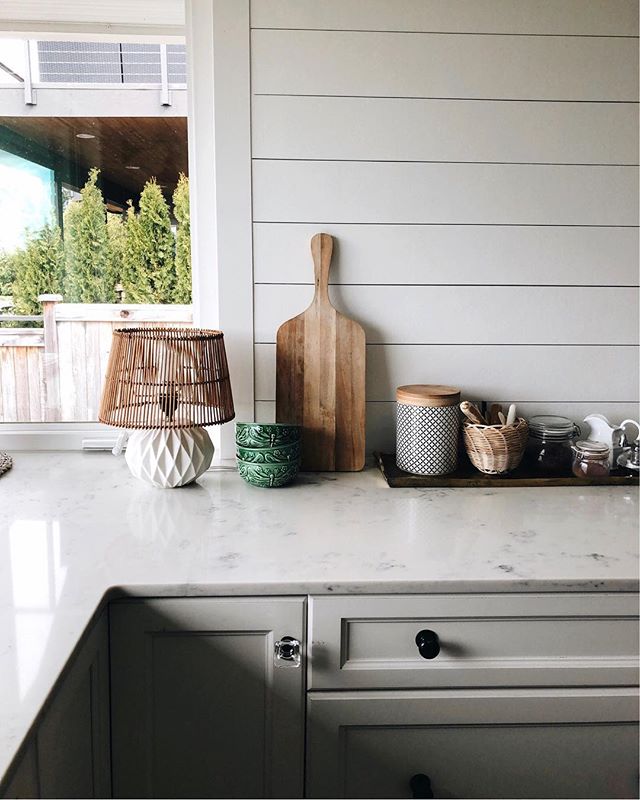 I have found a few opportunities to bring green into my home through my botanical art (in my entry), as well as real plants everywhere. I also have these green velvet pillows and these bowls and a greenish rug I sometimes use in my kitchen.
I still want to bring in more green, but it has to be just the right things. So the hunt is continuing! You can see some of the "green accessories" I've found during my search in the post, below.
Do you use or want to bring more green into your home? And does anyone else have favorite decorative elements they loved but lost along the way, maybe a broken garden stool or favorite light fixture left behind? I'd love to hear your sad tales in the comments!


---
Related Posts:
My Laundry Room (and green barn light!)
Freshen Up for Spring: Green & White
Inspired By: Green Industrial Lights
On the Hunt for Green (my flea market green garden stool)