It's been awhile since I've done a Life Lately post, so I thought I'd catch up before this season gets away from us. Time sure flies, doesn't it? We had such a wonderful Mother's Day weekend, my parents were able to come stay at our home for the first time in over a year! We've been down to visit them several times (they live in Portland) but with all that happened in 2020, they weren't able to come stay with us until now.
It was a bit of a wild week, as we still have my daughter Kylee and Lance living here along with their two pups Bella and Leo while they house hunt (catch up HERE if you didn't know this!). But it was so wonderful to do some fun but simple things together.
Here are some scenes from around our home Mother's Day weekend!
This is my mom! We (and my girls Kylee and Courtney) were visiting our local garden store one afternoon and decided to stop for a impromptu selfie by the Wisteria. It smelled SO GOOD!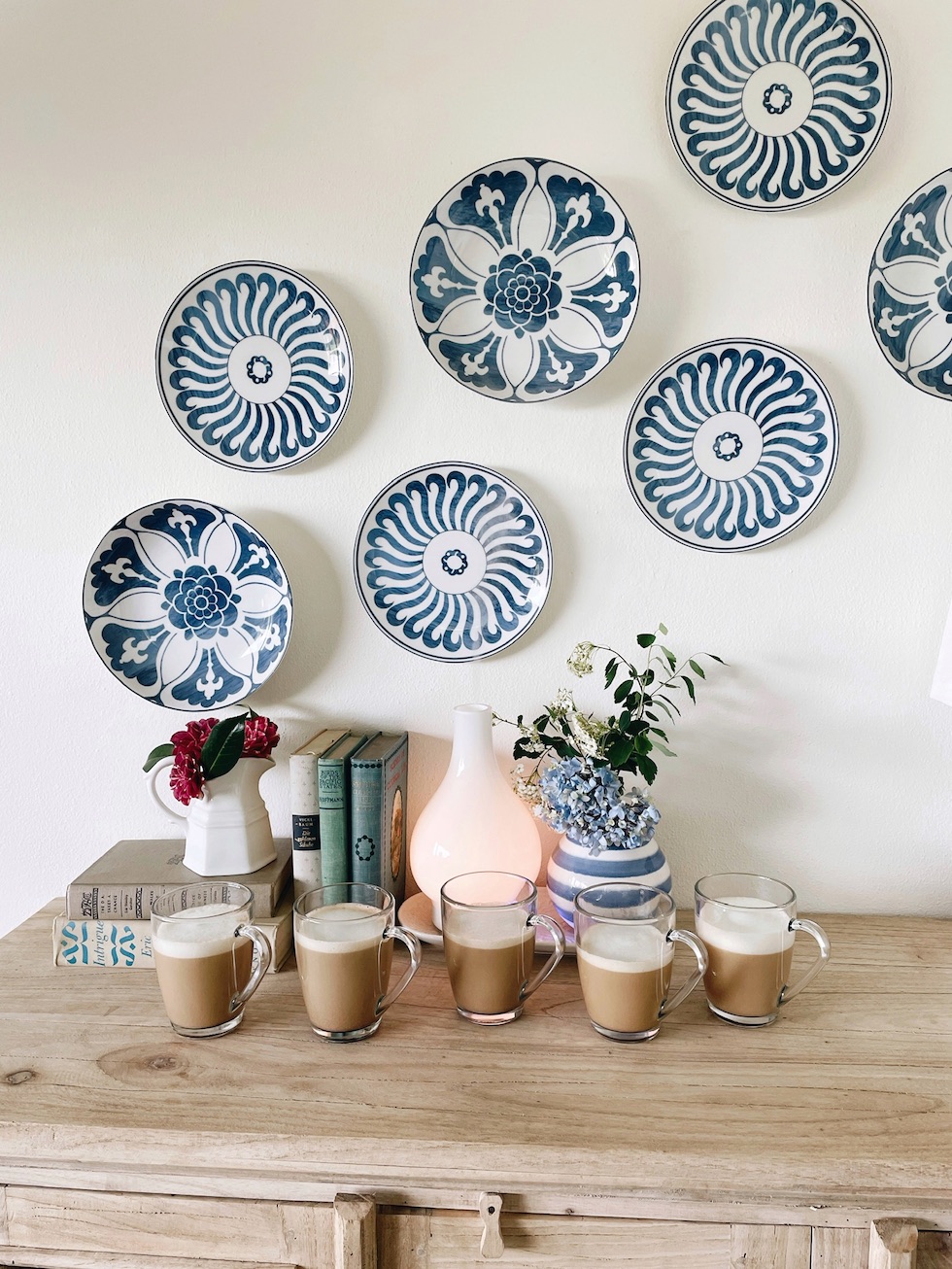 We make LOTS of coffees with so many people around the house! I bought these clear mugs for myself for Mother's Day. We've been making coffee each morning with this percolator, and sometimes a second pot with this pourover coffeemaker.
My azaleas and rhododendron started blooming that week so I bought a bouquet inside! They were so bright and cheery.
Did we still have our Christmas lights up? Yes. Yes we did. :) My son finally took them down for us last week. It's fine. We all sat outside most of the days my parents were here, the weather was so lovely!
The dogs have been (mostly) getting along so well … in fact, they are relaxed enough now that they can even take NAPS together!
Jack was a big help when my dad was working on our taxes.
They had a great time chatting about spreadsheets or the latest tax laws…or something like that.
This bookcase used to be in my dad's office years ago! I've had it for a long time, but just recently repainted it. It's always so fun to refresh second hand furniture! You can see the recent makeover of this piece here. My parents brought up another piece of furniture for me this time that I will show you soon!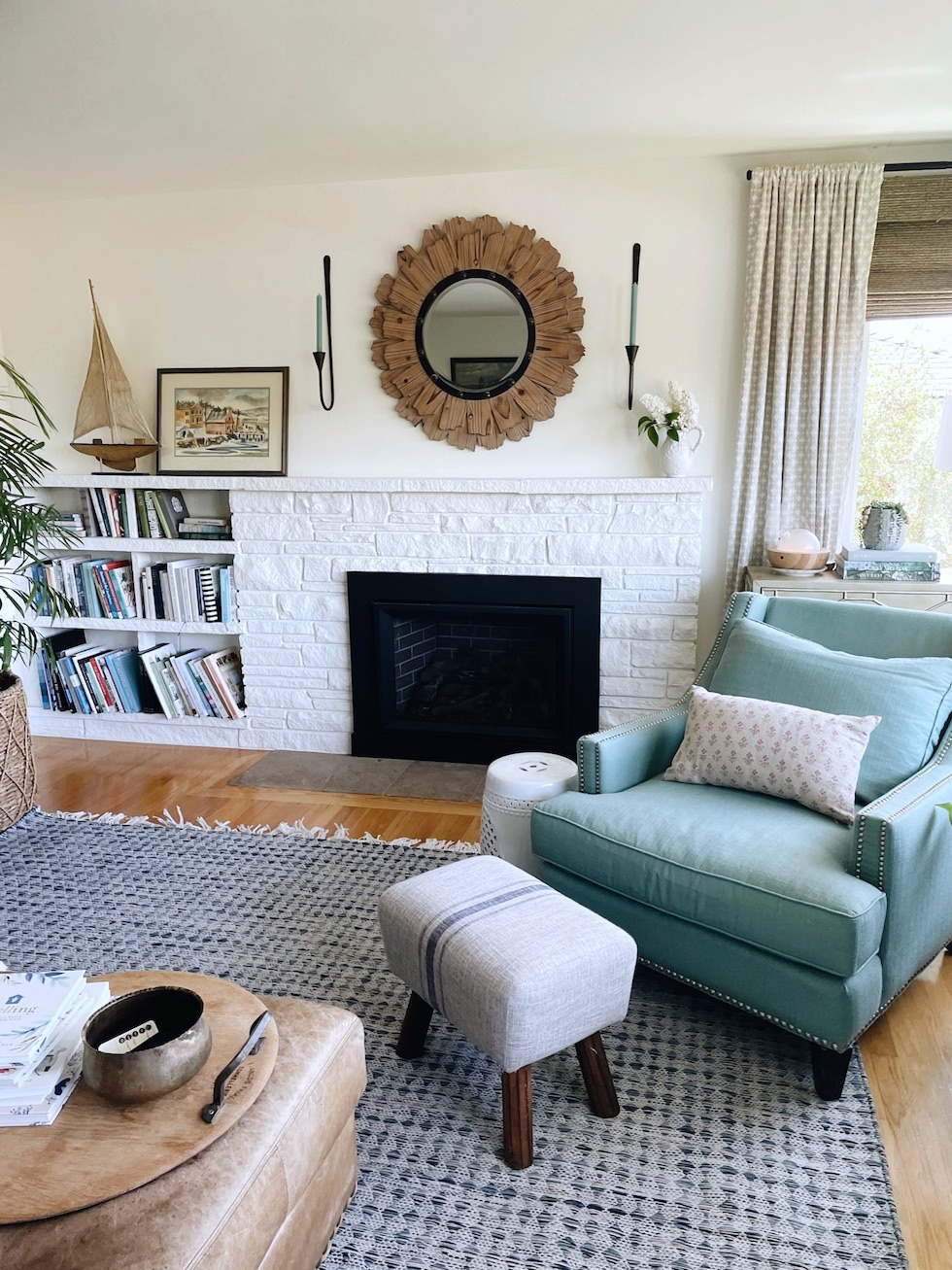 My husband bought me a beautiful painting for Mother's Day (on the mantel there). He found it at a local secondhand store and was thrilled because it is of Port Townsend, a local beach town we love going to!
The dogs LOVE our new rug, and so do I! I'll do a separate post on it after this, but THIS RUG is the one I have if you can't wait for the post! :)
Have I ever told you this sofa makes a very comfortable guest bed? It's twin sized. With my parents in our guest room, Courtney slept on the couch for a few days and it was perfectly comfy! Also, if you are going to have dogs in the house (who can't seem to stay off the furniture), here's how we keep it from being a muddy mess. Between the slipcovers, a twin fitted sheet on the bench cushion and easy to wash throw blankets, we can keep it clean! The sheet is easy to pull off and change for a quick refresh as needed.
Click here for the striped blanket on the back!
I recently got this new multipurpose pan! It comes in many colors–I chose the blue. We're loving it. I'll tell you more about it later but here is the source (use code FAMILY15 for a discount)!
Kylee and Courtney made us a delicious BBQ dinner one evening while my parents were here. You can find the broccoli salad recipe HERE on Kylee's new food Instagram.
Find more of our recipes on the blog here.
We had a fun ice cream cone bar one night, Plenty of plant-based ice creams and gluten-free cones for all!
PS…since I am gluten-free and Kylee is vegan, I am asked often for a list of food we get. I rounded up some of the food products we order HERE, but note that not all are certified gluten-free. I'm not celiac, but do try to avoid gluten as part of the healthy changes I've made over the years! Click here for my post, How I Radically Improved My Health and Home.
Also with so many pups and people and a small kitchen, we temporarily set up a second Berkey water filter in our dining room for drinking water! It isn't very photogenic there, of course, but it was practical! It made filling dog bowls and water glasses so much more efficient. We have one in our kitchen and a fridge filter, too, so plenty of water access!
Click here for water filter details.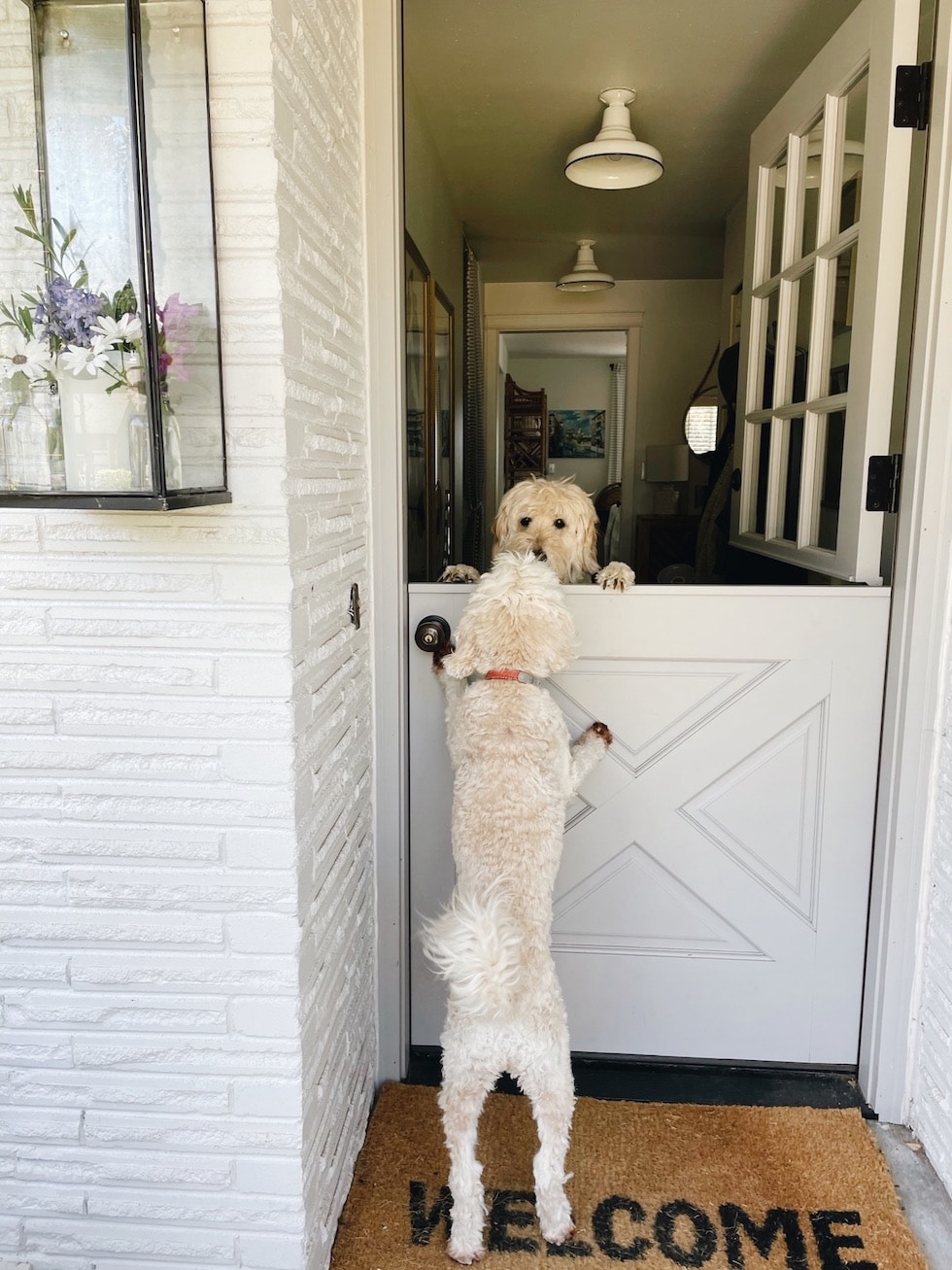 If you missed my post about my spring decorated lantern (and a story on imperfection!), you can catch up HERE.
We still keep Jack's ottoman in our living room because he loves it so much. We could never switch it for a coffee table, he'd be too upset haha. Here's a similar ottoman source!
Somehow a Mother's Day miracle happened and we got all four dogs to sit and pose for a photo. Truly a miracle.
They even smiled! It was a memorable weekend for us all.
Hope you're all well!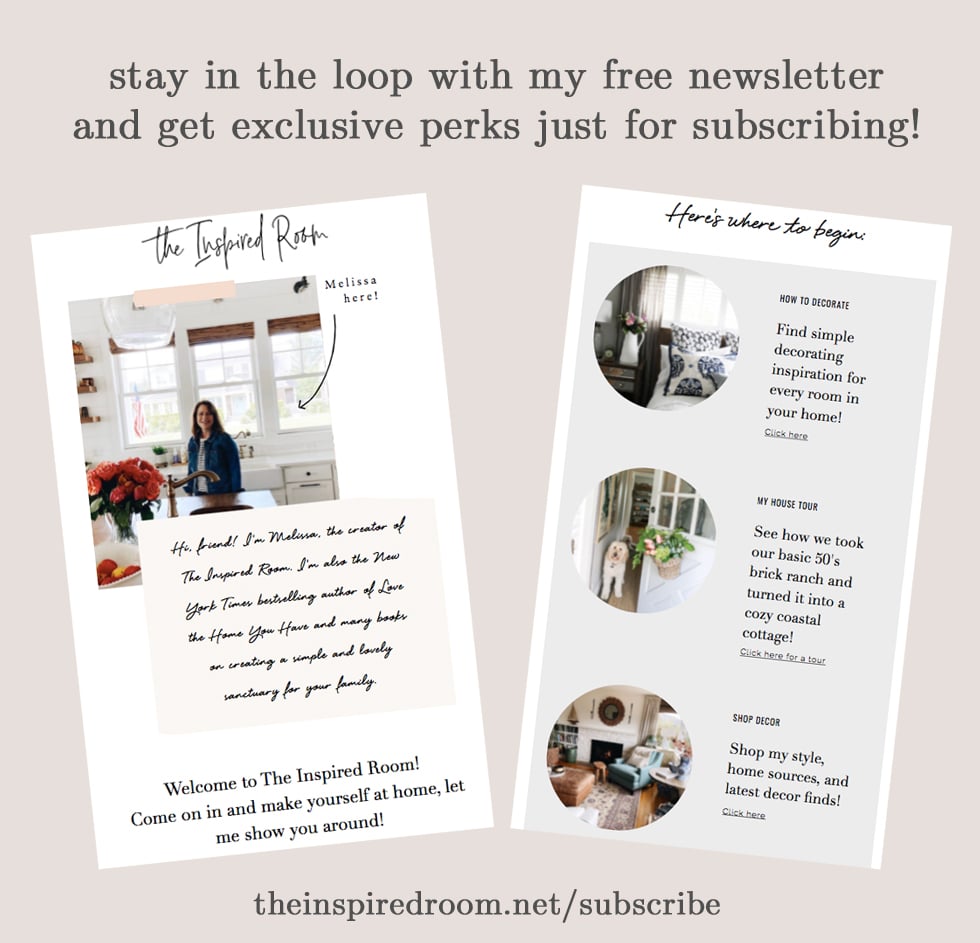 Click HERE to subscribe to my free newsletter!
---
You can follow along with all our family's Instagrams below:
The Inspired Room // Kylee // Courtney // Dwell Well Collective // Jack the Goldendoodle // Doodles at Home
---
Click HERE to follow The Inspired Room on Facebook
Join my free Facebook community here (ask decor advice, share your home and get inspired!)