Welcome to my fall series, 31 Days of Autumn Bliss.
What is this series about?
I look at Autumn as a season of embracing the life I always dreamed I would have as a homemaker. Do I have to have the perfect life or home I dreamed of back in the day in order to be content right now? Of course not. I have a life worth being grateful for every day. But do I embrace it? Do I savor it? Or am I saving that contended life for some other season? (when I buy that new house, when I have more money to decorate, when I don't have to work or when I have more time to stay home and enjoy my life?)
Autumn is a time for me to create a sense of peace and contentment RIGHT NOW with my home and my life.
Autumn is a time to slow down and embrace the home and life we have.
Find my autumn manifesto here, in my all new 2011 Fall Series!!!
Enjoy the 31 Days of Autumn Bliss 2010!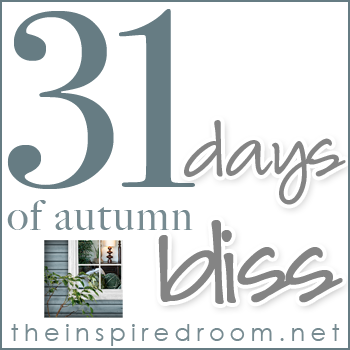 Day 1: Entering the Season of Autumn
Day 2: 12 Tips for a Welcoming Entry
Day 3: The Secret to a Clutter Free Room
Day 4: Bringing Cozy Back
Day 5: Layering Rugs Over Carpet
Day 6: Curtains
Day 7: Clever Extra Storage
Day 8: Mom Caves
Day 9: Thankful Pause
Day 10: A Fall Drive By
Day 11: An Autumn Room
Day 12: Bedrooms
Day 13: It isn't about the money
Day 14: Unifying
Day 15: Good Enough
Day 16: Chic Pumpkins
Day 17: Drive By: Queen Anne Hill
Day 18: Refrigerator Chalkboard Frame
Day 19: Inspiring Ideas and Fall Projects
Day 20: Get Cozy With Knits
Day 21: Blissful Moments
Day 22: The Heart of the Home
Day 23: Pantry & Kitchen Organization
Day 24: Sunday Drive By
Day 25: A Touch of Autumn Craftiness
Day 26: A Fall Table
Day 27: Quick Fall Centerpiece
Day 28: DaySpring Ideas & Giveaway
Day 29: Doing What You Love
Day 30 & 31: It's Your Turn!