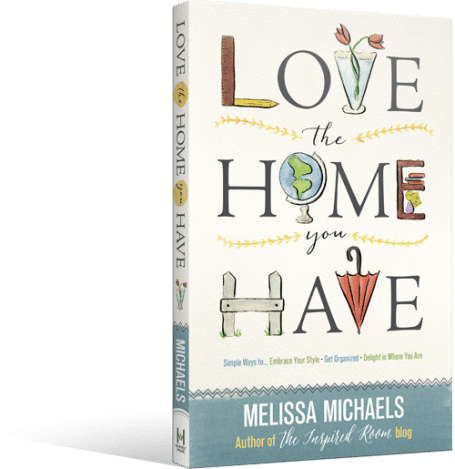 fall in love with your home
Close your eyes for a moment and picture your dream house. What do you see? Now open your eyes. Does the home you have look anything like the home in your dreams? Somewhere deep inside, we know that how our home looks and feels is important to us. And while we know the people matter more than the house, we can't help but feel a little discouraged if our dreams and reality seem to be too far apart.

I've been there. I have been overwhelmed at times with housekeeping and even my own ideals. I grew tired of trying to keep up with my expectations for my home. But along the way, my perspective changed. I found the secrets to contentment right where I was. I want to share those secrets with you. I can help you transform the way you look at your home. I'll personally guide you through the fun, practical, anyone-can-do-it steps that will transform the house you already have into your sanctuary, a place that actually enhances your life and inspires you in unexpected ways. And before you know it, you'll discover you've been living in your dream home all along.

Order your copy of my New York Times bestselling book at your favorite retailers, below (and find my newly released book on decluttering and organizing Make Room for What You Love and The Inspired Room, my full color decorating book, here!)
endorsements
Melissa Michaels, how did you get into my every house-obsessed thought? Anyone who has long balanced visions (yes, plural) of dream houses (plural again) with fickle dissatisfaction for a current abode, will find themselves in Love the Home You Have. Threaded with stories of this beloved blogger's life journey through six houses—and lessons learned from each—this guidebook coaches those who love architecture, decorating, and design to acknowledge that we can live with imperfection because we care about contentment far more. When you print the "I Brake for Charming Houses" bumper sticker, I'll take one.
Melissa's Love the Home You Have is charming, witty, and gracious. She gets to the heart of joyful living by sharing the importance of vulnerability, authenticity, and honesty within ourselves. Melissa gives all of us Pinterest lovers (yes, that's me!) the freedom to let our homes evolve day-to-day, season-to-season. Her encouragement to be authentic by inviting others in, no matter the state or the style of our homes, is soothing advice for those reluctant to practice hospitality and mirrors a beautiful message to guests that "their authenticity is in style, too!"
Melissa Michaels offers the cure to comparison every woman needs: contentment. She'll inspire you to have a home that's not only lovely but a true reflection of what matters most to you and a haven for those you love. It's time to let go of the pressure and expectations you've always felt so you can fully discover and embrace the beauty of the space where you are right now.
For years, Melissa's words have encouraged me to push aside unrealistic expectations in my home and celebrate authentic living. Love the Home You Have does that and more. Melissa's nurturing heart celebrates what a well lived home is all about and gives us permission to start creating our dream home right where we are at. What an inspiring read! Our home is so much more than their walls. With her help, we can make it a true haven.
Melissa's thoughtful call to contentment comes complete with helpful tips and action items, but more than anything it gives us permission to embrace imperfections and soak up the goodness of the Lord no matter where He leads us to live. What a much-needed reminder that home functions best when it's a sanctuary, not a showroom.
I've always believed God has us where we are for a reason. He doesn't waste a thing—including the fixer-upper seasons of life. This lovely book is your guide to falling in love with your home, no matter its size or condition. From the whimsical illustrations to the practical suggestions, you will love Melissa's encouragement to love the home you have.
Inspiring Art to Print, Save, and Share
#LOVETHEHOMEYOUHAVE
[alpine-phototile-for-instagram id=556 user="jtedbarnett" src="global_tag" tag="lovethehomeyouhave" imgl="instagram" style="wall" row="8″ size="M" num="24″ highlight="1″ align="center" max="100″]
meet the author
Melissa Michaels the New York Times Best Selling Author of Love the Home You Have and The Inspired Room. She is also the creator of the highly respected blog The Inspired Room. With creative, simple ideas and a friendly style, she inspires over half a million women each month to love their homes and lives. She was voted as the number one fan favorite decorating blogger at Better Homes & Gardens in both 2015 and 2014, and was also voted as one of the top five Better Homes and Gardens editors' choice favorite decorating blogs. Melissa is a mom of three and a pastor's wife living in Seattle.