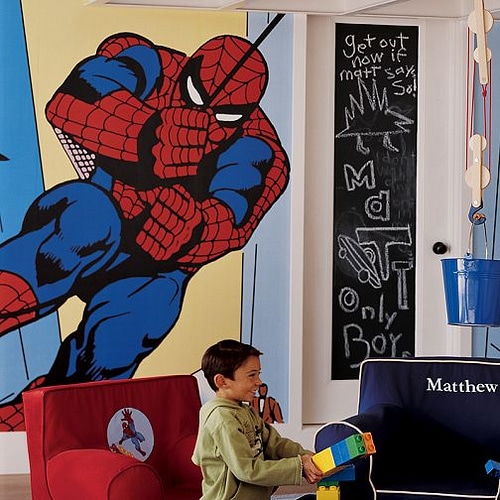 Disclaimer: Ugh. This photo above disturbs me. I'm not a fan of the giant Spiderman.
Kids' rooms can be a challenge to decorate and just as frustrating to organize. Especially boys' rooms. Let's face it, their tastes and favorites seem to change all the time. One minute they are into superheroes, the next they are dinosaur hunters. But, I am a mom on a budget (and yes, I am a little bit picky about what my house looks like, even my kids' rooms). Realistically, I don't have the time to devote to changing my child's room all the time. We have three kids so I have to keep my priorities or I'd be redecorating to keep up with the popular cartoons or fads all the time.
Besides that, I think we also need to teach our children to live responsibly and any way you look at it, redecorating every year or two is really wasteful. There are children in the world who don't have food to eat, so I just feel we need to teach our kids to be satisfied, rather than always wanting more, better and new things. Hmmm, good lesson for me too. I know from personal experience that a baby nursery is a special thing to a mom, but once the child outgrows the baby phase, it is time to start thinking about a room with more staying power.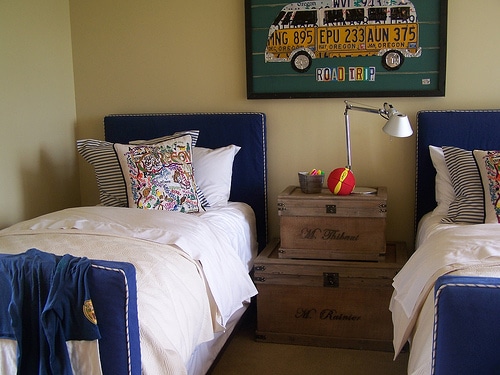 In a previous post on Girls' Rooms, I was asked how you COULD incorporate their current favorites tastefully and on a budget. Here are some suggestions that I've used in my own home for rooms that can grow with your child's ever changing tastes and storage needs:
Keep the basic shell of the room tasteful, neutral (meaning, no theme), and timeless. Instill the fun personality in things you can easily update or change as the child's tastes evolve. While many people buy their kids character bedding, I find many of the options to be crunchy, scratchy and poor quality. Pottery Barn might be an exception to this. They do have Spiderman sheets now. I'd much rather have Spiderman sheets than that giant $159. on sale Spiderman decal (top, above). If you do find acceptable character sheets, still stick with a good quality classic comforter or quilt (see list below of some good quality bedding sites). Washable is a must, of course!
Choose a paint color for the walls that you can live with for a long time, unless you love painting walls. I dislike painting with a passion, so once a room is painted in our house, that is it. No more.
Children need lots of shelving for display. They will have ever changing vignettes of special toys and memories. Why throw all those Star Wars guys in a box when you can line them up on a shelf?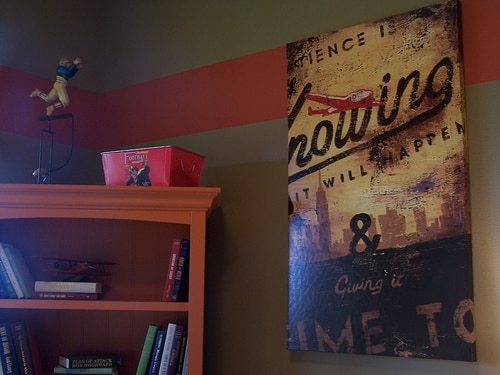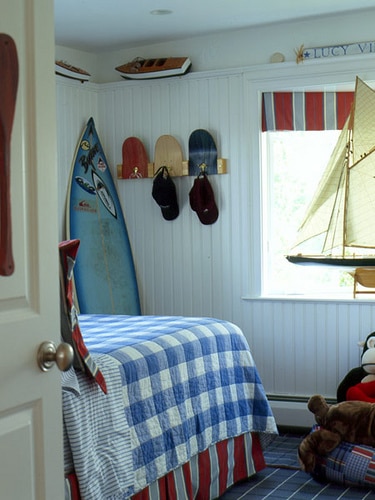 Boys tend to outgrow cute decor a lot faster than girls do. Some of us girls still love "little girl" colors and the cute stuff we loved when we were younger! To save money in the long run on boys' rooms, stick to classic rugs, fabrics, colors and bedding patterns.
Reality check: children's rooms really don't need a lot of decoration. Kids have colorful and interesting things they like to display. They really don't need MORE stuff in their rooms, that is what leads to all the visual clutter. Keeping things simple, classic and clean usually makes for a more pleasing overall effect. Make the most of what they already have and use the best of it to decorate the room. Put up hooks or pegs for hats. Put attractive toys on display. Have colorful bedding or curtains. Showcase artwork.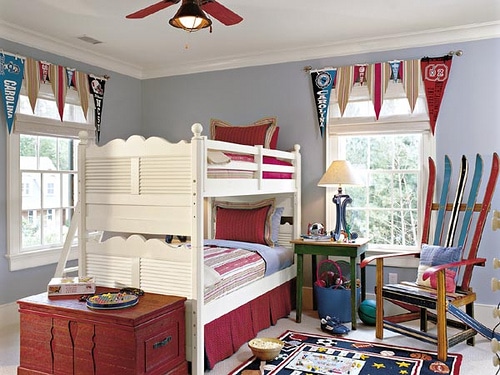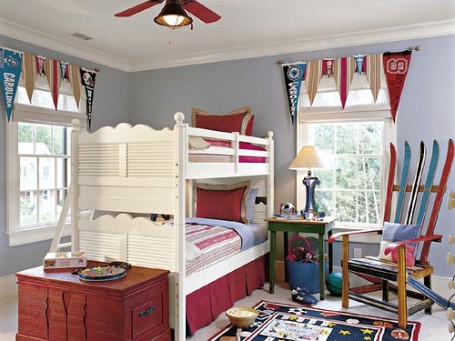 Children should have lots of room to feature their drawings and art. Try backs of doors, bulletin boards, and clips on walls to hang their creations. Or use frames that you can easily insert their latest masterpiece. Encourage your child to do their own artwork and update it regularly. Keeps them busy!
Chalkboards are great for kids. Not only can they use them to create, you can use chalkboards as a tool to help them learn to organize their own to do lists and daily schedules. Instead of remembering everything for your child, you can encourage them to write notes on their chalkboard. Pottery Barn makes these themed ones in the shape of skateboards, but with easy to use chalkboard paint you can turn anything into a writing surface, including furniture or the backs of doors! Uses of chalkboards are endless. You could have a board for "what to bring to school the next day," a board for a memory verse they are learning, or a place to leave love notes to each other. We have all of those types of boards at our house!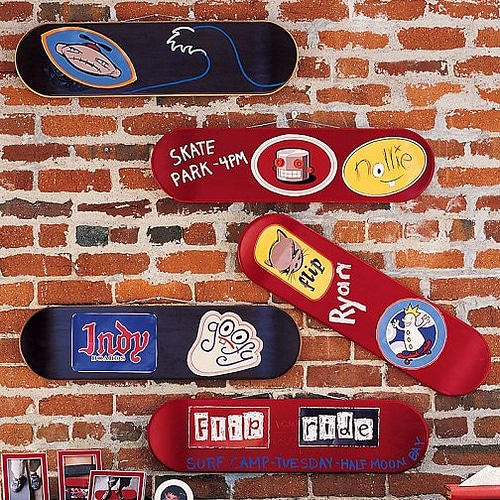 Children need easy organizational systems that they can learn to use. Under bed containers are a favorite in our house. We label them with changeable labels and categories that are practical and usable for a child. My son's room currently has under bed bins labeled WEAPONS, COSTUMES and TOOLS. When he wants to scare the neighbors, he knows right where to go. Also, if something is not in a container, it doesn't belong under the bed. I try to fill the space up with the storage containers as much as possible to avoid the random toys, socks and pj's that seem to gravitate to the dark corners. Under bed bins have cut down dramatically on the messes I find there. (However, now and then I do discover candy wrappers stuffed behind the bins.)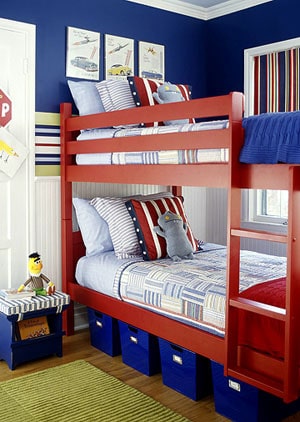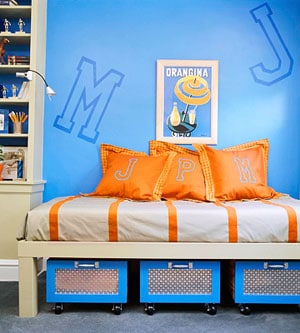 Closed or semi-closed storage bins are a must for children. Cleaning up is a never ending task. Being able to toss and hide things quickly keeps everyone happy. Open shelving is fine for a few display items, but everything else should be contained by a bin or basket so it less visible.
Sort everything for closed or semi-closed storage into broad but specific categories and find a bin for each. Labeling everything TOYS just won't work. We have our bins on a shelving unit with labels like ACTION HEROES, CREATURES, BUG STUFF, LEGOS, SPY STUFF, CARS. The labels are easy to change if he outgrows some of the toys
If you have traditionally sized large toy boxes, use them for dress up clothes or costumes. I have found them to be generally too large for effectively organizing toys.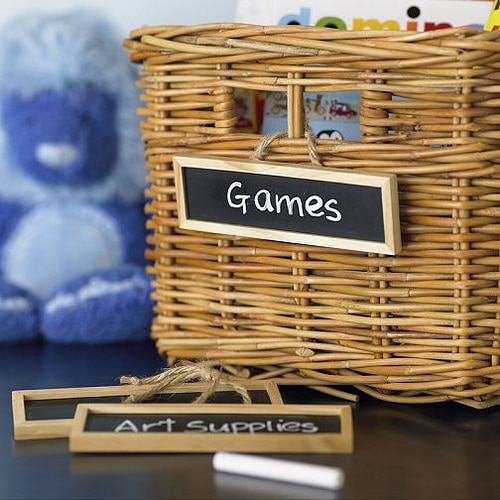 If you happen to be an artist (or know one) and love to personalize your kids rooms, try decorating a desk, chest of drawers, wooden chair or lamps to show their personality. You can paint a mural if you have the time or money to spare and are willing to paint over it or change it later if it no longer is suitable. Better yet, choose something timeless like stripes or a nature-inspired theme. A mural is a big commitment for most people. Sometimes you can involve the child in this sort of project and it is especially meaningful to them. Check out some fun hand-painted murals here and here.
Stick bookshelves wherever you can find space, particularly in close proximity to the bed to encourage them to read (and to keep the books tidy). Many books are also decorative so having them with their covers on display takes care of decorating AND their education all in one step.
Make sure each child has a good reading light next to their bed.
We put an adult-sized chair and a lamp in each child's room (if there is enough space) to allow for bedtime stories with mom or dad.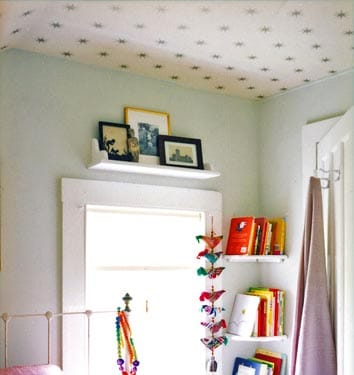 You can tuck in small shelves in corners to make every inch count in a small space.
Put shelving above doorways to showcase decorative items you don't want kids to touch or play with. Unless your child might be tempted to climb on furniture to reach things in high places. Then this is not a good idea.
Divide children's rooms and playrooms into zones whenever possible. A place to play with costumes in one area, building sets in another, art supplies in a craft area.
Once their room is set up with a place for everything, give children cleaning routines to maintain their own belongings. If you incorporate a daily 10 minute "cleaning frenzy" (our word for a fast paced cleaning session) into the before dinner routine, kids should have no trouble keeping their rooms in order.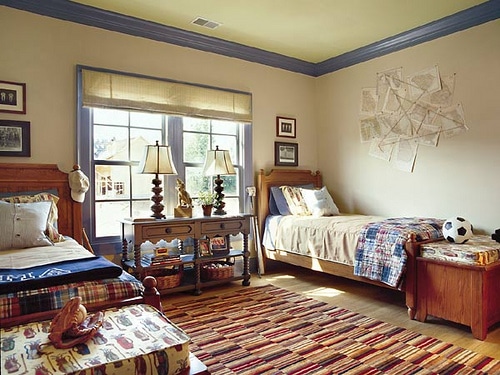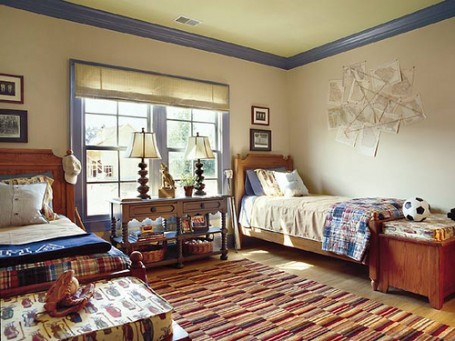 RELATED ARTICLES BY THE INSPIRED ROOM:
NEED HELP GETTING STARTED WITH A ROOM DESIGN?
Room Design: Where to Begin (See a quick play room makeover!)
NEED MORE CHILDREN'S ROOM INSPIRATION?
The Superhero Exception
About a Boy and His Room
Girls' Rooms: Fanciful Rugs and Lamps
Eye Candy: Girls Rooms
Whimsical and Tasteful Children's Rooms
WHERE TO FIND BEDDING, ROOM DECOR and more INSPIRATION:
Boy's Bedding @ Horchow
Boys' Rooms @ Garnet Hill
Girl's Bedding @ Horchow
Girls' Rooms @ Garnet Hill
Children's Rugs, Wall Art and Furniture @ Garnet Hill
Children's bedding and accessories @ Pottery Barn Kids
Photo credits: First one is Pottery Barn
Next two are my own from the Street of Dreams
Skateboard accessory photos: Pottery Barn
Surfing/Boating room: Coastal Living online, Jeff McNamara
Team pendant room: Southern Living online Jean Allsop
Red, white & blue room; Blue & orange room; Black bunkbed bedroom: Better Homes & Gardens online
Corner bookshelf room: Domino Magazine online
Chalkboard labels on baskets: Pottery Barn Kids
Last photo: Southern Living online Laurey Glenn photorapher