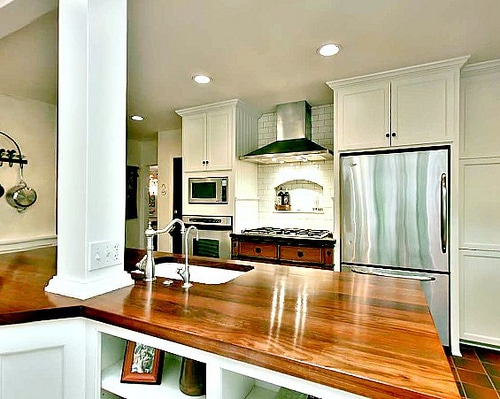 I spent most of Sunday night trying to get super glue off of all of my ten fingers. You see, we were at our old house finishing a few more projects (I'll share more before and afters of that house soon) when I decided that one of the floor moldings in my daughters room could use some quarter round to finish it off. And being the capable and ambitious woman I am, I decided I could tackle that project myself.
I'll spare you the details of how this all came about, but in my attempt to install the molding, something went horribly wrong and I ended up gluing all ten of my fingers to the quarter round. Yes, all ten. With super glue.
So, there I was, staring in disbelief at the quarter round super glued to my fingers when I had to make a choice. Immediately.
Should I rip the molding from my fingers and endure the possibility of all the skin being ripped from my fingertips or explain to everyone in Nashville why I had three feet of quarter round stuck to my hands. I decided that explaining the whole incident to anyone would be mortifying. So, I opted to extract the molding from my fingertips.
In spite of the fact that my fingers were completely bonded to the quarter rounds, I am happy to report my skin stayed on. But so did the glue. Right now I am typing with glue encrusted fingers. And, to make matters worse, I threw the quarter round on the floor after prying it from my fingers. When I went back to retrieve the molding, it was now glued to the floor.
This is not the first time I have had a home improvement incident. I've fallen off of stools and hit my head on a cement floor while trying to fix pipes, broke a pipe with a wire clothes hanger trying to clear a drain, fallen over backwards while installing curtains, hammered my fingers instead of a nail, stepped in a tray of oil based paint … I think disasters go with the territory of DIY'ers. Or maybe it is just me.
So, please dear friends, while I continue to peel glue from my fingers, do tell me your own home improvement disasters in the comments! Misery loves company! Next time, I'm putting quarter rounds on the honey-do list.