When we did the pirate scavenger hunt for our son a few months ago, he collected quite a few "treasures." We took a shelf in his room, cleared it off, and allowed him to put all of the mementos from that day on display. It was a rotating display, he could change the contents of the shelf at any time.
We have done similar things with all of our kids' rooms over the years. Each of our kids has had at least one shelf or bookcase to show off their collected memories. The treasures can be from one memorable day, a special trip, gathered throughout the year, or be a collection they were trying to establish!
Having a place for children store all the little treasures they gather not only help to decorate their room on a budget, but gives them a sense of belonging, history and helps them to focus on all of their blessings and happy moments in life.
I love the row of Pez candy dispensers along the molding in the child's room in the top photo! And, I really like the bookshelf to the right that has the artwork taped on it! Perfect for a memory shelf.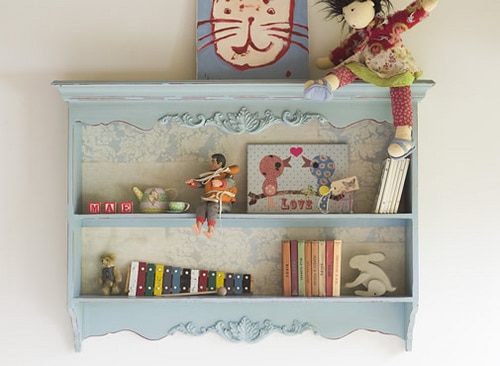 And a memory shelf doesn't have to just be for children! Make one for yourself! Show off your love letters, your beach shells or any mementos that bring a smile to your face!
Shared for Tightwad Tuesday at Beingfrugal.net
Top and bottom photos,
Absolutely Beautiful Things (from Serena & Lily and Cox & Cox)