Welcome!
My name is Melissa Michaels and I'm the creator of The Inspired Room. I love to write about finding contentment at home. I focus on embracing the seasons to putter + nest, find peace and comfort in rhythms + routines, get inspired to gather + welcome others into our home, and care for our well-being by keeping our life and home clean + simple. I'm also a New York Times bestselling author of many books on the home.
I was honored two years in a row to be voted the Reader's Favorite Decorating blogger at Better Homes & Gardens magazine. It makes me so happy that so many women resonate with my thoughts on home. The Inspired Room has continued each year to be included in lists of top design blogs.
I am budget conscious but also appreciate good design and a well-kept home. I don't think you have to have one without the others!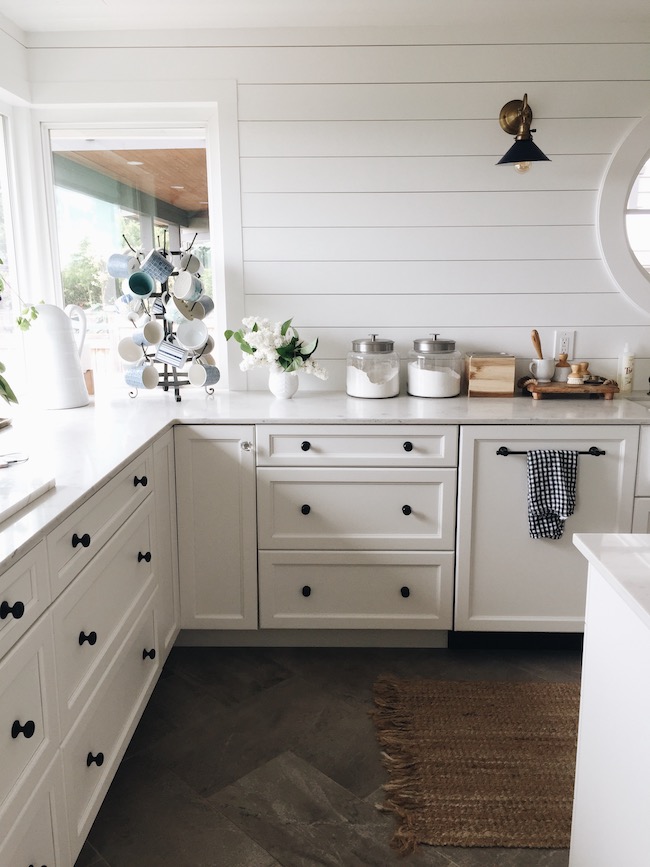 I love to invite readers into my own home (we moved into this 1950s cottage we are remodeling into a cozy cottage. We recently remodeled our kitchen and it's our favorite room in the house (see the transformation here).
Click here for "How We Transformed Our 1950's Brick Ranch to a Charming Coastal Cottage (our befores and afters!) and see more photos here.
– 2021 update- We've moved to a new coastal cottage! Click here for posts about our new island home!
I previously remodeled and added character to our new construction Craftsman home, which was featured in The Inspired Room book). On the blog I share regular inspiration and helpful tips for decorating, homemaking and organization in every room, including a variety of posts on topics like how to decorate, or to get inspired when you are in a slump, how to organize a home and keep up with homemaking. I share simple things I've learned along the way, like my four daily routines or how to fall in love with your home.
Over the past fourteen and a half years years, this blog has had one mission: to inspire women to create homes they can't wait to come home to. I believe when we love our home, it inspires our life!
I'm a new empty nester, yet remain a busy wife and mom of three now adult humans and two fur kids, as well as a business owner (The Inspired Room and Dwell Well Collective, a home + wellness brand founded in 2015) so I keep things very simple around our house! I'm DIY-challenged and always on a budget, so if I can figure out a way to do decorate or organize my home without a lot of time, stress or money, I will. I love sharing my journey and passion for the home with my readers. I hope you'll join us!
I'm so glad you are here!
Melissa
See more about The Inspired Room, below!
I am the author of:
– New York Times Bestseller Love the Home You Have, released March 2015 – Amazon // Barnes and Noble
– The Inspired Room, released November 2015 – Amazon // Barnes and Noble
– Make Room for What You Love, released May 2016 – Amazon // Barnes & Noble
– The Inspired Room Coloring Book, released July 2016 – Amazon // Barnes and Noble
– Simple Decorating, released April 2017 – Amazon // Barnes and Noble
– Simple Gatherings, released October 2017 – Amazon // Barnes and Noble
– Simple Organizing, released April 3, 2018 – Amazon // Barnes and Noble
– Dwelling, released April 2, 2019 – Amazon // Barnes and Noble
– But Where Do I Put the Couch, released September 2019 – Amazon // Barnes and Noble
– Dwelling Well Journal, released January 7, 2020 – Amazon // Barnes and Noble
– A Lovely Life, released May 17, 2022. Click here to order on Amazon!
Partnerships & Publicity:
While this blog has grown and spread its wings over the years, my focus and passion has remained the same. I'm thrilled by all the opportunities to share The Inspired Room's mission.
I'm humbled to have been voted in the top five editor's choice awards for best decorating bloggers at Better Homes & Gardens, as well as voted the number one fan favorite decorating blogger at Better Homes & Gardens in both 2015 and 2014.
My previous kitchen remodel was featured in a five page spread in the November 2014 issue of Better Homes & Gardens, photos of my home and interviews have been featured in numerous newspapers, several national home magazines, podcasts, radio shows and other publications.
My current kitchen remodel was featured in a six page spread in the 2018 Small Space Decorating issue of Better Homes & Gardens.
My Seattle home was also featured in an eight page spread in The Cottage Journal 2018 Spring Edition.
For advertising opportunities site wide or to receive our media kit, please email [email protected]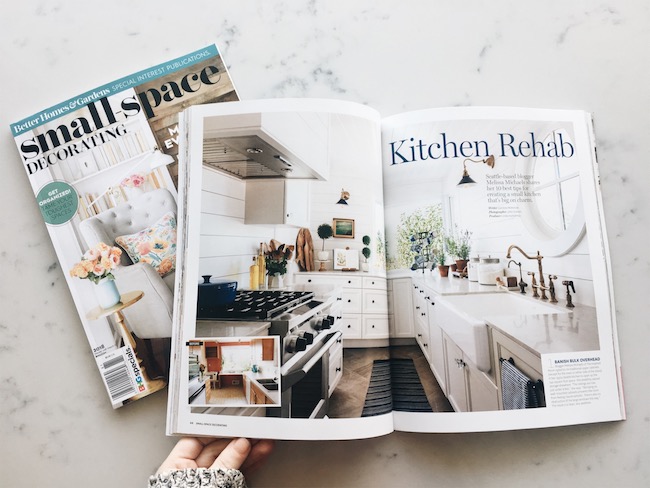 My Kitchen in Better Homes and Gardens 2018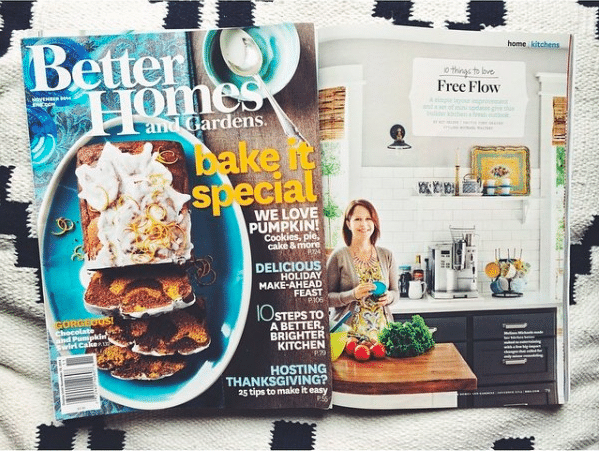 My (Previous) Kitchen in Better Homes and Gardens 2014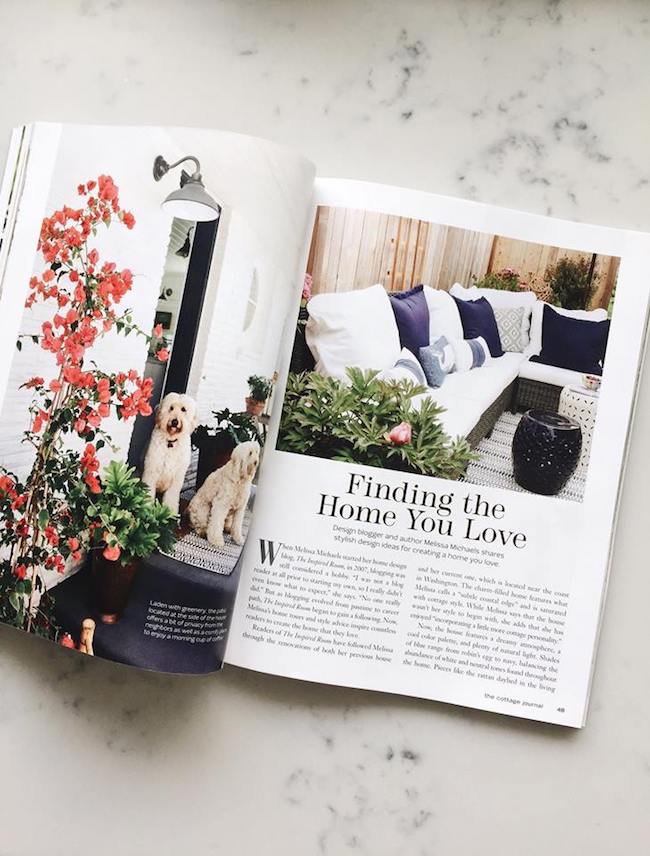 8 page spread in The Cottage Journal – Spring 2018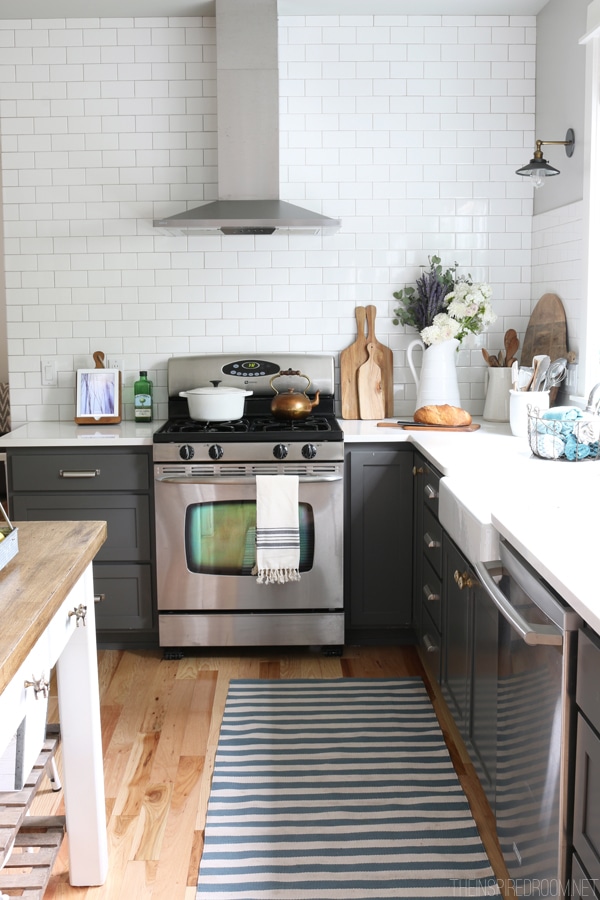 My Previous Home's Kitchen Remodel
Writing Elsewhere:
In addition to writing at The Inspired Room, I am on the original writing team with (in)courage, and have contributed to sites such as Proverbs 31 and Ann Voskamp. I have written for eBay, LifeStorage, My Colortopia (by Glidden Paint) and have been a speaker for such fabulous conferences as Haven, Blissdom, and Relevant.
Brand Connections:
I've worked with major brands such as Target, Lowe's, Ebay, Serena & Lily, Trex, Mohawk, West Elm (hosted an Etsy Pop-Up Shop!), Pottery Barn, Martha Stewart, Samsung, KitchenAid, Glidden, Home Depot, Dash & Albert, World Market, Pier1 Imports, Select Blinds, Kohler and many more.
Featured In:
Better Homes & Gardens, American Farmhouse Style Magazine, The Cottage Journal, The Washington Post, Ladies Home Journal, Oprah Magazine, Domino Magazine, Apartment Therapy, The Kitchn, RealSimple.com, Cottages & Bungalows, Today.com, Family Circle, Cupcake Magazine, Called Magazine, Belong Mag, The Seattle Times, The Oregonian, The Kitsap Sun.
Interested in working together? See info and contact me here!

You can find my Instagram pages at:
The Inspired Room // Dwell Well Collective // Jack the Goldendoodle // Doodles at Home
Check out my home tours and posts, below: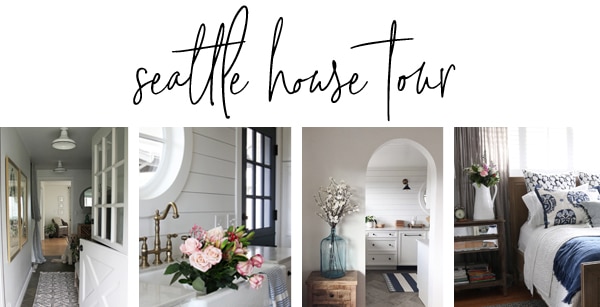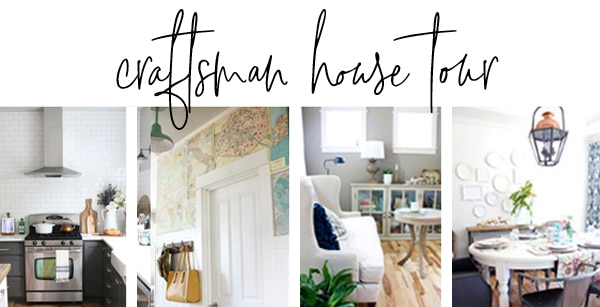 Craftsman House Tour (from my The Inspired Room coffee table book!)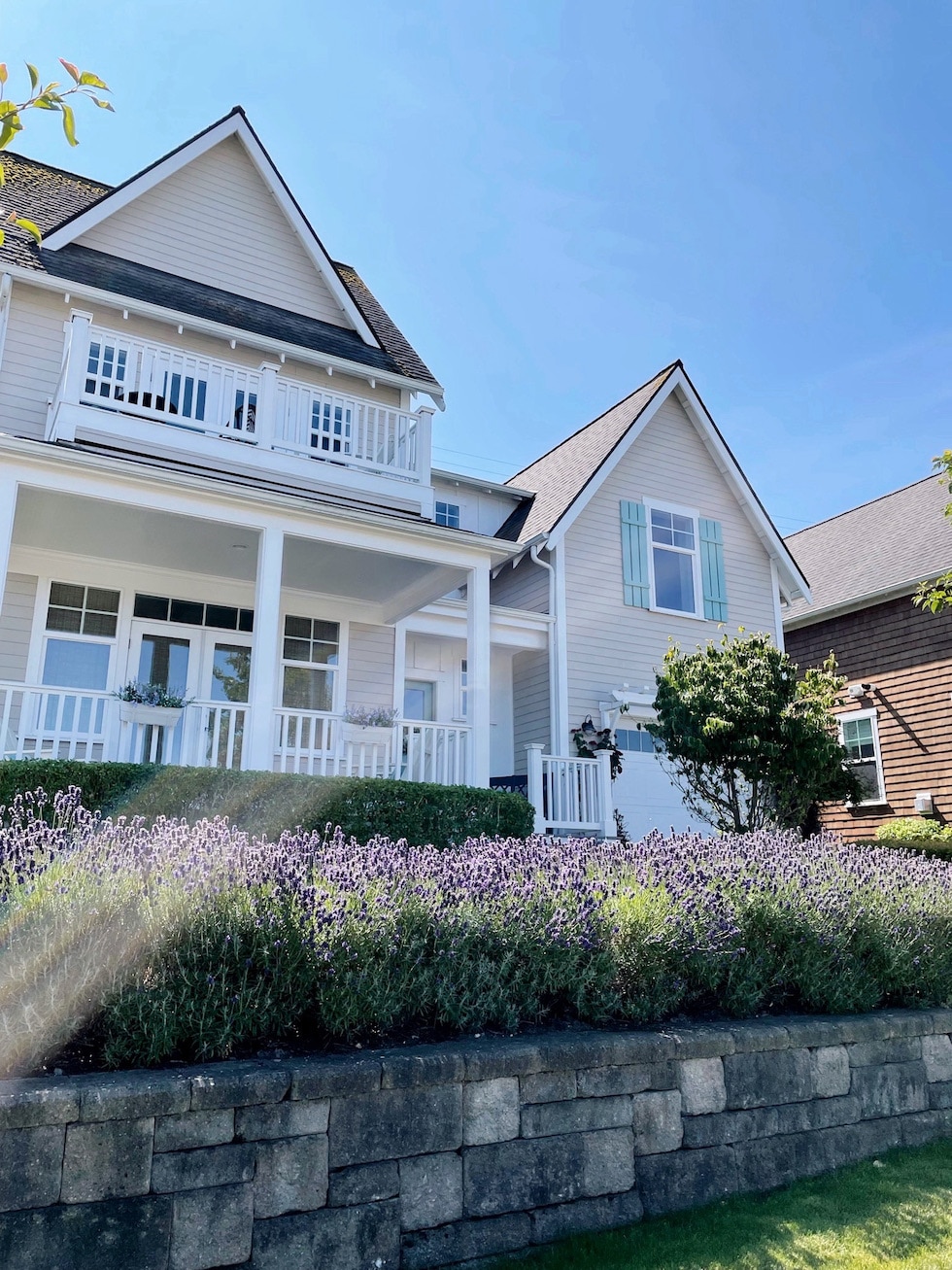 See all of my previous house tours here.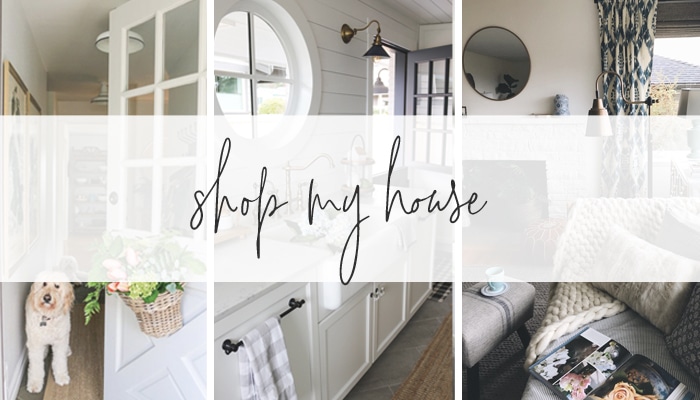 "…I tried to picture what I would want my house to look like if I could decorate it any way I wanted. Not thinking about money or other people's opinions. And guess what was the only place I could think… I Googled:"how to decorate your home like Anthropologie."Lo and behold, The Inspired Room popped up. Right away, I was hooked. I could love Melissa for the simple fact that she lives in the Northwest, but I loved her even more when she talked about living authentically. Not striving to have a home like something out of a magazine, but a real, lived-in, loved-on home. Where you feel comfortable and those that enter your home do too.She told me to ignore the "rules" of home decorating and use the things I love. She gave me permission to paint my family room ruby red (if I wanted, which I don't). She told me I could hammer a nail in the wall to hang a picture… even if I wasn't 100% sure I wanted it there the next week.  And she said if I didn't like something, I could change it. Imagine that!She unlocked the chains of my decorating bondage ;)I experienced home-decor freedom for the first time in my life! hee hee.But let's be real here, or should I say, authentic. It was more than just the freedom to decorate how I wanted.  Reading that blog gave life and inspiration to someone who had been missing for so long. It was about learning who I was again. Learning how to live authentically, in my home, as myself.  And with that, creating a place where my family feels comfy, loved, and safe."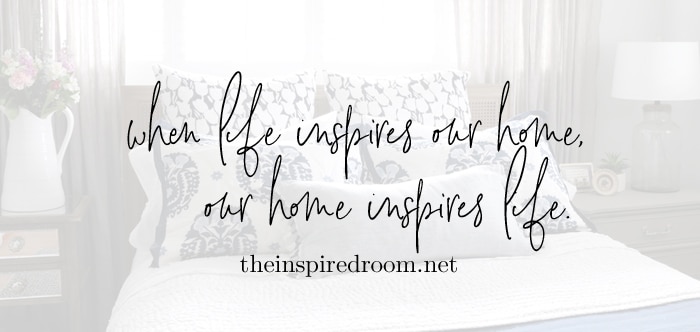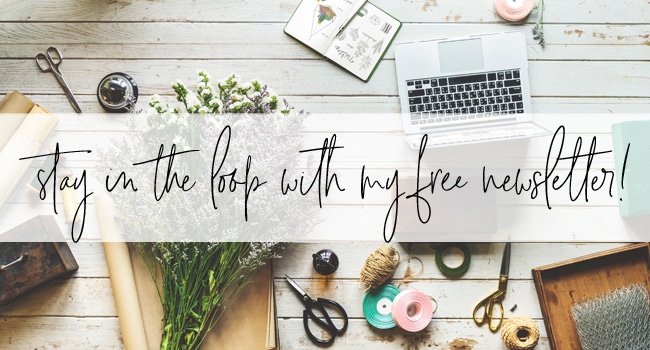 Click here to receive my newsletter to stay in the loop with new blog posts, tips, deals and ideas from me right to your inbox!

NOTE: The Inspired Room® brand is a legally registered trademark. This means that you may not use The Inspired Room or any variation of that name in a way that could be confused with me or my business, such as your own decorating business or blog. I am required by law to defend my trademark, so if you are in doubt, check with an attorney or email me to ask about the use of any similar name.