Do you ever find yourself in a decorating slump, or just plain ol' STUCK? I do. Sometimes I just can't get my mind around what I want to do or what I need in certain rooms. Or I have too many ideas and can't really do any of them due to finances. Usually I just let the room evolve and change it over time, using what I have, until I find exactly what I want or something clicks.
Patience is just a part of the decorating process, unless you are going to design and shop for the entire room all at once. And what fun would there be in that? Well, don't answer that.  Maybe it would be fun and even easier to not have those limitations. But I kind of enjoy the challenge of going one step at a time, the thrill of the hunt for the next piece of the decorating puzzle and watching the house transform. And I think I love my home more because of how it has evolved with me and our family.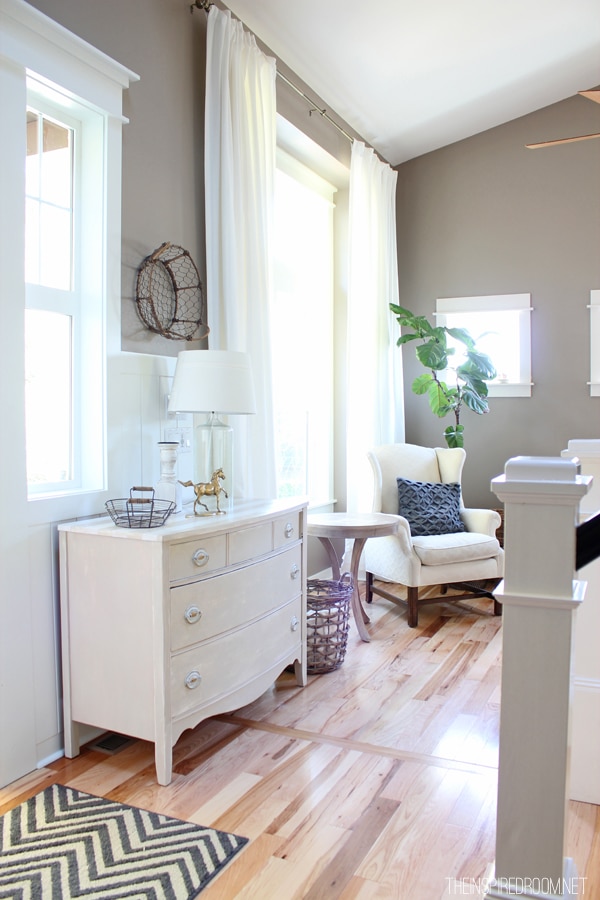 I just keep moving things around, trying different arrangements and combinations. Sometimes when I try something in a new place, it leads to a decorating epiphany! Suddenly I get a new vision for my house or what furniture I want or even a new idea for how a room should be used. That is kind of what happened this week.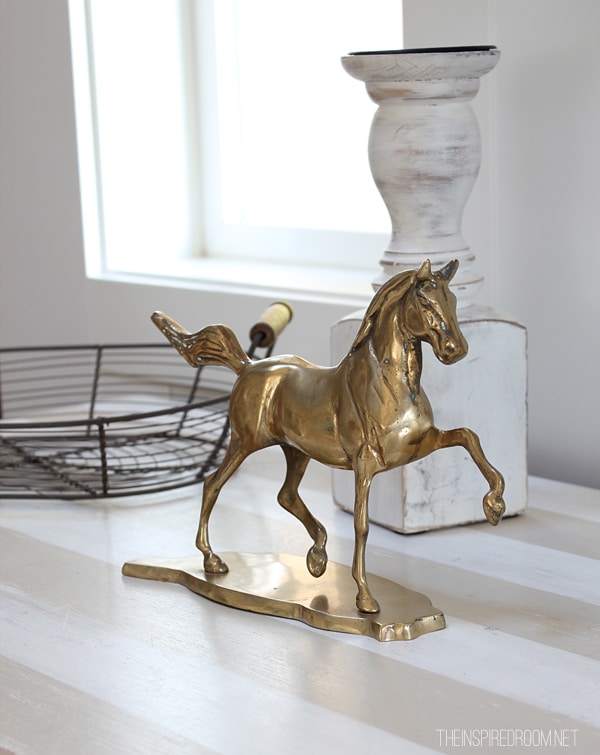 I was taking a quick peek around the flea markets near me, just in case I saw anything that anything I might need or that might inspire me. I found a family of brass horses (actually, one might be a cow) and I just couldn't leave them there so they came home with me. I'm always drawn to animals and these little guys will be able to go just about anywhere .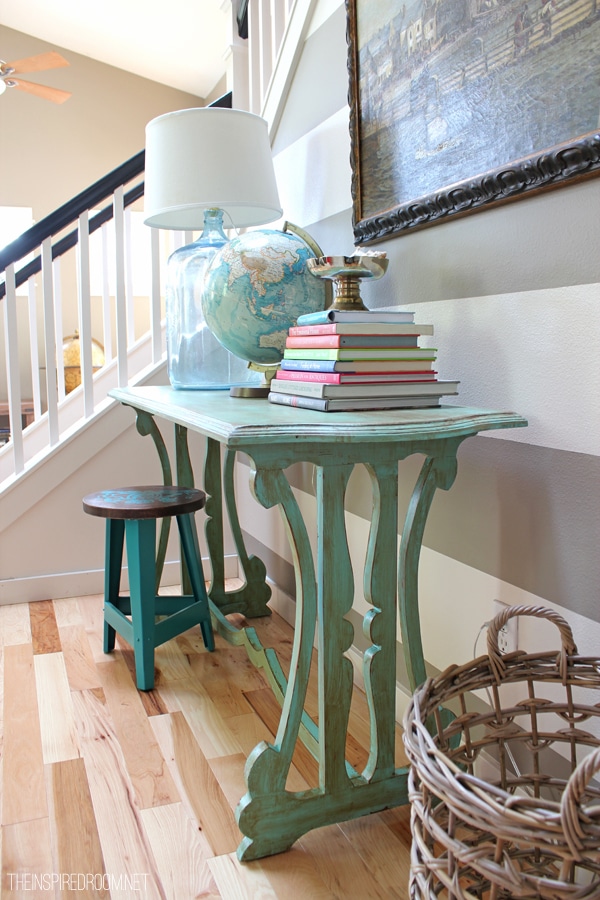 As I was about to leave the flea market with my new little brass friends in hand, I spotted this fun console table. I really love unique pieces, so of course this one caught my eye. I love its beachy look and one-of-a-kind shape. It seemed versatile enough in size and affordable in price so I decided to risk bringing it home without being certain where I would use it! I like finding things that add a new layer of personality and character. And it definitely got me out of my slump!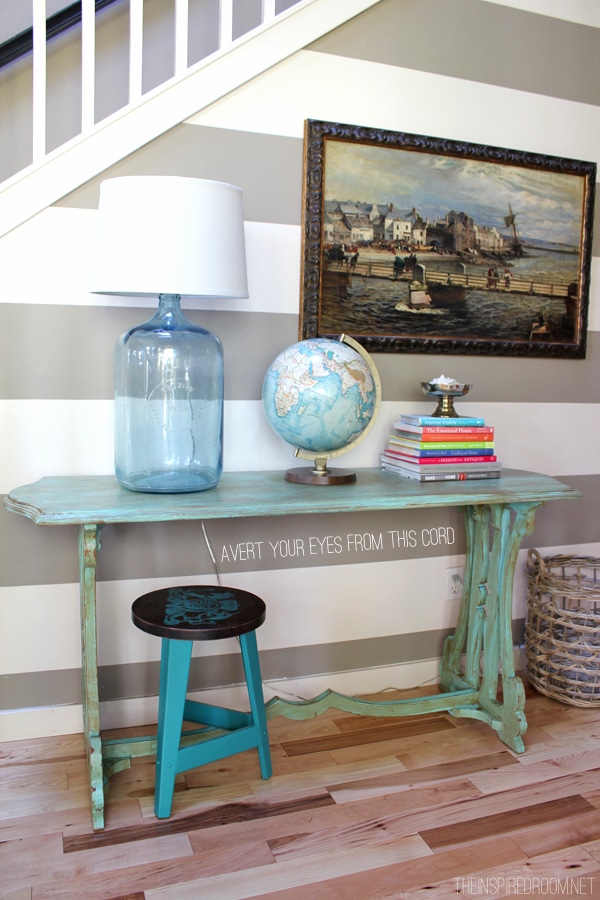 Just for fun I decided to try it in the entry first, so I moved the dresser that was on this wall (which I got from the same flea market awhile back!) to a new wall in the entry. Nothing is styled or set up yet, it's just an experiment.
The color really compliments the maps in the hall to the right.
When we moved the dresser over to the wall that is in between the entry and the front room, we loved how much cozier it felt with another piece of furniture. I was a little surprised how much I liked the feel of it there! There was plenty of room for a chest, we had just never had the right piece to try it. Finding the new thrift store table not only brought something new to my house, but it gave us the opportunity to try the dresser in a different location.
Right away I decided that I LOVED having a lamp in that area (I LOVE LAMPS!).
A mail drop and storage right next to the front door made the most of that otherwise dead space in the entry.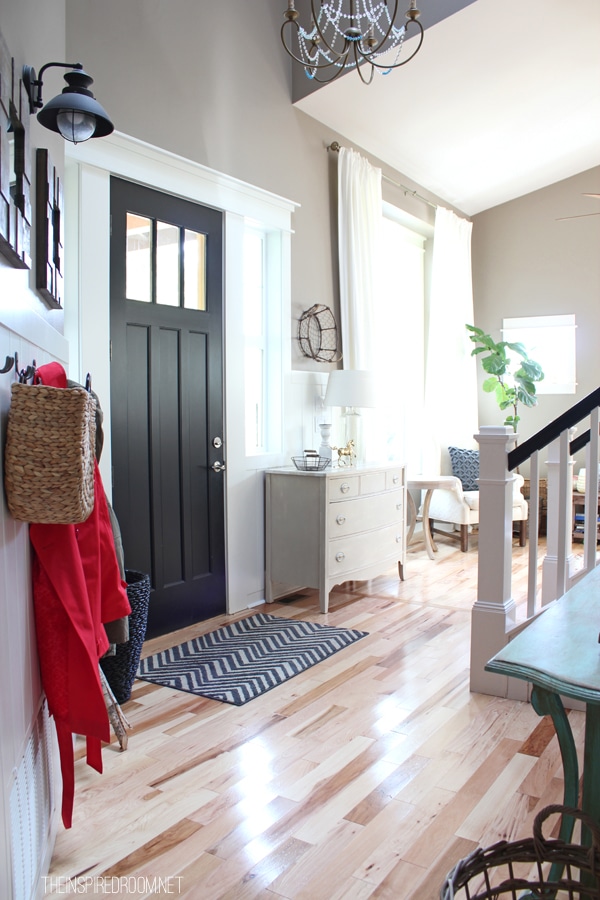 Furniture and lighting instantly brought more warmth and character to the space. And once I moved the dresser I found myself suddenly inspired with new ideas for the living room area adjacent to the entry.
When you step out and try one new thing it can lead to another and new creative ideas start flowing. I love when that happens!
Rearranging furniture and accessories can spark new ideas I never would have had by leaving everything the same or just trying to imagine something new in my mind. Even if I end up putting things back where they started or trying another arrangement I like better, it is always fun to see the possibilities. You never know what might happen! Rearranging furniture helps me to have a clearer vision of what I really want or need in a space and let's me see my house with brand new eyes.
Do you rearrange furniture to inspire new creativity at your house?