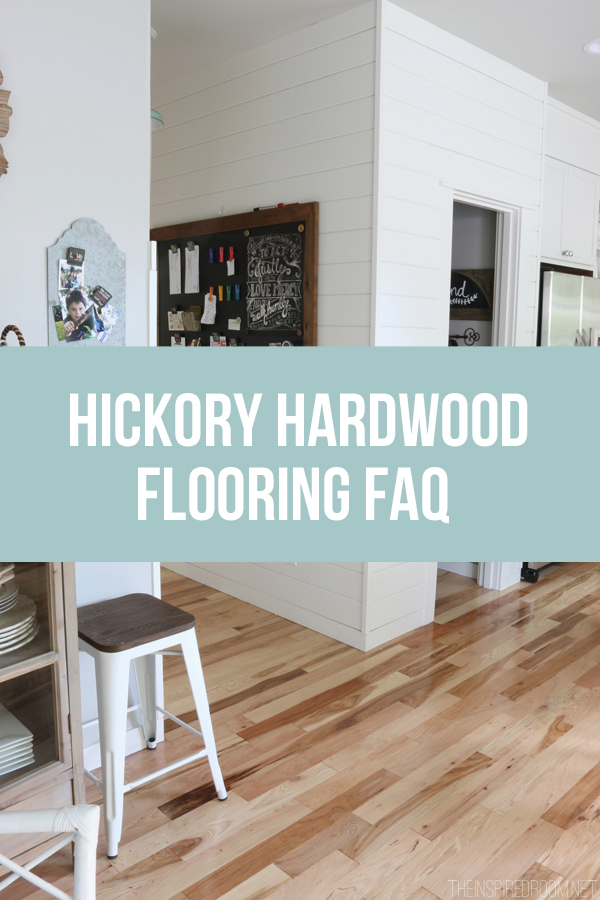 I receive a lot of questions about our Hickory hardwood floors and how they are holding up after a few years with our dogs and family. So I thought today I would just pop in and answer a few FAQ! If you have additional questions, feel free to ask in the comments and I'll answer questions or add them to the post!
1. What kind of flooring do you have?
My floors are Mohawk Natural Hickory Hardwood Flooring. These floors are the exact ones we have from Mohawk.
2. Did you mix light and dark stains to get that beautiful mix of wood?
No, we didn't stain them. That's just the gorgeous natural Hickory wood grain and each board is unique!
3. Is it finished on site or prefinished?
Our floors were prefinished so it was a lot less hassle and mess to install than flooring that has to be sanded and finished on site.
4. Are your floors hard to keep clean?
Not at all, the natural Hickory is SO easy! Of course, they still have to be swept and cleaned like any other flooring (I don't think there is any magic floor that cleans itself!), but the dust bunnies don't glare at you as much as with other flooring I've had. You can see a few of my hardwood cleaning tips here.
I can say for sure that we have to dust and sweep them FAR less than we used to with the really dark hardwood floors. Yet, the Hickory looks pretty clean most of the time so even though we clean less, they look better. Score. The grain is amazing for disguising the daily dust and dirt so you have a little more time in between cleaning where they will still look great!
4. Do your wood floors scratch?
One thing I LOVE how the Hickory is it is so forgiving of scratches, dirt, and dust! Like any wood flooring, they will get scratched on the surface over time, mostly from our dogs running around. But Hickory is such a hard wood that in our experience they have held up amazing well to the day to day abuse of an active family. The variation in the wood grain is what really hides the scratches so well.
5. Are your stairs Hickory, too?
Yes, you can see the post with the stair makeover here! I love the staircase.
6. Do you have any regrets in installing your hardwoods?
No, none at all. After living with them for a few years, I can say I would definitely install them again! In fact, this summer we installed Hickory floors in my office, and I'm hoping to replace the last of our original carpet in two upstairs bedrooms with Hickory at some point too.

What's your experience with hardwood floors?