So this spring I mentioned some updates I was working on in my home office. Well, as always, things are slow going (as anyone who has a life and a normal budget will probably understand, those overnight TV makeovers take months in real life heheheh). But, I recently made some progress and I am pretty excited! A few of my plans changed a bit since I last updated you.
Originally I was saving up to get a new desk and then I was going to move my old desk to the left wall and turn it into a console table. Well, somewhere along the way I decided what I really wanted wasn't a new desk but I wanted to take out the wall to wall carpeting and put in hardwoods to match the rest of my house. I loved the new striped rug from Lulu and Georgia, but I was able to move it to my family room and it looks awesome there! The brown carpet had seen better days (i.e. four dogs in the past few years have added to the wear and tear). Hardwood is just so much cleaner than carpeting and it goes with everything!
Because my office is so tiny,  I decided to take the plunge and get the hardwoods and keep my desk as a desk. I could not be more happy with that decision. The hardwood transformed the room in every way! I love it.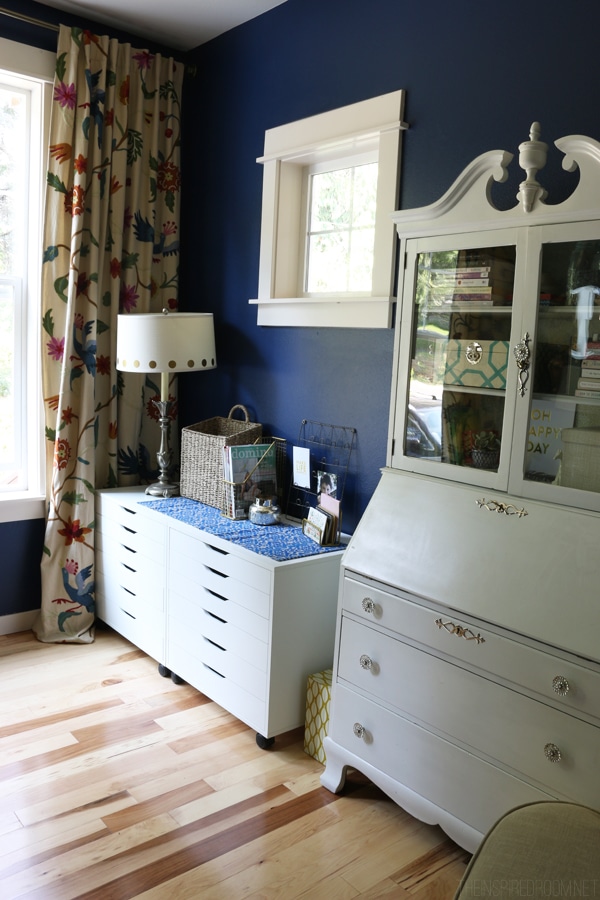 I still haven't repainted the room. My intention is to repaint it either the same color or slightly deeper (the navy looks so good with the curtains and now with the lighter wood floors!), with a flat paint to minimize the textured walls which are not my favorite. Eggshell finish is great in the rest of my house, but for some reason these walls have a heavier texture and I think flat will be better in here.
I rearranged the room to have my desk on the left wall instead of in front of the window. I also moved a couple of pieces of furniture out (one went to our church and the other went upstairs to our TV room) and I added a couple of new pieces that better serve my needs. I'll tell you more about the secretary and hutch tomorrow!
To the left of that piece, I found two flat file drawer units from IKEA (Alex Drawers) that were the perfect and affordable solution to flexible office storage. I have some plans to customize them a little bit and of course I'll show you what I have planned soon.
Here is a pulled back view of the new arrangement. The Pottery Barn desk I've had since my old house is now on the left wall. Even though I really enjoyed being able to look out the window, I feel like this arrangement works better for me. I feel a little less on display to the neighborhood :) and I really wanted to be able to use the wall space above my desk for an inspiration board. By removing the tall cabinet that was originally on this wall, I now have more room for a light and bright inspiration board above the desk (which I don't have yet.)
The little Target bench by the window floats around the room for extra seating or when I want to kick back and put my feet up.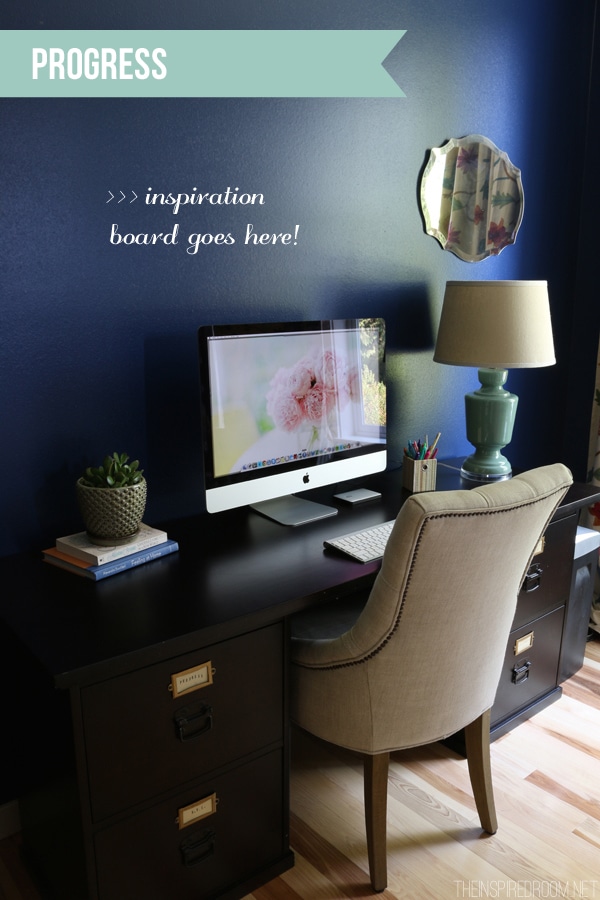 So this is the desk where I've been sitting every single day talking to y'all, not only through the blog but now also in the lonely business of book writing where none of you can hear a word I am saying until the books come out. We'll have a nice long chat then, okay?
:)
And because I know you all would like to remember how crazy this room was in the beginning (excuse the mess, eh hem), this was when it was in transition from swine to navy a few years back.
Finally, here's a look at how the floors flow now between my office and the hall. I LOVE THAT! You can see Lily is hanging out trying to catch a breeze, it's been really hot here lately! In case you're wondering, my printer is on a stand to the right of that plant (I know everyone always likes to know where all the practical equipment is, and mine is just right out in the open).
Tomorrow I'll talk a bit about the new secretary and hutch! PS. Here's a little blast from the past. This is my desk in our old house when I first got it in 2008. This desk is still serving me well :) Note that the lamp on the desk is the exact same lamp that I now have on my new file drawers with an updated shade, ha! In a related note, the gold and crystal chandelier in my current office has traveled with me through many houses over the years. I really do keep using what I have for years whenever possible. The rug and cabinet are now in my daughter's new townhouse. You can see the old house before and after budget office makeover post here!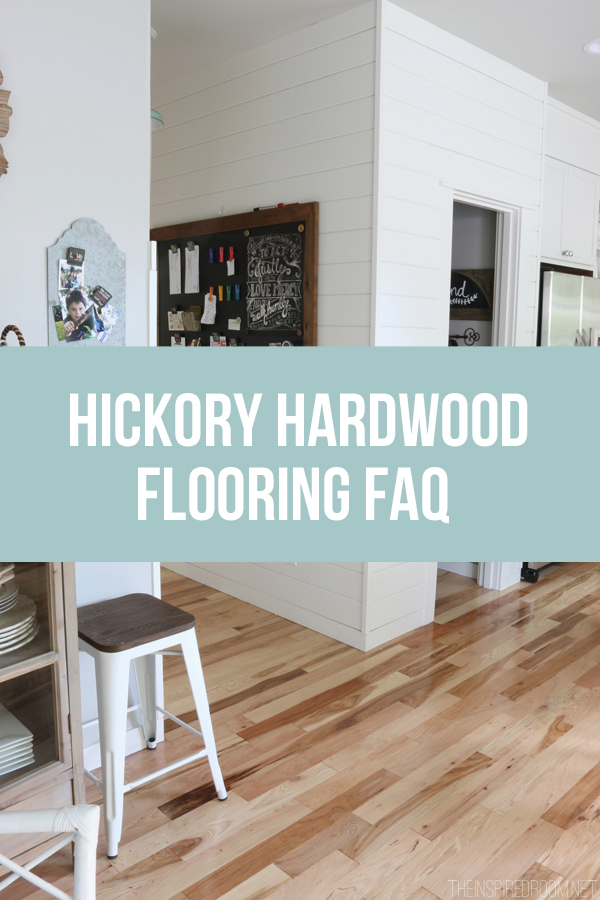 For my FAQ about my Hickory floors, click here!
Sources (none of the items are sponsored, but some are affiliate links):
Wall Color: Rich Navy by Glidden
Floors: Natural Hickory by Mohawk (mine came from Lowe's)
Curtains: Anthropologie (my color just sold out, but there is a new color which I love here)
Desk: Pottery Barn
Bench: Target (seems to be sold out sadly!)
Desk Chair: Restoration Hardware Martine Arm Chair (got this on a huge discount because of a flaw I could easily fix)
Corner Chair: World Market