It's been awhile since I've shared any updates from my office, which is kind of ironic since it is the room where I hang out the most every day! Of course, I daydream about new ideas for this room quite a bit when I should be working. (Or can I count daydreaming as a part of my job? I think I should be able to, heheheh.) Among all the projects I have in progress around the house or that I'm mulling around in my mind, the office is really the most important to me right now. This year I will be growing and expanding my business in exciting new ways :-) so I am wanting to get ready for the changes and challenges. I'll share more on what I mean by that very soon!
My office is on the small size, maybe 11 x 11. I REALLY wish it was bigger, but it is what it is. Even though my budget and house doesn't offer me the luxury of a big new studio office (wouldn't that be amazing?), I LOVE the challenge of making the best of the space I do have. If money wasn't a factor I'd be adding built ins all over my office and putting in wood floors. But since that isn't happening right now, I've come up with a few more affordable and easy to implement updates. I want to not only create more function but make my office feel fresh and ready for my new creative challenges.
I am excited to share a few office updates today, and more that will be happening in the next few months.
While the rest of our main floor has hardwood floors, my office still has has dark brown wall to wall carpet with a lighter brown vine pattern. It's so dark I have always had a rug layered on top of it to lighten the room up a bit. While some people might prefer a neutral space to create, I seem to feel more creatively invigorated and energized by pattern and color. SO, because I'm keeping my Anthro curtains in here, I decided a stripe might be fun!
I found the perfect wide striped durable indoor outdoor rug at Lulu & Georgia and they were kind enough to offer to send it to me. It fills up almost the whole room so I completely forget that I have brown carpet under it.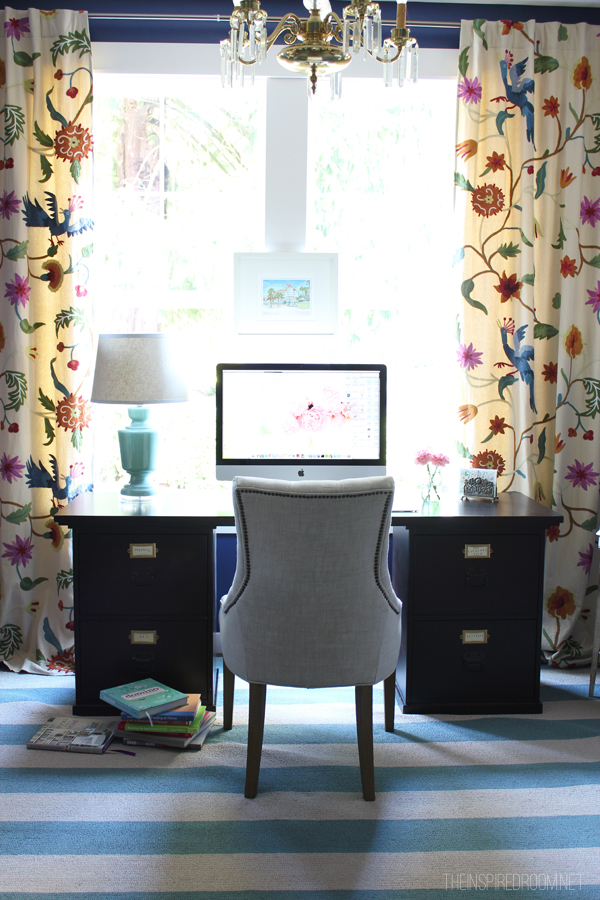 I LOVE the rug! It makes me smile every time I come in the room, and if you can smile when you enter your office that's always a good thing! You might remember I also got my round wood mirror in the kitchen through Lulu & Georgia, they have tons of cute stuff!
In other home office news, before the holidays last year one of our old laptops sadly bit the dust so we had to get a new computer. Gah. I decided I was tired of my tiny 13 inch screen so I may as well GO BIG this time and got a 27″ Mac desktop for my office. I was so worried I wouldn't like using a desktop again after so many years with only a laptop but I have not regretted it, it's AMAZING. Not only do I love seeing everything on the large glorious screen, but I've decided I really like having a desktop more than just a laptop.  Somehow I feel more productive and organized when I have to actually go to my desk in the morning.
By the way, I am putting some links to my blogging, camera and office type equipment (among other things) in my online shop, if you are ever wondering what I use or what you see in a photo! 
Next, in a classic case of one thing leads to another when it comes to updating a room, now that I plant myself at my desk all the time to work I wanted a more comfy chair. My funky swan chair needs a new seat, so I haven't been using it for a year or so. At one point I switched to the yellow chair because I loved the color. But you know, it's metal so that isn't all that comfy for very long. My daughter Courtney was working at Restoration Hardware and happened to find a nifty tufted nailhead chair that was a former floor model on a big discount due to one corner of the upholstery needing a little repair. She brought the chair to me last week and I love it! I will fix it and it will be good as new! I still plan to get a real "office chair" at some point, if I can find an attractive one I like.
And then for no other reason than because we are addicted to Rub n' Buff, we decided to give the black metal label holders on my desk a little glam update.
Because, why not? (You can find Rub n' Buff in our online shop in the Favorite Craft/DIY Supplies section!)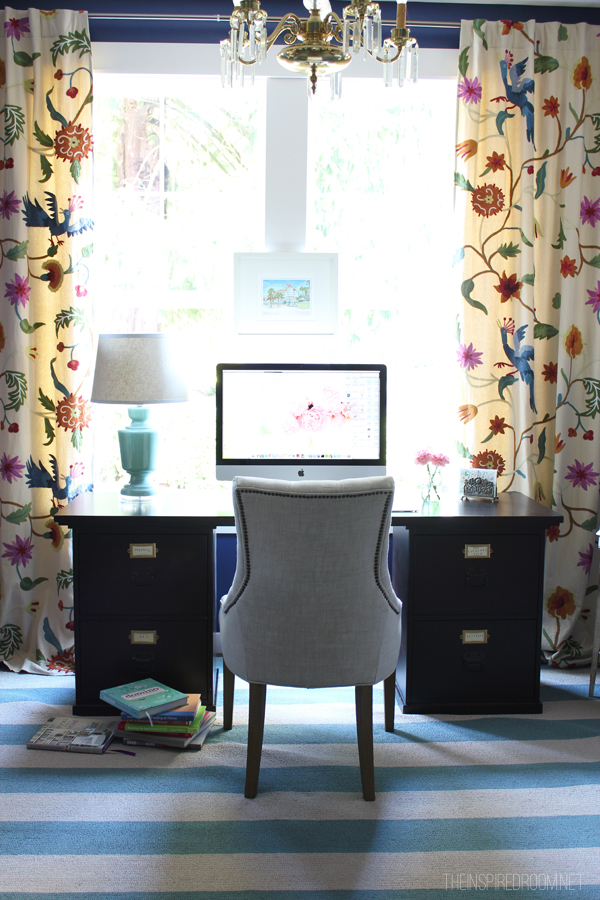 We rubbed on a little gold leaf and now the label holders are looking a little more classy, don't you think?
Soon this desk is actually going to be moved to the left side of the room and changed into a console table because I really need more surfaces for spreading out my work projects.
I'm going to be taking EVERYTHING out of the room, painting the walls and rearranging so it will look a bit different the next time you see it!
Do you remember what this room looked like a few years ago? Eek. Not inspiring.