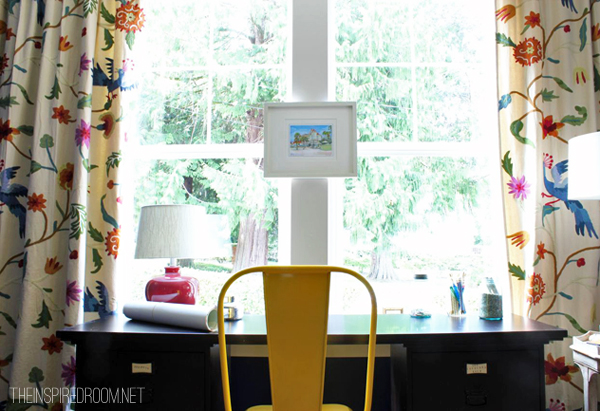 About a year ago I realized something was missing in my life. I needed a creative space of my own. More than just an office to work in, I needed a place that creatively re-energized me!
I needed a place where I could get away from the noise and activity of the home to be surrounded by things that inspired me. A room in which I could think, create and just BE. And a room where my girls and I could shut the door, hang out together, laugh really loud, listen to girlie music, light good smelling candles, and dream a little bit bigger. A room where we could eat ice cream behind closed doors, and not have to share it with the boys of the house.
I dreamed of a real getaway for girls in our home. We love our kitchen, of course, but we needed an escape.
So last year I transformed my tiny boring office from what was actually more like a storage room to a happy colorful space for creative dreaming. It's my office, but it's so much more than that to me.
I love it.
It's nothing fancy. It's not huge (in fact, it's tiny!). It's not perfect.
But it's all mine (and my girls', too!).
And, I have a bit of happy news! Did you notice I finally got my yellow chair?
I knew it was out there somewhere, calling my name.
Yes, yes I did. I found it at World Market and it insisted on coming home with me.
I am still smitten with my 'cute as a button chairs' nestled in the corners of the room, ready for late night conversations and curling up with a stack of magazines.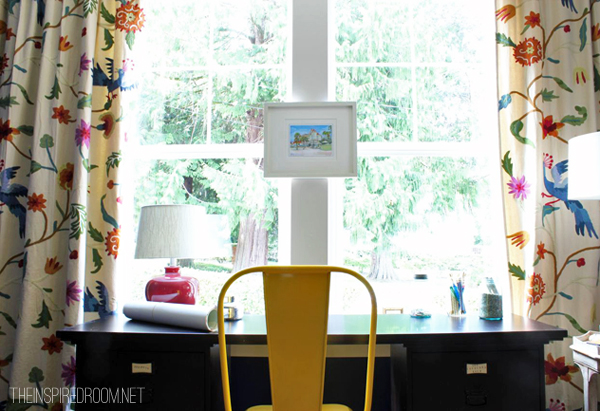 I adore my beloved Anthro curtains, framing the large window where I look outside to dream every day.
I love the lively mix of colors that bring this space to life!
In this room, I am surrounded by things I love. Things that inspire me to do what I do and even challenge me to embrace new adventures! As you can tell, color and pattern and happy memories rejuvenate me.
I smile at the special reminders of things I love scattered throughout the room, each holding a memory or a laugh. You can find this whale platter in my Amazon shop!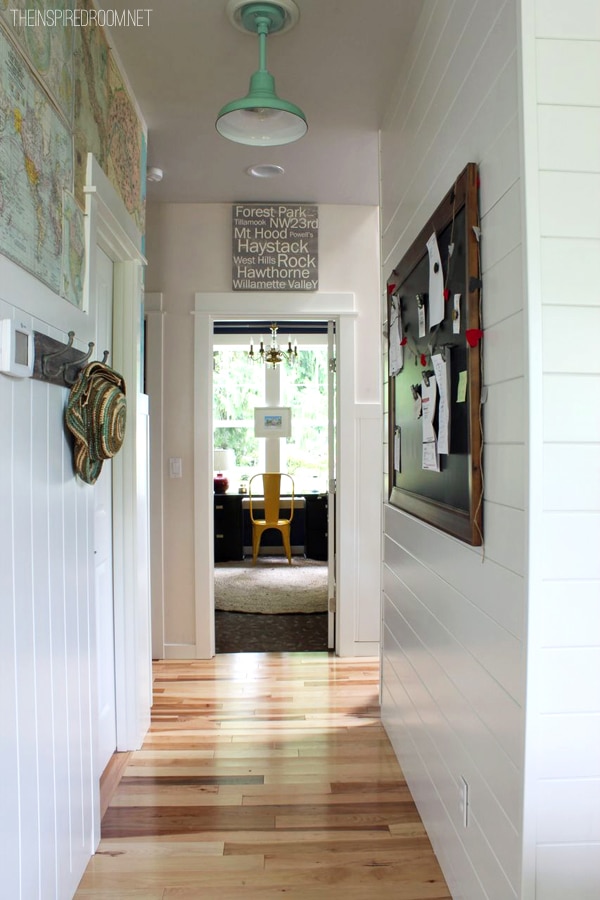 I especially love seeing the chandelier in my office and now my yellow chair just down the hall from my kitchen every day. That view is a reminder of my little escape from the world.
I'm a big believer in having your own special place.  A place to dream and get away from it all. We all deserve that, whether it is a corner of a room or a an entire office or creative space!
Do you have a special space of your own?