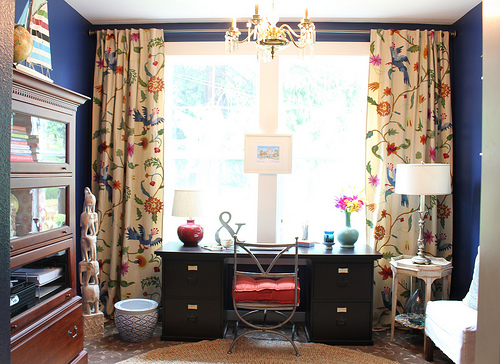 *Note: there is an updated office post here!
 Colorful & Eclectic Home Office Decorating
I'm in love with my newly decorated home office. It is all mine (yay!) and I couldn't be happier. For three years I've wanted a space for me. I know it sounds selfish, but I wanted a place to be able to retreat from my sometimes loud and crazy house. A beautiful, eclectic and quirky place to be surrounded with life and color and things I love, but a place to breathe deeply and retreat when I need to recharge.
Seriously, I could cry just knowing I finally have that space. It was a long time coming. I feel blessed and ready to tackle the world now that I have a place to feel organized and refreshed.
It may sound funny to say these things about a home office, but it is really a gift I needed. I didn't realize how much I needed it until my girls and I sat in the room for the first time and shut the door. We had our own girl space and it was BLISS, and still is.
It is not what most people might consider their ultimate dream office. It is quite small (let's just say it is cozy!) and I didn't go out and buy all the latest new everything. But, it is a happy mix of things I already had, things I fell in love with for this space and things that make me feel like spending time in an office!
I know many people find peace and solitude in the absence of color and void of "things" but I love being surrounded by memories, scents and visuals that make me smile. Call me crazy but the colors and patterns both calm and rejuvenate me.
This is my ultimate happy space. My big splurge on Anthropologie curtains that my daughter Kylee knew I'd love? They make me smile. My fat new orange cushion from World Market on my antique swan chair? Smile. The sketch of my dream come true vacation to Disneyworld with my family a couple of years ago? Happy smile every time I see it. My Anthro candle? I inhale deeply and smile. A little whale and whale print on my wall? Smile in honor of my whale loving girl.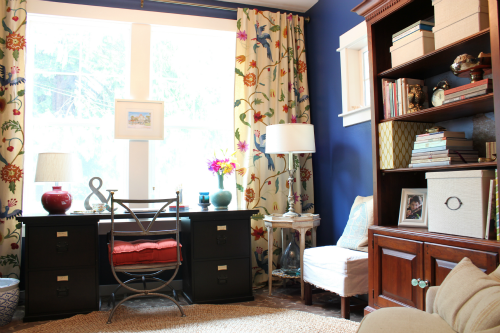 The walls in my house are mostly neutral (except for our kids bathroom which is another bold blue color), but no neutral walls in here! I went out on a limb and selected a gorgeous shade of deep blue (Glidden Rich Navy), a perfect compliment to my new curtains. I am extremely happy with how the colors turned out in the office! The mood is just what I hoped for.
If you want to splurge on color but can't see past choosing just white or neutral walls, maybe pick just ONE room and go for it with a blast of color!
Honestly, it is probably the most favorite room in our house now. EVERYONE wants to be in here! It is pretty funny. But of course I tell everyone (except my dad when he visits) that it is for girls only. Jack would love to hang out in here but that is a no go. Sorry, Jack.
Here is my desk, where I sit to work and talk to you all! I have had this desk for years, since my old house! It is a Pottery Barn and it has served me well. It was nice to not have to buy something new. I reused as much furniture as I could not only to save money, but because I desperately needed the storage in this space to make it a functional office.
I love having a view out a window too, not only of my art but of the outdoors. Just being able to see the trees blowing in the breeze as I work is relaxing and inspiring.
I adore pairing old with new. I'm still completely smitten with my antique swan chair. It layers the room with the rich character and unexpected quirky charm you just can't get when you fill a room with all new "perfect" and coordinated furniture and accessories. I do love the eclectic look.
These Cute as a Button chairs have lived up to their name and expectations. My girls love coming in and sitting in these chairs to blog, chat and get away from the rest of the house's activities.
I have had that owl bookend probably since I was a kid and the turtle opens up and you can keep little treasures inside like paperclips or pins. I wanted lots of metal accents in the room. The texture and shine of pretty metals adds something special, I think.
Remember my file box? Now it gets to hang out with me in here! I adore that box.
I wanted to reuse bookcases I already had, but in order to give them new life and brighten up the dark wood without paint I papered the back of them with maps.  I also added some blue bubbly knobs to give them just a little pretty blue bling.

Some of you get into the Elf on a Shelf. Here? We are all about the whale on a shelf.
Along with the whales, we kind of like our elephant statue. Because, well, I'm not sure. Because a tower of white elephants in a room is just cool.
I'm pretty obsessed with having cute pens and pencils. I keep them in a mason jar and I just love reaching to grab a pen or pencil and having it be a CUTE ONE!
And I love having my favorite Anthropologie mug, a pretty pen and my blogging notebook nearby! It is the little things, right?
The round rug is from Pottery Barn. I layered it over our patterned carpet for extra coziness and light. I love how the round shape accentuates the focal point in the middle of the room, the antique crystal chandelier.
By the way, that chandelier was in one of my old houses and I've been saving it from just the right space in my new house! It is perfect in here!
And that subway art outside the door is from Red Letter Words and has names of places from our hometown of Portland, Oregon.
I covered the back of the lawyer's bookcase with some blue polka dot fabric. I like how it brought some whimsy and girlishness to a serious cabinet. I love a room with contrasts and things that are collected and unexpected!
Here is the sea life art I got from Etsy (Vintage by the Shore) in the mixed metal frames.  The swing arm plug-in reading lights are perfect for creating a little mood lighting (they are on dimmers!) or reading in the chairs.
I got that sweet little whale art (above the mirror) from Britt Herman on Etsy. My daughter had featured it on her blog and since I knew she loved it so much, I just knew we had to have it in our girls oasis!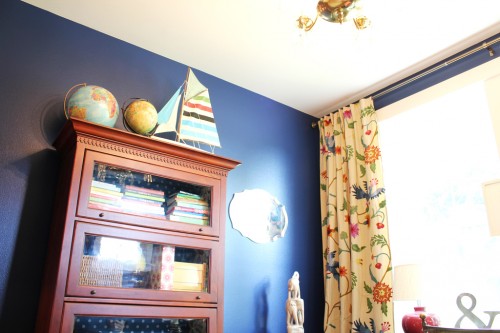 I FREAKED OUT when I saw that boat on LuxeYard. Isn't it the CUTEST THING EVER? I got from a LuxeYard sale (you can sign up for free to see the housewares they currently have and watch their sale offers via my invite link).
My Home Office Makeover!
So, there you have it! My "finished" home office. If you were around yesterday you saw I have already started some new home projects. I have lots of ideas in mind for how to bring some of the elements from this office to other rooms, while at the same time creating new spaces that have their own personality and flavor. I cannot wait, I've got a few makeover surprises up my sleeve too!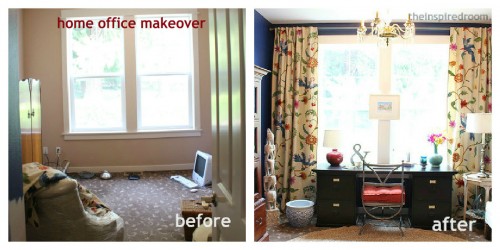 Thanks for coming by! Now you'll know where to find me next time  you visit, I'll be in my office! I'll put up some sources and answer any questions in another post so let me know if I missed anything you wanted to know!
Wall Color: Rich Navy, Glidden
All the Home Office Makeover posts