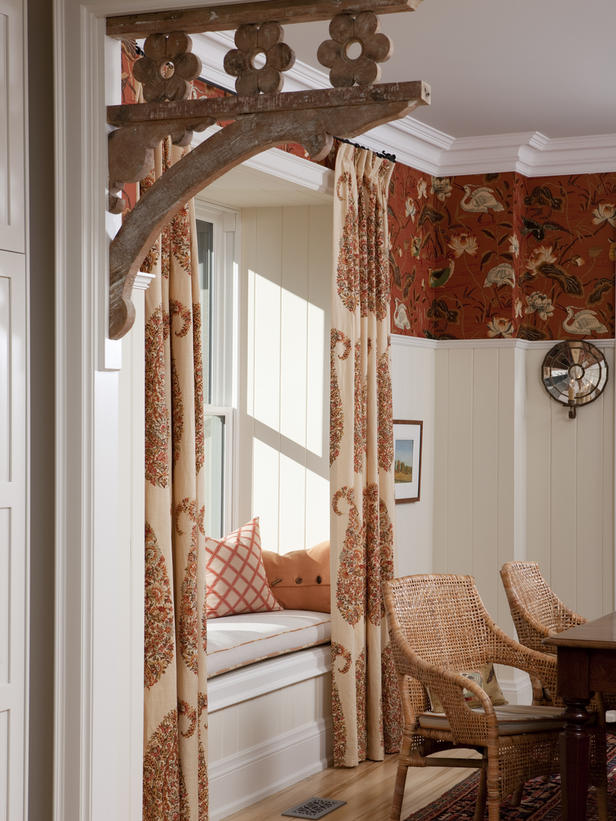 I'm just starting to get into a decorating groove around here. Even though I've lived in this house for three whole years, I finally feel like I can devote some time to working on my house.
I'm a little more sure of what I want this house to be like. I know what my house feels like in all seasons. I know how we live here, as opposed to how we've lived elsewhere. I feel like I am ready for this to be home.
I'm also figuring out what this house is NOT going to be like.
At first that can almost be a little bit like grieving because you have to say no to so many options that you really like, but that aren't going to work for your house right now. So you say good-bye and start refining exactly where you are going.
Yet once you start figuring out what path you are going down, all decisions come a little easier. You feel freer and more excited to get going! At least, that is how I feel. Maybe I'm strange.
It is also a little bit scary to move in some directions though, if you are not choosing a simple path. Simple whites or solids are lovely too, but it is not the direction I'm going. Mixing colors and bold patterns is not always the easiest way to go, but I'm willing to risk it and have fun with it!
I adore Sarah Richardson's style in so many of the rooms she's designed.  She does pattern and color well.
Sarah feels that each room in a home can be unique. I like that. I do like my house to flow, but I don't think it has to flow in that every room looks exactly the same. In fact, that is not fun for me! I don't want to keep designing the same rooms over and over with only slight variations.
I want each room to be fresh and unique, but I will still try to have certain threads of style or vibe that tie it together. That is what I'm working on right now in my house. It takes a bit of tweaking to make it all work, but that is part of the fun, right?
So after creating the inspiration board for my home office, the next step in the process was to get brave and actually buy the curtains. They are BOLD and that always makes me a little nervous. I was holding my breath until they arrived!
Anthropologie Mantadia Curtains
While ordinarily my mom makes my curtains for me and they turn out beautifully as well as save me money (remember my $30 curtains? and my recycled dining room curtains?) this time I fell in love with the bold pattern, color, detail and texture of these Anthro curtains.
I decided if I really loved them, they'd be worth the splurge as they will be the focal point of my office and in fact, set the stage for my color scheme and style in this house.
Now before anyone gets all bent out of shape over the price of Anthro on a budget, sometimes a splurge is worth it they fit into the overall budget AND you are in madly love with them.
So I ordered the curtains cautiously, fully expecting to return them but once they arrived if I wasn't in love with them. I couldn't tell for sure how I felt about them from the pictures online and I waffled back and forth about other options.
But much to my utter shock, I gasped with JOY when I pulled them out of the box. JOY! I might have even WOO HOO'd. They are TO DIE FOR. So, with a payment from an unexpected job and the excuse of a birthday discount, I made them MINE!
No guilt! No regrets.
By the way, if you like the pattern on my curtains but want to make some yourself for less, there is some fabric here that is a lot like it!
This is the window (before curtains) in my office. The walls are NOT painted yet, by the way. It is still sporting its swine walls! The curtains will be hung just like my dining room curtains, stationary and to the sides as to not cover up the window or molding.
As I mentioned, the curtains in my office going to pretty much be the jumping off point to tie color and style together in my entire house. They are fun, whimsical and remind me of a long-ago vacation my husband and I took to the lovely Hawaiian island of Lanai and a Four Seasons Hotel called The Lodge at Koele Bay.
I love decorating in a way that bring happy memories to our home!
I was in Lanai about 20 years ago and the hotel may not be as stylish today (maybe I need to fly over and find out?! YES!)  but I hope to capture the vibe rather than actually copy the exact decor of the hotel. It is a feeling I want, not necessarily an exact replica of the style. Although it was an AMAZING hotel.
The hotel was full of color, stripes, bold pattern and yet had a refined island or British colonial sense about it, with antiques and gorgeous furniture.I just loved it. I was actually horribly sick from the choppy boat ride to the island and once I got to the hotel I finagled my way into a room to rest!! It worked out well because I got to see more of the hotel, ha!
As I've mentioned I adore the contrast of serious and whimsy in mood and color. And that is what I hope to capture in my house.
See the bird of paradise in the pattern? I love that bit of fun and whimsy.
Next in the home office redecorating saga, I'm going to show you my new chairs! YAY! I'm moving along, slowly but surely.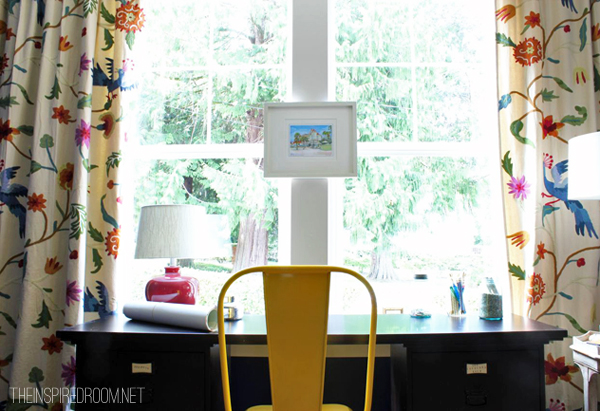 UPDATE: You can see how the office turned out (above) and find an updated post about the office right here!
I'm excited to round more corners in making my house feel like home! I'm glad you are coming along for the somewhat scary ride!!