Hello, tufted girlie chair. My how pretty you look today!
So one of the goals in my home office makeover is to transform it from simply a place to work in to a place to retreat from the rest of the house while working.
My girls and I have a special vision for this space.
The truth is, when my girls are around, we want to be able to escape the craziness of the rest of the house.
We have two male dogs (by the way, thanks to everyone who has asked to see more of Winston! He just had his 17th birthday party so give me a few days and I'll let you see him in his party hat!) and two human males in our house. The boys outnumber the girls and we want a place to get away and just be girls. Girl music, girl smells, girl talk, and girl calmness.
Need I say more?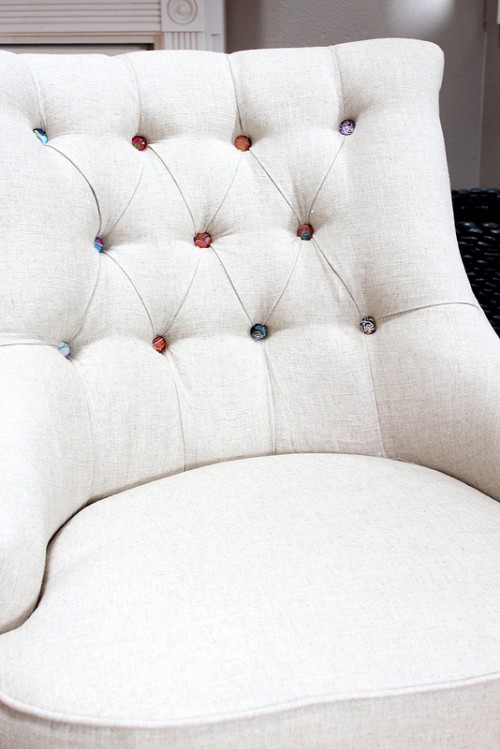 We basically dreamed of having a special retreat where the girls of the house could shut the door to work in peace, blog and dream without the distractions.
So to complete that vision of an all girl space, we needed girl chairs. Right? You know what I'm talking about. Girl chairs.
Originally the plan was to have someone slipcover a couple of wing backs for me, one for each daughter. But, as tends to happen when you are open to whims and new opportunities, plans change.
About a week ago we came across a friends and family sale at Cost Plus World Market. As we walked through the store, we laid our eyes on these little beauties. They were like little beacons of light, calling our name.
They were the perfect girl accent chairs.
Tufted.
Understated.
Sophisticated.
Whimsical.
Feminine.
The type of chair where you would feel free to say no dogs and no boys allowed.
The wing backs can still be slipcovered and used in another room when I need them.
We walked around and around these tufted lovelies. We sat on them. We took pictures of them. We admired them. We looked longingly at them. We consulted each other and then we agreed. They were meant to be.
The decision was made.
These were the perfect chairs for our girl office.
Hello cute little fabric covered buttons.
Hello cute as a button chairs.
Welcome home.
Did you see my curtains for this office? Find them here!
Chairs: World Market