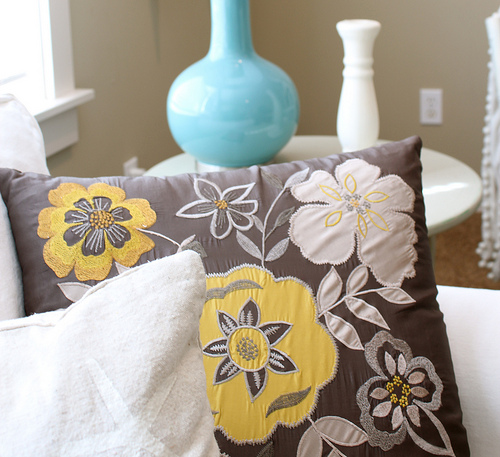 Sometimes, the most unexpected things will inspire my desire to decorate. This time, it was my yellow file box. I'll explain that in a moment.
I don't know about where you live, but summer doesn't really feel like it starts around here until say, end of July maybe. So it seems a little premature to be expecting summer on the last day of May. However, there is always hope and we do get some precious sunshine now and then even in June.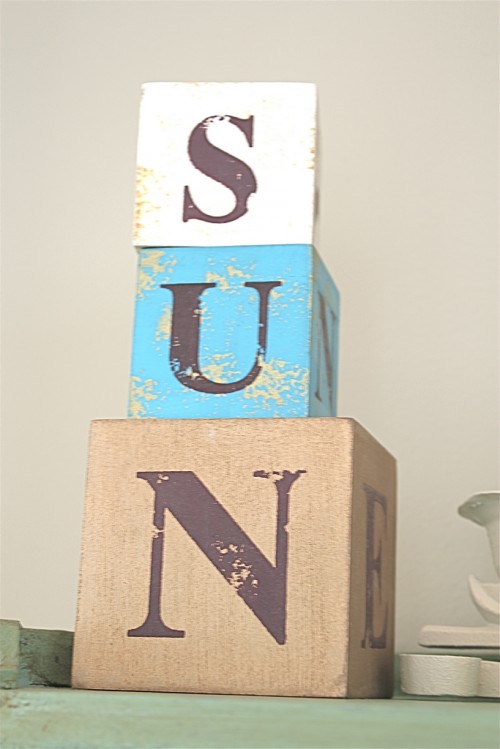 So, to keep optimistic and ready for summer, over the weekend I did a little summer puttering aka decorating! These decorating blocks are my new favorite "toy" … you can find them at DaySpring!
It wasn't super sunny when I was doing my summer puttering, of course, so I kind of had to use my imagination that summer was in fact coming. Thus, now we have to accept the less than sunny photos.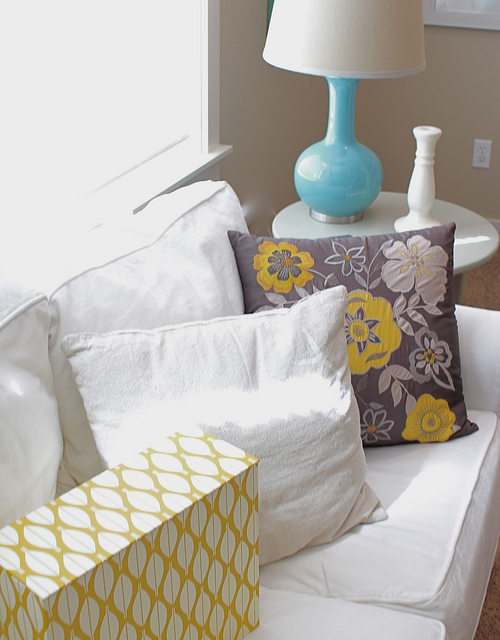 I have been loving my super cute Target file box so much that it sparked an idea for summer pillows.
I've been obsessing over yellow for about a year now, so when I set my file box on my sofa to see what bills were overdue due to be paid I suddenly had an epiphany. I need yellow pillows. And I would like one like the pattern of my filebox, please.
And just like that, I left my unpaid bills in the box and took off in the car to fulfill my desire for yellow pillows. Good thing I had a gift card burning a hole in my wallet.
Unfortunately, I just didn't see any pillows like my file box.
I did find a pillow with yellow flowers on it (from Cost Plus) that coordinated well WITH my file box!
So, as long as no one tries to rest their head on my file box, I think things are coming together! Just kidding. I won't leave my file box there. Although I might because I still have bills to pay. But I do think I need to order some fabric that looks like my file box and sew a pillow to go with my new flowered one!
I love the geometric with the floral, and of course I love how it picks up all the yellow around the room in my map prints and yellow lantern. It also has a bit of a satin sheen to it so it is a nice new texture in the room.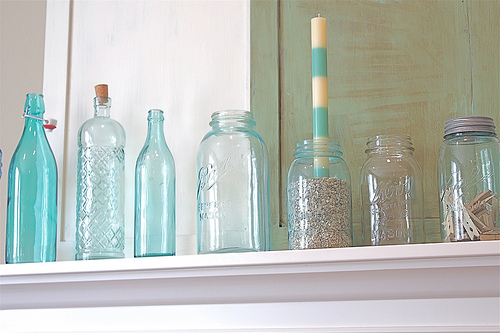 That purchase set off a little flurry of summerizing around the room. I brought in a lot of my pretty sea glass colored bottles and jars to create an informal summer mantel-scape. I still love the colors on the books I used for my spring mantel so I just re-arranged them and kept them out to contrast a bit with the glass and to inspire summer reading!
So, that is the true tale of how a file box I bought to inspire me to to organize paperwork was so pretty it distracted me from bill paying and caused me to go shopping and redecorate instead.
Story of my life.
What's new with you? Inspired by anything fun lately?