I'm not obsessively organized. I do not alphabetize my spice rack or invest money in fancy organizers for my kitchen drawers (as you can see, my silverware is in a jumble and my lone organizer is from my gray blue phase of 1989.). But I do have a couple of systems that work for me I wanted to share today. I'm more concerned with function than I am with perfection when it comes to organization.
Many of you asked after I shared this post on my morning routines how I manage to unload my dishwasher in 2 minutes. Well, today I'll explain that for the inquiring minds that wanted to know. I've shared some of my kitchen organizing ideas before, but I have a brand new system for how to keep paper clutter off my counter, I'm SUPER EXCITED ABOUT IT!!!  I'll share that idea at the end of the post.
When I set up my kitchen, I organized the placement of our supplies and tools for how we would use the space. Basically, that means I organize around two basic concepts.
1) My kitchen is divided into activity zones.
First, I group activities that take place in the kitchen. So I put all my basic baking supplies in one area, all my cooking supplies in another. This makes pulling out cooking and baking supplies easy, as most of what I need is within a step or two. I also keep all of my every day dishes on open shelves, so they are easy to pull out and just as easy to put away.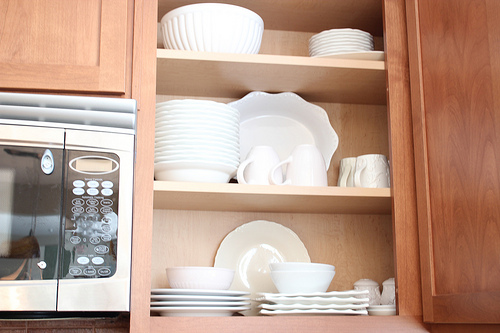 Every day dishes are on open shelves for easy access
(side note: if you look to the left,
you'll see the broken handle on our microwave.
Not only is our handle broken but the microwave
only works about half the time! YAY for us!)
2) I organize the most commonly used, every day items requiring washing & drying as close to the dishwasher/sink area as possible, and always grouped together with other like things.
For instance, all of my cooking spoons, spatulas are together, all of my pots and pans are together, all of my baking dishes are together, all of my plastic/glass storage containers are together. All things that are washed frequently are easy to get to and cabinets are not overloaded with items we don't need regularly. That means we don't usually have avalanches when we need to get something out! I also do not worry about perfection. It is perfectly fine with me for my serving silverware or cooking utensils to just be tossed in their drawer, I always can find things — further organization is a project for "someday" if I have time.
With those two simple guidelines / systems keeping our steps to a minimum and a clear plan for where our every day items go, we can unload our pretty new dishwasher in two minutes flat. It is really easy if you know where things go and they are nearby.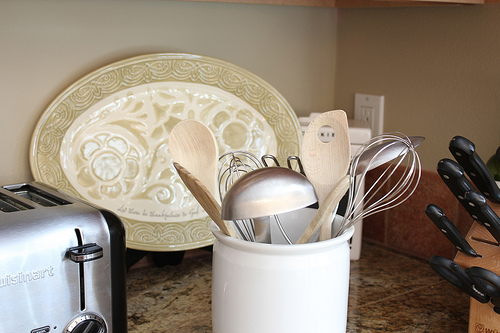 Now, I know what some of you are thinking right now. You are saying to yourself, "Easy for you to say. Your kitchen was built three years ago and has normal cabinets and drawers. Mine has no cabinets I can use.'
OK, so I get that. I do. I've lived in old houses where I had to be creative and store things on the backs of doors and way down in the basement. But the concept of organizing around zones, particularly by what should be near the dish washing area, is still useful. You might not have the ideal situation all of the time but do your best to create a system that makes sense.
Here are some clever storage ideas I use to keep those "extras" out of the kitchen work zone.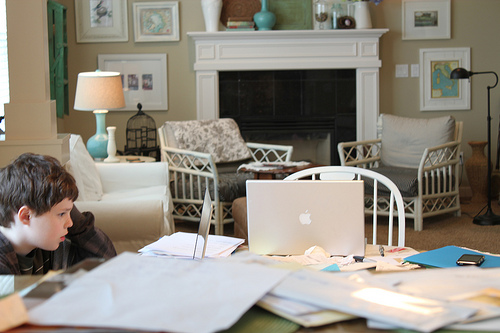 Now, here is the weak link in my kitchen organization system that I solved and wanted to share with you today.  It has to do with important papers that end up in a jumble on our counter or table.
This particular paper problem has been a problem for us mostly just since we moved to this house. I have systems I've used before in other houses, but with a new season of life and increasing responsibilities, we've come across new organizational needs for this house.
Here is what goes down at our house:

I sit at the table to do a bunch of paperwork. I make little piles of important papers, mail for my daughters, receipts, bills, and lists and spread them on the kitchen counter and table so I can tackle them. Then I get called away to work on something else. I leave the papers there because I am not done dealing with them yet. I fully intend to return. Someday.

My husband enters the room to start his work, and he shoves my piles aside, or he picks up my important papers and sets them up on the "bar" in our kitchen.

My previously "organized piles" get all mixed up together and invariably, I lose something important or forget to pay a bill.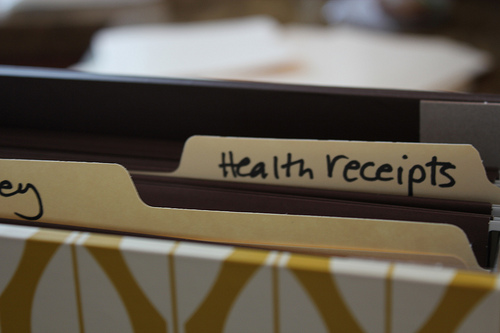 So this week I decided enough was enough. Something had to be done. An intervention was needed.
I thought long and hard about why papers end up on my counter, and what types of papers were always there waiting for me to "deal with them."
Here is what I realized:
I have file cabinets elsewhere for papers to be stored once I am done handling them, so the problem I was having was with papers that were "in process" or needed more of my attention in the very near future.
In order to solve my paper crisis, I needed to apply the same basic principles to my papers as I do to organizing my kitchen supplies.
1) I needed to divide my papers into groups of related items, according to what frequent activity they are related to. After looking through my piles, I found I had about seven different categories of regularly handled papers :  bills to pay, receipts for our church, receipts for my business and receipts for our HSA/insurance, papers/mail for each of my 3 kids,
2) I needed to put my most commonly used papers where they are easy to get to, because storing them any where BUT in the kitchen would probably mean I'd forget about them. I didn't want to have to run to another room, I wanted them located right where I could get to them quickly if I had a moment to work on them.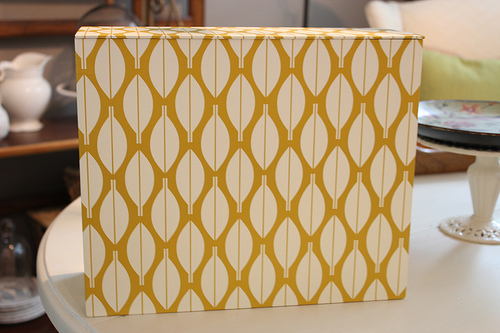 My kitchen paper clutter solution:
Behold my brand new, important in process papers file box. I found this cutie at Target. It kept leaping into my cart wanting to go home with me, so I had to buy it.
I made up my files according to the papers I needed to organize and keep on hand. Voila, no more paper clutter filling up my counters. My pretty box sits right on the kitchen counter, ready for use and ready to store papers until I can deal with them.
Why did I wait so long to do this? It took me about five minutes to solve this problem. I love it!
BONUS: I created one file folder for my husband to use, if he find things out and doesn't know where they go he can put them in there.  And I won't spend hours searching the house for where he stashed my receipts!
I love having simple systems to keep my house in order! Loading my dishwasher at night and unloading it in the morning, making sense of my drawer & cabinet organization, and now my oh-so-easy system for corralling paper on the counter will all help me to keep my house clean and organized.
What is your biggest kitchen housekeeping/organizational challenge?
This post is part of a housekeeping series sponsored by Electrolux as part of Homebuzz. I received an Electrolux dishwasher in exchange for my participation. The opinions stated in this post are my own. My old dishwasher is being donated to a worthy cause. My previous posts in this series:
My New Dishwasher, 
Order from Chaos
3 Truths and a Lie