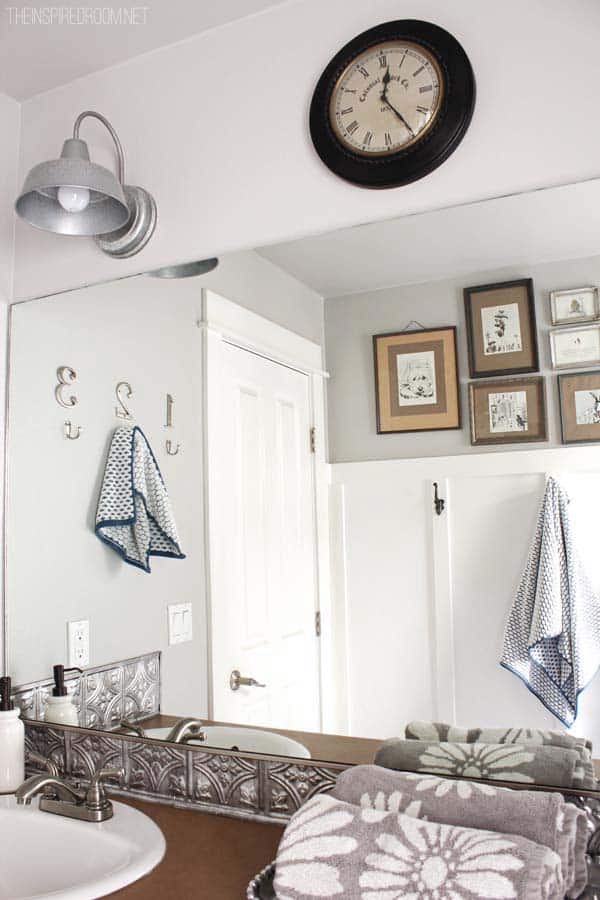 Update! Here's what this bathroom looks like now (above!), after another bathroom refresh a few years later! :-) Below is the first refresh!

Boy's Bathroom Before & After
So, last week I told you I was going to give my son's bathroom a little facelift.
And now we're done! Just like on TV.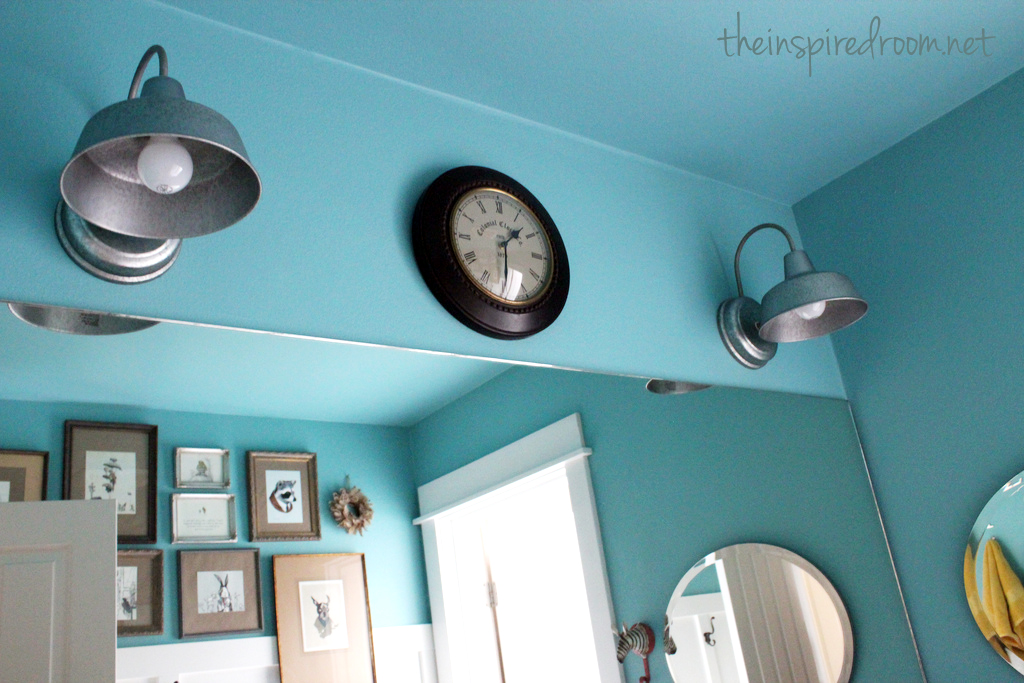 Oh, wait.
No, actually, that was LAST YEAR that I told you were were doing this quick bathroom makeover!!
Holy cow, time flies when you are a busy family. A whole year! Anyhoo…let's rewind the clock a little bit ALL THE WAY BACK TO FEBRUARY LAST YEAR and refresh our memories, shall we?
When I say it was last year when we started this, don't be fooled — it didn't really take a year. We really only worked on it a handful of days. This was just a quick facelift, not rocket science. But we are just too busy to work on it five days in a row. And, it was mostly done awhile ago, I just was kind of lazy about taking pictures.
This room I speak of was a fine enough bathroom to start with, better than many I've had in the past. It is a new house so we aren't trying to deal with bad remodeling or horribly outdated rooms or anything. I'm not really a fan of ripping decent stuff out just because you have a whim to have something new, you know? so that wasn't my plan at all. I knew we could make a few little updates without going overboard, as it was little on the dull not-so-youthful-or-fun side.
While mostly this is my son's bathroom, my daughters also use it when they are home. So it had to be decorated for all of our kids and guests alike. We decided quirky-fun would be better than new-house-dull, so that is what we set out to do on a small budget and a few days of effort.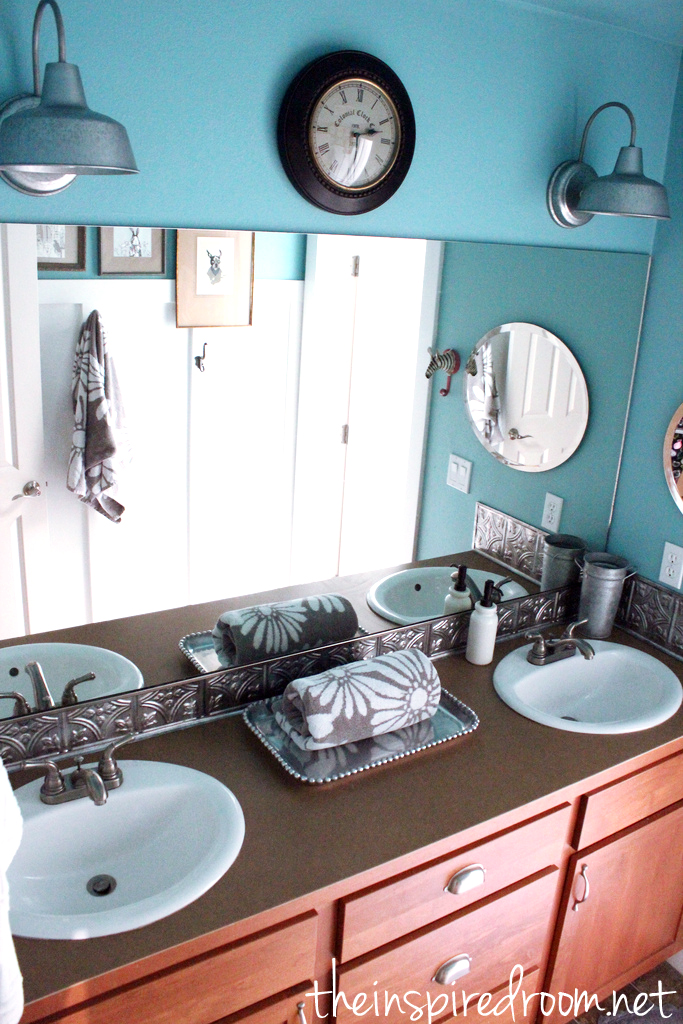 The first thing we did last year was to change the drawer pulls.  The vanity is a natural brownish wood and I initially wanted to paint the cabinet but after painting all the walls, I just wasn't in the mood for more painting. Pulls make all the difference so we were fine with leaving the cabinet natural wood. Time and money saved. BOO-YA.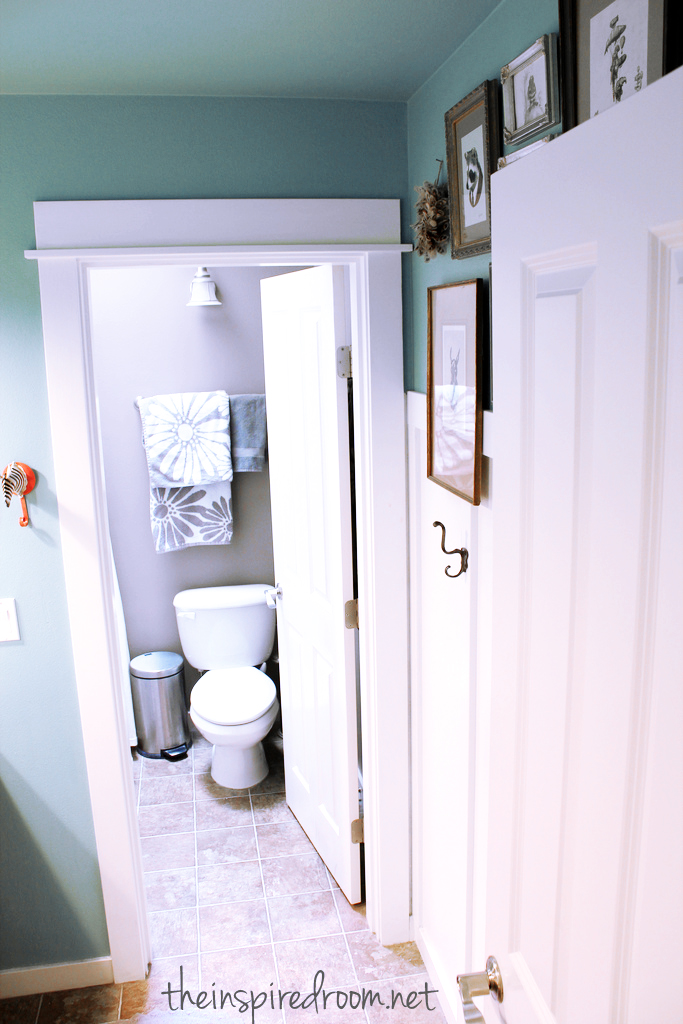 I decided I would abandon my usual neutral wall paint and let this room be a little pop of happy as you come down the hall. I have to say I love rounding the corner from a more serious gray hall with white trim (which I love, Studio Taupe Behr all in one) and then feeling a big smile come across my face when I walk in this room.
At first I was worried about how bright the teal – turquoise color was (Lagoon by Martha Stewart) and had visions of people getting headaches and wanting to wear sunglasses upon entering, but by simply painting the shower room the same gray as the hall, it all balanced out just fine. Now I love it!
Then we did a very simple white board and batten treatment on just one wall. It was fairly easy and painless. More math than we'd like, and some snafus with getting the right white paint color, but we worked around it all and got it done. We ended up painting the board & batten and doors White Dove from Benjamin Moore. The walls are Martha Stewart Lagoon. The potty room and hall outside the bathroom is Studio Taupe, Behr All In One.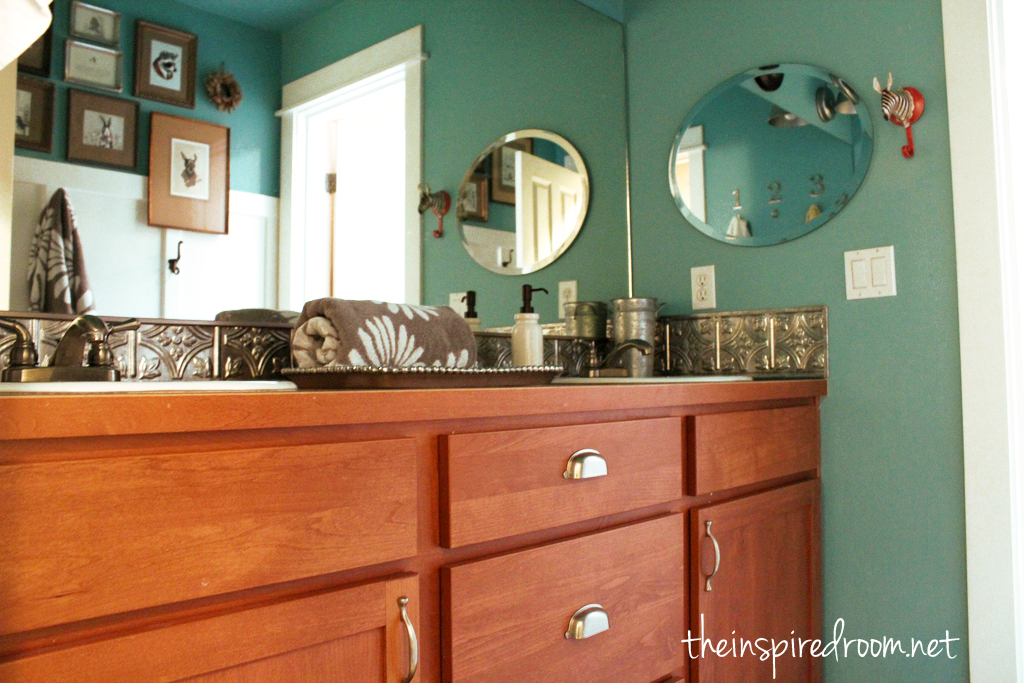 On the sink side of the room, we had some thinking to do. In order to do more board & batten we'd have to do more cutting and trimming and tie it all into the counter. NO! Too much work. Maybe not for you DIY Divas out there, but I have my limits. Or maybe I'm lazy. But really a fancy kids bathroom was not at the top of my list of things to do last year. So, we just decided to make things easy on ourselves and paint the walls.
But I really didn't like the existing Formica back splash. I mean, the counters are not my fave either but why use Formica for a back splash too? It was just too much for me. I didn't want to go through the hassle of new counters right now and I wasn't in the mood for a tiling project (blah blah blah), so I found a simple solution at Home Depot. Faux tin ceiling tiles. They were super easy to cut and install. And so pretty! This is an easy-peasy durable non-messy project that can be completed in a very short time. Score.
Here is the tutorial for how to do this faux tin ceiling tile backsplash!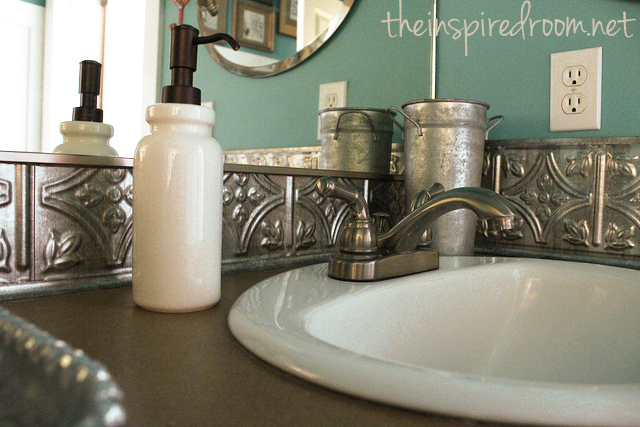 And it will be no problemo to change out the counters and back splash if we want to in some future makeover.
I thought about framing the mirror too, but decided not to. There is already plenty going on in this room without framing the mirror, so I just left it simple and clean.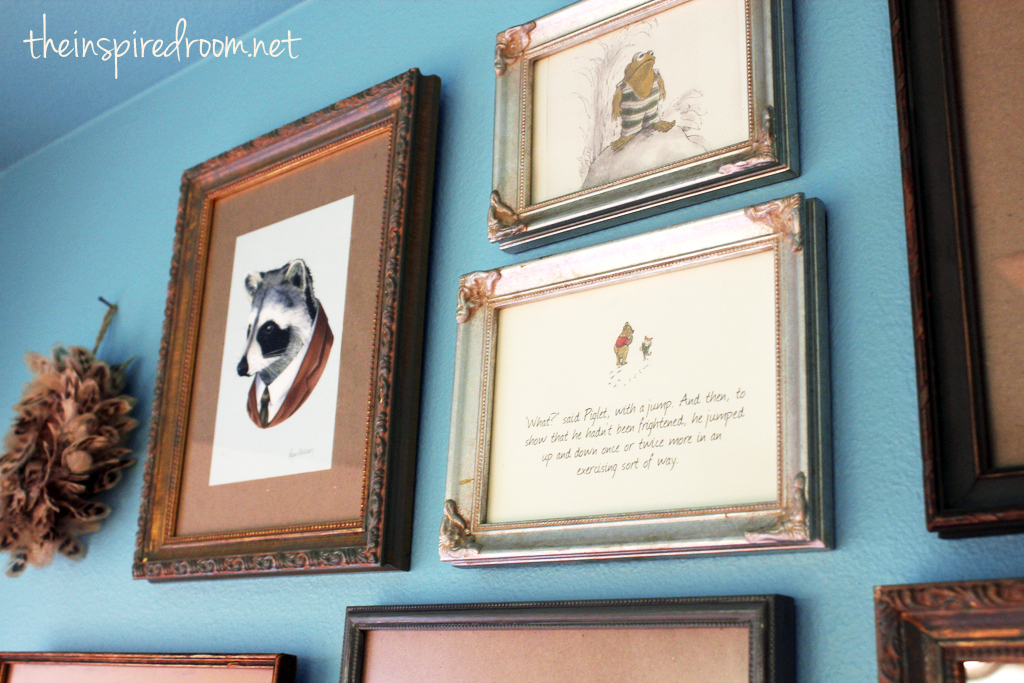 Then since we decided to keep the existing counters, we wanted to tie it all together so we went with metal and brown frames (that we had around the house) and quirky animal artwork on the opposite wall. We had or made about half the art and the rest came from Etsy shops.
Why quirky animal art, you ask?
Because my kids and I have always cracked up over animals. We thought Funniest Animal Videos was the most hysterical show ever. We laughed ourselves silly reading Frog & Toad are Friends. Now you know why we find so much humor with our puppy Jack. Apparently we just think animals are hysterical. And animals in swimsuits or sweaters are particularly humorous. Maybe we are weird.
Like I said, we smile when we come in this room.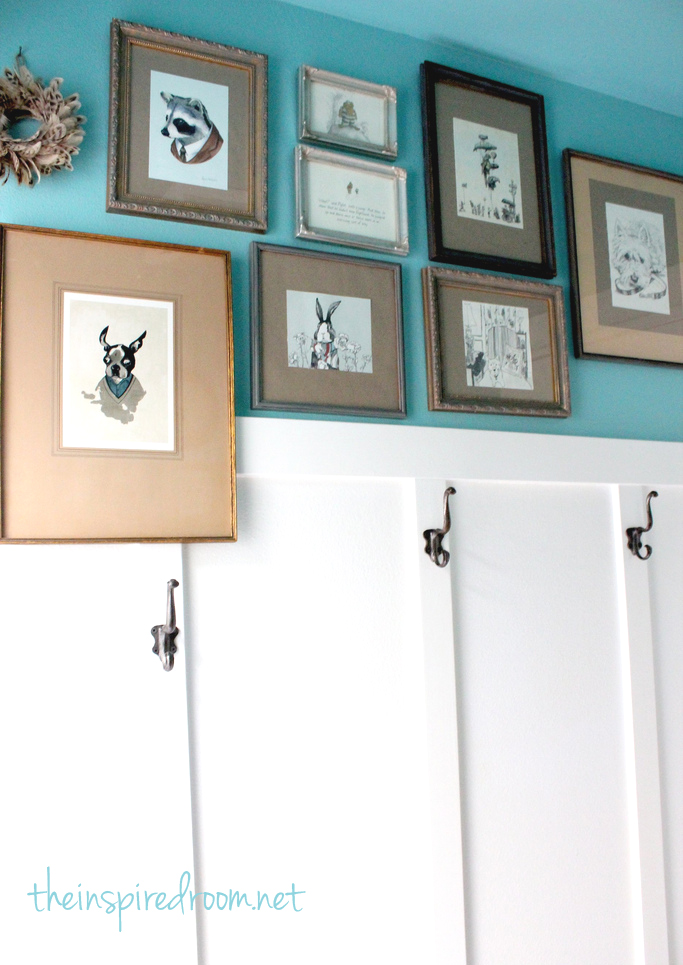 And yes, I know one of those pictures overlaps the board & batten and the hook is lower than the rest. I did that on purpose. I don't like a room to be too predictable, so I kind of like that element of surprise where the picture overlaps and ties into the board & batten. Quirky. Rebellious. Rule Breaker. If you don't like it, don't do it. Freedom of creativity is ours.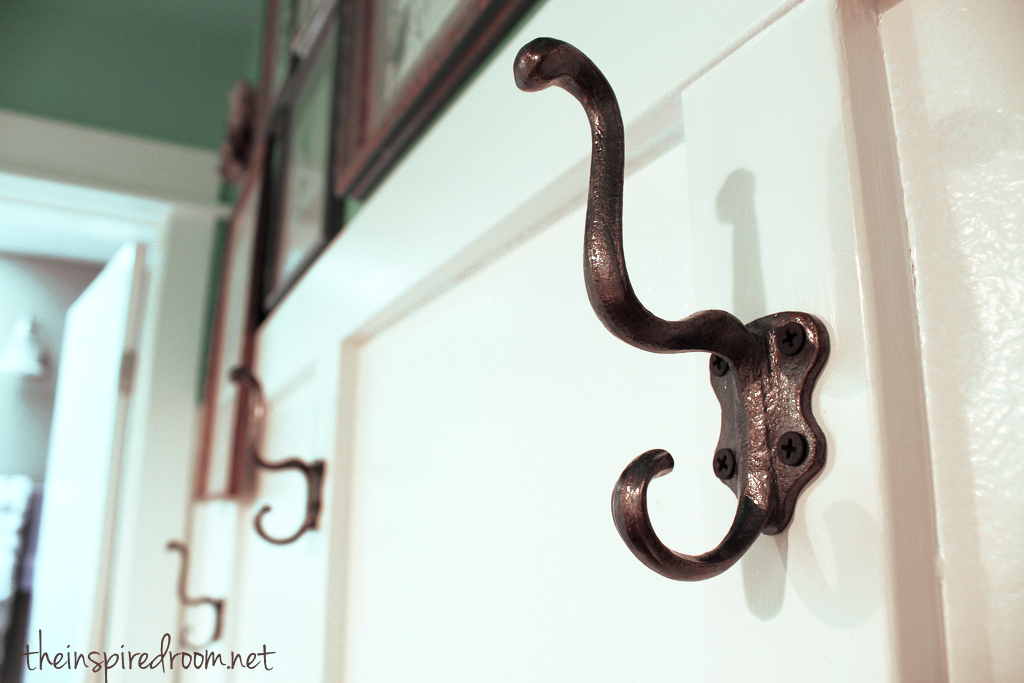 There is probably nothing more awesome in a home than hooks. Am I right? I bought these chunky beauties years and years ago. Glad I still had them, they were another great tie in to the metal accents and they have loads of personality. Not to mention, hooks are just crazy practical. So much more so than towel bars, I think.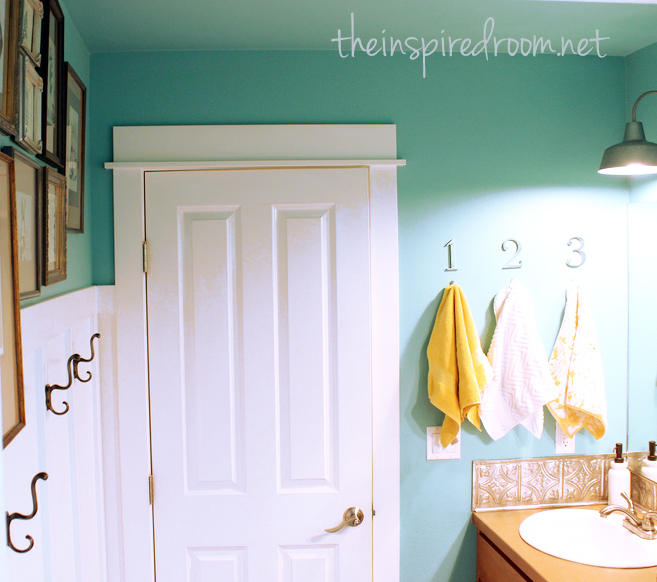 We put a variety of hooks everywhere we could. And a few numbered ones for our kids to keep track of their own towels or whatever they need to hang there. You'll also spot a quirky little zebra hook in some of the pictures. Cause every room needs a quirky little zebra. That is what I always say.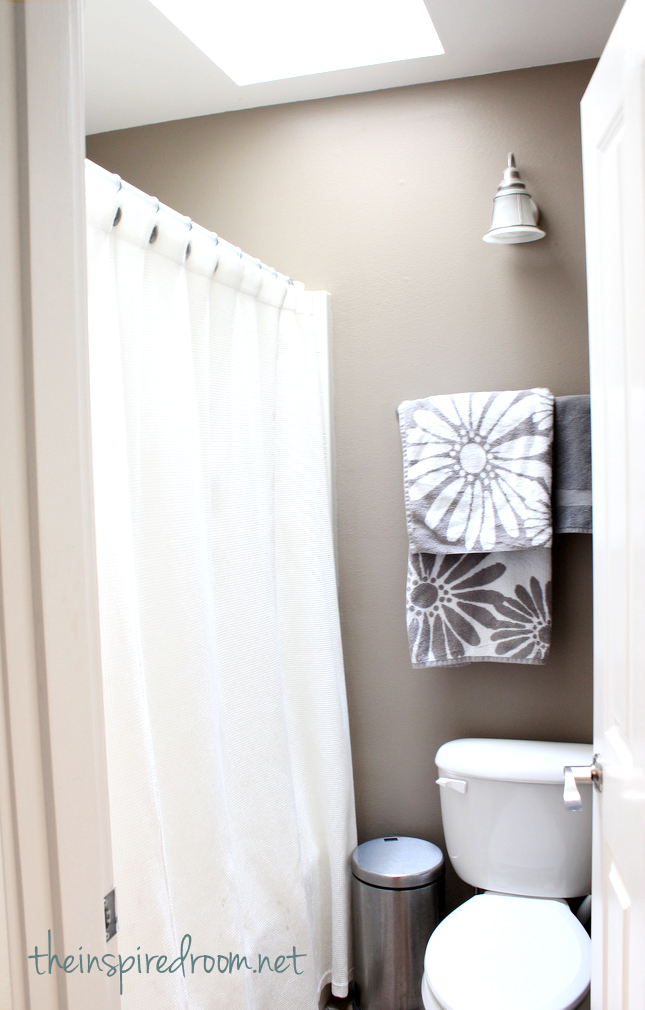 This is just a little peek at the shower/potty room. That flood of light from above is a skylight.  As I mentioned, we painted this little room Studio Taupe to tone down all the turquoise. It is nice a crisp with the white waffle texture shower curtain and all the white trim.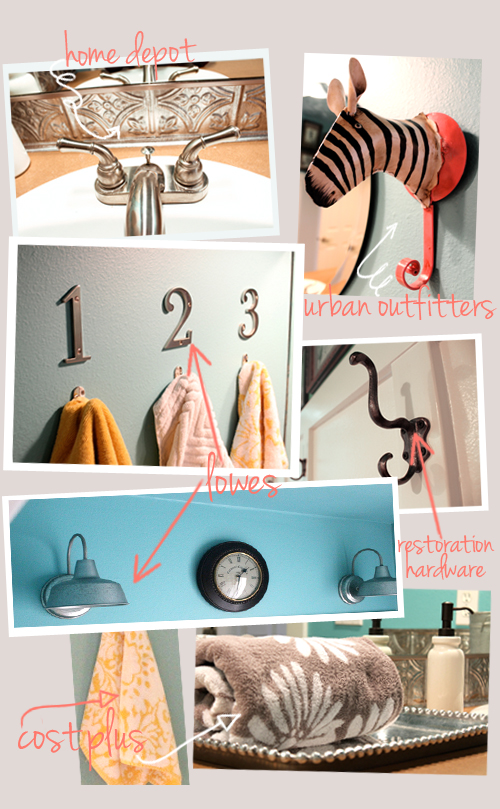 So, lastly, I decided to change the lights above the vanity. I really hesitated because the existing lights were fine and as I said, I don't like to just change things because I'm a decorating snob or obsessive about my house. But, let's be honest. I LOVE light fixtures. If they have personality, they make such a big statement in a room. And really, these industrial work-type lights gave a lot of bang for the $25 or whatever they were at Lowe's. I had to have them.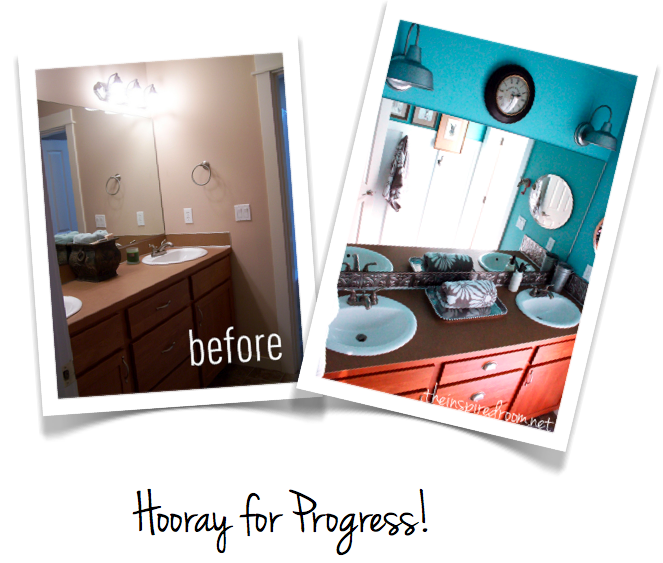 So, there you have it. Our kids' bathroom facelift. I can't say it is "the after" as I don't think this will be the end for this room, but it is done enough for now! And that is always a great feeling!!
Movin' on!
Turquoise Paint: Lagoon by Martha Stewart
White Paint: White Dove, Benjamin Moore
Gray Paint: Behr All In One Studio Taupe
Linking with: Today's Creative Blog 
If you enjoy The Inspired Room, consider taking two minutes to vote for me in the Apartment Therapy Homies Awards? I don't usually ask for votes but it is such an honor to be nominated. All you need is an email address. Easy! Thanks!