White Paint
I know people are always looking for the right paint to use, and the perfect white is no exception.
At my old house I used a Ben Moore custom formula of Antique White on my kitchen woodwork and cabinets. It was a perfect, buttery white for an old house. I loved how warm and inviting it felt. Somehow pure white just seemed wrong in a nearly 80 year old aging house.
But in the new house I live in now, we already had white wood work and windows. So when we went to paint our new board and batten trim work in our kids' bathroom, we assumed we'd just use the same white we had everywhere else.
Unfortunately, we found out that the white in the rest of our house was NOT the right white for our bathroom.
We discovered the white already in this house had a…..wait for it……pinkish hue to it. Yeah. Swine-y hue. Our builder must have been quite fond of pink. Alas, I was not prepared to repaint my entire house of woodwork when I'm still busy eliminating the swine walls. Cut me some slack, PLEASE, Mr. Builder! He has no idea the pain and suffering he has caused.
So as we discovered, the pinkish toned paint previously used on our wood work was HID-E-OUS with the turquoise walls. HID-E-OUS. So bad. Each paint illuminated the other and they both looked TERRIBLE together.
DISCLAIMER:
Now, I know some people like pink. I like pink. And some people like pink and blue together. I am not judging your taste. It is JUST ME who doesn't like it at my house. Just me. And it is my house so I am just saying what I like. You can use pink and blue and it is not a bad choice. Is that enough of a disclaimer?
So, because the original trim paint color was making me ill in that bathroom, I had to repaint our bathroom woodwork.
I tried several shades of white before I decided which one was my favorite for my trim work. And because you are my friends, I'm going to share it with you.
Benjamin Moore, Satin Impervo White Dove.
It was a dream, people. A dream.
The color is gorgeous, and I thought the paint finish was divine. The price will probably make you choke (that is what I did when they told me how much I owed). Now I hear there is a new Ben Moore paint, Advance, that I haven't tried yet but I hear it is really awesome. Definitely worth checking out! I firmly believe that a good quality paint is a must, especially for woodwork.
Now, will I say White Dove is the BEST most PERFECT white out there? For me, it is a very lovely white.
But the only way to find the BEST WHITE for you is to try it in your own house. No one in blogland can tell you what the perfect white is at YOUR house! But it is one of MY favorites!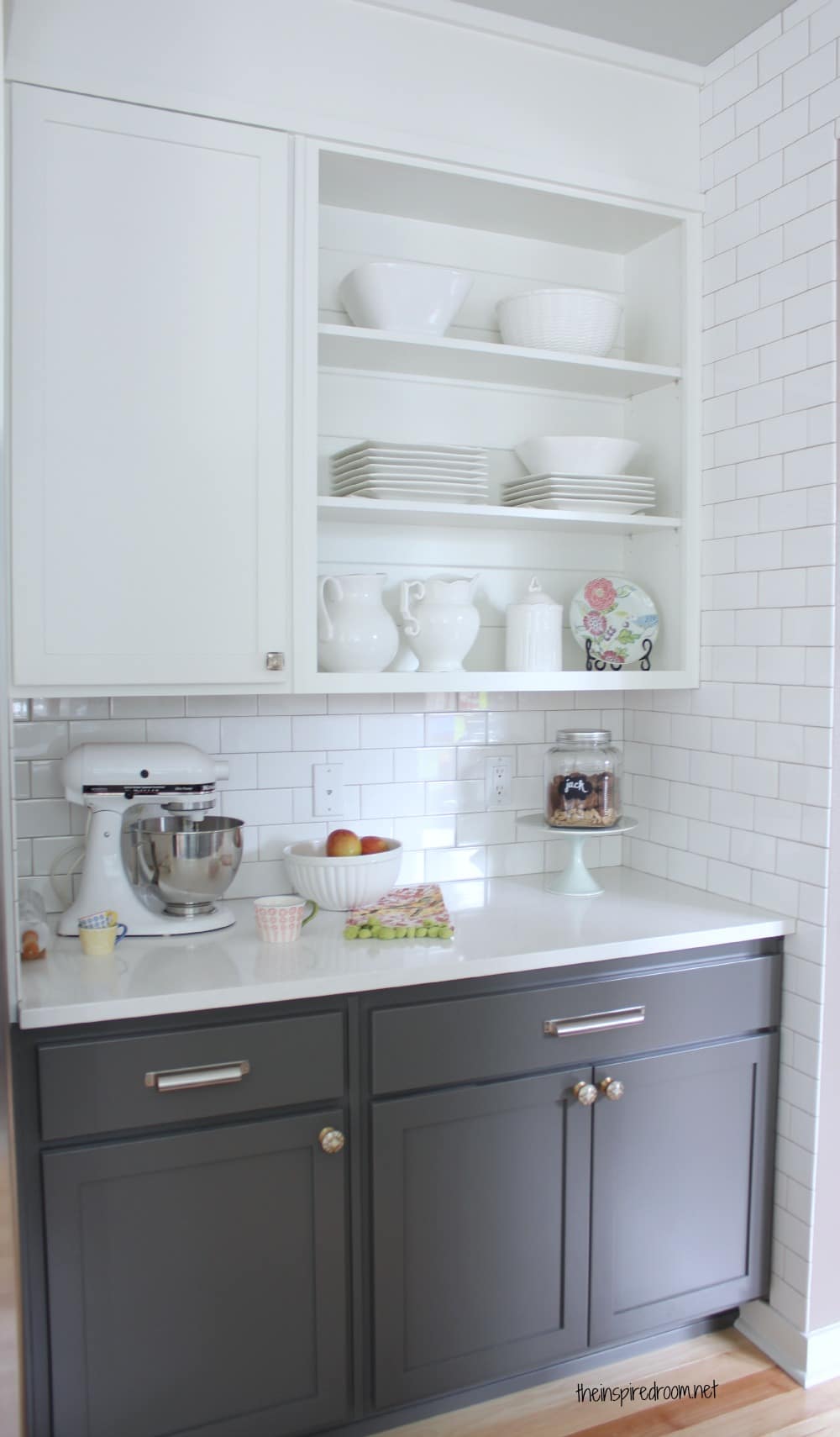 White Dove is my white cabinet color and trim color.
You need to look at paint in your own home, your own light, with your own woodwork and furnishings. It is amazing what a different environment can do to paint! Even white can look entirely different in someone else's home! So I caution you, always try samples. Live with them in all light. Walk around your home and think about it for awhile. Then, you can decide what the perfect white is for YOU.
But it does help to have a starting point, and if you need to start somewhere, I would say White Dove is a lovely place to start your search for your perfect white!
Do you have a perfect white paint?
The turquoise walls in this room are Lagoon by Martha Stewart.
The gray walls in the potty room and much of my house (which you cannot see in these pictures) are Behr All In One Studio Taupe.