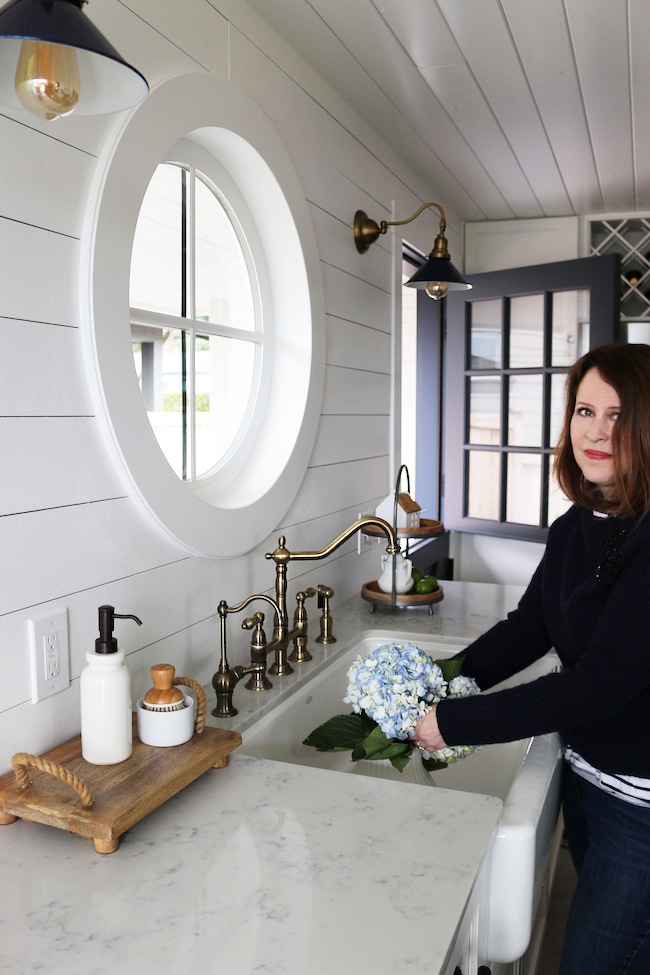 Are you looking for the plant-based cleaners, oils and natural products I've recommended? This is where you'll get them! It's simple, you just set up your account and place an order for any starter bundle to get wholesale prices, there are no fees and from then on you can get whatever you want or nothing at all. There's no obligation! My sponsor/enroller number is 3731456 so you can get the best deal and all of the goodies I talk about. Details are below! 
Text me at 503-805-6457 or email me at dwellwellcollective@gmail.com if you have any questions or trouble ordering.
I'm a plant-lady! Ha, I never would have thought it was possible that something like toxin-free household products or essential oils could change our life so dramatically, but it's true. Having thyroid issues has taught me SO MUCH about the impact of toxins on our body. I feel so much better since making these changes in our home.
Keeping our products and home clean and simple has transformed our quality of life.
Sleep, emotions, skin, digestion, anxiety, focus, hormones, immune support, for helping sore things, for toxin-free cleaning, for a dreamy smelling home without toxic fragrances/perfumes/candles/sprays…these are just a few of the ways we use oils and these natural products every day.
*It's SO EASY to get what you need for a healthy home. This is basically JUST LIKE GETTING A COSTCO WHOLESALE MEMBERSHIP, EXCEPT with YL THERE ARE NEVER ANY FEES!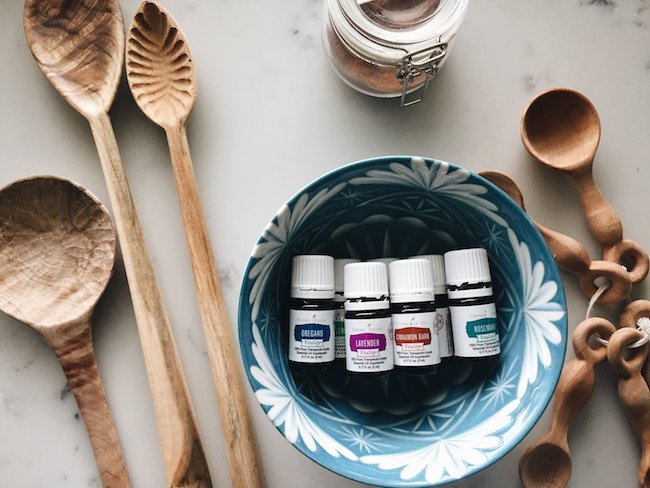 There is no further obligation to buy anything and no fees.

I promise it's wonderful!

***IMPORTANT INSTRUCTIONS TO QUALIFY FOR THE $10 SHOP CREDIT*** Be sure to check that box that makes your premium starter kit  or welcome home kit AN ESSENTIAL REWARDS order. It doesn't cost you any more to do that and you'll get $10 shop credits back PLUS my welcome box.

See the kits and instructions below and put in my sponsor/enroller referral number 3731456. Remember to say yes to Essential Rewards!

New members or reactivations.

Text me at 503-805-6457 if you have any trouble ordering.
Plus, get $10 shop credit when you say yes to Essential Rewards!
How do you order your kit?
1.
Click
HERE
and order the starter bundle of your choice and make sure you see my sponsor/enroller number 3731456.
2. Be sure you check the box YES for Essential Rewards to get a $10 product credit, free shipping and more. It doesn't cost you any more to do this, and we can help you cancel it if you choose to! Look below for helpful tips on how to order and what is in the kits.
If you prefer to call Young Living order, here is the number:
Just make sure to give them my number 3731456 for your account and make sure you make your kit order an Essential Rewards order!
3. Get excited! You will love your kit for natural skincare, sleep, immune boosting, tummy, focus, soreness, detox, respiratory support, cleaning, making your home smell amazing without toxins and so much more. We can't wait to help you learn!
You will also receive an invite to our amazing wellness community Dwell Well Collective, my monthly newsletter, free classes and support, and you'll have your wholesale account to shop over 600+ toxin-free products from Young Living anytime you'd like!
Email me at dwellwellcollective@gmail.com after you order so I can make sure you're all set!
Text me at 503-805-6457 if you have any trouble ordering.
---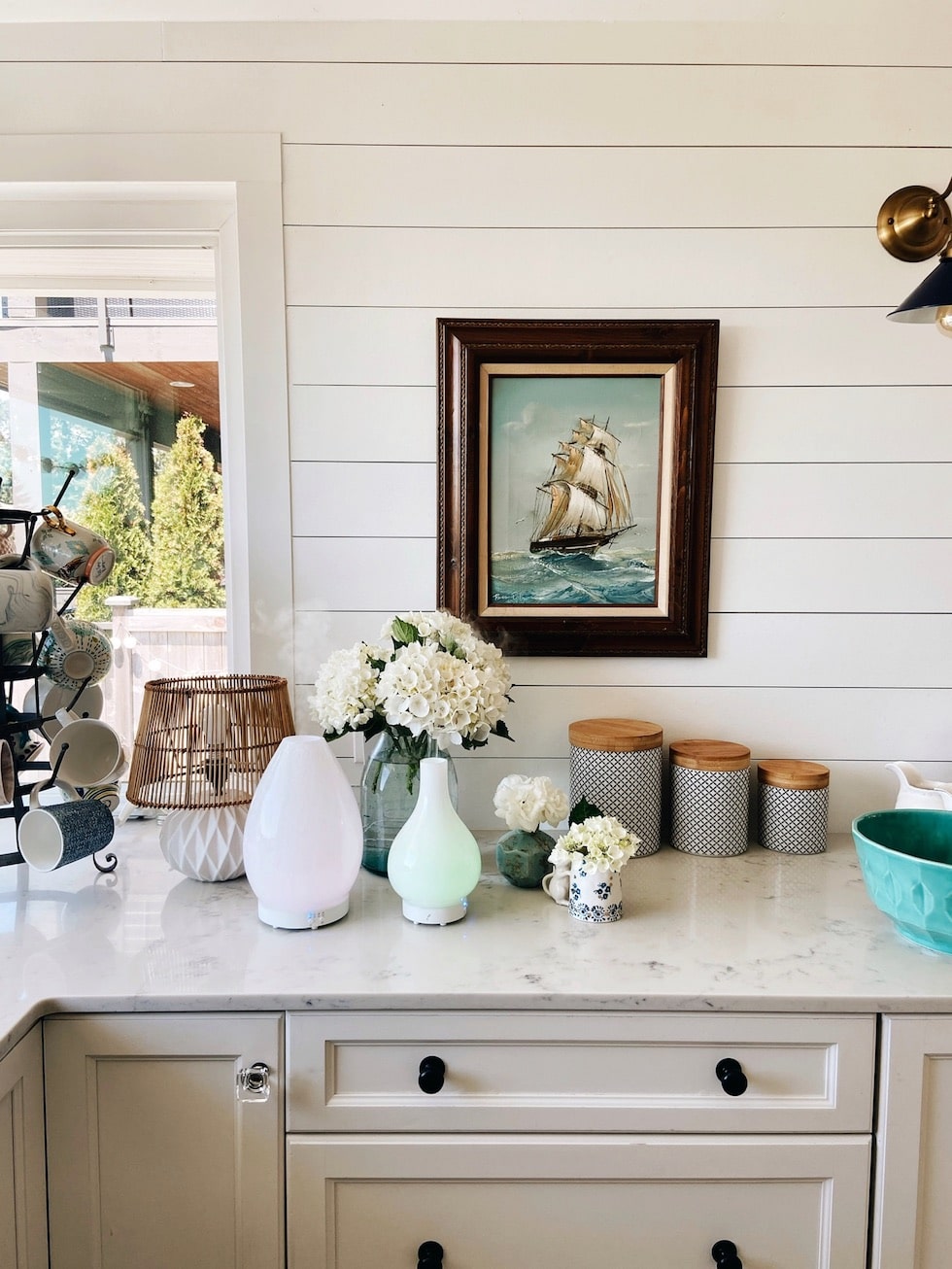 To get your Young Living account with me, just grab your wellness starter kit with this link (my referral number is #3731456) and choose between:
Basic Starter Bundle – $35 and comes with Stress Away essential oil, Thieves hand sanitizer, NingXia antioxidant drink, and Thieves Mints. This is the perfect bundle to add on any products you'd like and get the 24% discount! Use this bundle to build your own custom order.
Premium Starter Kit with a quality diffuser* – starts at $165 and comes with 12 oils and a diffuser, you'll have a couple of choices on the included diffusers, the dewdrop, desert mist, the Rainstone (with the negative ionizer) or the Aria (the wood and glass one!) the USA…. I highly recommend the oil kits, it's how I got started with the oils that changed my life! Oils in this kit in the US Peace & Calming, Stress Away, Peppermint, Lemon, Thieves, Valor, Digize, Citrus Fresh, Raven, Lavender, Frankincense, and PanAway. Also comes with Thieves Hand Sanitizer and Thieves Surface Spray (both meet the CDC guidelines for disinfectants) and 2 NingXia Red packets (incredible wolfberry antioxidant supplement juice).
Thieves Kit — $125 and comes with everything you need to switch to toxin free household products! Including:

– 2 bottles of Thieves Household Cleaner Concentrate – each bottle makes up to 30 bottles of all-purpose cleaner (60 total) This is my all-time favorite cleaner, the ONLY one I use!
– Thieves Mouthwash
– 2 Thieves Foaming Hand Soap
– Thieves Aromabright Toothpaste
– 2 Thieves Hand Sanitizers
– 2 Thieves Surface Sprays
– 1 15ml Bottle of Thieves Oil

Little Oilers Kit – A BRAND NEW STARTER KIT geared towards babies and kiddos.

This kit comes with a Feather the Owl diffuser , which also has a nightlight and sound machine! Includes a set of 5ml bottles of SleepyIze, Owie, Geneyus, Sniffleease, and Tummygize and two roller fitments to pop on any oil you want for easy application!

To order this one go to "Other Premium Kits"!
Or you can also choose a CBD Premium Starter Kit! All highly recommended.
There are NO FEES or obligations.
*Essential Rewards is an optional customizable monthly box. Be sure to check the box to make your starter kit an essential rewards order so you get the $10 product credit and free shipping, there is really no down side. You can cancel it if you want to, I can even do it for you if you prefer (just reach out to me to ask!).
I would suggest putting the Travel Kit to get a variety of sample products, or the Thieves Household Cleaner and Thieves Laundry soap in your Essential Rewards box for next month. Or ask me for suggestions! You don't pay until it ships so you can change your mind if you want to! 
I've ordered my household products this way for five years to get AN EXTRA 25% back in product credit with every order ON TOP OF the 24% off wholesale prices. SO AFFORDABLE!
You can always cancel essential rewards any time (but I bet you won't want to, you'll love it!).
If you have questions about a Young Living membership, watch my FAQ video highlight here! 
As a Dwell Well Collective member, you'll feel equipped and empowered to begin transforming your home (and your life!) immediately! We share tons of helpful tips for using essential oils, recipes, free wellness classes, inspiration to detox your home and more.
Once you have your YL account you'll have access to shop anything on Young Living's website at a wholesale discount.
There are NO fees, requirements or obligations…you just shop when you want to for whatever you want! Basically like Costco but for wellness products (except with YL it's free for life once you're a member). It's the best.
Don't forget, if you select your Premium Starter Kit to be your first Essential Rewards order, you'll get extra freebies and points back. My sponsor/enroller number is 3731456. 
Questions? Email me at dwellwellcollective@gmail.com or text me at 503-805-6457 if you have any trouble ordering.
Any of these kits above (besides the Basic Kit) will get you my welcome gift and the extra oil and $10 in shop credit when you check the box 'yes' to Essential Rewards!
Young Living has so much more than oils! We get so many of our toxin-free household products from YL.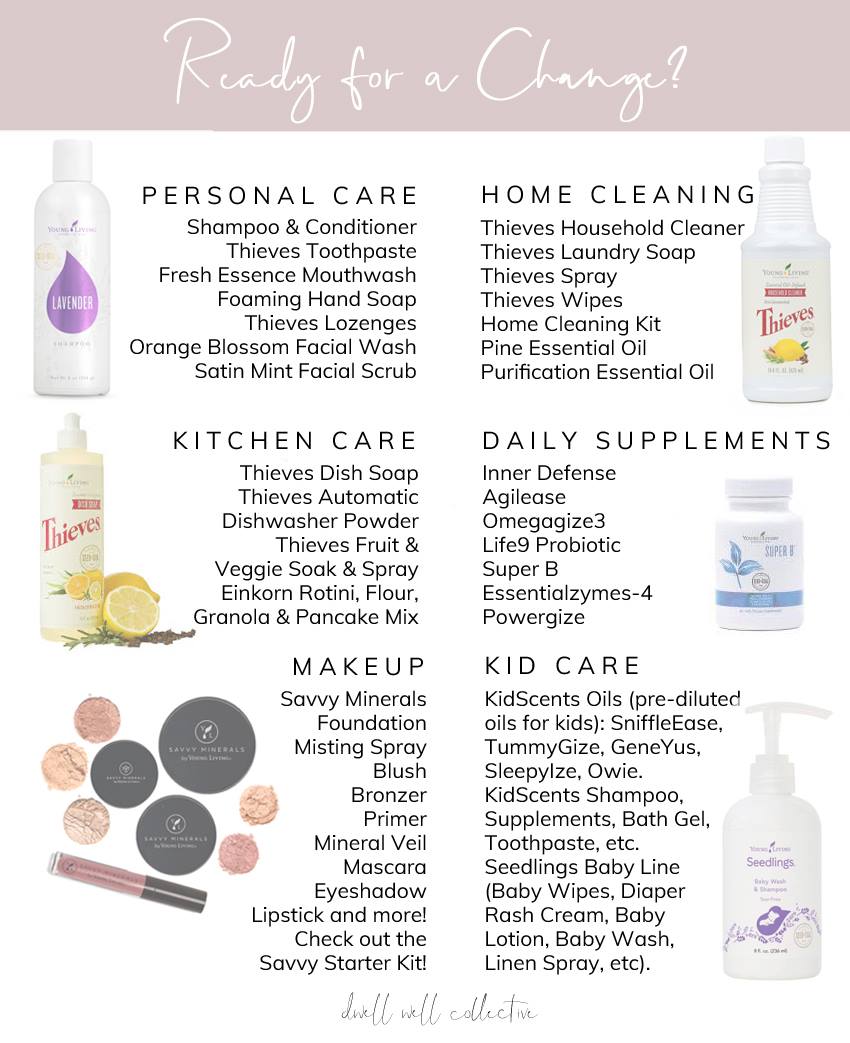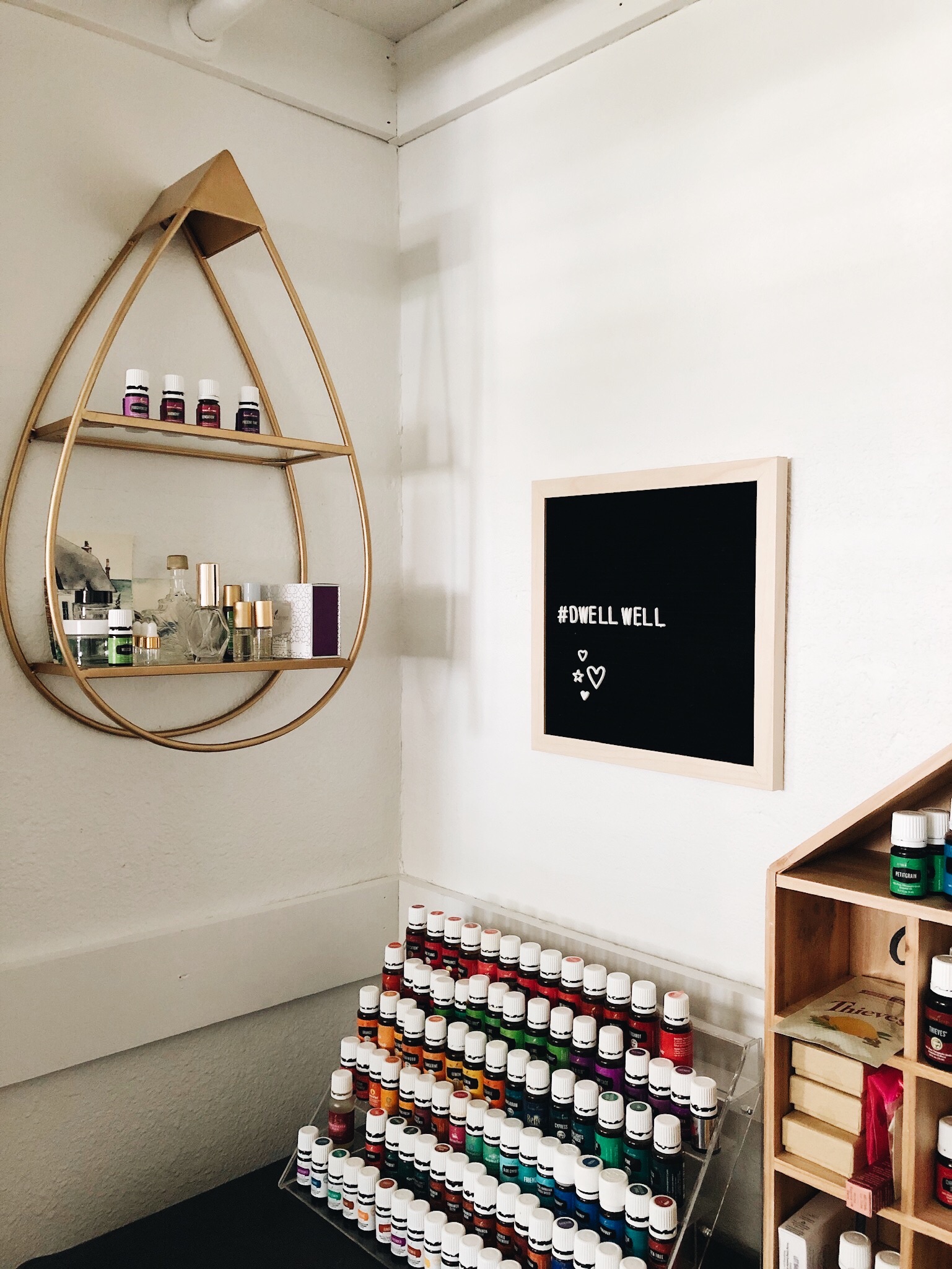 WHY YOUNG LIVING?
There are lots of essential oils out there, many that use fillers and fragrances that are NOT good. Young Living has the absolute best essential oils that you can get–I wouldn't use any others.
Here are just a few reasons why:
+Young Living has over 25 years of experience in the industry
+They own their own farms that you can actually visit
+They are beyond organic (so important!)
+Their rigorous testing for purity and therapeutic viability is unparalleled
+They have the largest selection of single oils and blends available
+Their "Seed to Seal" promise is amazing
If you're not yet following Dwell Well Collective on Instagram, follow us there for lots of oils and wellness inspiration! We post Instagram stories daily with tips and recipe ideas.
QUESTIONS? Email me at dwellwellcollective@gmail.com
DISCLAIMER: The suggestions I offer are specific to the benefits I've found through Young Living essential oils. My statements about Young Living Essential Oils have not been evaluated by the FDA. These products and information offered are not intended to diagnose, treat, cure or prevent any disease. Anyone suffering from disease or injury or on prescription drugs should consult with their physician.