Easy DIY:  Installing Faux Tin Ceiling Tiles as a Backsplash
Greetings! I appreciated all your kind comments on my kids' bathroom facelift and your overwhelming support of my little faux tin tile backsplash idea! Glad you liked it and shared it. If you missed it, you can find the bathroom makeover and all the explanations of what and why on that post.
As with any quick simple makeover, everything isn't perfect.
But if I was going for perfect, I'd spend a fortune in time and money and that was not my intent with this project. There are things I might want to change down the road. But that is the beauty of a makeover like this. You can transform your space in a short amount of time relatively affordably all on your own without a lot of skill, tools or carpenter friends.
You can do this! If I can, you can.
Here is what you'll need: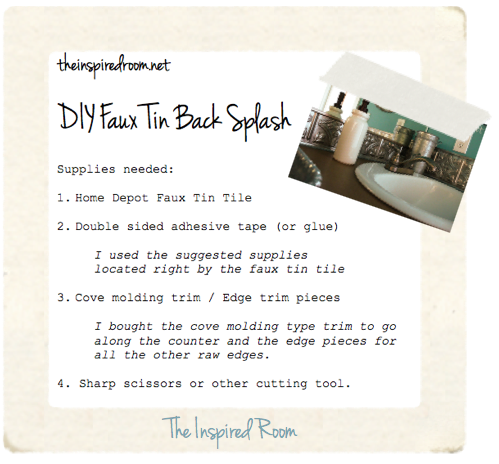 Let's get started with the backsplash tutorial!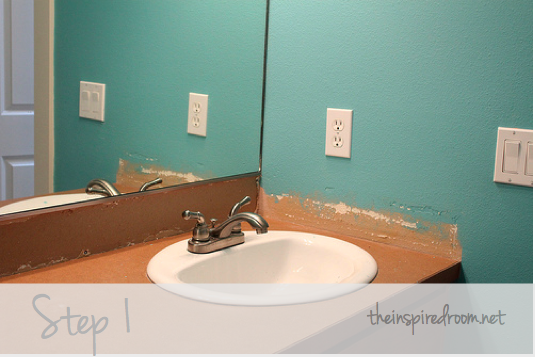 STEP 1:
Rip off existing back splash and metal trim.
Clean off remaining debris and dust from the wall and counter.
NOTE: I think you could probably install this right over the formica backsplash, except for the metal trim piece on the formica might be too bulky. You might find a way to do it, though.
STEP 2:
Measure the area for your backsplash and cut the faux tin squares according to the size you need.
You can cut it with sharp scissors.
The "cove molding" piece (that I used to bridge the tile and counter) and trim pieces (which cover the raw edges of the tiles) are a little more challenging to cut, so you'll need really sharp scissors or a saw or something! You DIY gals probably have just the right cutting tool. We used regular scissors but my husband had to do it for me. I was a wimp.
STEP 3:
Tape the back of the tin tile with the double sided adhesive tape. Keep the paper on the tape until you are ready to stick the tile to the wall. I put tape on all edges of the tile and the cove molding piece to make sure it would stick well.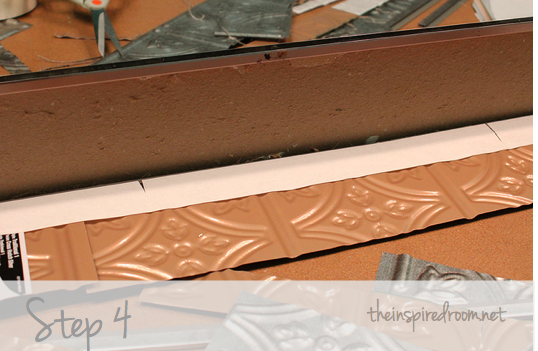 STEP 4:
You might not have to deal with this step like I did, but if you have a tight area, such as the small space between a standard builder mirror and your back splash, you might be able to tuck the tile a little bit under the existing mirror so there is no need to put any trim piece on the top part of the tin tile under the mirror.
It was a little tricky to squeeze the tiles in between the mirror and the counter while keeping the tile flat and in the lower cove molding trim piece. You just keep tweaking the tile size with scissors until it fits flush.
Helpful Hint: I would advise an extra set of hands for this step! It wasn't hard to do, just tricky! If you don't have to fit the tile in a tight squeeze, you won't have to worry about this step at all.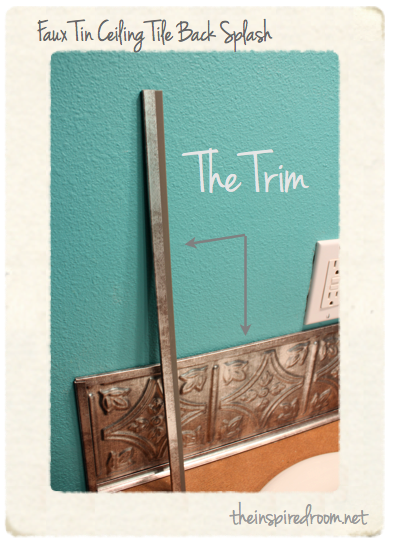 This is what the trim piece looks like in case you are wondering what I'm talking about, it is leaning against the finished back splash where trim pieces are installed.
The trim is what you put around all the exposed edges, it fits on like those plastic report cover things we used to bind papers with in school? Hard to explain, sorry I didn't take a photo of that step.  I don't have a photo of the cove molding piece, but you can see it in the photo above, as it was installed on the lower part of the back splash.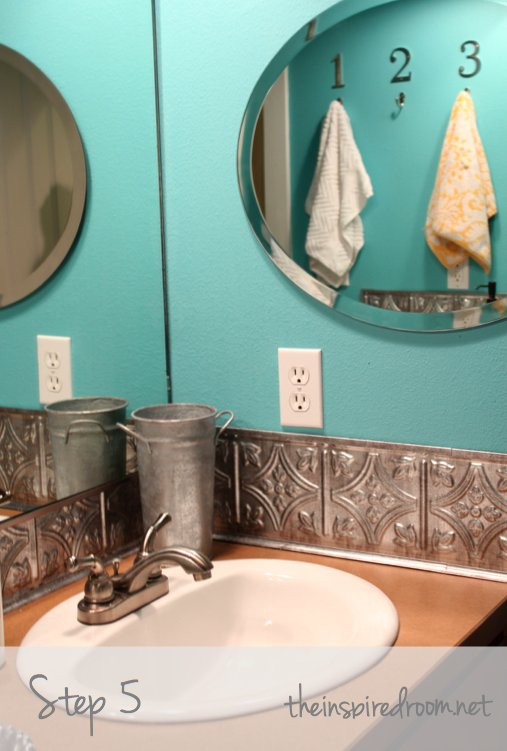 Step 5:
Lastly, you just remove the paper from the double sided tape and smash it to the wall. Hold it for a little bit to give it a chance to stick. The beauty of this is if you make a mistake, you just pull it off and try again. If you use the tape, it isn't like super glue where it will pull the wall apart but it worked great for this installation.
I have no experience using the glue like adhesive, but I suspect if you were doing this on a bigger scale or on a ceiling, you might want to try the glue.
Putting this back splash together is just like doing a puzzle, you piece things together until they look finished. I didn't worry too much about it all being perfect. If your tile pops away from the wall, just add some more tape.
This faux ceiling tile has been installed in this bathroom as a back splash now for almost a year. NOTHING has happened to it. It will be easy to remove when we want to change the counters and it could certainly be reinstalled if we wanted to.
Obviously, you would not want to install this product in your shower. Eh hem. But as a backsplash or on a wall or ceiling, yes. I was even thinking of using it in my cabinet doors as an insert! I also thought about painting my counter with a coordinating metal paint and sealing it well, but that will have to be for another day.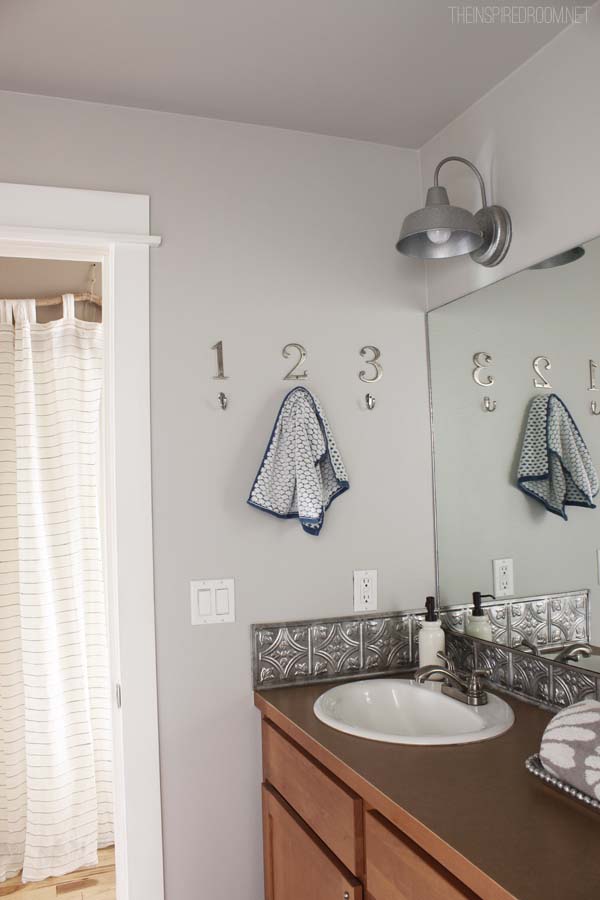 And here it is, the faux tin tile is still in the bathroom several years later! It has stood the test of time in a boy's bathroom :-)! See the current update to the bathroom, here.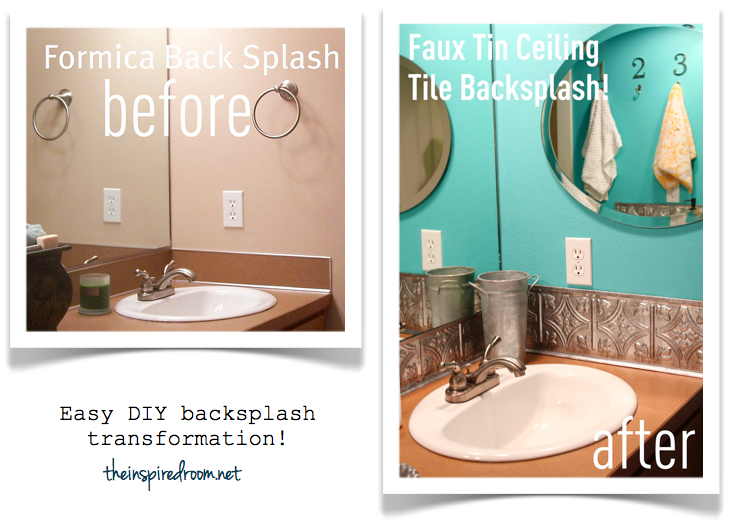 If you are looking for a way to do a simple makeover of a wall or back  splash, I would say this is definitely worth the try! While this tile isn't really "cheap," when I compared it to the cost, hassle, mess, the need to hire help and "one thing leads to another" back splash options I considered, this is the one that made the most sense for me!
If you use this faux tin tile somewhere, I'd love to see a picture! Come share it maybe on my Facebook wall?
Have a great day!
More Bathroom Design Inspiration Posts:
Beautiful Bathroom Remodeling Ideas
Pretty & Functional Bathroom Storage Ideas
Lovely Bathroom Storage Solutions
Inspiration: Repurpose Furniture Into Bathroom Vanity
Divided Master Bathrooms: Jack & Jill Style