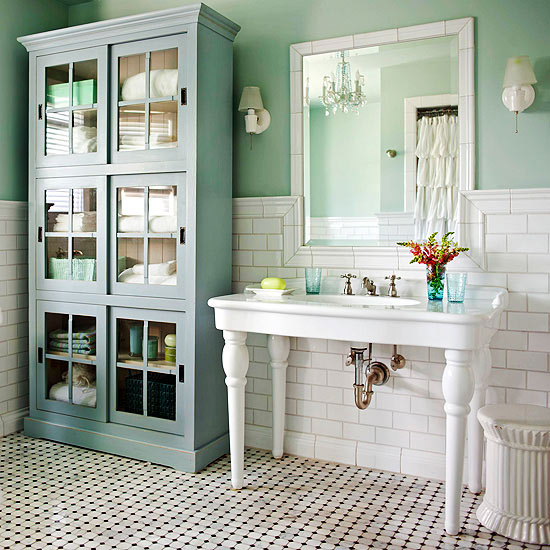 BHG cottage bathrooms
We just gave our tiny powder room another little makeover. And I mean LITTLE makeover, as in paint and accessories. Not the usual "blogger makeover" that probably involves power tools. At one time I planned to totally redo with with new tile and pedestal sink and all, but it ended up just not being in the budget at the time. And, it still isn't in the budget. Wah wah wah. 
Soooooo, we are not getting a new sink.
Not getting a new faucet.
Not getting new lights (for awhile any way).
Not putting up a wood ceiling. At least yet, right?
I waited four years for my new more charming kitchen, I can wait a bit longer for more charming bathrooms.
But, because I do like to make the best of what we've got, we did repaint the powder room a few weeks ago and have put up a few new accessories. It looks cute and fresh and cottagey and ready for guests. It really doesn't take much to update a bathroom, even if you can't change all the tile and sinks and faucets! Sometimes a few simple changes are enough.
Paint and accessories really can do wonders, as you know, and they can be quite affordable if you shop for accessories at second hand shops. I've been enjoying a local flea market lately and finding some cute things!
I'll show you how my own little powder room update turned out (with the before and afters of its two makeovers since we've lived here!) as soon as my new bathroom rug comes, which should be this week!
 Modern cottage bathroom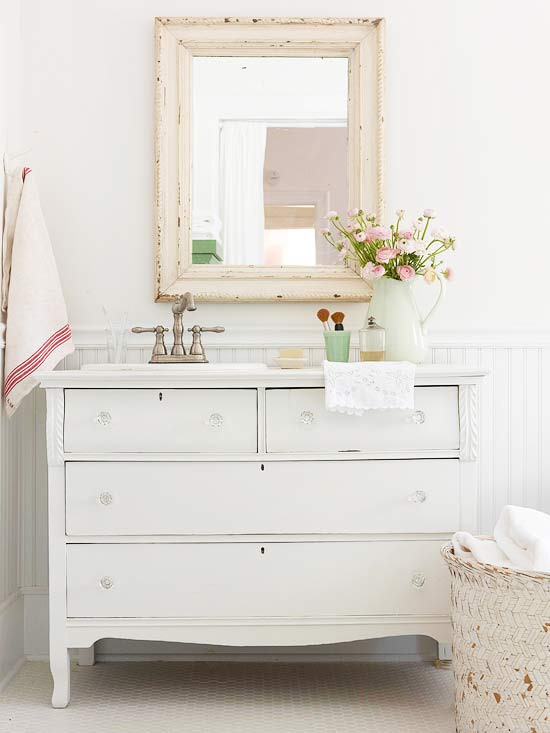 Dresser turned cottage bathroom vanity
Charming tile, marble counter, subway tile and sea green glass knobs. LOVE! via BHG
Do you love cottage style bathrooms as much as I do?

I really LOVE a charming bathroom.
PS. Speaking of design blogs and room makeovers, if you are on The Inspired Room site today (not reading via email,) you might notice some changes in process! Forgive me if links don't work, pages are crazy looking, fonts are wonky or sidebars are upside down or scrambled up or whatever else might be wrong. We'll be tidying up and making this site much easier to navigate and of course, pretty for spring! Because you know, it's time for my annual spring cleaning of the blog! I'll do a post soon with more information on how to navigate and find what you are looking for!
More Bathroom Design Inspiration Posts:
Beautiful Bathroom Remodeling Ideas
Pretty & Functional Bathroom Storage Ideas
Lovely Bathroom Storage Solutions
Inspiration: Repurpose Furniture Into Bathroom Vanity
Divided Master Bathrooms: Jack & Jill Style