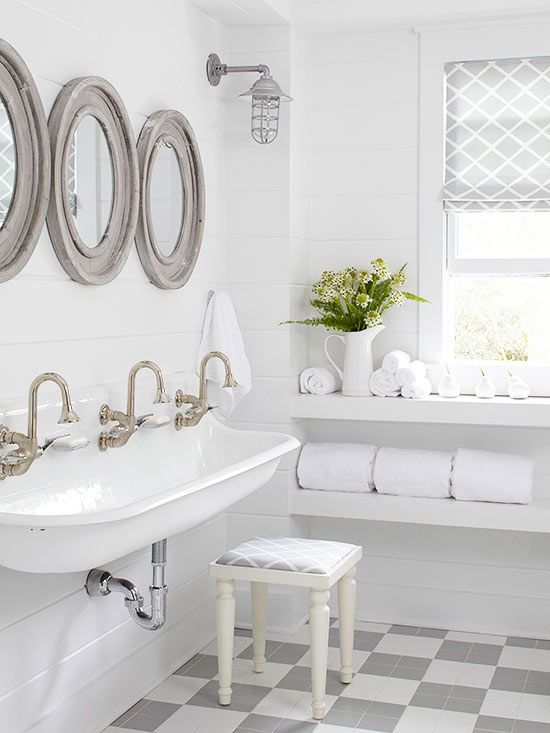 BHG
Many years ago my mom put a really cool deep white sink with a black undercoating in our beach house laundry room. I loved it! Ever since then I've had my eye out for an opportunity to use a sink like it.
My mom's beach house laundry sink – Sink source (does not include wood stand)
I think trough style wall hung sinks are so fun in a laundry room or bathroom, don't you?
Design Sponge
One fun little tip I learned in our English Tudor was that you can "powder coat" things such as the underside of wall hung sinks, tubs, and even heat registers, appliances, outdoor furniture or millions of other things to give them a fresh new solid coating to restore it or even just to change the color to suit your decor.
There are so many colors available you can really get creative!
Traditional Home
House Beautiful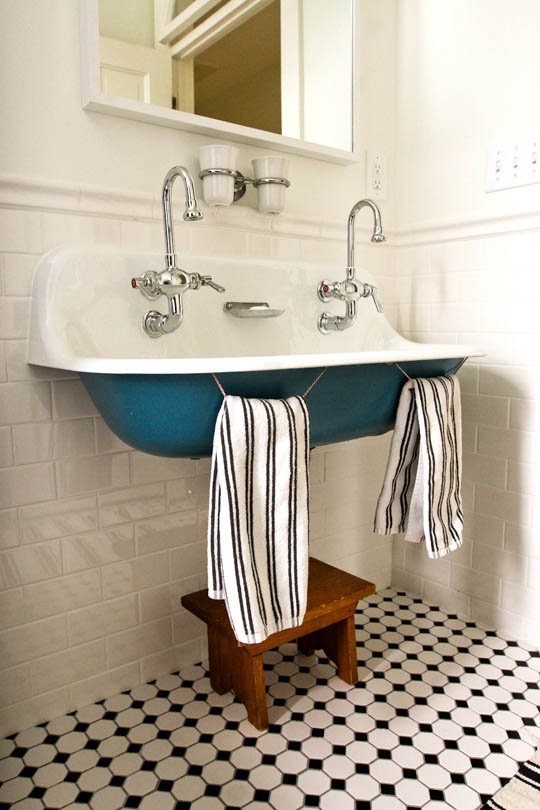 Apartment Therapy photo: Ashley Poskin
Williams and Spade: Jeanne Racioppi, Williams & Spade Interior Design
Even though these sinks may have been new to begin with, they were probably powder coated to be those pretty shades on the undersides.
We took all of our 1930s house boiler wall heat registers to be powder coated when we first moved into that house. They were covered with layers and layers of grime and old paint and I thought they might be beyond hope of being salvaged before we took them in to a local powder coating or auto body type shop. After a brand new powder coat, they were like new (almost better than new)!
A trough sink is definitely on my house goals and dreams list, I can't imagine a more charming addition to a bathroom or laundry room!
Happy Monday!
Sources: You can find these trough sinks online HERE with options for double and triple faucets.
More Bathroom Design Inspiration Posts:
Beautiful Bathroom Remodeling Ideas
Pretty & Functional Bathroom Storage Ideas
Lovely Bathroom Storage Solutions
Inspiration: Repurpose Furniture Into Bathroom Vanity
Divided Master Bathrooms: Jack & Jill Style