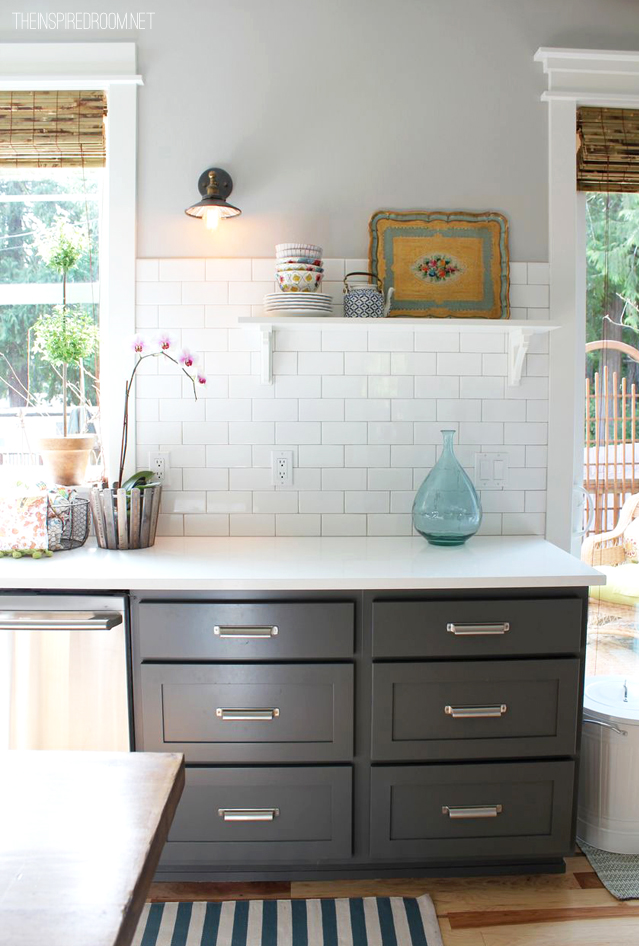 Kitchen Remodel
Nine months ago, I started a kitchen remodel. FINALLY, nine months later, we are DONE!  Kind of like having a baby, right? We are so excited to finally get to enjoy it!! You've seen the progress of this kitchen remodel almost every step of the way, and now it's time for the final shots and full room reveal! WOO HOO! Today I'll show you the after pics, and then I have a separate follow up post to give you all the kitchen sources and other details you might want to know, since this is going to be long enough already!
While my newer builder's kitchen was still in decent shape and certainly not the worst kitchen ever, I was excited about the challenge of creating a better layout for our needs and a bigger dose of charm and personality — on a reasonable person's budget.
I really wanted this kitchen to feel like OURS, not the one the builder put together to look like every other house he built. Yet we wanted it to feel like it still belonged in this house! After living here for three years and not doing anything to the room except removing a few cabinet doors, I was ready to put my own personal stamp on this kitchen! Y'all know I'm a kitchen lover and it was painful for me to leave my last one behind.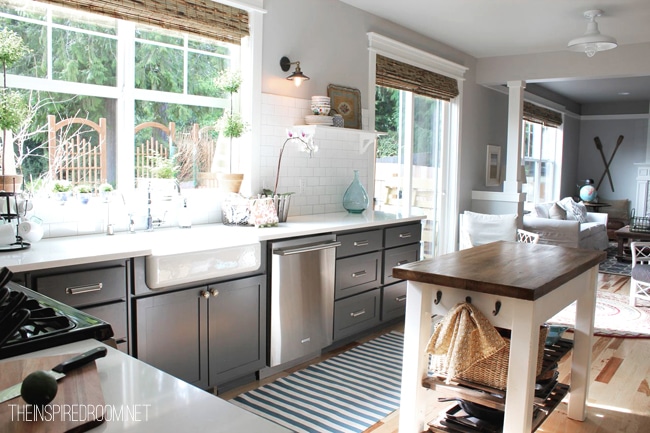 Prior to our remodel, the kitchen family room was divided into three small sections, thanks to an awkward breakfast counter and two different flooring surfaces in the two rooms. My two girls love to cook and we like to host parties, so we wanted to find a way to create more open space without adding any more square footage.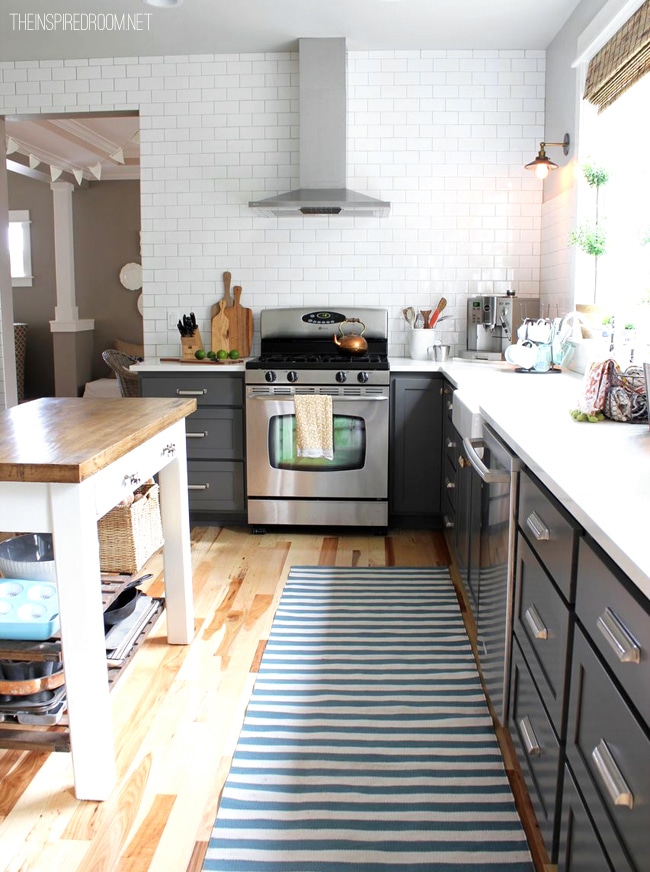 By simply removing the breakfast bar that cut the room in two, we opened up the entire space to allow traffic to move more freely through the kitchen. That alone was a huge improvement and completely transformed the space! We can now fit more cooks in the kitchen and there is plenty of room for guests to mill about the room. No more collisions.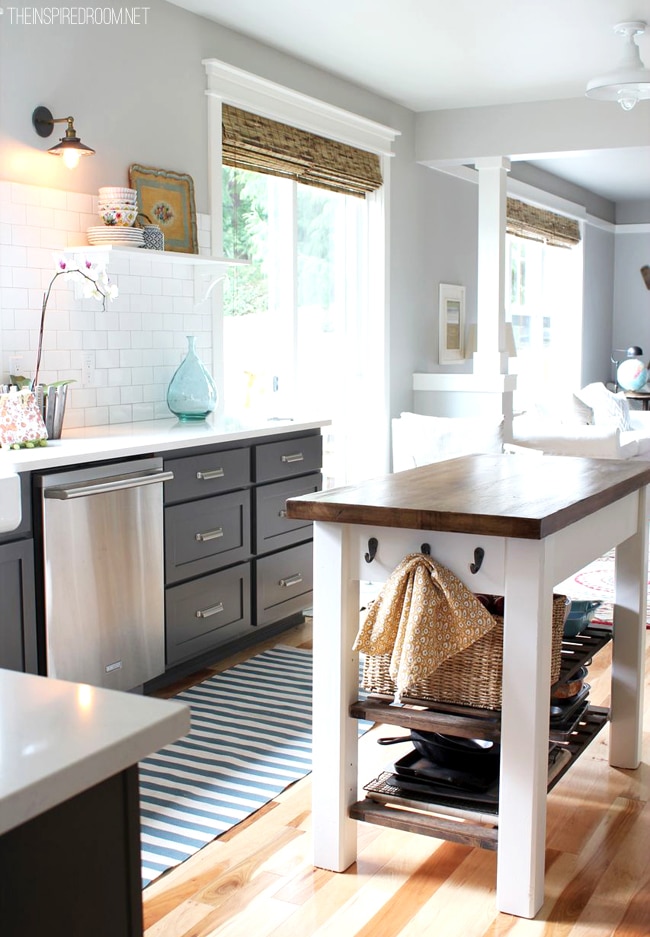 And best of all, we actually gained storage and a nice long counter in the process because we added two banks of drawers and installed our existing dishwasher right next to the sink. The breakfast bar cabinet had only enough room for one small cabinet and our dishwasher, so this was a big improvement layout AND storage-wise! If ONLY we had been here when the builder was building the house, I could have have intervened and told him there was a better way. Hehehe.
All the other cabinets are the existing cabinets, we just painted them.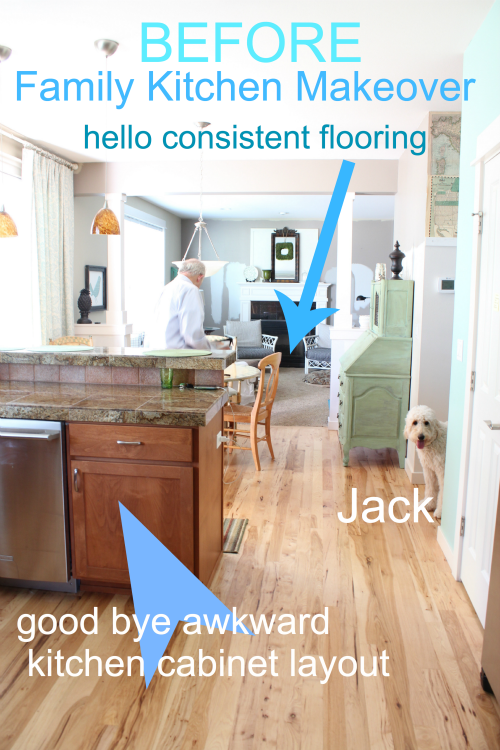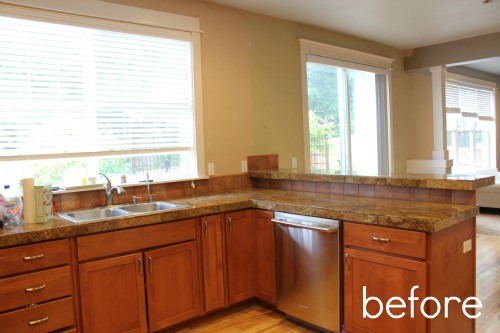 Remember how it looked before? All choppy?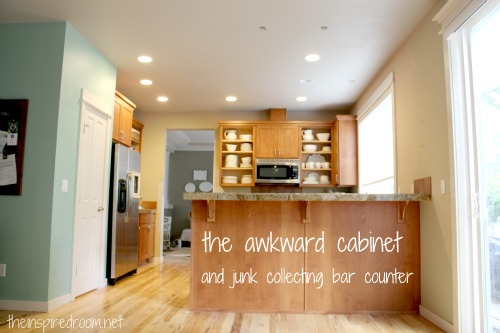 Somehow the whole kitchen just looks wider and bigger, even though it isn't!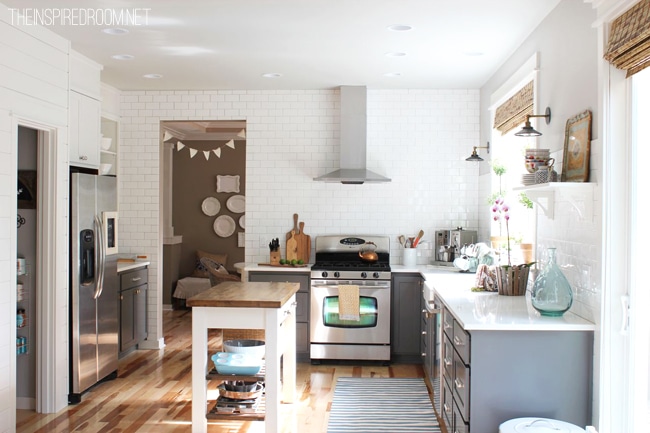 We absolutely LOVE the open layout with the nice long expanse of counter space and all the new drawers! When we remodeled our old kitchen we put in all drawers and it was a dream, I really love drawers for storage.
After removing that breakfast bar, we could see that that opening up our kitchen made the entire space feel so much better. Phew! No more obstacle course to move around the room! So why stop there? We decided to open up our kitchen even more by removing the few awkward upper cabinets around the stove.
I'm only 5'2 tall so the only shelves I could reach in the cabinets without getting out a step stool were the lower ones, so they weren't all that useful to me for everyday storage. And as you know, I like to actually use what we have!  Our house is just not big enough for excess clutter. And, overflowing cabinets filled with excess clutter makes me crazy. So there is that.
And now that we have new drawers for every day dishes, we really didn't need those cabinets anyway. Again, by living in our kitchen for several years before we made big changes, we knew what we needed and what we didn't need. We felt very confident in most of our decisions, which was nice.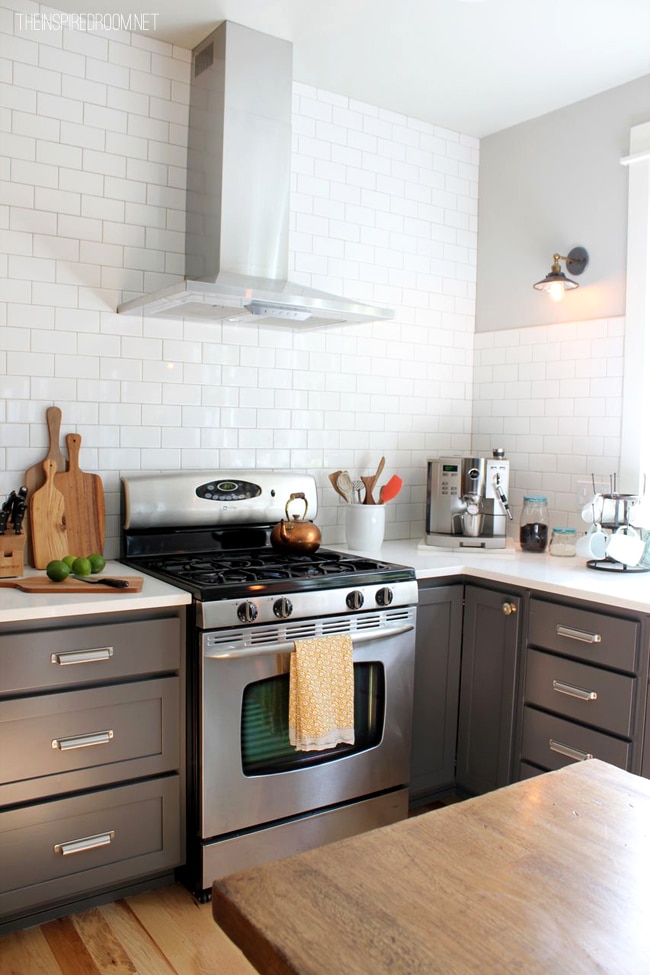 Without the added bulk of upper cabinets weighing down this small kitchen, the space feels so much cleaner and way more open. Another thing we've really noticed about not having upper cabinets in that area is the impression of much more counter space when you are preparing a meal! It feels so much brighter and less claustrophobic, so that is a big PLUS!
And as you can see, we were able to transform that entire back wall with subway tile and a gray grout, which provided a nice clean but architecturally interesting backdrop for our kitchen. Subway tile is a classic, never goes "out of style." And like any update to a kitchen, if you decide in twenty years you want something new, you can change it then! I still love my subway tile walls in my old kitchen so it was fun to bring that same element to my new kitchen. It feels like home, but with a new twist.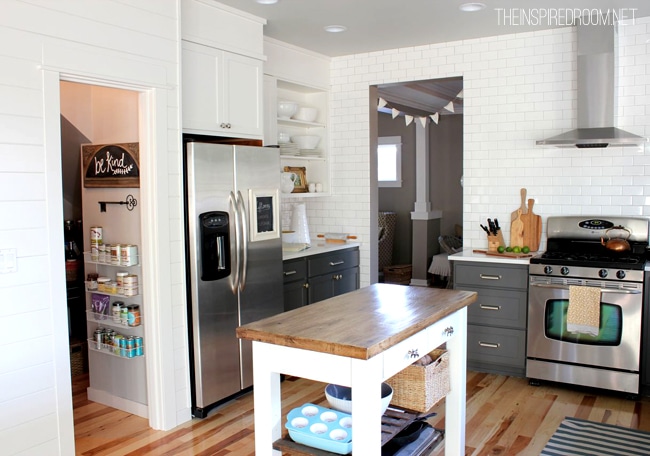 We also brought more personality and interest to the room by painting our remaining upper cabinets white and the lowers a charcoal gray. I think the two toned effect brings a much fresher and more interesting feel to the room than if we had gone with all white, I really love seeing the contrasts and textures. Now with all the subway tile, wood walls and white counters and upper cabinets, we have more than enough white for this room.
The neutral dark and light cabinets look great with ANY color we might want to use as an accent in rugs or accessories, so I'm going to have fun in here playing with accessories.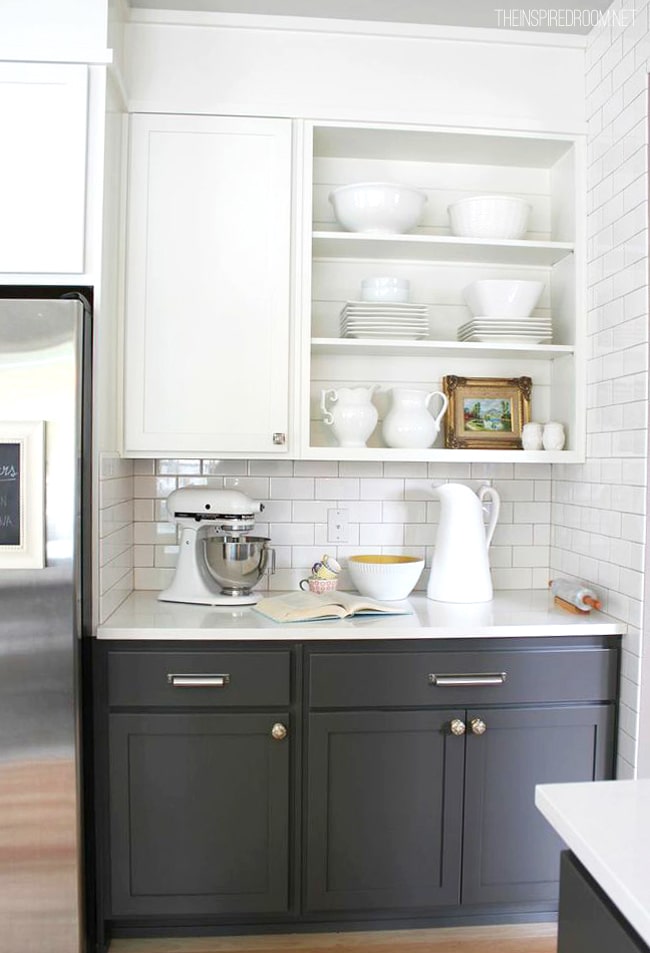 A few other personality upping but still budget friendly tricks included boxing in the awkward open space over the upper cabinets and adding tongue and groove paneling to a small section of connecting wall and behind my open cabinets. It is amazing how much architectural interest those items brought to the room for a small investment! It's those small details that make a kitchen look custom made for you!
I'm pretty much in love with how my baking center turned out!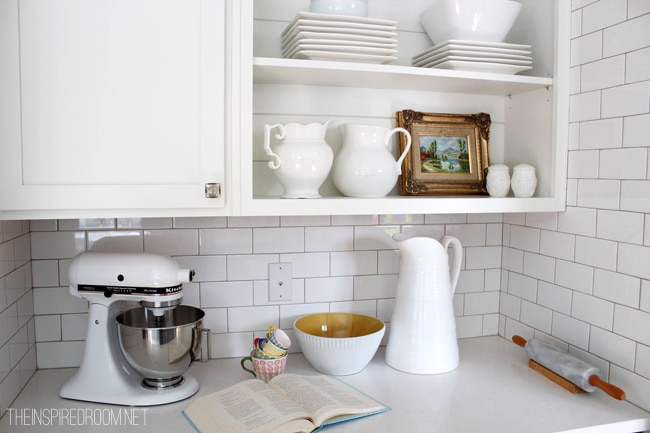 We had removed those cabinet doors pretty much the first day we owned the house (a free update!), but it is great to see it all freshened up now painted white and with the added tongue and groove vertical paneling, subway tile and new counters. Sigh! While I am still considering adding glass doors someday, removing doors for open shelving always gives a lot of bang for minimal buck!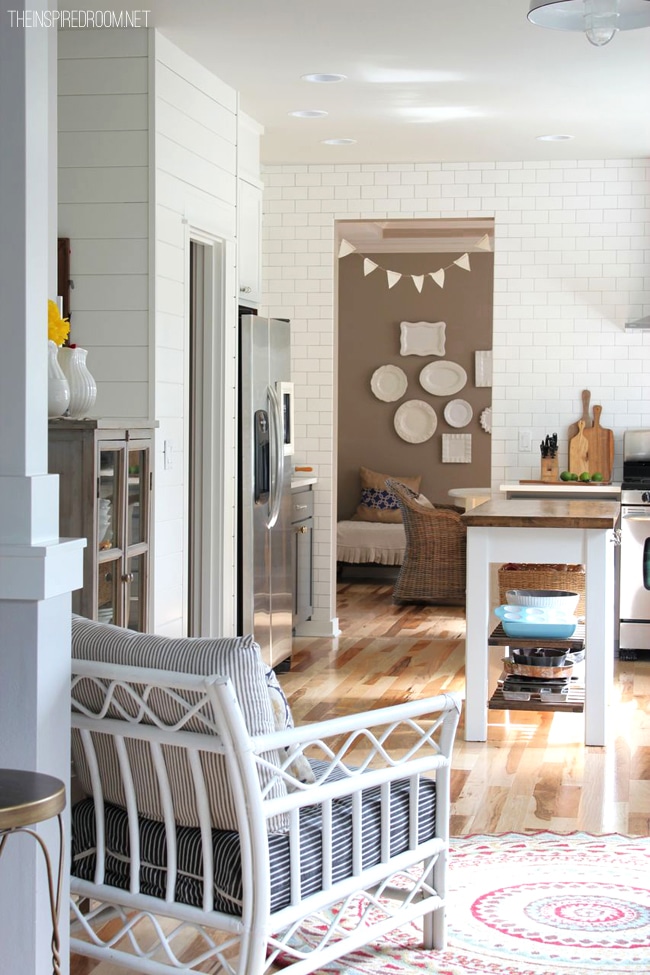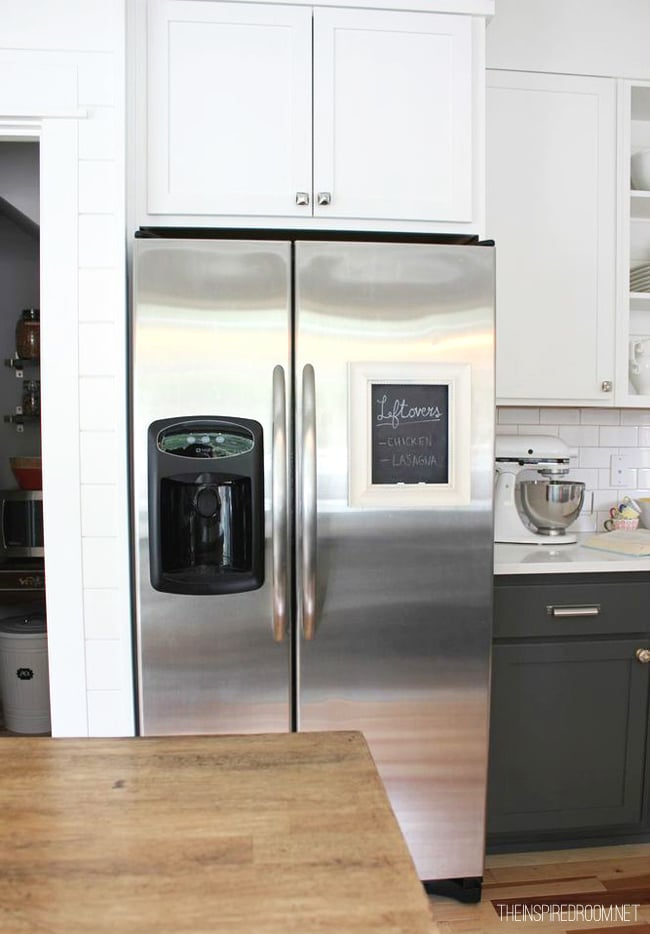 As you can see, all of our appliances are the same as they were, nothing new except the range hood — even though I would have LOVED a new fridge and stove!! We still have my little DIY framed chalkboard on the same fridge, if something didn't need immediate updating, we left it alone for now!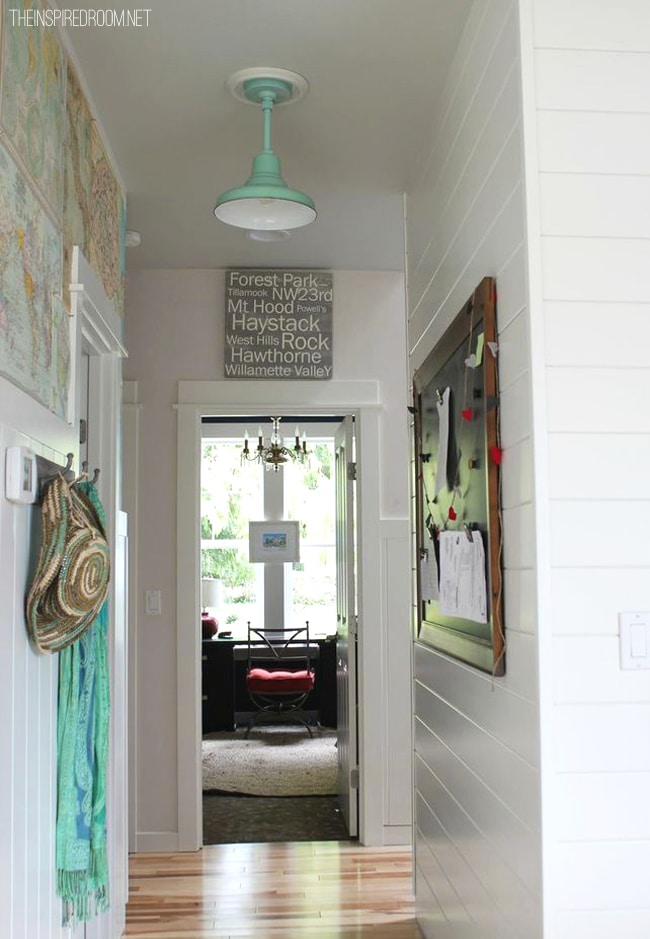 As you go around the corner to the little hall between my office, powder room and the kitchen, you can see how the new paneling and my maps really brought nice texture and personality to an otherwise small and previously uneventful hallway. I love small spaces because you can give them so much personality.
And can we just pause for a moment to gaze at the jadite colored industrial looking light fixture? Oh my heart how I love it.  It came courtesy of Barnlight Electric and it was the perfect finishing touch to this little hallway! Previously we just had the canned lighting and that was oh-so-boring!  All the details on the lighting is in the source post.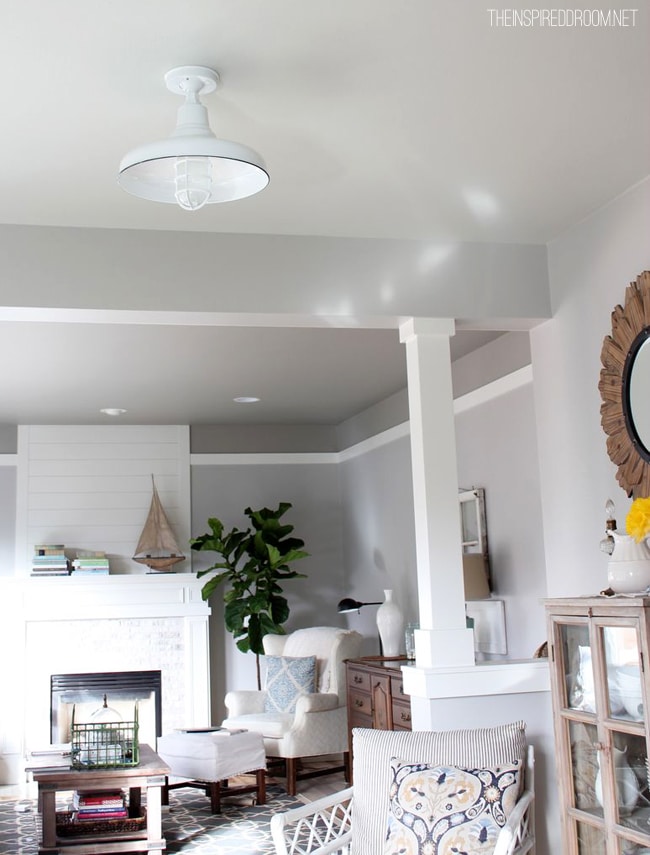 We also changed another light fixture in the kitchen, check out that beautiful white one on the ceiling!  This Barnlight Electric fixture replaced one that used to be over our kitchen table. It hung down so low we had to keep a table under it and even so we always bumped our head on it.
The new light fixture is full of personality and doesn't get in the way of walking or your line of sight from the kitchen to the family room. We decided to go with a white finish on it so it wouldn't stand out too much in the middle of the room, but yet it is SO charming you can't help but smile when you see it!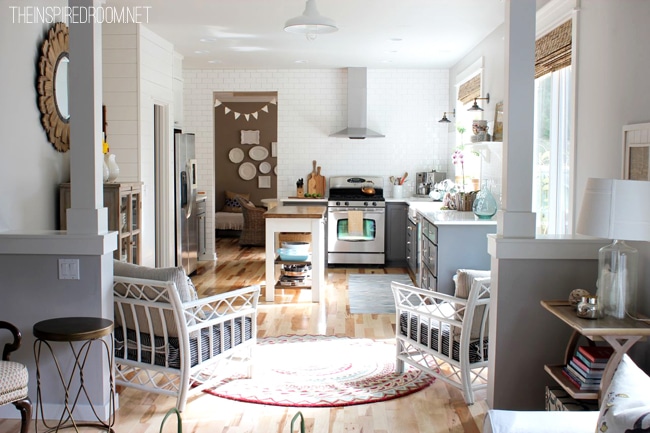 We decided that since we already have a dining table right outside of the kitchen, we really didn't need another table at least right now. With space at a premium, we took the table out and replaced it with a small conversation area which we LOVE. I'm glad we tried it without a table, less is definitely more.
This set up is actually perfect for chatting with friends while doing dishes! I've had the chairs forever and just keep updating them with white paint. They are so comfortable and easy to move around to the family room as needed. Flexible furnishings are a must in a small space!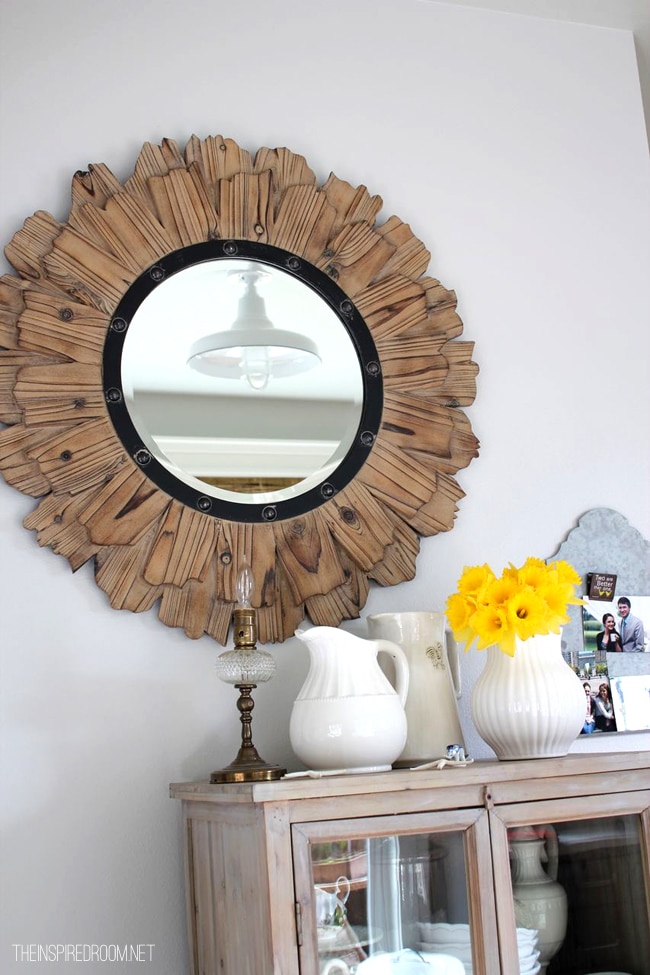 The Lulu & Georgia mirror is a fun statement piece above the HomeGoods linen cabinet turned dish cabinet.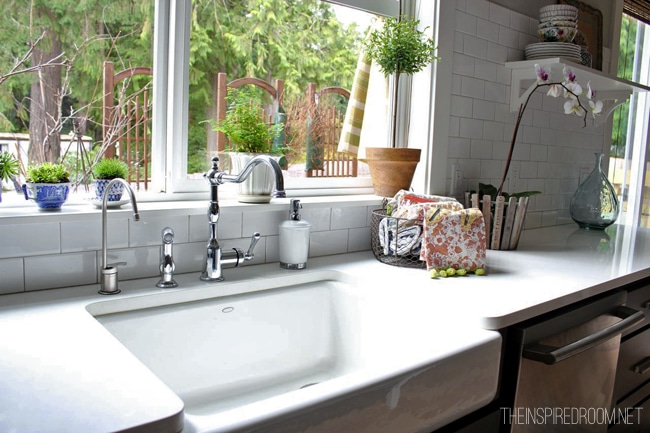 And speaking of doing dishes, I adore my exposed apron front Kohler sink with the single basin (my favorite!). I love it so much I can't stand to see a dirty pile of dishes in it, so I'm extra compelled to polish my sink every night before bed. Our faucet is this one in Chrome.
And my window sill is the perfect place for my little teacup gardens!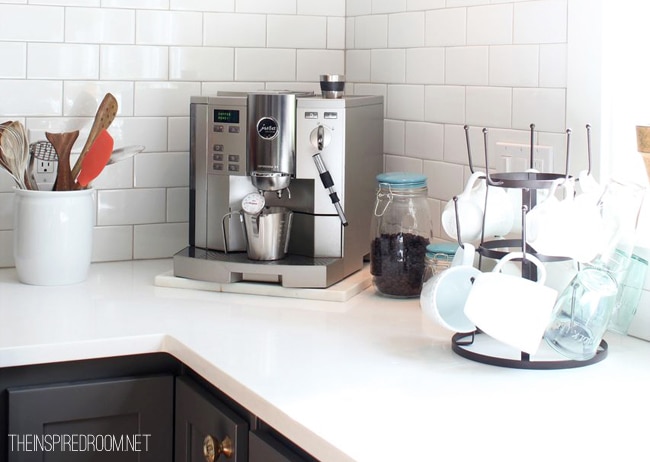 Our counters are a nice white quartz called Caeserstone Organic White. We love how they reflect light in the room and give a nice contrast to the rustic Hickory wood floors. See the whale tail tongs in the white crock? Gotta have a bit of whale in every room right?
If you have specific questions on anything, all of the sources and details on where we got things we be in a source round up later this week, so stay tuned for more info but feel free to ask questions in this post so I will know what to answer in the upcoming posts.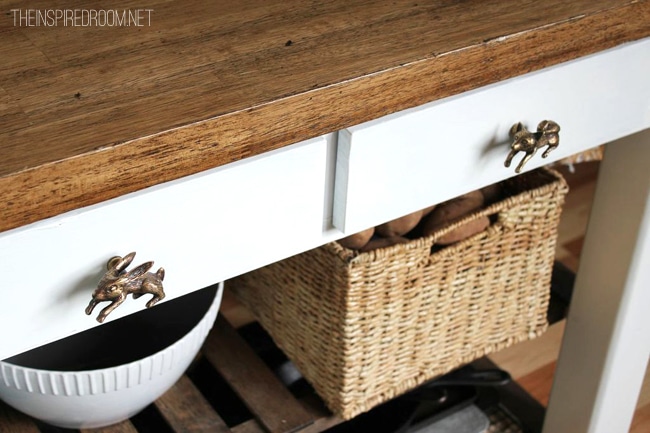 But because I loved my wood counters so much in our old house (you can see our old kitchen remodel here), we decided to incorporate one wood counter in our kitchen — on our small island. Wood counters elsewhere would have been too much since we already installed gorgeous new Mohawk Hickory wood floors, so I'm really glad I went with the white quartz for the perimeter counter tops.
We gave our previously unfinished kitchen island a DIY makeover and I think it turned out so cute, you can find more details on the sources here.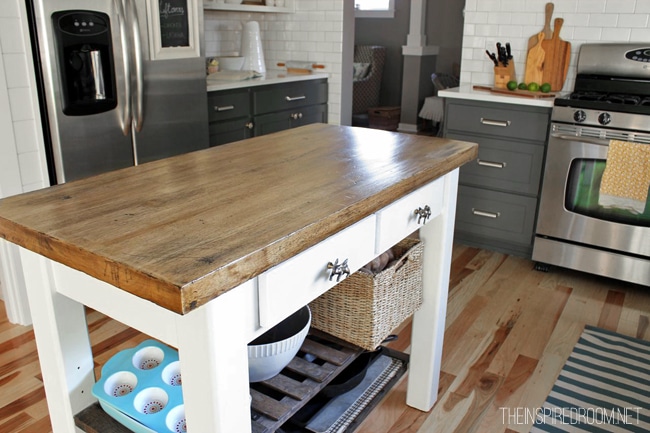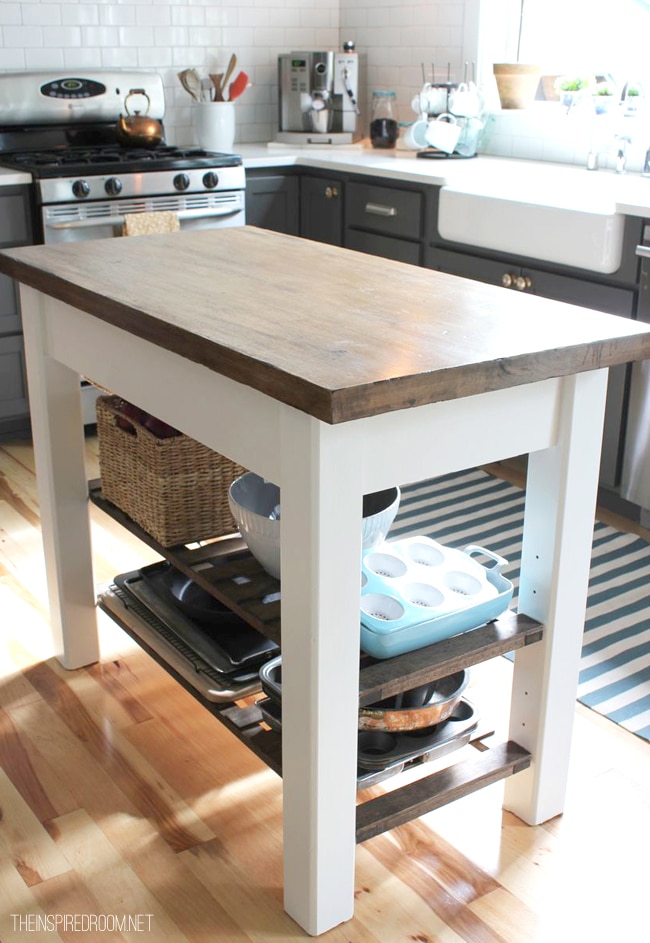 I really like the feel of a real "working kitchen." So having easy access to every day baking items and even using them as display is a look I've always liked. I like to see stuff we actually use, rather than just expensive display items.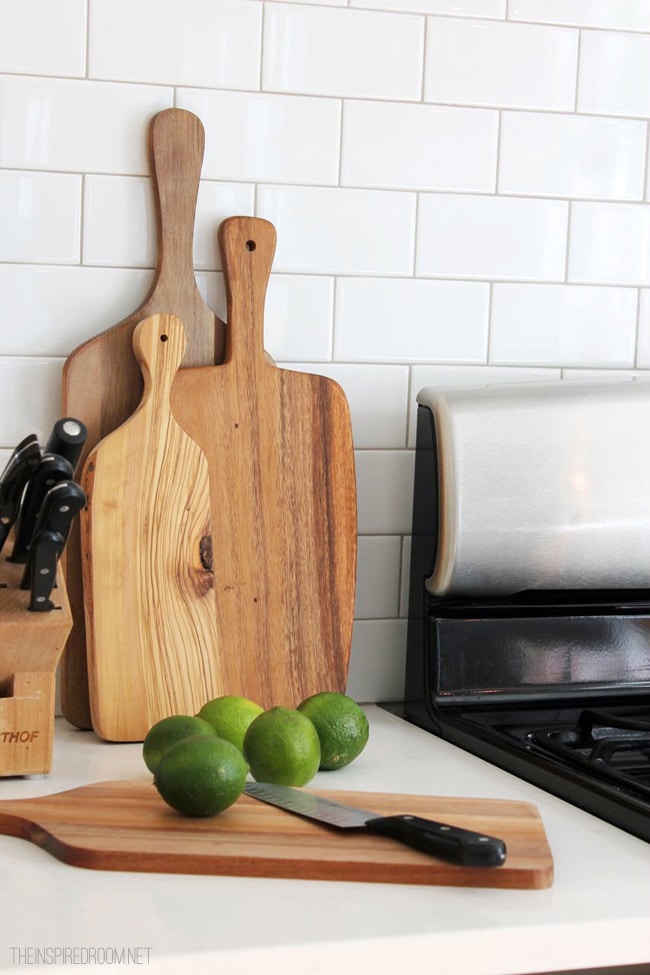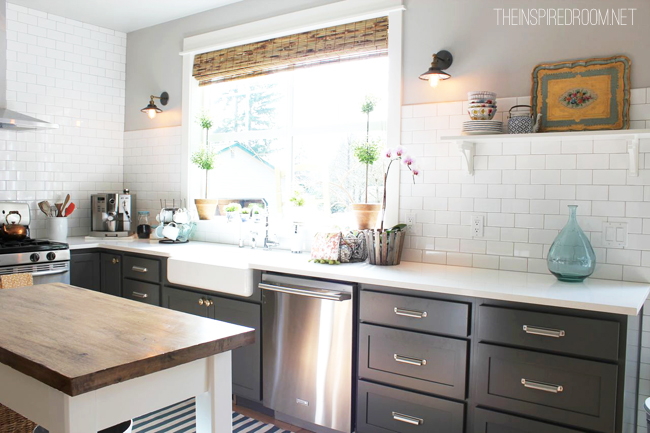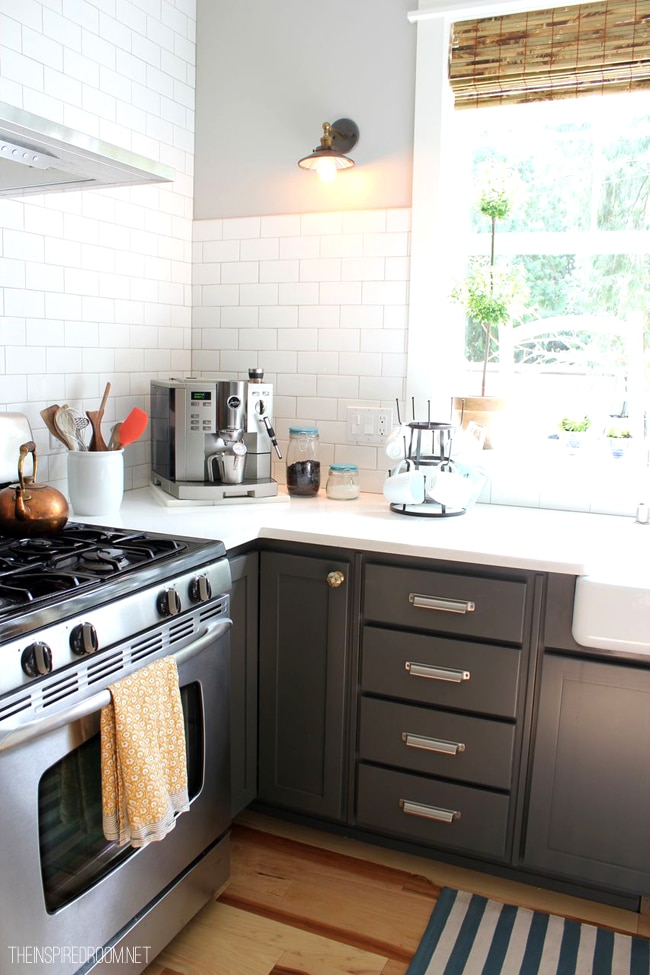 Of course, as with any affordable kitchen makeover, updating paint and hardware played a huge part in the transformation! Charcoal lower cabinets and white uppers brought a nice modern but still classic feel to my kitchen. It was fun to select traditional elements such as bin pulls in a slightly more modern shape just to give the kitchen traditional modern feel.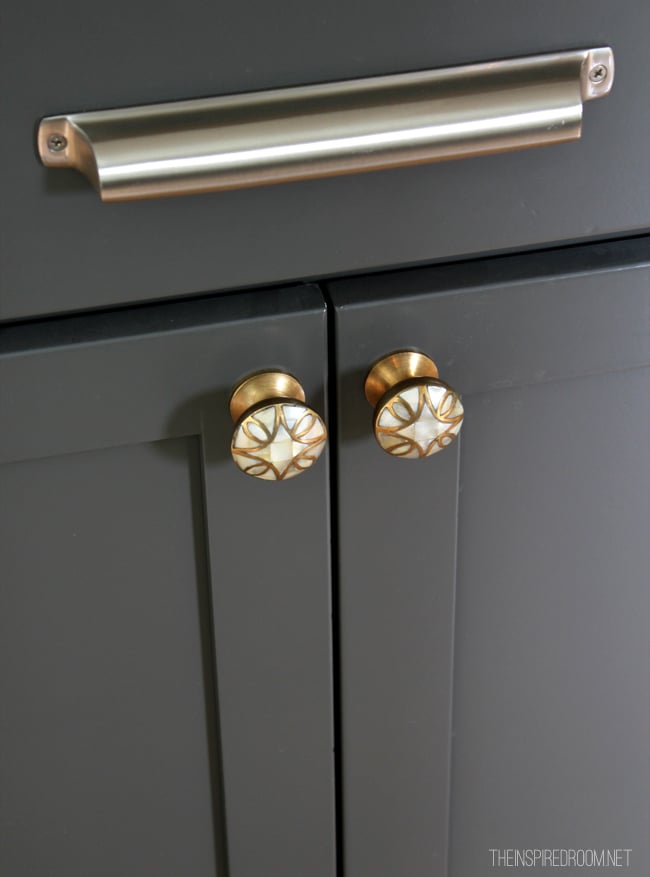 Hardware is like the jewelry of a room so it is a fun way to bring out your kitchen's personality! I'll have all the details on the hardware and where I got it all in the upcoming source post.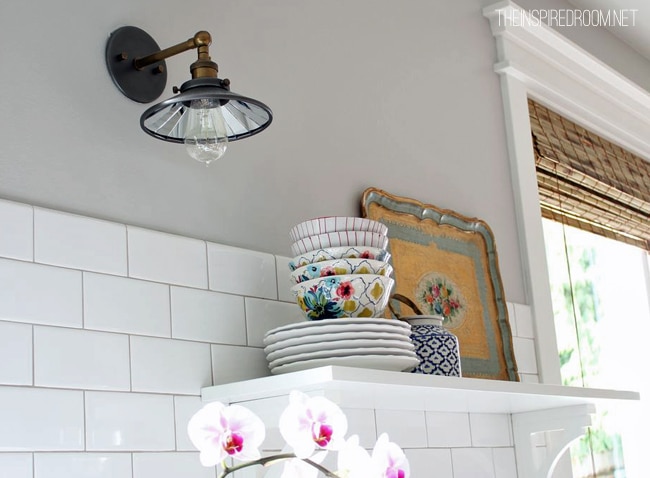 I could not adore the new sconces any more if I tried. I'm so glad I decided to add them, their soft glow and bit of mirrored sparkle really give the room so much warmth, much like a lamp would! I love the Edison bulbs too!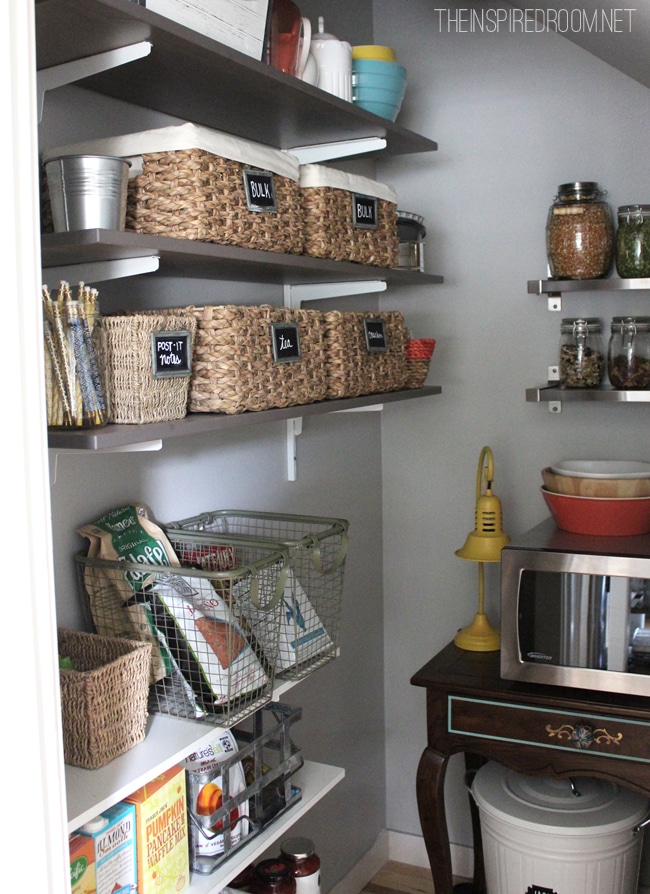 And along the lines of loving a "working kitchen" you may have seen our pantry reveal a week or so ago. We decided to open it up to the room by removing the door and filling in all the hinge holes so it looks like a nice framed opening. I'm telling ya, having things we use every day easily accessible and even on display is THE BEST motivation I've found for keeping things pretty, orderly and clean.
You might also notice our microwave is now located in the pantry. We love having it in there. It improved kitchen traffic flow in the work zones, and freed up more space in the kitchen, but is only a few steps away from the kitchen island so it is still convenient.
You can read all about the pantry and the details of the makeover here.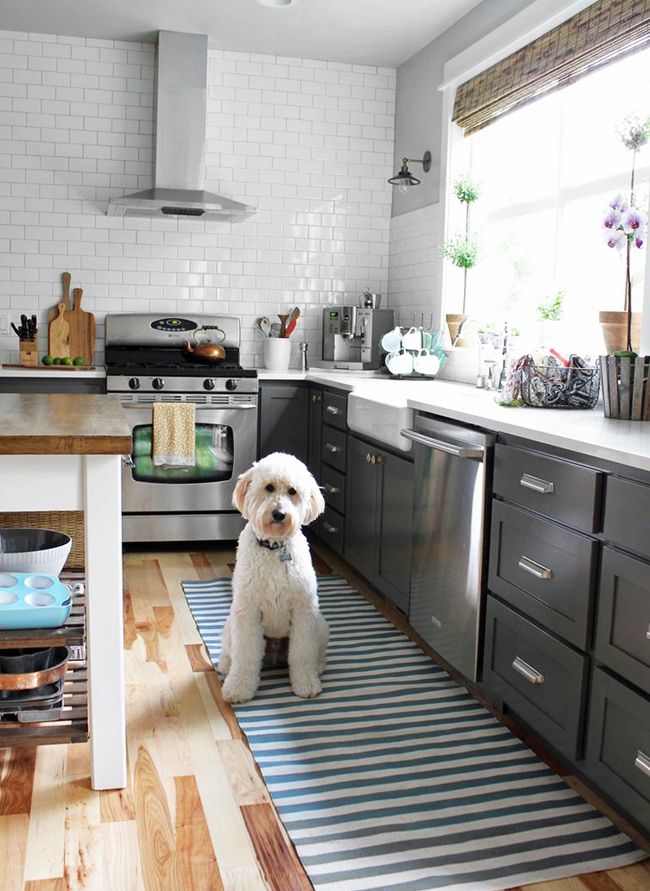 And our kitchen wouldn't be the same without our own newly crowned 'Pup of the Year' Jack, sitting on our Dash & Albert rug!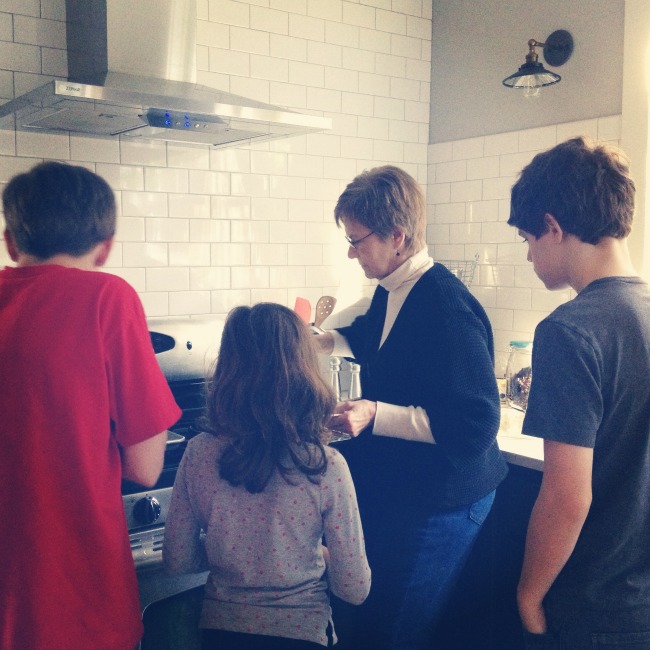 This is our life, our home, our kitchen. This photo was from Instagram last week with Grandma cooking for the grandkids in our kitchen! We really LIVE here, and that is the true test of any successful kitchen remodel. If it is too precious or uncomfortable for what you do every day, or if you splurged so much on fine details that you can no longer afford to bring groceries home to your own kitchen, it isn't worth having in my opinion.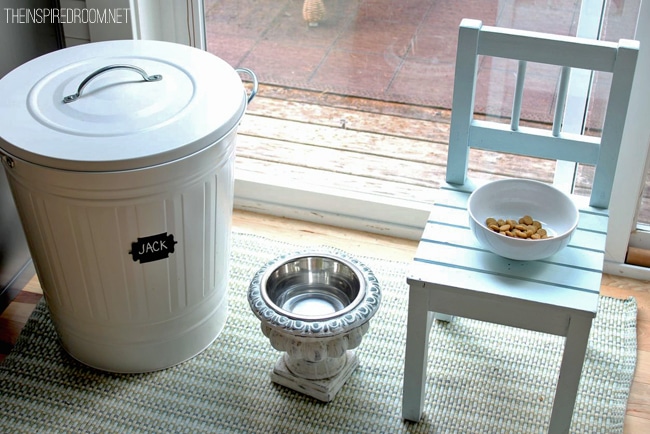 Jack's dog food is always sitting out, so why not make it kind of cute and store it in an IKEA trash can? A simple rag rug protects the floor from spills and a Goodwill child's chair holds his food up to make it easier for him to reach it! And yes, his water bowl fit in a plant urn. Simple, real life solutions are what I love the most.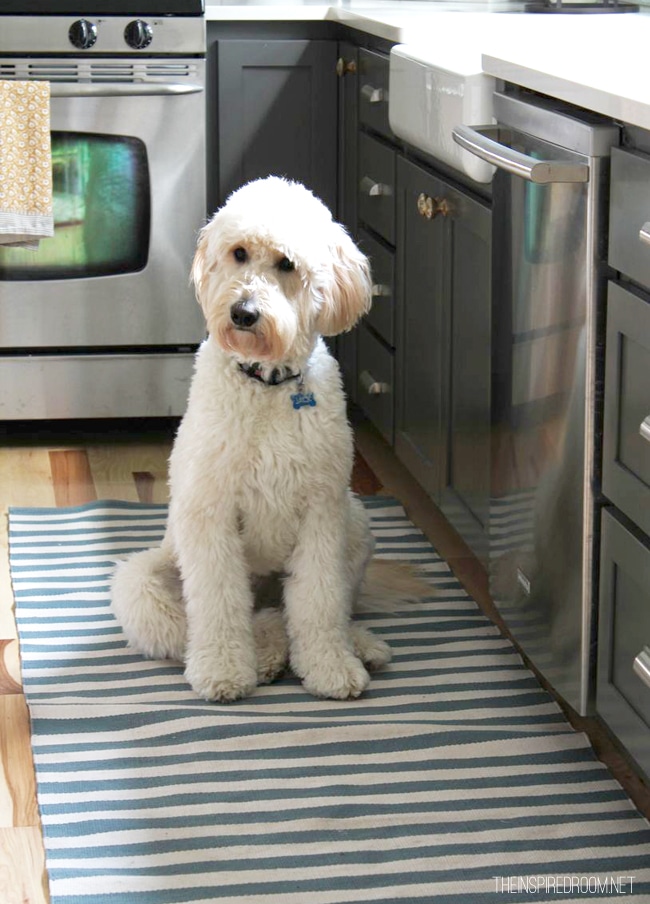 Jack runs through this kitchen, screeching around the corners sliding this way and that, we cook and bake here, we spill stuff and make messes, laugh together, hang out by the fireplace and spend so much time living life right here in this space. It isn't perfect or fancy, but our family kitchen is a blessing and we really love it!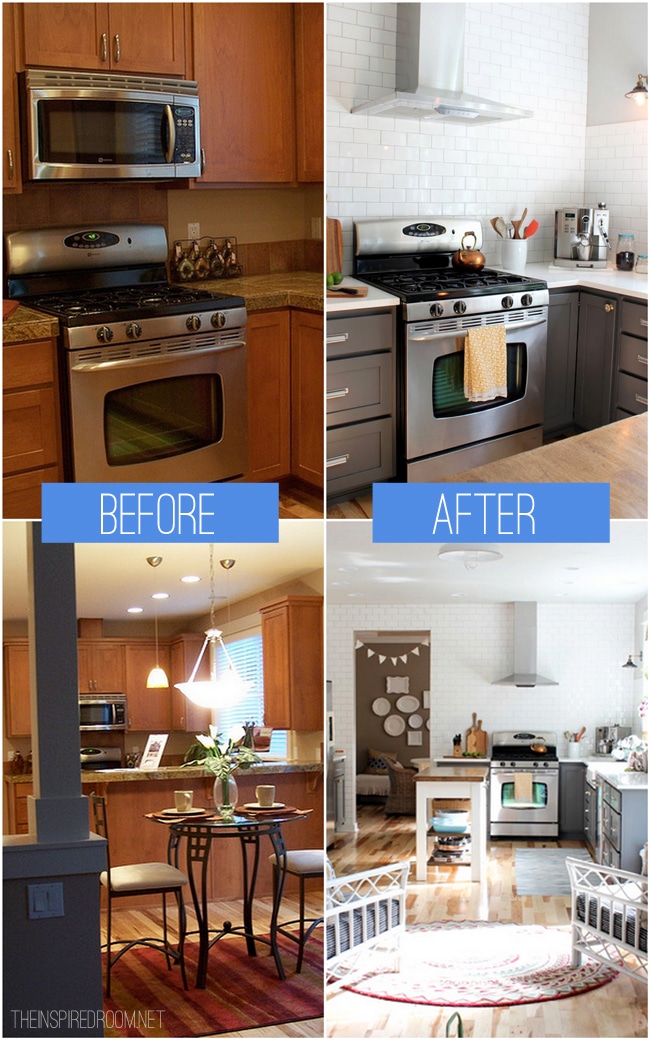 So, it is done! But I don't believe I've ever actually FINISHED a room. So, while it is done for now and I love it, I'm sure it will never be finished. I'll be tweaking and working on more details over time, because that is the fun of having a home!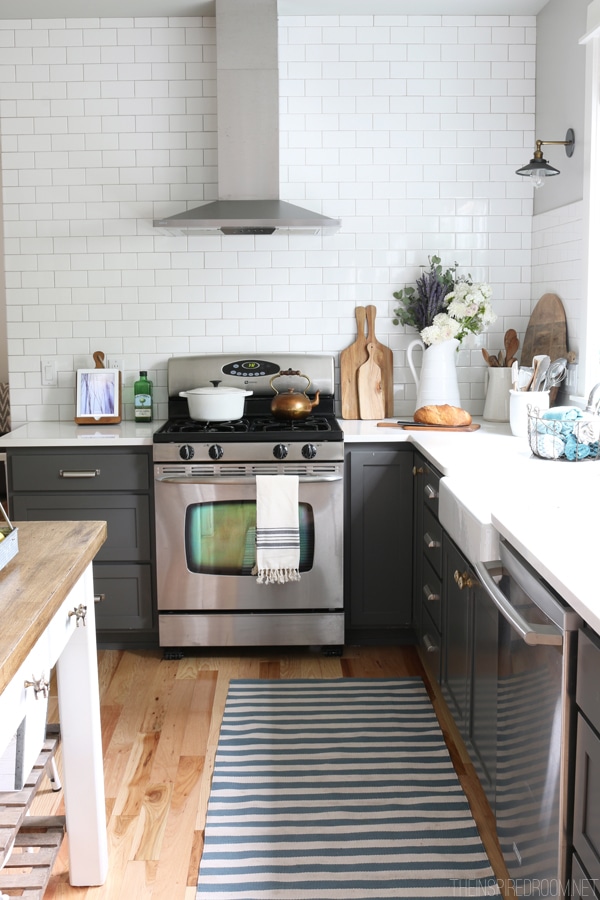 *Update: here's a more recent photo of our kitchen in Fall 2014 from my Fall House Tour!
If you want to go back and review any of the kitchen remodeling posts, you can find them all here. Here is the kitchen source post and more info on the DIY island makeover! Here is a follow up post on the Bamboo Blinds!
See my entire house tour by clicking the banner below or here!