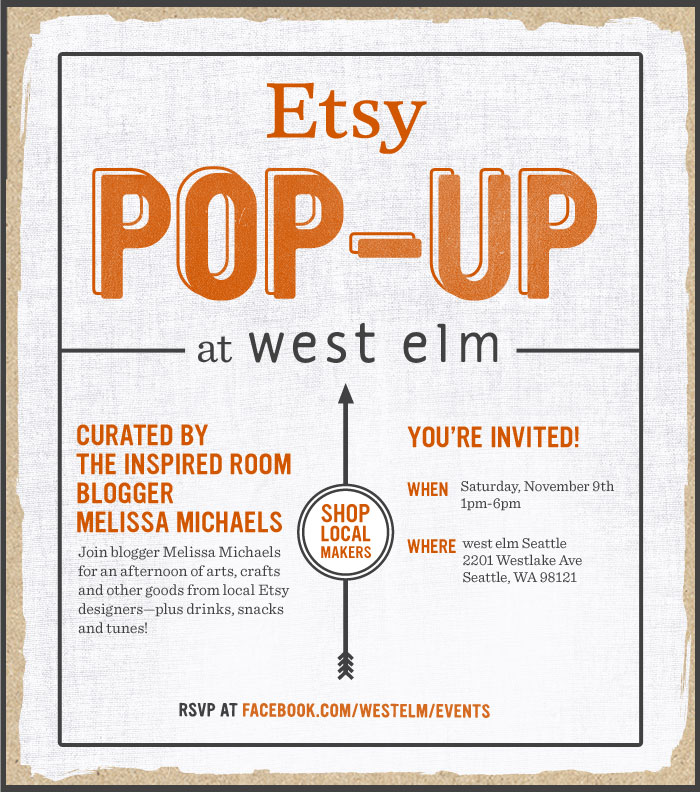 You guys, I'm SUPER excited to let you in on a big secret involving West Elm & Etsy & ME! EEEK, don't you hate it when you have to keep a secret? I do. So glad I can finally tell you!
I have had the amazing opportunity to round up some local area artists for an Etsy Pop Up Shop that will take place in just a couple of weeks at West Elm in Seattle!
What is a Pop Up Shop?  Each of the selected Etsy sellers will be setting up their homegoods, accessories, stationery and more to sell at the West Elm store in Seattle on November 9th 1-6PM.
It's a party! And you are invited.
FUN? YES!!! There will also be a Smilebox, DJ and snacks for the event.
This is an amazing opportunity for these wonderful Etsy shop owners to grow their businesses, and very fun for those of us who get to meet the artists, attend the party and SHOP!!
I'm honored to be a part of this fantastic event and LOVE West Elm for making this type of connection and promotion possible for these wonderfully creative artists and entrepreneurs. And I'm thrilled to be able to share these Etsy shops with all of you as well! You can see the complete list at the end of this post.
Below is a cool video showcasing another pop up event that was held at West Elm in Los Angeles, curated by designer Emily Henderson.
You can see West Elm's announcement here and the facebook RSVP.
If you are local or want to fly on over :-), I hope you will come join the fun! My girls will be there, too, and we'd love to meet you!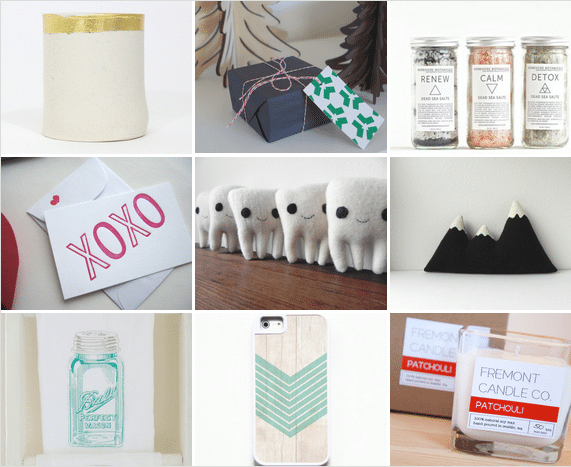 Below are the featured Seattle area Etsy Shops!
Love, Daniella
Wallingford Co.
Herbivore Botanicals
Lily Emme Jewelry
Dahlia Press Shop
Fremont Candle Co
Garden BonBons
On Your Case Store
Tutta Lou Press
Three Bad Seeds
Rouge and Whimsy
Constellation Co.
Hope to see some of you readers there, too! :-)
I'll be back shortly for the final few days of my Falling for Fall series! If you are new to the series, you may want to check out a few of my favorite projects: my Fall Family Room, my tasty pumpkin square & cream cheese frosting recipe, my backyard DIY Firepit or my cheery Fall Front Entry!