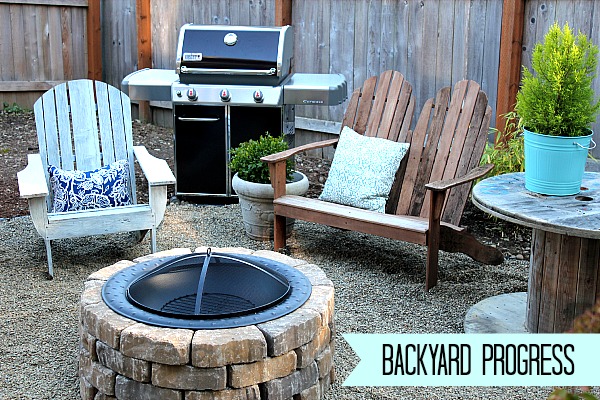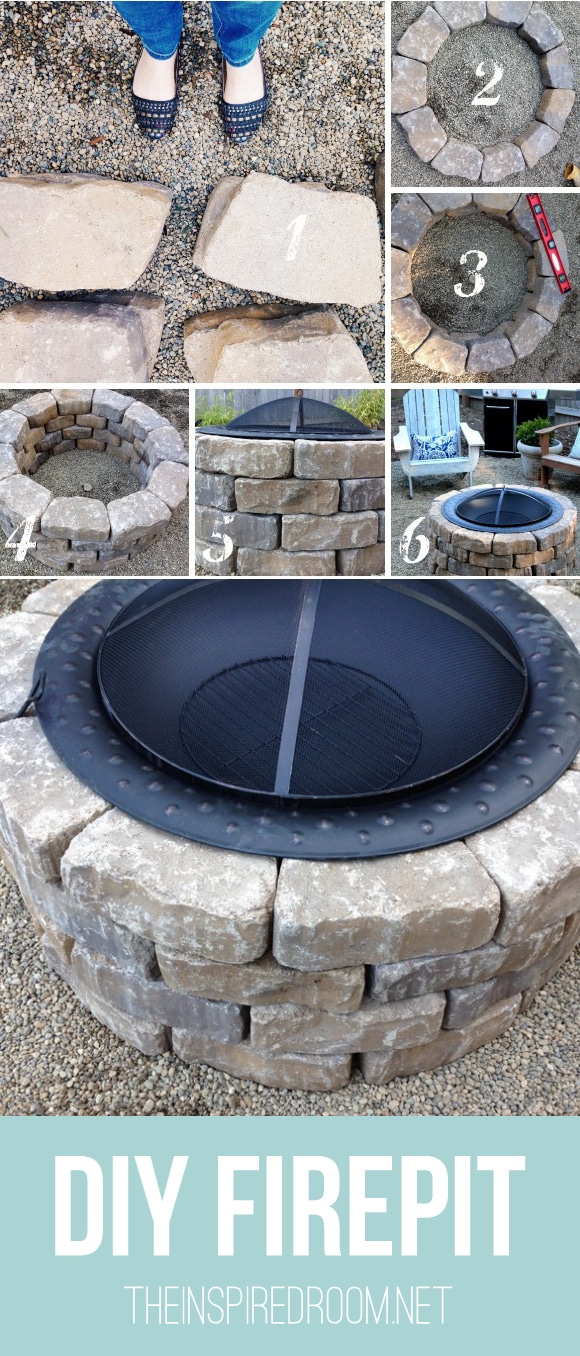 If you'd like to make a DIY firepit AND have it ready to fire up this weekend for a fun Fall family night, read on, friends. 
The supplies for this firepit were provided to me by Lowe's.
This DIY is EASY PEASY!
SKILL LEVEL:
EASY. If we can do it, anyone can.
SUPPLIES:
You can buy a firepit kit from Lowe's which has everything you need to build a similar firepit (but shorter and without the black metal bowl and cover). We originally were going to just use that kit but decided we wanted ours to be taller and wanted the metal fireplace bowl as an insert. So, we added additional stones (a total of 44 stones) from the Allen & Roth Bertram collection for our project. If you want a bowl like we have, you'll want to select a metal firepit bowl with a lip, grate and cover, such as this model. Lowe's employees will be extremely helpful in showing you just what we need for your project.
TIME INVOLVED:
It's a quick project once you are set to go, maybe as little as 15 minutes to build the firepit if you have the supplies and your surface is ready. I couldn't believe how fast it went together.
BUILD YOUR OWN FIREPIT INSTRUCTIONS:
1. Start with a level, fireproof base for your firepit. We used our pea gravel patio but you could use your cement patio, brick, stones, or other non-flammable surface.
2. Form a circle for your first row (make sure to double check the circle against size of your metal firepit bowl).
3. Use a level to make sure each row is level before starting on the next row.
4. Make four rows (or less, if you prefer), staggering each stone for for stability — you will not need any mortar.
5. Set your firepit bowl on top, overlapping the lip onto the stone.
6. Step back and admire your DIY skill and then invite the family out for S'mores! That's what we plan to do this weekend!
Here is a video we watched for inspiration and instruction prior to making our own firepit!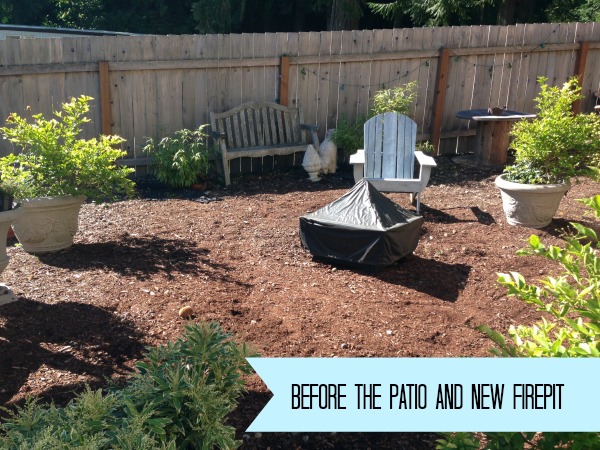 We are so excited to be creating an inviting outdoor area for our family and friends in our small "new construction" backyard. Our backyard was not all that welcoming to begin with so anything would be an improvement. But we didn't want to go to the trouble to install the pea gravel patio and then STILL never go out there to use it.
As with most projects I do around my home, I took the time to really think through what we would need to do in order to create a functional and usable backyard on a budget.
Yes, I sometimes have bigger dreams than my pocket book, but I do have fun with the challenge of figuring out an affordable way to get the look I want within my own skill level and budget.
In addition to the firepit materials, Lowe's provided an outdoor heater (perfect for entertaining on these chilly fall nights) and an awesome Weber BBQ so we can grill up some steaks! Note: my husband put together the BBQ for me, but there was a defective screw for one of the handles handle, thus a handle is missing from the BBQ in the photo, until we can replace it. We also got some beautiful plants at Lowe's to line our pea gravel patio, which you will see in future posts.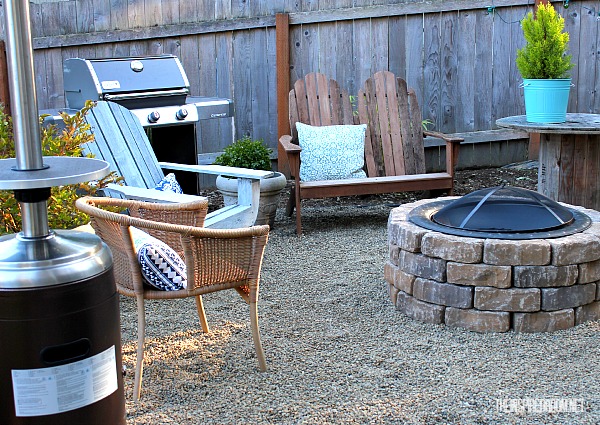 As you'll see in upcoming posts, we not only created this pea gravel area for the firepit and BBQ, but we are also going to lay our own flagstone patio in a newly leveled out upper level connected area with a table for eating. In the far back corner of the yard behind the BBQ, we will be building our own garden boxes to grow vegetables! I'm so excited about that!
We also have plans for privacy screens and lots more plants so it won't look so barren around here! Baby steps, but we hope the end result will be a charming yard we love.
We will share more of this backyard makeover project as things develop (including more DIY details on the pea gravel and flagstone walkway and patios).
We are so pleased with how far we have come in creating this outdoor room we can enjoy with our family!
Catch up on the previous posts here:
Creating a Backyard with Zones
Pea Gravel Patio inspiration post
Progress on Backyard Pea Gravel Patio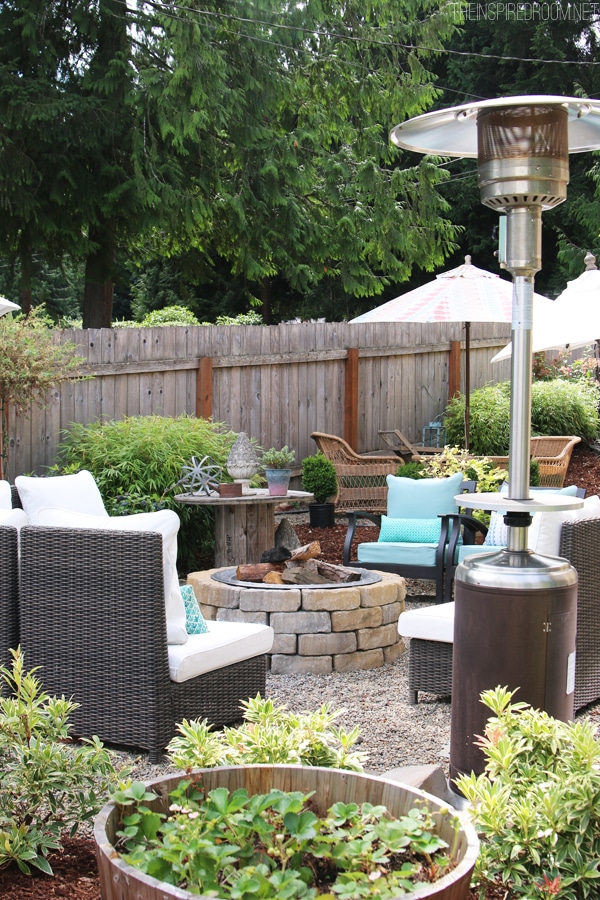 Checkout the after photos of the backyard here!
Big thanks to Lowe's for providing the firepit materials, the Weber BBQ , an outdoor heater and some plants for this backyard makeover. You'll see more of how things come together in future posts!