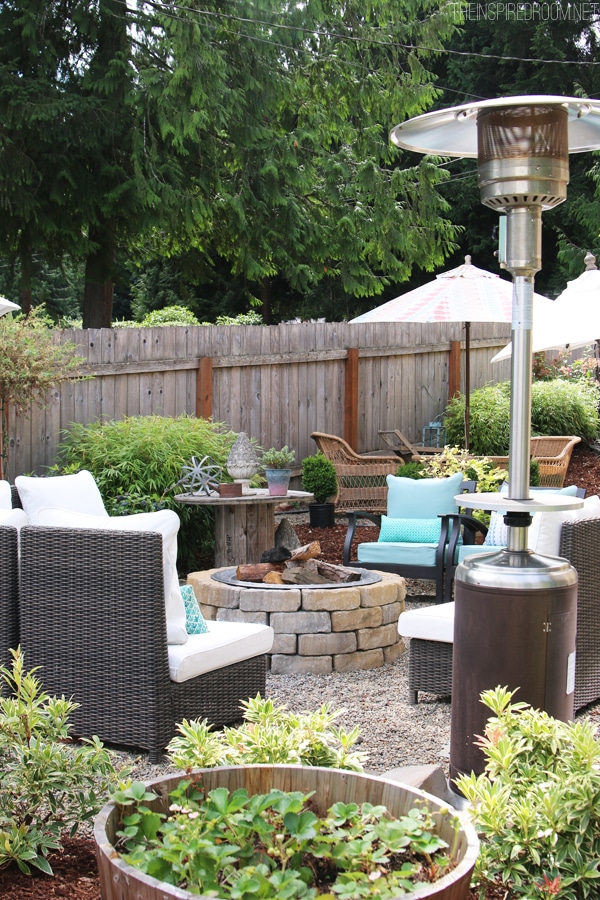 If you are just catching up in blogland after summer vacation, here's the scoop: our family is in the process of moving and trying to get our new life and son's school started in a new home in Seattle! We are very excited to be here, but logistics are sometimes challenging in a move. You can catch up on the news of why we decided to move, our moving day and our house hunting adventure.
Later next week I'll finally be sharing a little video of our new house! I can't wait to show you where we'll be hanging out (for the next few years!) and share the vision (and projects!) we have for each room. It's going to be fun. :)
But first, I thought I would catch up on a project I promised to show you earlier this summer from our old house. Our backyard makeover! You might remember our backyard when we first moved in. It started out as a barren, boring new construction space. No landscaping. No trees. No plants. No planting areas. No patios or walkways.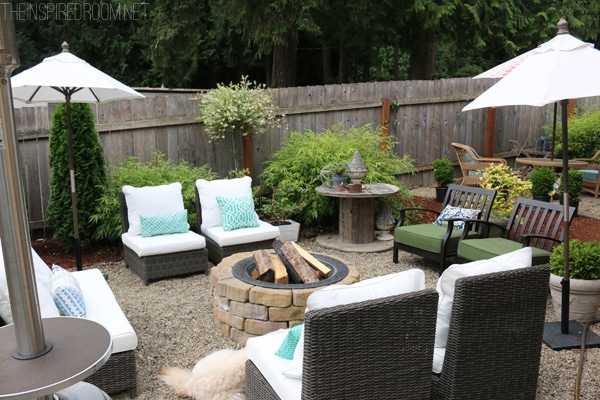 Well, little by little, layer by layer, we added many of the things that were missing! While we didn't complete the yard entirely and it wasn't yet "perfect" (we still had plants we wanted to plant, and lots more rocks we wanted to bring in to finish lining the gravel patios and walkway, among other things we had planned), I'm excited that at least you can see the vision we had, and see how far it had come!
I snapped a few quick pics before we moved so you could see it!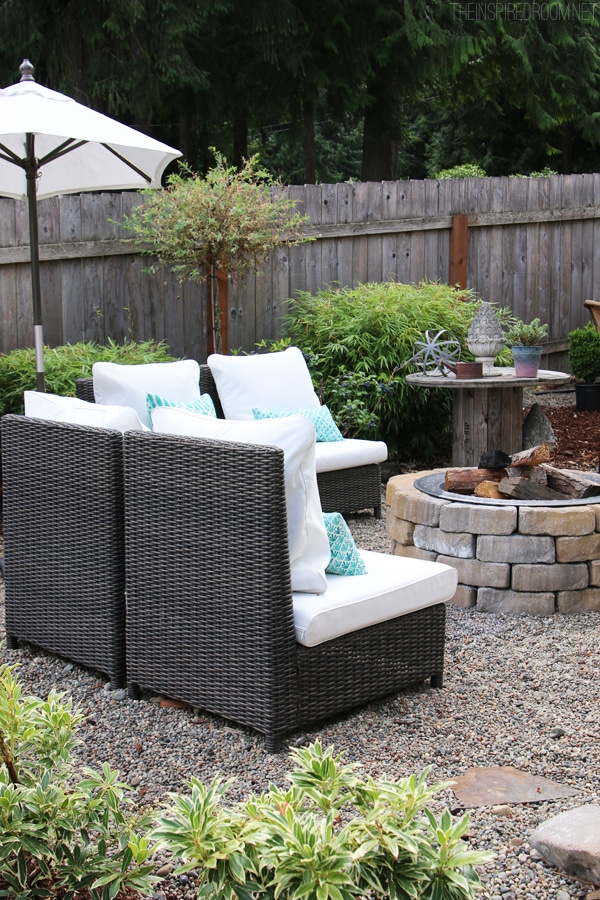 Our yard wasn't even fully fenced when we moved in; there was just one neighboring fence along the back. When Jack came into our family, we fenced in the whole backyard for his safety and enjoyment.
The fence was really our initial starting point. A fenced in yard really helps to define borders and gives a good backdrop for plants and furnishings.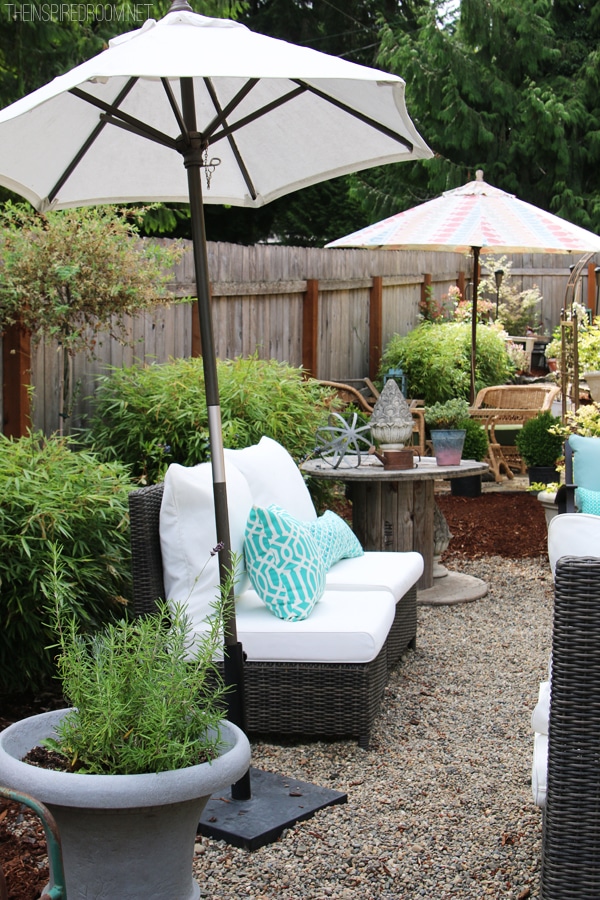 After the fence, our goal with our backyard was to divide the space up into different zones. At first the expanse of yard felt a bit overwhelming, even though it wasn't a very big space. When you have nothing really to work with, it's hard to know where to begin.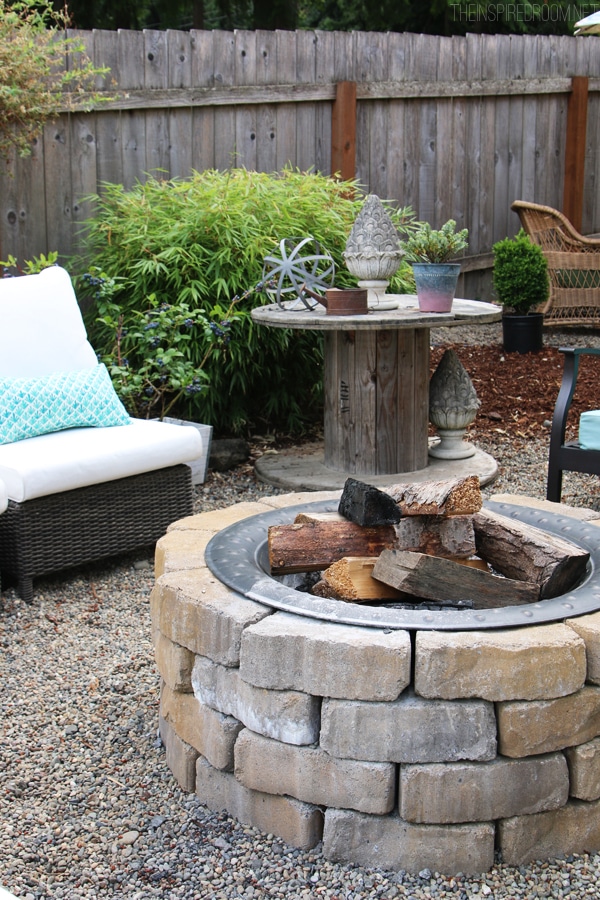 DIY Firepit
You can read more about creating backyard zones here, but the first big "zone" project we completed was the big pea gravel patio near the middle of the yard, designed as an area for a firepit and furniture. From there it became easier to create more defined areas, connected by pea gravel and flagstone pathways for my secret garden, vegetable and herb garden spaces, a dining table, and our BBQ grill.
You can see one of the progress reports on the pea gravel patio here, to see what it looked like in process!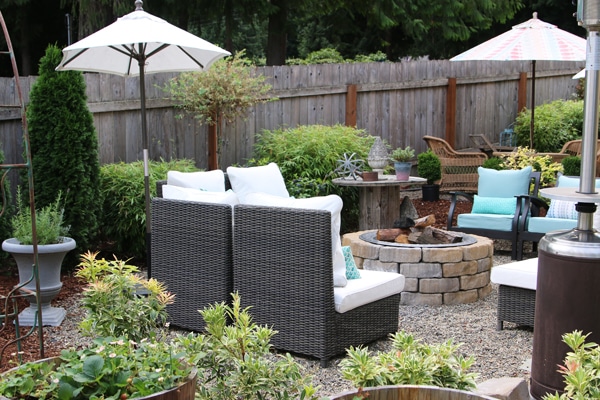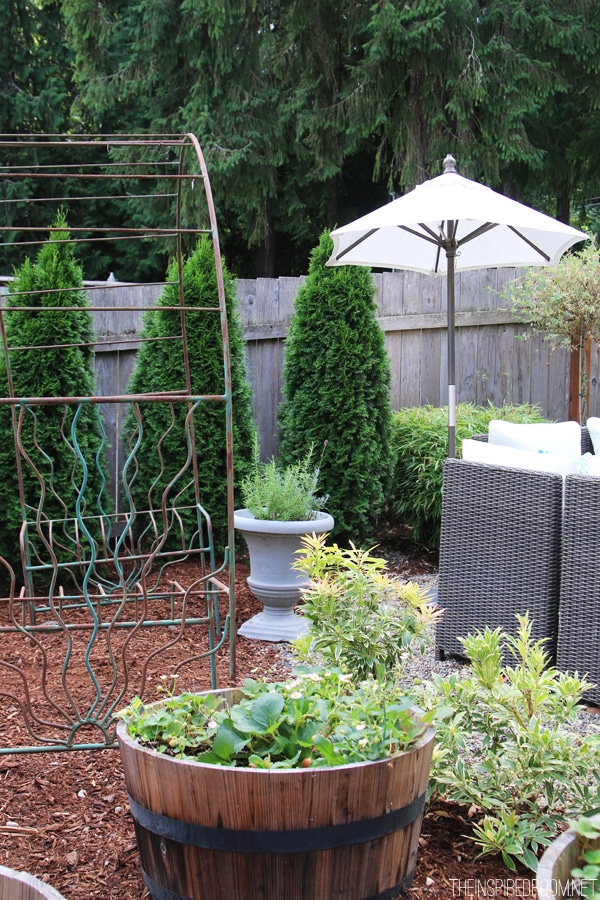 We also had added some fun non-permanent decorative pieces like antique metal trellises, plant stands, pots, and of course furniture, which (most of them) we were able to bring to the new house. It was nice to feel like I didn't have to leave everything behind!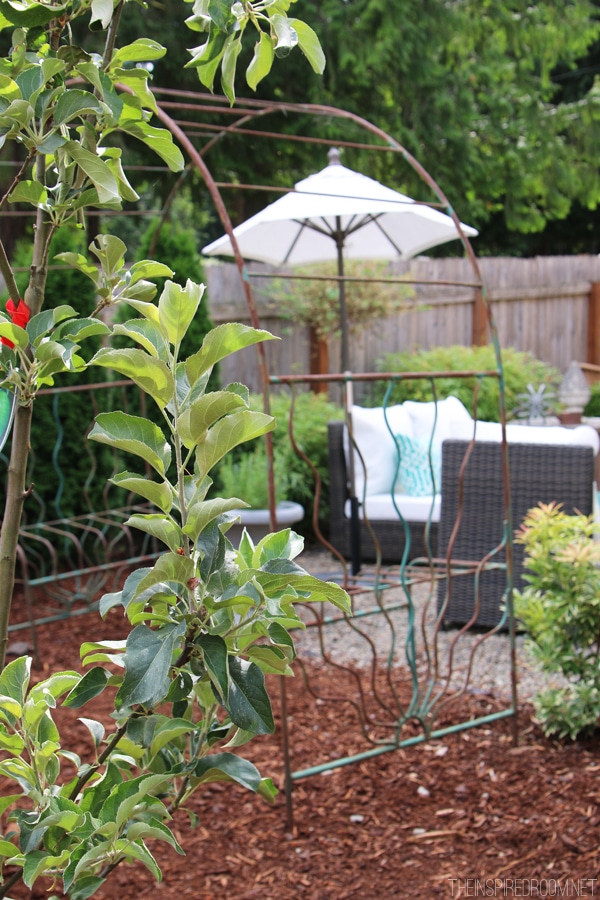 It was really hard for us to leave our plants, though. We had planted fruit trees and so many pretty flowers and shrubs. My husband said it felt like he was leaving his babies, ha! It's funny how attached you become to a garden. Fortunately there are lots of established plants in our new yard so we won't be starting from scratch this time! You'll see the new house yard soon.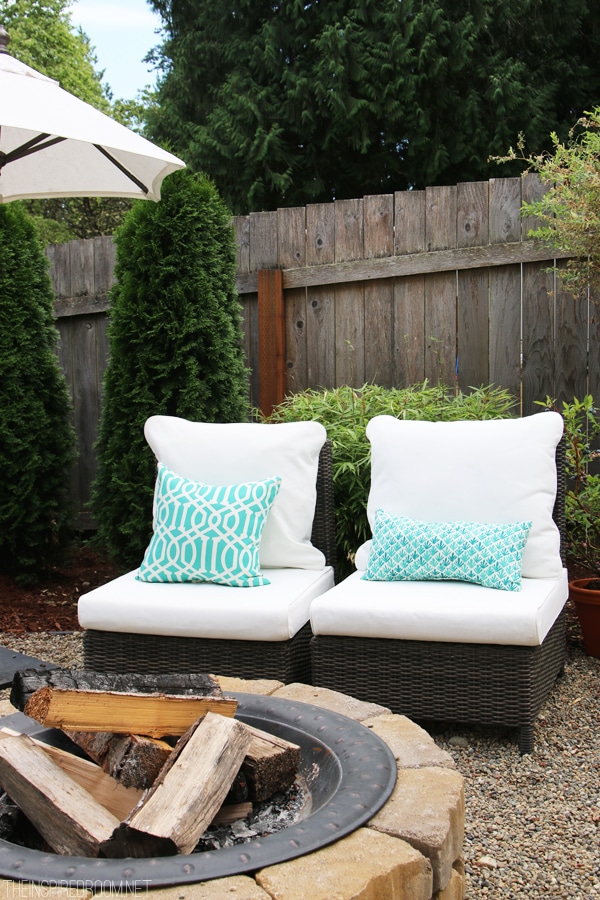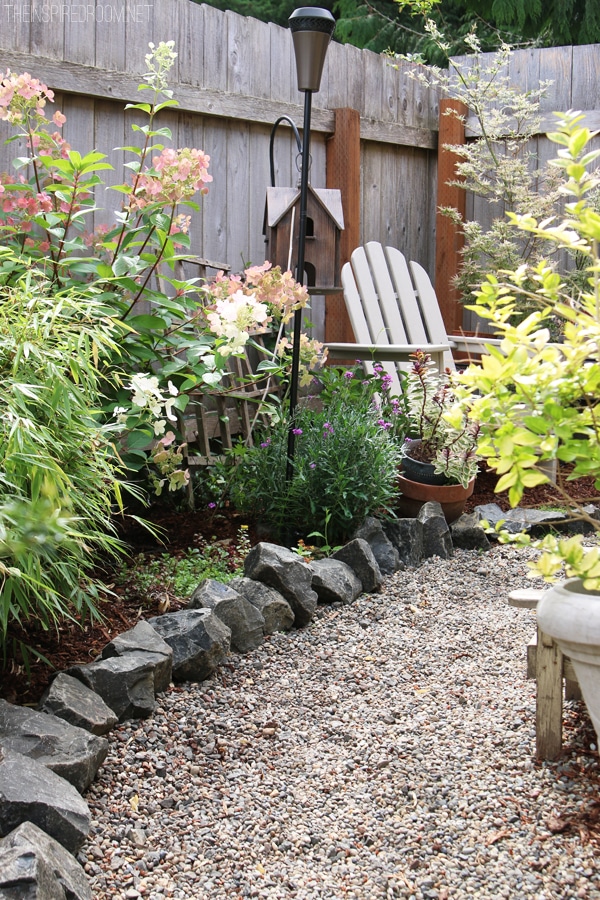 I so enjoyed creating this little "secret garden." It smelled like heaven, I had planted quite a few scented plants. It was still getting established, but it really had blossomed in this last season. You can see my post about the garden earlier this season, here. I will miss it so much, but I know I can create new little gardens in our new home.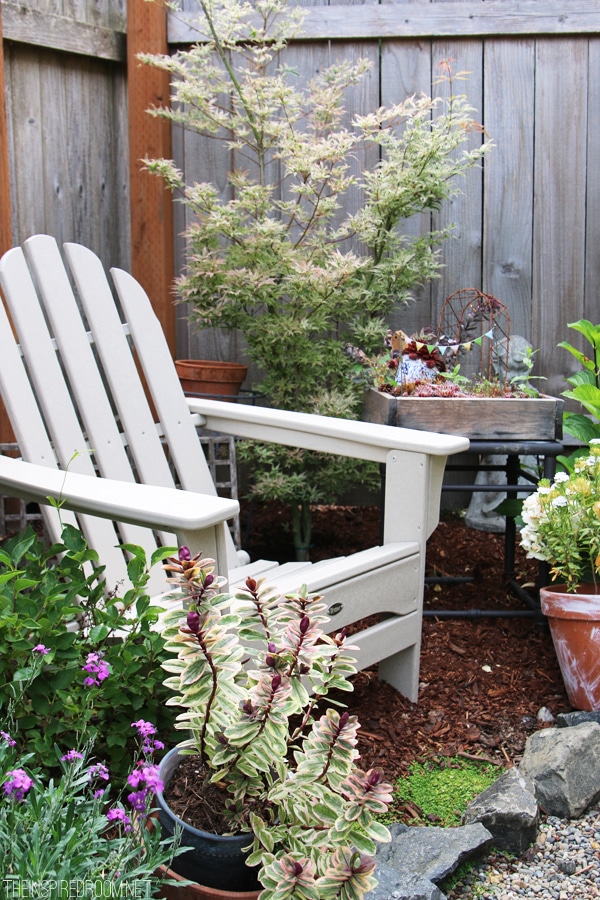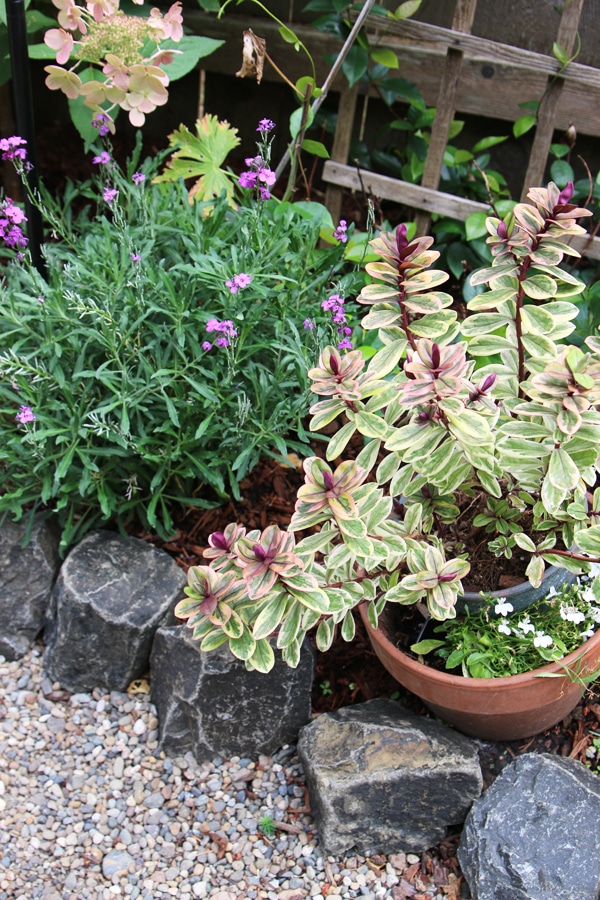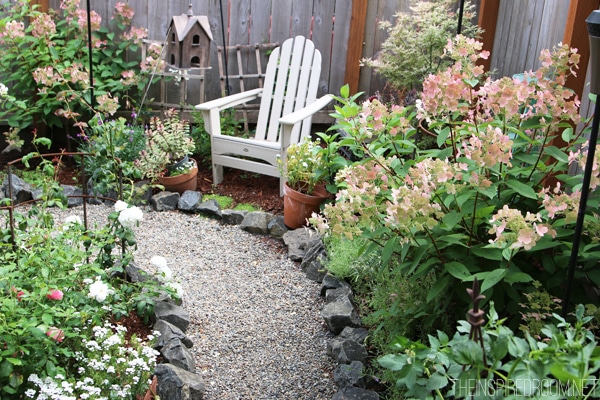 This was the view out our family room window. I was always delighted to see the garden from that angle. It felt so inviting! I enjoyed bringing my coffee out there in the mornings and just breathing in the fresh scent of the plants and flowers.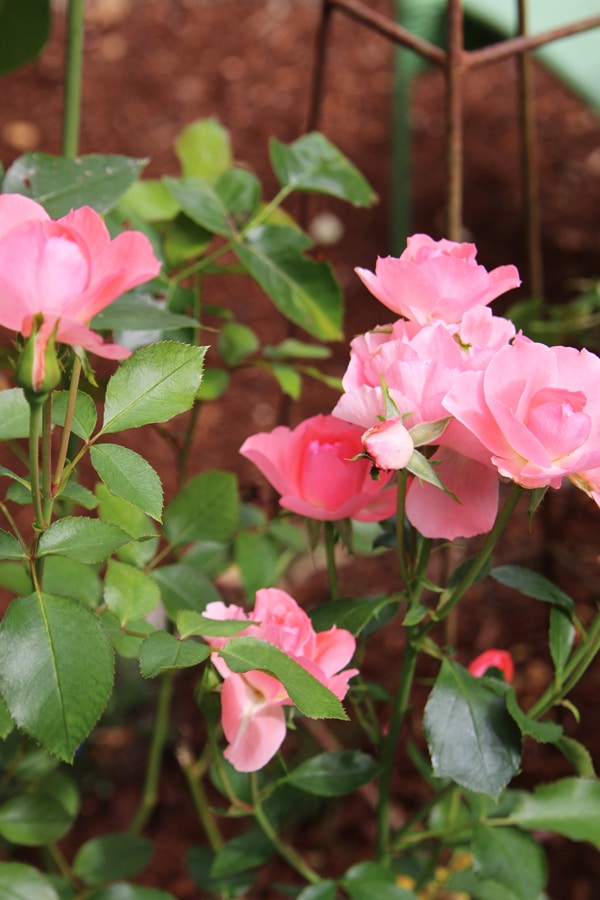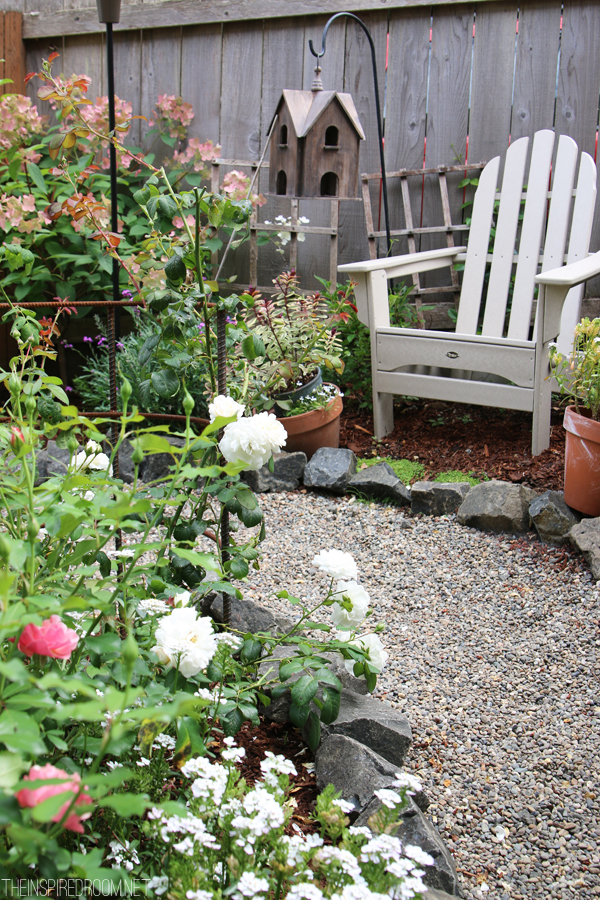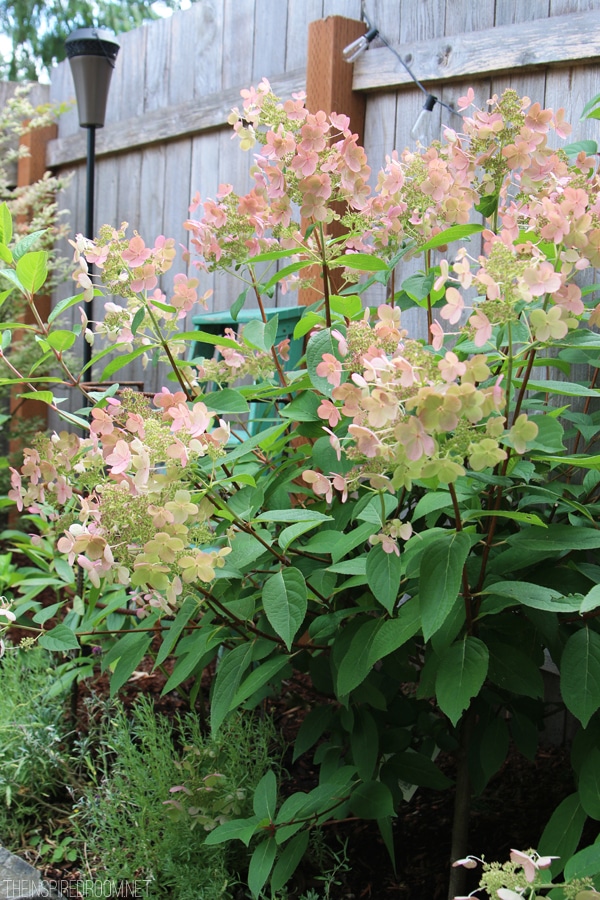 These hydrangea trees were getting so big, I bought them at Costco a couple of years ago when they were just tiny! It was fun to watch them grow and become established.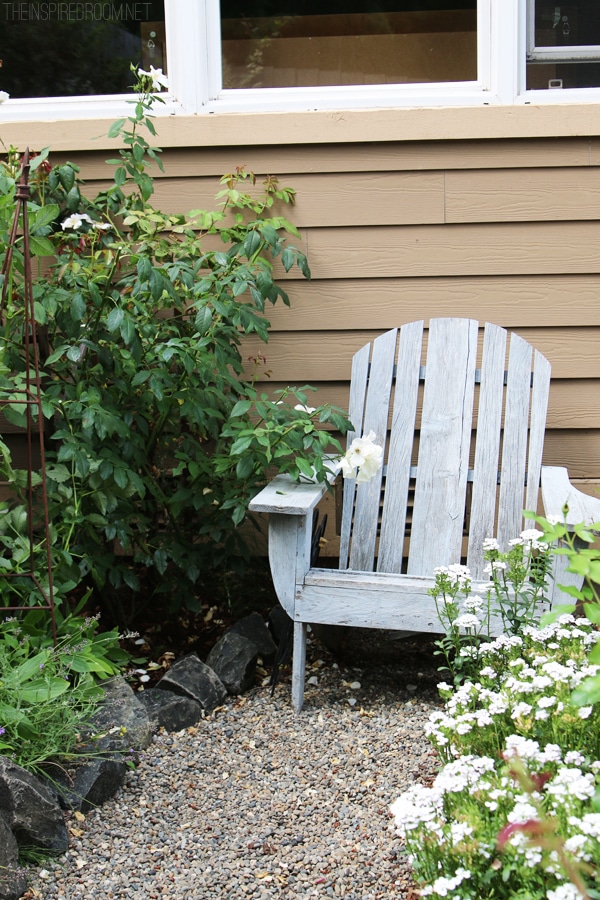 I really loved my roses, they smelled divine and it was fun to have some cutting flowers for bouquets.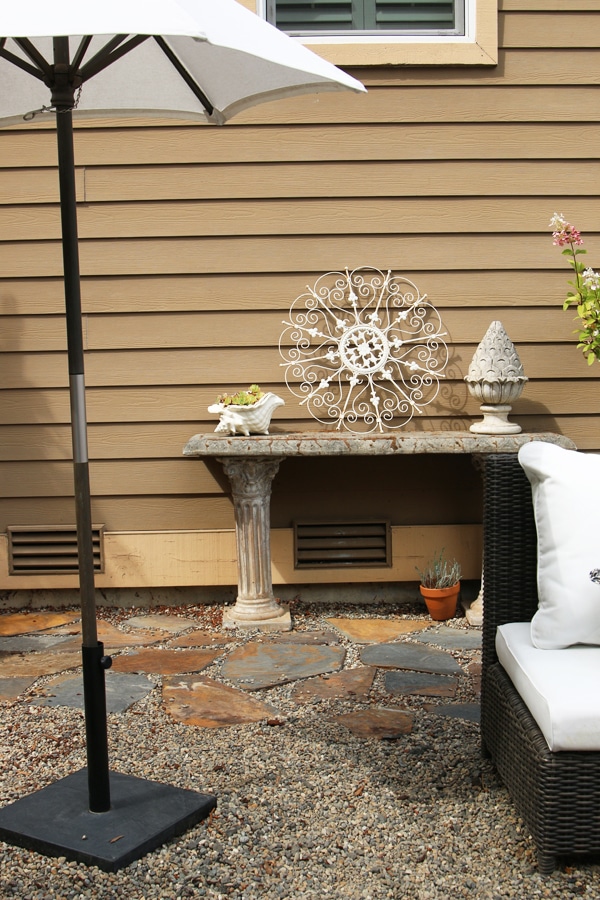 I usually filled this cement table by the fire pit with overflowing plants and herbs. It was pretty empty by the time I took this photo as we were moving, but I wanted you to see the flagstone walkway we had on the border of our pea gravel patio. We really loved the natural, unmanicured yet still charming feel of a pea gravel and flagstone patio.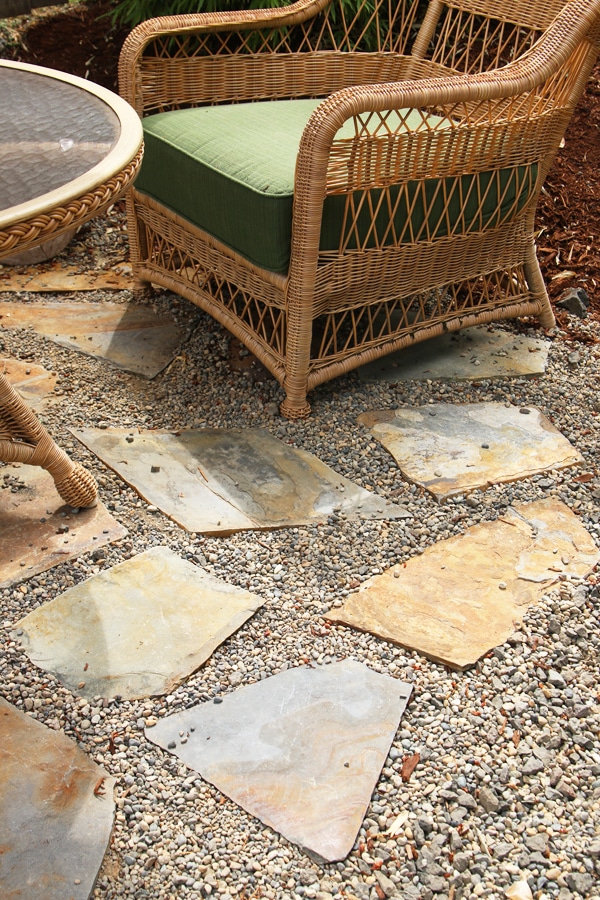 My son laid this flagstone for us in the pea gravel. It was fun to have our family out there working on it with us!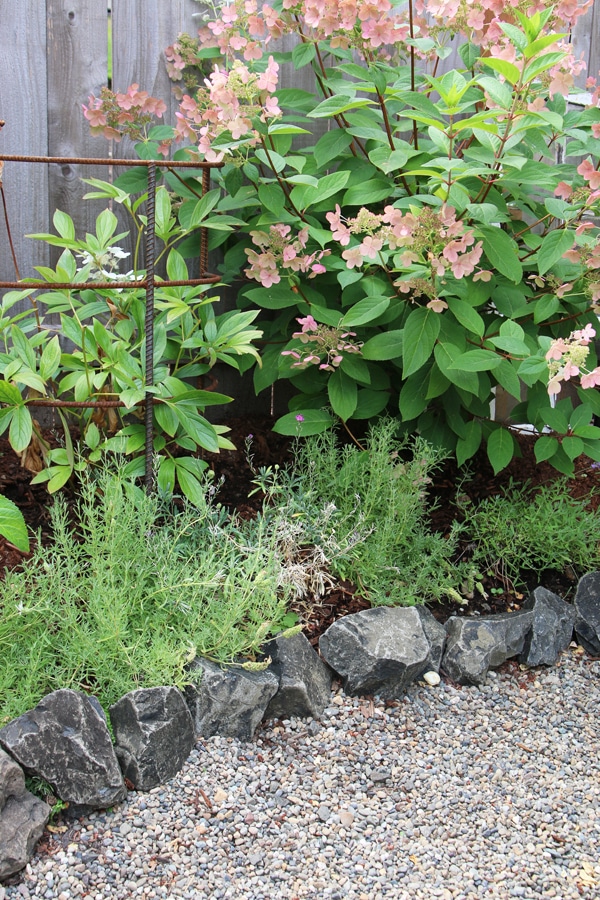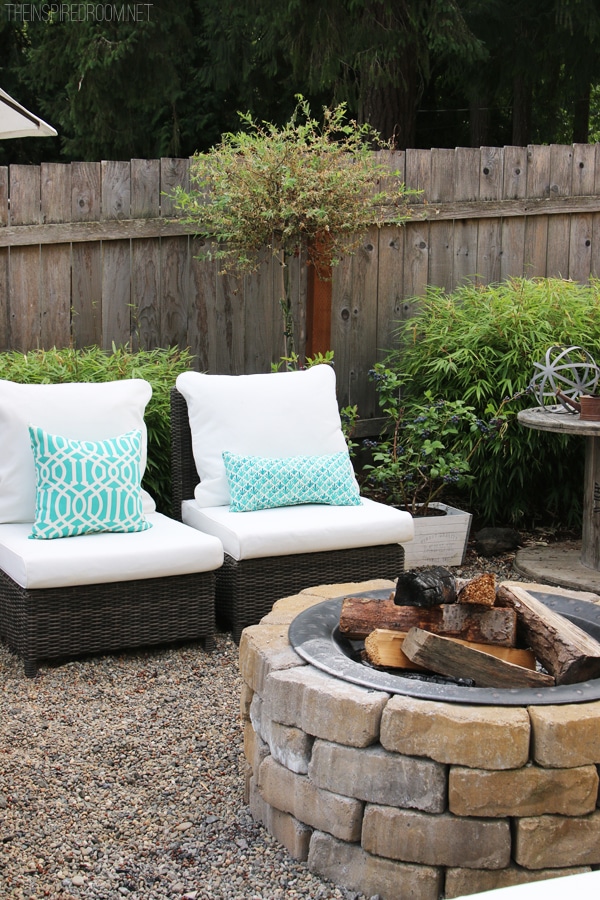 We enjoyed a few evenings this summer huddled around our fire pit, making s'mores and memories! Now that this season is coming to a close, we are grateful for the time we had to spend in our pretty backyard.
And now, onward to new backyard adventures!
PS. You can see another area of our yard, our back deck makeover here!
Related Posts: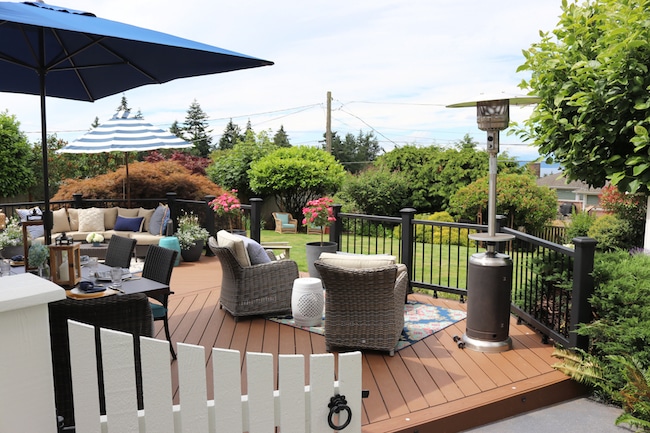 Come Tour Our Trex Deck Backyard Makeover at our Seattle house!
How to Design a Backyard (4 Essential Zones)