After a couple of long but fast moving weeks of packing and preparing for the big move from our home on the peninsula over to Seattle, the day finally arrived. We officially moved out of our house! :-( While it was (and is) really hard to say goodbye, we know our next adventure is just beginning so we are hanging on to that. It feels more like a "farewell, friend" than a forever final goodbye because we know we will remember how much we loved it here. Each one of our past homes still feel very much a part of our story and always a part of our fond memories.
(Update: I wrote a two-part series on my top ten tips for preparing for buying a new house and moving and tips for moving!)
This home will continue to be very special to us. I learned so much here about creating a home I love and finding contentment wherever I am. I will not only keep sharing the lessons learned, my favorite rooms and projects from this house on the blog, but it is the home that is featured in my next book, The Inspired Room, due out in November! I'm SO excited for that book to be released (it's available for pre-order at Amazon and Barnes and Noble). I wrote a lot about my decorating process and tips for designing a home, and of course took many photos of this house for the book, so I can hardly wait for you to see it and hold it in your hands!
It does help to know that even though we've physically left this house, it isn't a goodbye, but a see you later.
It's a weird feeling, moving out of a house without closing on another prior to the sale. What do you do in that situation? I didn't know. We've always moved from one home to another (always before our old house even sold), which in many ways makes the moving process so much more straightforward. With a more simple move like that, your belongings are at Home A and they need to arrive at Home B. But in our case, we were not going to be able to close on a Home B in time. So we had to go from Home A to . . . what?
When I first realized the logistical problems an "in between move to an unknown location" would create, I was lying awake at night, imagining all sorts of less than ideal scenarios.
Should we rent a storage room and move to that first? Well, WE wouldn't actually move into the storage room (that might be weird), but our things would be moved into one :).
In that case, is there a storage room big enough? How many storage rooms would we need to rent to hold an entire house of things we love?
And then, the next question, how would we get those belongings to said storage room?
Would I throw my back out trying to haul stuff in and out of homes and storage?
And even if we figured out the storage room situation, how much fun would it be to move to a storage room and then move again, out of the storage room, to a house days or weeks later? Not fun.
Should we rent a house? But a house is significantly more expensive to rent in Seattle than a storage room (plus we have dogs, and we didn't want a long term commitment), so that option was off the table pretty quickly.
Or maybe we should just try to sell all of our furniture to the new owner and carry out only what we can fit in our backpacks? This option actually sounded kind of appealing at that point :)
All of those scenarios seemed like potential options, but none of them were ideal for us for various reasons. And we had a week to get out of our house, so that kind of ramped up the pressure.
So, basically, I panicked. Well, not really. But I did have a long moment of slight anxiety over what to do, so I googled my options. And the answer was right there. PODS. OF COURSE! That is exactly what I needed. I called their offices immediately and described our urgent situation.
I didn't cry or have a total meltdown, but I might have sounded slightly anxious about our looming deadline. The friendly person who took my call reassured me that PODS was in fact perfect for our situation and I didn't need to worry. They could handle all the details and get us to where we needed to be when we were ready. I hung up and let out a big sigh of relief! PODS would deliver "containers" (the storage units) to my house the next week. Crisis averted!
The PODS containers are portable storage units that are available in various sizes. There is a handy dandy space calculator on the PODS site that allows you to judge how many containers you need based on the size of your home. They are delivered to your home on a truck and the containers can be set in your driveway or on the side of the street. You can hire help to pack them with furniture and belongings, or you can go the DIY moving and loading route. We did some of the move ourselves, as we had completed most of the packing in the two weeks prior to the PODS containers arriving.
We even rented some plastic moving bins to use for packing, which were awesome! We rented them from EZ Binz in Seattle, a wonderful company that services King County. I'd highly recommend using them if you're in the area. They came in different sizes and were super easy to pack almost anything in our house. They also included labels to attach to each bin which made it really helpful to identify what was in each one. See the great selection of bins they offer here!
See more of our moving tips in this two-part post!
My husband and I agreed years ago that we would never try to move furniture ourselves again after a few unfortunate situations (one where I was thrown backwards over the side of a wire on a trailer ramp by an unruly mattress and one time where I was pinned under a heavy dresser. Eh hem).
So after securing my move plan with PODS, they referred me to Hire-A-Helper online to hire some strapping young men to move our furniture for us. Miraculously, they found a team from Washington Moving Labor Services to help us out on the day of our move.
The team worked hard all day. Hiring help was my BEST DECISION EVER. I sat and sipped lemonade in the shade while they hoisted furniture down the stairs and out the door into the blazing heat.
Washington Labor Services
By the end of the day, my house was mostly loaded up (I'll share my tale about what was left to move on our final day in the house, later…that's the day where my organization fell apart and I even have a few  "moving bruises" to show for it, hahah).
The next day, our belongings were hauled off by PODS to their secure storage center. There was no need for us to move twice, PODS would simply store our containers and deliver them to our new place when we were ready. I don't think a move like this could have been any easier on us! This has been our smoothest moving experience so far!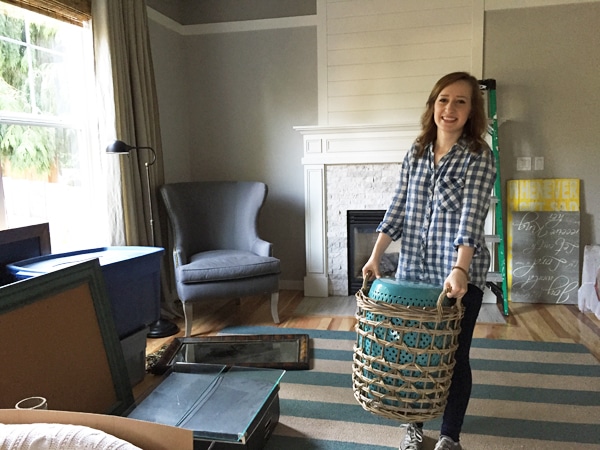 As I write this, at this point we are technically homeless (which puts kind of an interesting twist on blogging about loving the home you have, don't you think?). But while we are presently without a home of our own, we are hanging out with our girls at their townhouse, awaiting our next move!
But not to worry, we finally found a house that we have an offer on and plan to close on soon, so I will be sharing about that in an upcoming post! :)
I'll have more to tell you about our last day in the house (including the blunders, ha!), some of the helpful tips we have learned for pulling off a smooth move, and details on our new home soon!
Catch up with all of our moving posts here.
Have you had any tricky moving experiences? Tell me your tales!
Thank you to PODS for being willing to partner with me in the moving process and for making this experience so much less stressful!