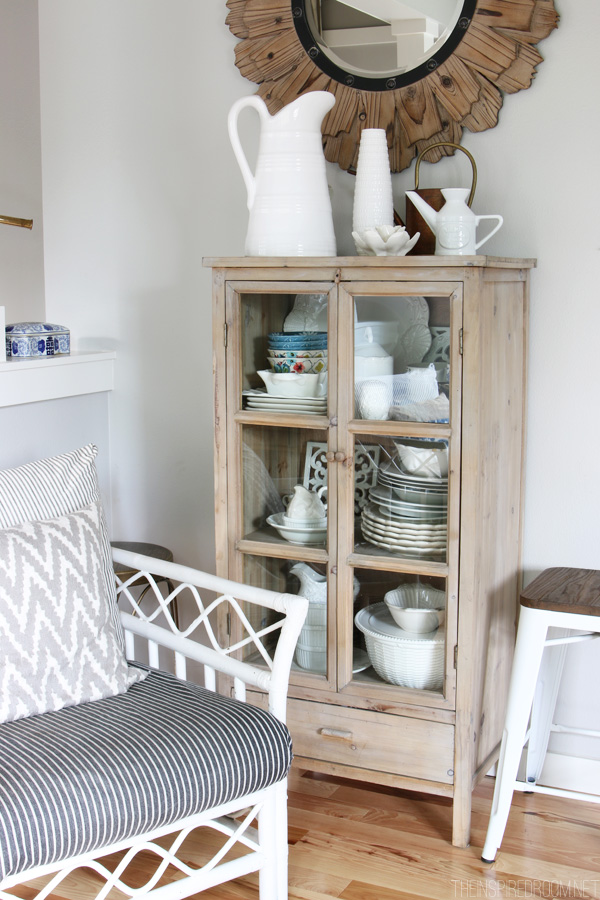 Find part one of this post Staircases & Big Steps here.
In 2009, we took a big step of faith moving from what we hoped would be our "forever" home in Portland to a small town in Washington to start a church. If you read Love the Home You Have, you probably read the stories of our many moves, including what eventually led to our move here. The Inspired Room had its humble beginnings eight years ago in our 1930s English Tudor in Portland. But for the last six years, we've been here in Washington running The Inspired Room and the church.
Honestly, as much as we wanted to be here, that step of moving was hard on us in the beginning. Portland was home. The move separated our family (we had to leave our middle daughter Courtney behind to finish school, our oldest daughter Kylee was in college in Oregon and our son came with us without his siblings). We moved here without knowing anyone. We worked so hard over the years to make our new life here possible. After leaving our home and struggling to rebuild a life and get established here, we finally feel settled.
While my daughters eventually moved to Washington to go to school (YAY), they are in Seattle which is over an hour away from us (BOO). We were grateful to have them close enough to visit regularly, even if we couldn't visit as often as we'd like.
Fast forward from our move six years ago to today. So much has changed in our life! My daughter Courtney and I now work full time together running The Inspired Room. We have the best time doing what we do as a team, but she still lives over an hour away by ferry. We commute regularly back and forth on the ferry as often as we can, but the distance, cost and logistics of ferry traveling sometimes takes a toll on our creative energy and time we could have spend working together.
My oldest daughter Kylee wants to help us and be a part of what we are doing (and we want her to be a part!), but she and her husband are working full time at Amazon, which makes collaborating with us challenging since the travel cuts too much into her only available hours after work or a few hours on the weekend.
While it's natural and even expected for kids to head off to college and eventually get married and leave the family behind (no! stop! wahhh!), there's something wonderful about having your family near when you genuinely enjoy being together. While we willingly sacrificed so much to move here, six years later we are now really longing to be able to get together for spontaneous family dinners on a weeknight, impromptu projects around the house, and to be able to head off on a moment's notice for shopping and coffee on a Saturday afternoon.
But even more than that, we are feeling a little sadness that our son wasn't living closer to his sisters for so much of his childhood. Amazingly, all three kids (and my daughter's husband Lance) have remained very close. We feel very blessed by their influence in his life and that they have been able to spend quality time together in spite of the logistics of traveling back and forth across the water all these years.
Our son experienced so much of his childhood here in this place, growing from an adorable eight year old boy to a handsome fourteen year old young man. How did that happen? His childhood seems to have flown by in the blink of an eye. But since he's just finishing up eighth grade and will be heading into high school this fall, we realized that while he has lived the past six years here (essentially experiencing his day to day life as an "only child") we could still give him at least four years of closer and more frequent bonding time with his siblings if we were to move to Seattle.

OH MY HEART. Friends, when my husband and I started to really think about the impact a move to be near our girls could have on our son in day to day life in so many ways, when we let that possibility sink in to the depths of our hearts, there was no other choice. As a mom, I want this for him for these next four years more than anything. Our girls want this for our family.
I love our home now and wish wish WISH I could just stay and enjoy it for years to come (that was our plan). I keep looking around at the home we've created here and feeling sad at the thought that we might leave it behind. But the truth is there's a big piece of our heart missing here. If we are willing to take the leap and make this move happen, we can bring our family back together again in so many ways after our long six years living further apart. And that feeling brings me a sense of peace about our decisions ahead.
At first my worry was whether or not my son would want to make the move to a new school. Of course I know a move would still be difficult for him even if there's a big benefit (change and moving schools always is hard for kids!), but I was relieved when we recently had him shadow at a new school just to check it out and much to my surprise, he liked it. One less fear all around.
A move to Seattle is not going to be easy or without stress. I know we can create a home no matter where we go, but Seattle is crazy expensive and that part really stresses me out. We aren't sure what house we would be able to afford. We want to be within a 15 minute drive of the girls (they will likely live in the same area for the next five years so we've narrowed down our neighborhood options). It's a hard market for buyers because of the stiff competition and prices. What kind of house will we find in our price range? That alone is a scary thought.
And secondly, this move will be interesting because our world as we know it would do a flip flop! Our church is here and my husband is devoted to continuing to pastor there. So should we decide for sure to make the move, the tables would turn for our family and he would be making the commute each week as needed for meetings. The girls and I would have more time during the week to work together, allowing us to invest more time into our business without commute time. And we would still be at church on Sundays, so our church family will remain a priority. That darn Puget Sound makes commuting challenging at times, but the ferry ride is BEAUTIFUL and peaceful so at least there's that. :)
The thing that helps me feel less stressed about the challenges ahead is knowing that it isn't just about moving to a new house or a neighborhood. We're moving to our family. The goal is worth it. There's nothing more important to us than that. We don't know exactly what neighborhood we will be going to, and we have no grandiose ideas or plans for what kind of house we might be moving into. We just know it's going to work out because the joy of turning any house into a home for your family always makes the journey worth it, no matter where you put down roots.
There's so much more to share, but I can leave the rest of the details for another time. You know I'll want to share ALL OF THE FEELINGS that will come along with moving and leaving this home :). For now, thank you for reading and being a part of so many of my house adventures. You're truly the best!