Boston Magazine
I love charming staircases. There's something very intriguing about steps, don't you think? They are a wonderful way to add character and make an architectural statement. I love seeing a grand staircase in an entry, but I also love a back staircase. I think my favorite is when there are both a front staircase and a back one so you can sneak up and down. Our old house had three staircases so I often joked that I could get a workout just by running up and down each one.
But while I love looking up at cool staircases, to be honest they make me really nervous when I look down a flight of stairs. And the first step? THE SCARIEST! Seriously. Sometimes it doesn't bother me, but most of the time I pause and grab the rail and gingerly take the first step.
When I was pregnant I remember feeling extra panicky about escalators because I couldn't see my feet :). Stepping off onto a MOVING step was just too much. I actually once had a dream that I invented shoes called Adidas Ground Grippers that were specifically designed for safety on stairs and escalators. HA! If you think I have issues with stairs, it is nothing compared to my fear of heights. I can't even watch a TV show where people are anywhere NEAR a ledge without my head and stomach doing flip flops. I think a fear of heights is the root of my fear of steps, rather than the fear of steps themselves. But either way. Issues.
my staircase (sconces can be found here, paint colors here, and master bedroom details here!)
Taking a big step in life is even more scary than that first step on a staircase. It's like you are putting yourself at risk, stepping out into the unknown. While I've enjoyed many adventures in life, I think in my heart of hearts I'm just a homebody who would prefer to stay in the safety of one place and not go up or down if I could avoid it. Truthfully, I'd much rather stay safely on the ground floor. :)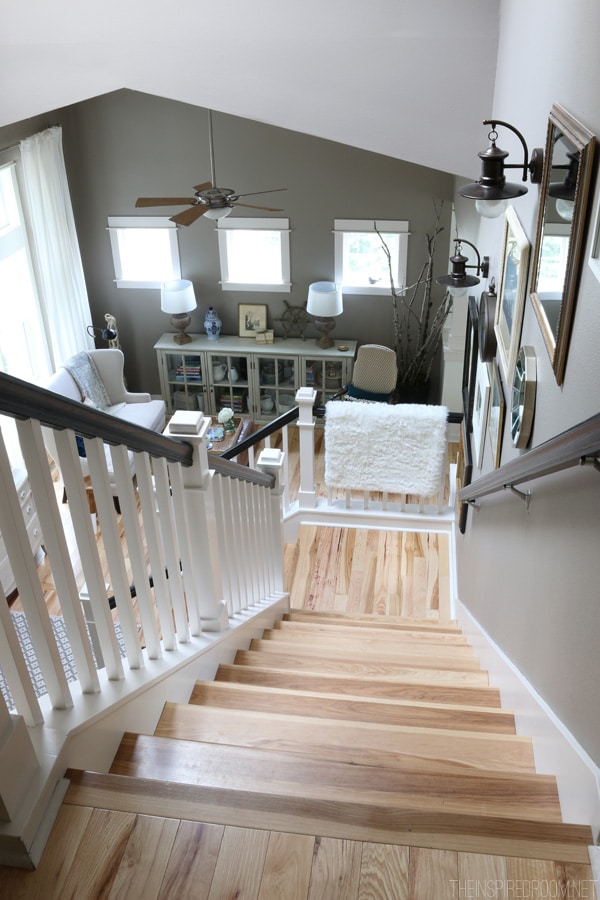 my staircase
But to get anywhere new you want to go, you have to get brave and take that scary first step off into the unknown! So with that said, tomorrow I'll be back to talk about a big (but exciting) step my family is considering and what that first step might look like! Thanks, everyone, for following along with my adventures through the years. It's nice to have friends along every step of the way and I'm so excited to share a possible new chapter with you all!