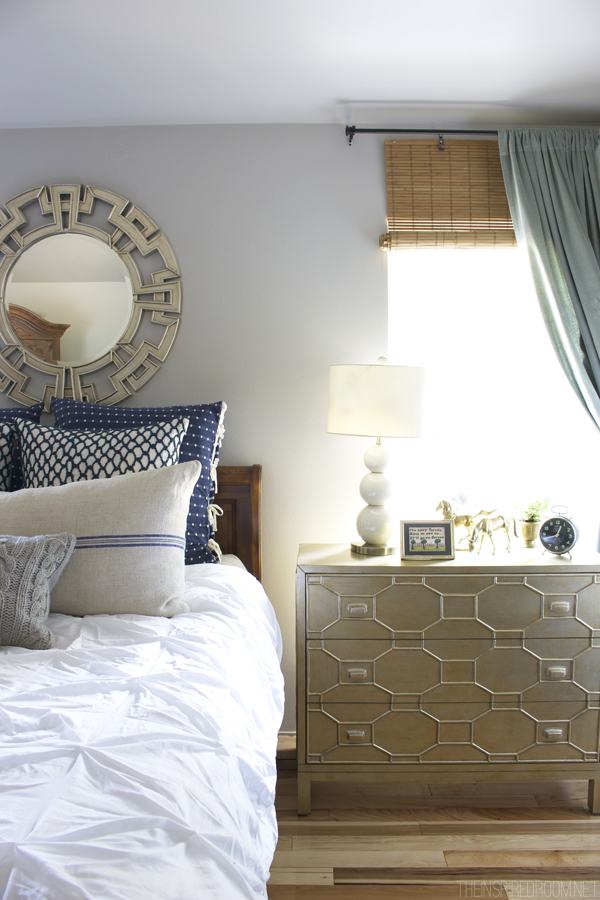 Hello! Last year my main home goals for 2014 involved taking a good look around the house and figuring out where I could ramp up the storage and style. One thing I've always felt I could use more of in my life is cabinets and dressers. Not because I wanted to store more stuff, but because I really wanted to simplify life, and being more organized with our everyday things was one of my main goals. I had some dressers and cabinets, but I felt it was time to up the game and identify what was working, what wasn't, and make changes accordingly as I was able.
While I'm always on the lookout at second hand stores for what we need, sometimes I just don't find what I want. Usually that's because I have specific needs in size or depth, but it's also because I really don't like to get dressers in particular if they are hard to open.
I don't know about you but adding frustration to life isn't something that really interests me, so I'm pretty mindful of what I add to my home these days. It has to add something special, serve a purpose, look pretty and be functional.
After looking forever for a nightstand/dresser for our bedroom, I finally saw something online that would work for us at Joss and Main (and I had a bunch of credits to use so it was a great deal)! It was the right depth for our space and a good width to use the space we had. Plus, I loved the unexpected pattern and gold finish on it. I took a risk and kept my fingers crossed that it would be as pretty in real life as I imagined it would be!
And I wasn't disappointed! It weighed a TON so we didn't get it upstairs for a really long time (honestly it was getting embarrassing how long it was sitting at the bottom of our staircase, haha) but once it finally arrived at its destination in our room, I was so happy! It has very shallow drawers that don't open far at all, but it works fine for our purposes. By the way, I just checked and it's still available at Joss & Main, it's called the Grace Chest.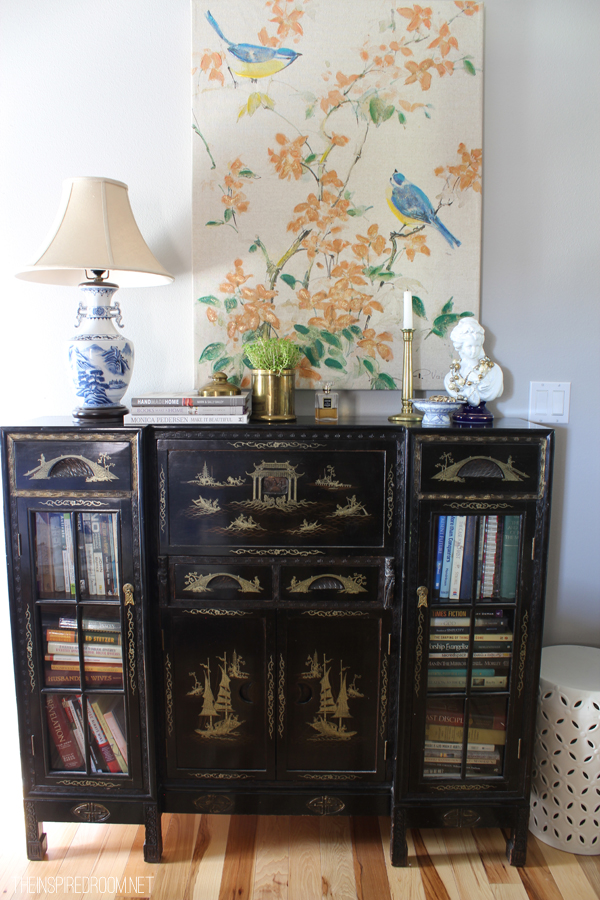 I love how the gold in the dresser ties in the gold from the antique chinoiserie cabinet on the wall opposite of the dresser. This cabinet was in our living room and entry in our earlier days in this house, before we moved it upstairs. It's a family heirloom–my grandparents brought it back from Thailand many years ago. I love having such a treasure in my home and all the memories of it being in my grandparents' home so many years ago.
I haven't yet figured out exactly what I want on the left side of our bed, but this little console is doing the job just fine for now. It used to be just a solid color but in a moment of craftiness with a tube of Rub n' Buff, I gave it a little gold detail, just to class it up a bit.
So, little by little in 2014 I made my way around the house improving small corners with style and lots of function! I've started to call 2014 "The Year of the Cabinet". :) I didn't get as far as I had planned in my mind, but…I also didn't know I was going to sign a contract to write three books over a twelve month period (plus five more after that, heh heh) when I considered my goals for the year, so I guess I can give myself a little mercy! It was a productive year and I'm pleased with the progress.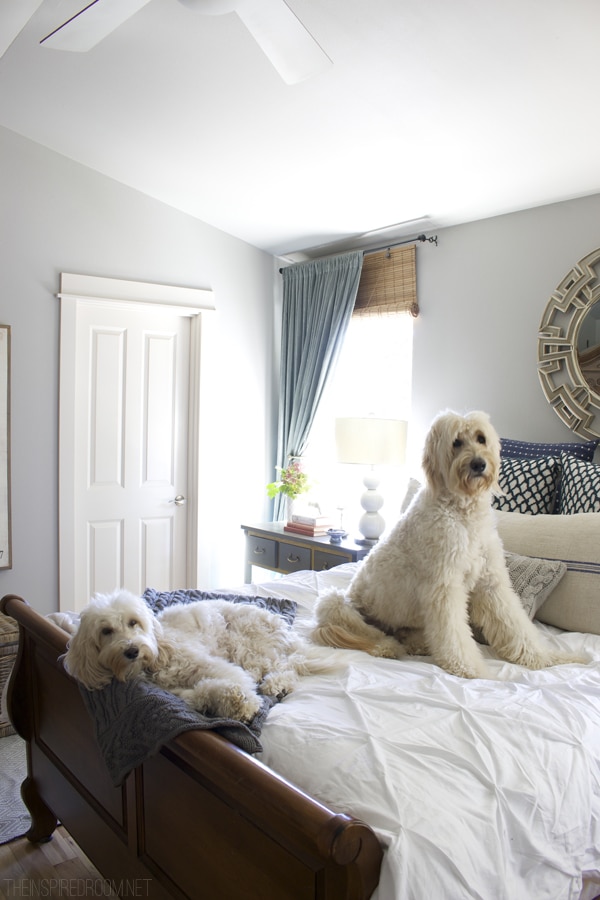 For those of you wondering right now how I have a white duvet cover and two dogs, the truth is that I don't put it on the bed when the dogs might be muddy. The duvet gets folded on the other side of the room and we just use an easy to wash blanket during the day, just in case of muddy dog calamity. Nobody's got time for that.
So how did you all do last year, 2014, on accomplishing your goals around the house? Even if it was a slow year on the home front, it's a new year so I hope you'll take a little time to set even just a few goals for this year. Don't forget to download your Home Goals worksheet, it might help you to zero in on a few things you want to do! Next Tuesday I'll share mine for 2015 so I hope you'll come back and have a few to share with us!
Sources:
(some affiliate links and many were purchased awhile back and may be sold out!)
Paint colors can be found here!
Gold dresser/nightstand – Grace Chest
Bedside lamps – HomeGoods
Mirror above bed – HomeGoods
Curtains – (Slate Green Velvet, appears to be sold out currently)
Navy euro shams in the back – Anthropologie (40% off sale items now!)
Euro shams (in the front) – Williams Sonoma
Sweater pillow – West Elm (similar here)
Long pillow is made from an antique grain sack