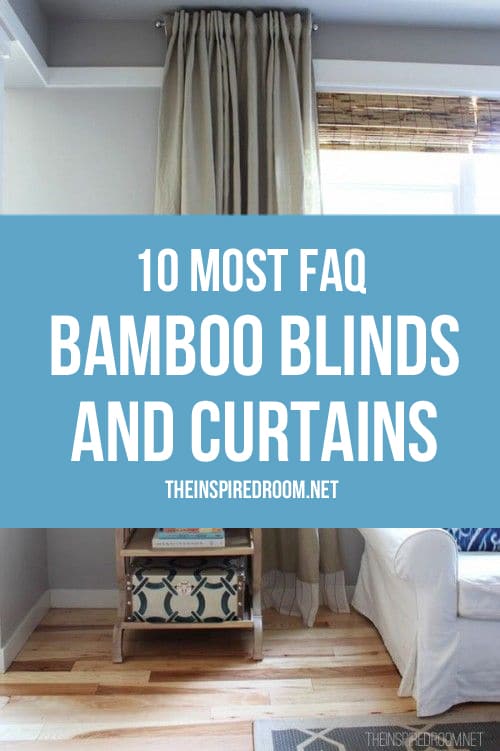 NOTE: If you place an order for ANY window coverings from Select Blinds, be sure you use my special link HERE for the best possible discount! Plus if also put in my code INSP1RE5  you'll receive an *additional* 5% off the very best price offered anywhere!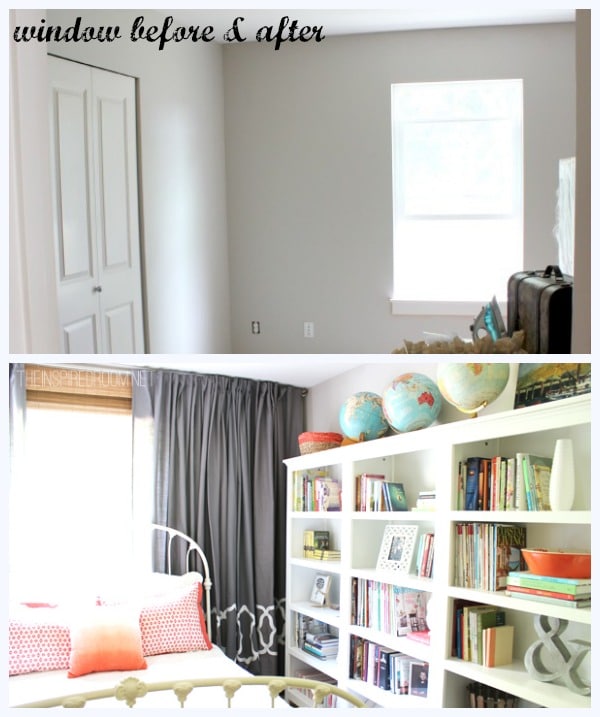 How you dress your windows can transform a room and give it a completely different feel! Window coverings add a new design layer as well as bringing texture and personality to your home. I receive quite a few reader questions about the bamboo blinds and curtains in my house, so I thought today I would answer a few of the most FAQ!
Question: I am looking for window shades and saw your other post and this one (family room bamboo blinds and guest bedroom blinds). Did you hang these roll ups from the rod or install them on the wall? I am hesitating on the inside/outside  mount or using a rod until I decide! The bedroom looks perfect!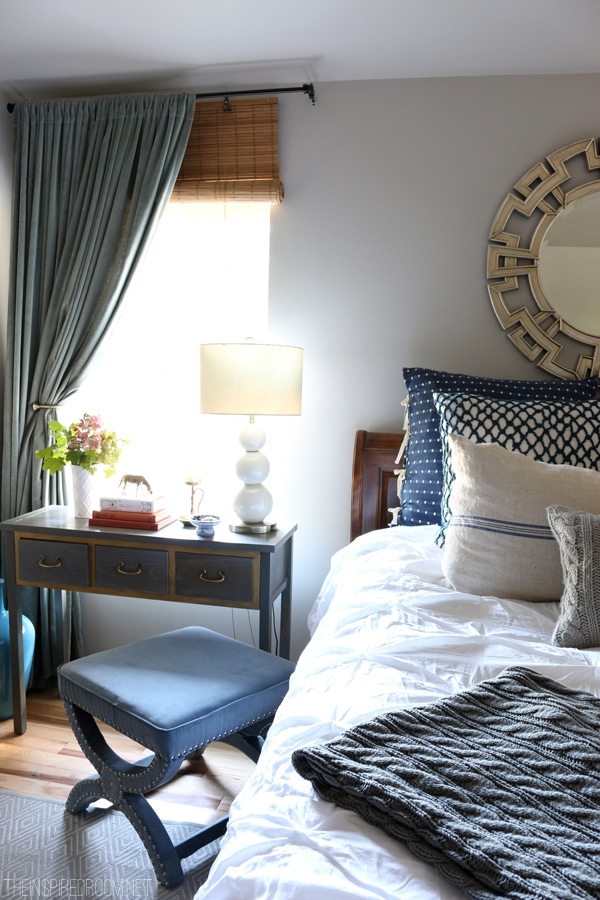 Master Bedroom Update 2015
Answer: The blinds in the guest room (top) and in my bedroom (above) are both outside mount roll up bamboo blinds that are mounted directly to the wall. The roll up blinds are from Lowe's, and they come rolled up in plastic and are called "HOME"  Style Selections (they have a bright green label that says Bamboo Rollup Shade).The blinds come with hooks attached and they are extremely easy to hang directly into the wall.
They are best suited for windows with no trim molding or fairly flat molding so the trim doesn't interfere with how they hang. I hung the blinds almost to the ceiling in both rooms to make the windows appear taller than they are, as I do with most of my curtains as well. In deciding what size of blinds to get, I made sure that they were slightly wider than the window opening. There are some varieties of blinds that can be cut down to a custom size so check with your local store.
In the guest room, as you can see in the BEFORE pic at the top of the page,  I have only ONE MEASLY window. But the wall of curtains makes the window look grander than it really is and makes the room so cozy! I'll explain the curtains in a bit.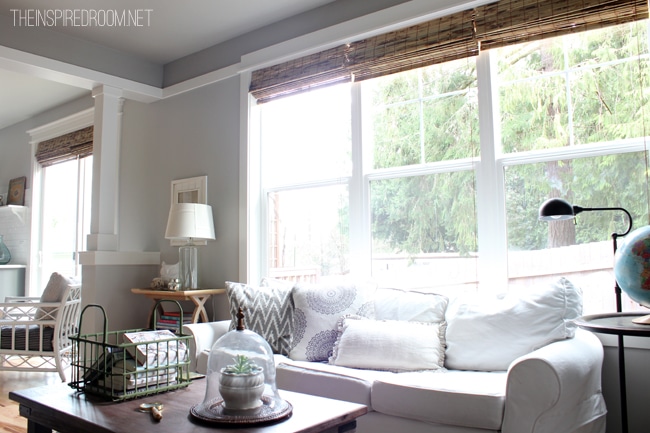 The bamboo blinds in my family room and kitchen were ordered online (the post with details on ordering the exact blinds online HERE, plus get a 40% discount on your order). They are my absolute favorites. They are an inside mount, which means they fit inside the window frame. Because my window trim in those rooms is pretty and the windows have nice deep sills, it made sense to go with inside mount. I measured my windows to order the exact right sizes of blinds. They are cut to your specifications.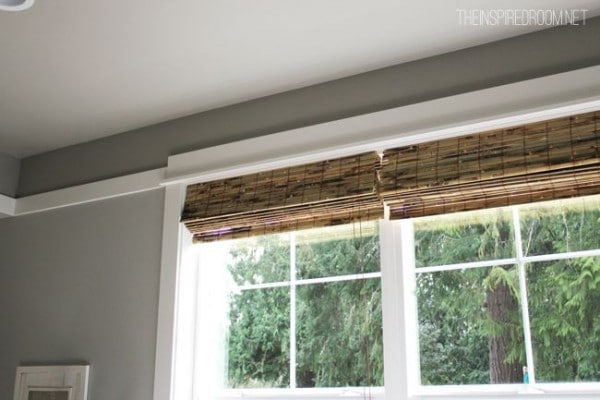 Question: When you have a wide window or set of windows like your family room, is it all one blind or several?
Answer: The family room has three individual blinds with three individual headers, basically they are treated like three separate windows hung side by side. The weight of trying to hang ONE huge bamboo blind across all three windows would make it very difficult to open and close, so three separate blinds works much better.
The blinds on the slider in the kitchen operate separately but have one header. So you can open and close each side independently but they look more cohesive with the one header. Our doors are tall enough that they don't interfere with walking under them.
NOTE: If you place an order for ANY window coverings from Select Blinds, be sure you use my special link HERE for the best possible discount! Plus if also put in my code INSP1RE5  you'll receive an *additional* 5% off the very best price offered anywhere!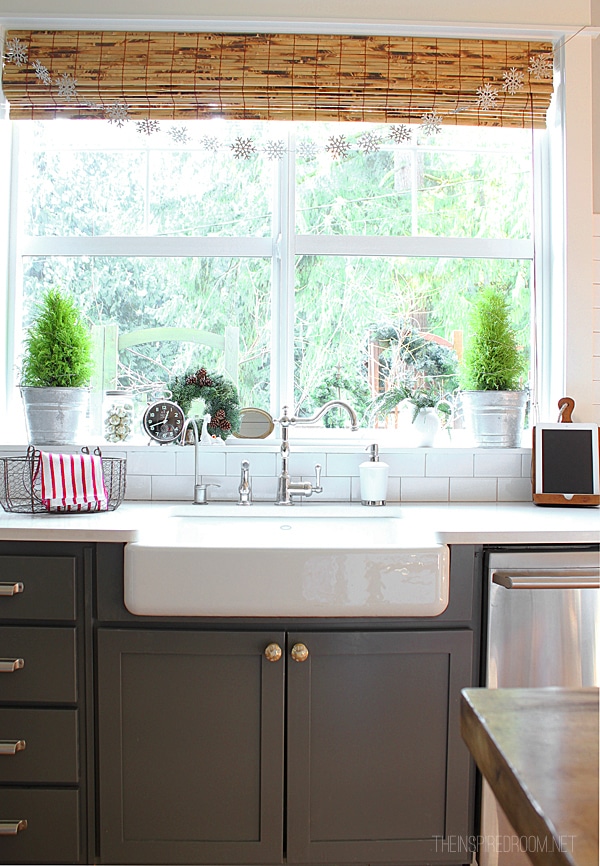 The kitchen window above the sink has one blind that goes all the way across with one header.
As you order the blinds, they make recommendations when you put in your measurements so if you aren't sure on what you need you will likely receive advice.
They were easy to hang directly on the under part of the top window frame.

Question: Are bamboo blinds good for privacy?

Answer. You can order blinds with liners that would block out more light and offer more privacy. Mine don't have a liner so some light can get through and you can see through a bit. But for our situation, perfect privacy or light control isn't an issue.
Question: Do the blinds roll or fold up?
Answer: The kitchen and family room are like roman shades, they fold up in layers. The ones in the bedrooms roll.
Question: Do your blinds have cords?

Answer: Yes, they do. If I was going to custom order again I would probably pay more attention to the options on cords because I think you can change which side you want the cord and and there are probably cordless or continual loop type options. I didn't even really think about it and ordered in a hurry on my phone. It's not a big deal to me but I would definitely consider options next time!
Question: Did your guest room curtains come from Target too? If they are I wondered if you had any problems with the design lining up. Also, how many panels did you use for your window? Is there a good rule on how many panels should be used for larger windows? I love your blog and your home is gorgeous!
Answer: Yes, the curtains in the guest room are from Target. I ordered six panels, three for each side of the room. I like my curtains to look full and the Target ones were pretty narrow and not real thick fabric. Since I have so many panels, you can't tell if the design matches or not!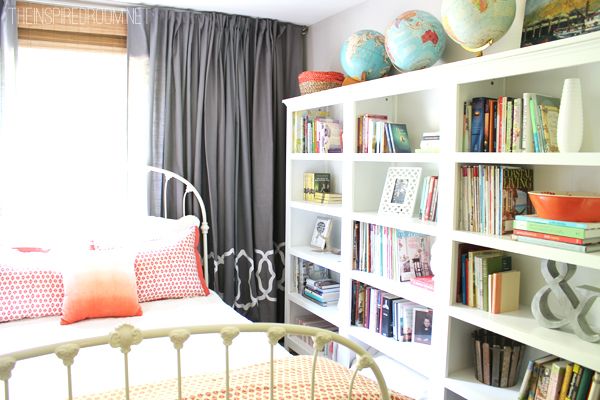 Question: How did you hang the curtains across the guest room? Is it a custom rod?

Answer: We used one standard curtain rod from Target, in the longest extendable length they had. We hung four brackets and strung the curtains in between them and then fluffed them up around the rod so you can't see the brackets or the rod at all (except for in the very middle). The end brackets were hung a few inches from the end of the wall to allow space for the finials (which keep the rod from slipping out of the bracket, but you could just use a rod without finials.).
Easy DIY No Sew Ikea Curtains 
Question: So for the curtains in your family room and dining room, why did you use a short stationary rod instead of a functional curtain rod?
Answer: My window trim is pretty. In the family room I just didn't want to add another distracting "line" across the wall since we already had pretty trim around the room. Also, the curtains are just to soften and warm the room and are not necessary for warmth or privacy in those rooms. In the dining room it goes all the way to the ceiling with crown molding. If I put a rod all the way across, it would have gone right across the trim detracted from the pretty molding.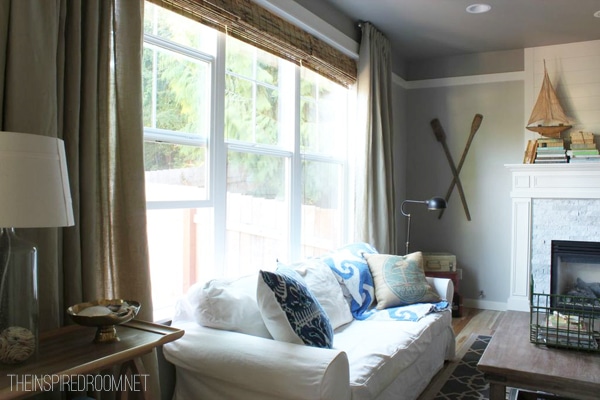 Answer: Where did you find the extra short curtain rods? Are they custom?
The rods in the family room are just extra short standard rods at their smallest length. I specifically chose rods with small gold toned finials rather than anything large or flashy so they didn't distract attention from the molding.  The rods in the dining room are actually the cheapo white tension cafe rods, secured by the window molding and wall. They are hidden so you really can't even see them.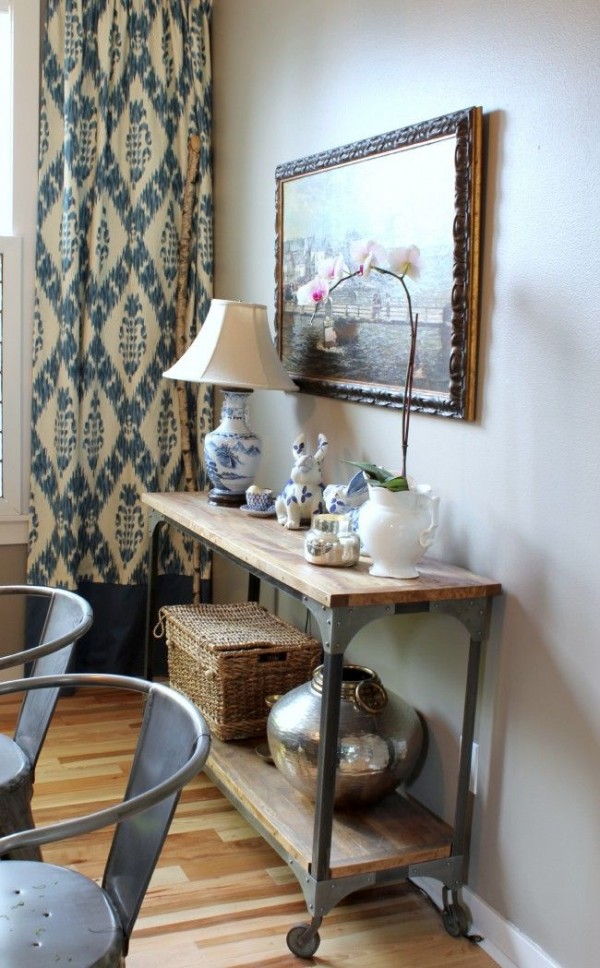 Question: How do you decide how long should curtains be?
Answer: For me it depends on what the curtains are made of and the style as well as what the style of the room is. In the dining room the curtains hang just to the floor. The fabric is a heavier weight and wouldn't work or look right to "puddle them" on the floor. In the family room we added that soft subtle ruffled bottom to it puddles a little, and the white curtains in the living room (below) are softer fabric as well so I don't mind if they puddle just a little bit. It's all personal taste. Once in awhile like in my office my curtains are too long and I am too lazy to hem them. So, there's that.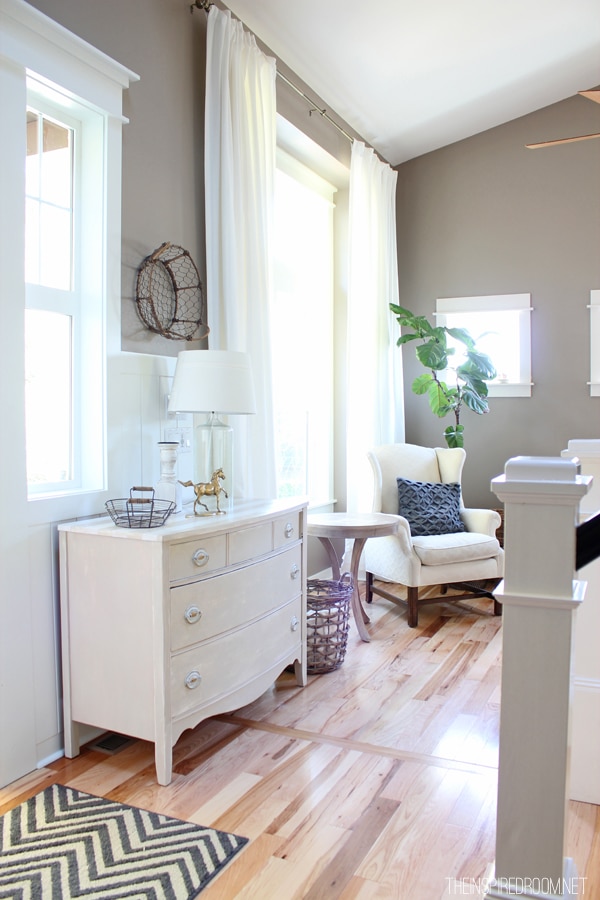 Question: How high or wide do you need to hang curtains?
Answer: This varies with the style of curtains, window sizes and height of windows and ceilings. Generally, I prefer to make my windows feel as large as possible so I hang my curtains high and wide. But while hanging curtains high and wide is a general good rule, it can also make the proportion of your room and window look funny so always think about your own room before you apply the rule. If hanging curtains really high will make a crazy big blank wall space above your window, you may want to bring the curtains down a bit otherwise your windows may end up looking dwarfed and awkward instead of larger. Hanging curtains as wide as possible while still being on the outer edge of the window is a great way to let in the most amount of light.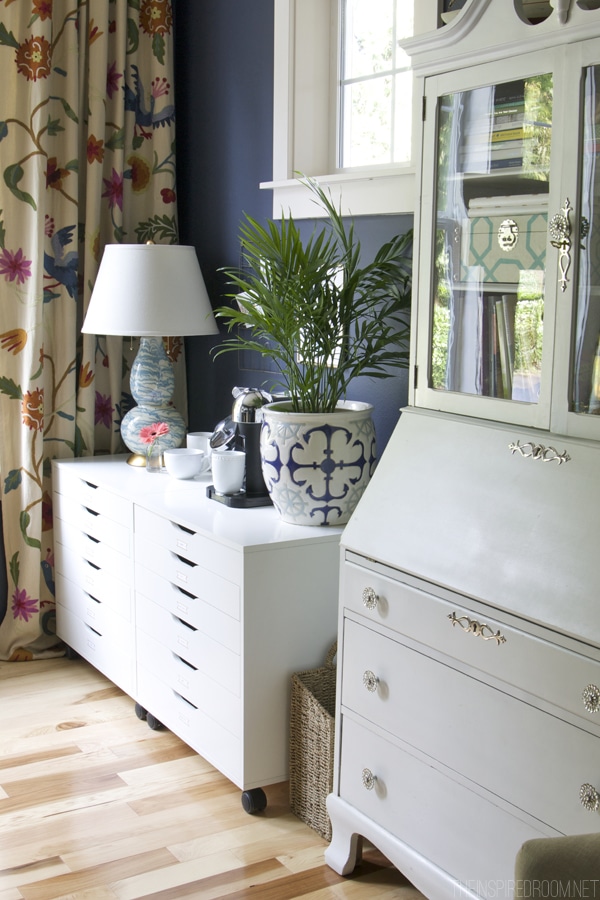 Office Post, See newer office progress here and here
Much of the time decorating is about using your eye and deciding what looks in the room and best to you, not about following a standard one-size fits all rule.
PHEW! That was a long post, but I hope I answered some of the lingering questions on the curtains and blinds today!
If there are some questions I failed to answer, feel free to ask away!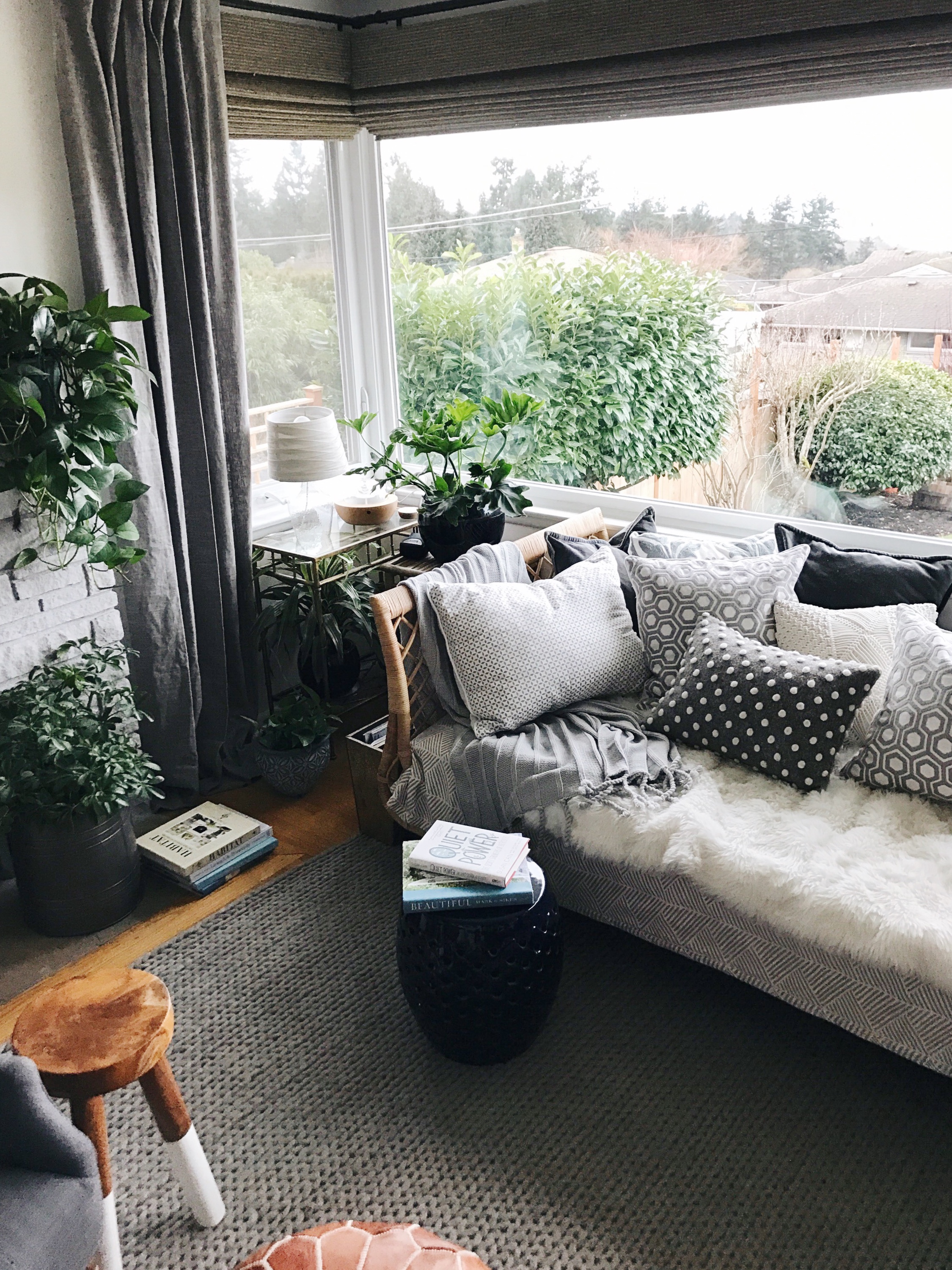 NOTE: If you place an order for ANY window coverings from Select Blinds, be sure you use my special link HERE for the best possible discount! Plus if also put in my code INSP1RE5  you'll receive an *additional* 5% off the very best price offered anywhere!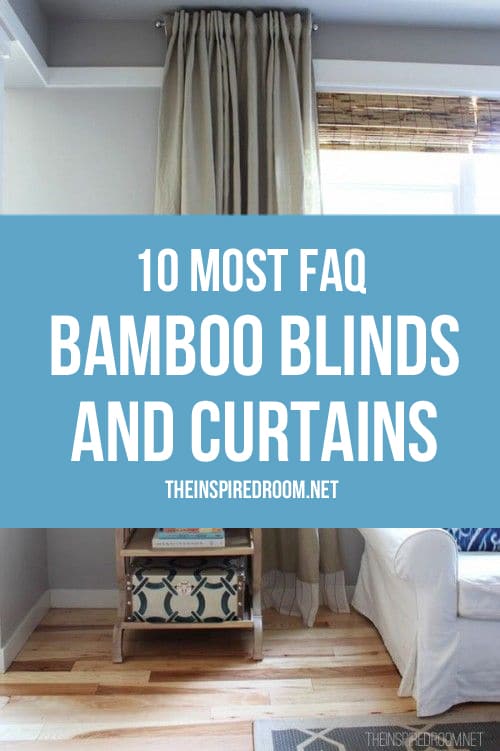 Have a great day, everybody!