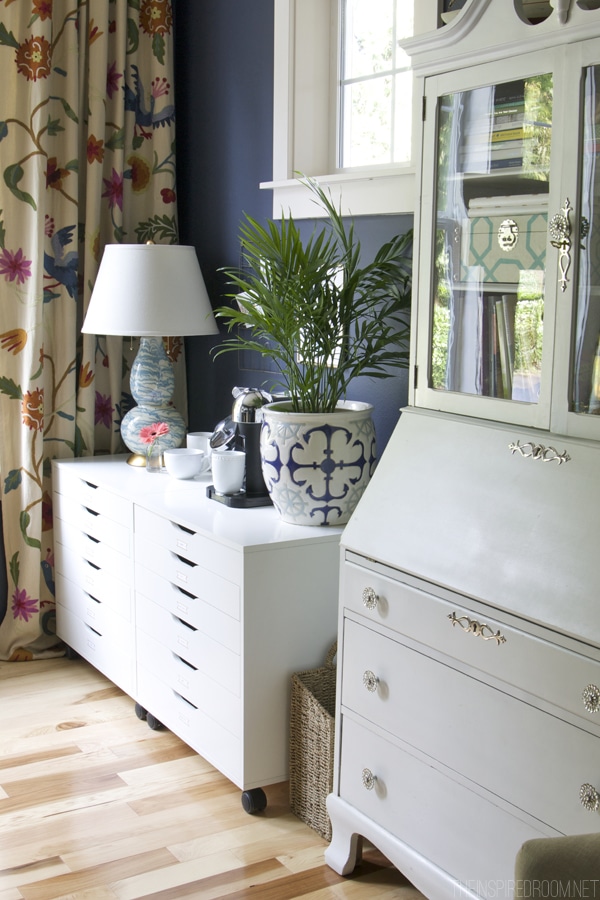 I have some news at the end of this post, so don't miss it! :)
Slowly but surely, I've been making progress on my office! Not too long ago, I added a flea market rattan bookshelf that I'm totally in love with! And then I also showed you my flat drawers, the Alex system, from IKEA. I finally got them all organized and I've been LOVING them!
They are SO handy for small crafts, paper, art prints, and office supplies. The only trouble I had was having was knowing what was in each drawer (you know, when you open every drawer and don't find what you're looking for until you check the last drawer). So this week I hand wrote a label for each drawer with Martha Stewart gold and white label stickers. EASY PEASY!
I kept putting off labeling them, thinking I should order some fancy labels. But finally I realized I was procrastinating far too long and it was hindering my progress of organizing, so I finally just used some stickers I already had. And you know what? Handwritten stickers work just as well as fancy ones! And better yet, NOW THAT TASK IS DONE!
I still enjoy having my Nespresso coffee station in the office. I'm kind of living off of coffee these days, trying to get ready for my book launch and all the other fun things I have going on which I'll be sharing with you all soon. :). Thank you for all the kind words on my post about the book and the cute little print (seen above). I'll have a download of that print and lots of others, including a special art print of the book cover, available for YOU soon! Pin it for later and I'll share a link to get the downloads soon!
That little guy on the wall above my light? My husband loves deer heads and antlers, but he thinks my little deer head is the most ridiculous thing he's ever seen. Ha! If it's wrong, I don't want to be right. Quirky animals are the best. No shame. No regrets. Sometimes you just need a little laugh!
I don't think I've mentioned this lamp yet! I actually bought them in a set of two for my bedroom but accidentally ordered the wrong color. Before I sent them back, I decided to try them out in the office and they've been here ever since so I guess they are staying! They're a great substantial size and I love the swirl/marble pattern, too. We got the pair on a great sale at Overstock.
So now for the news, I'm so excited to announce that The Inspired Room is again one of Better Homes & Gardens top ten decorating blogs for 2015!! I'm so honored!!! Thank you to those of you who nominated me. Last year you all voted in this contest and BLEW ME AWAY when I was voted as the top Reader Favorite Decorating Blog at BH&G. WHA? I still pinch myself. Thank you for that. From the bottom of my heart.
So this new announcement means the voting is open again for Reader's Favorite, and you can vote as often as you'd like! There are some great blogs on the list in the Decorating category and all the other categories too so have fun looking through the lists and voting on your favorites! I love you no matter who you vote for. :) You are all my favorite. I adore blogging here and without you, it just wouldn't be the same.
**UPDATE!!!! Wow! Thank you all so much for voting me as the Readers' Favorite Decorating Blog for 2015! You all have blown me away with your support. See my full post sharing the news here.