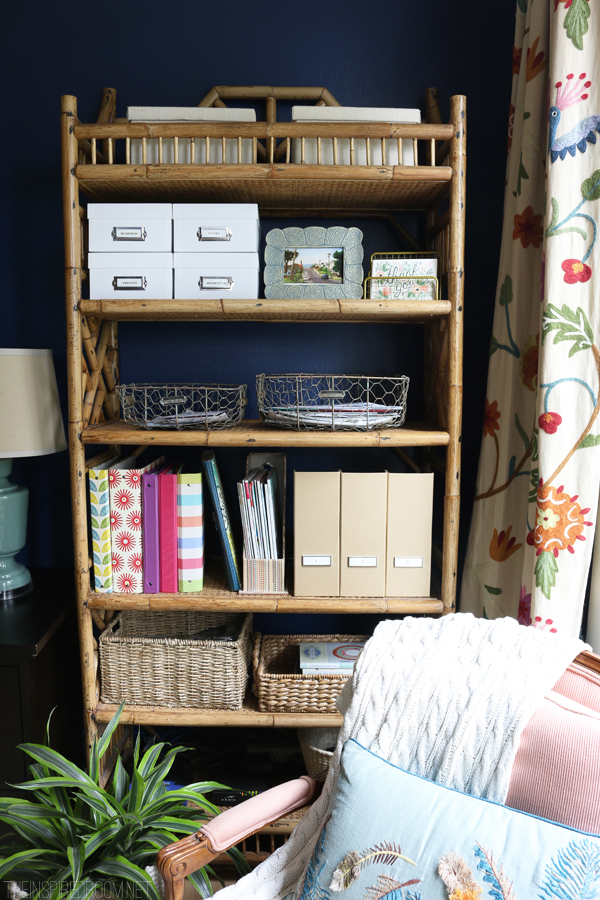 The other day I made my usual rounds through our local Sunday flea market. Sometimes I walk away empty handed (which is expected with slow decorating!). But every now and then, I leave with a little gem that makes all the empty handed visits worthwhile. This was one of those glorious days! YAY!
This time, I walked in the flea market and right there in the entry sat this amazing rattan shelving unit! It's a sturdy, great quality piece about six and a half feet tall. I knew right away where it would go, it was perfect for my office! Twenty minutes later, I had the shelf home and sitting in my office. No shipping costs, no eight week wait. I love the instant gratification of finding a unique one of a kind piece for my home in a local shop.
Contrary to the previous heavy bookcases I had in this room, I love how open and airy this is, without being too wimpy. It adds style, texture and personality, as well as being a really useful piece.
One thing that really helps me when I'm looking around flea markets or second hand stores is to be both aware of my own style and what I might be able to use at my house, but also what's available out in the retail world and at what price. That way I can recognize when I stumble upon a deal!
I had seen a similar rattan bookshelf at one of my favorite online shops, Serena and Lily for $700 not including shipping. I paid $80 for my rattan shelf, so I'd say that was a great deal and the comparison helped me to feel confident with my purchase. Not only did I love it, but I knew it was worth the price.
I tucked my new shelving unit here between my desk and the window. I LOVE IT! While I no longer need shelving for books in my office, it is perfect for displaying things like notebooks, magazines, odds and ends and my wire mail and filing baskets, not to mention a shelf for all the routers and internet contraptions that used to sit on the floor.
You might remember the other second hand find in this room, the secretary and hutch that is on the opposite wall. I'm loving all the storage I have in my office now!
A few of you have asked me where I find flea markets and what exactly they are. While I'm not a pro flea market shopper, we are fortunate enough to have a local flea market that is held in a warehouse next to a great vintage store in our area called Uptown Mercantile & Marketplace.
On Sunday afternoons they open the warehouse to vendors who bring in vintage items to sell in their booths. I've found quite a few things there, both in the store and at the Sunday flea market. Things like my pretty green garden stool, the white dresser in my entry, an iron arbor (which I brought to my backyard, I'll update on that soon!) and more (see the bottom of this post for links to my other great flea market finds!).
Photo via Kitsap Sun
For curious minds, this is what the Flea Market looks like from the outside, the warehouse is on the right.
And here is what it looked like on the inside the day we bought the rattan shelving unit.
So many treasures to be found!
While I don't decorate my entire house with flea market finds, I do seem to have at least one second hand or flea market piece in most every room. I think mixing in second hand and vintage items to your decor is a secret to a unique style, since no one else will have the exact same things you do!
What second hand deals have you found lately?
Related Posts:
Creating a Unique Style with Vintage and Antique Finds on eBay
How to Get Inspired for Decorating (Flea Market Finds)
Flea Market Find: A Teak Teacart Turned Plant Stand
Flea Market Finds: Entry Dresser and Vignette