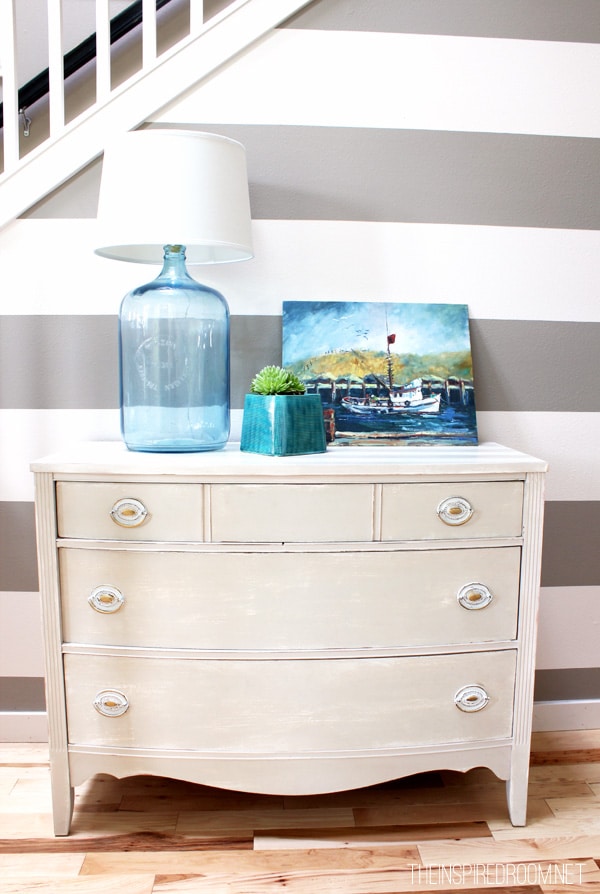 Thrift Store Finds
For awhile I didn't want to bring too many new pieces in to my house, I was trying to weed out things I didn't want while fixing up our kitchen, adding the wood floors and painting to make our house feel more like "us." And I didn't want more "stuff" in the way. I prefer to clear out first and then see what I really want. I only want things I really like or have some meaning to us.
While I am obviously still evolving to where I want the house to be (nothing stays the same until I finally love it — and even then I may still tweak it!), I knew I wanted to add more of the vintage cottage vibe I love so much by actually adding in some older and vintage pieces. I really love a mix of the new and old, natural and painted pieces. I don't want clutter. Just charming touches that mean something to us or set the right tone for our house.
Fortunately we have a pretty cool flea market near us, which is kind of shocking to me because I live on a random peninsula in the Puget Sound.  Cool or vintage stuff is hard to find. Until I discovered this place, which I will write more about soon. Remember when I got my green wire crate? That was from the same place.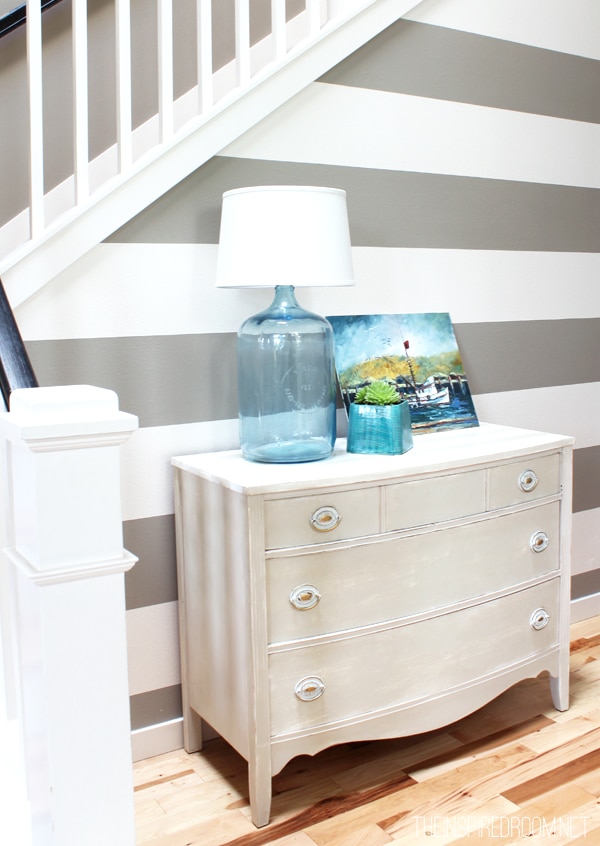 When my daughter and I found this adorable dresser last week, I knew it was just the right cottage mood to set the stage as you enter the house. We brought it in and right away transformed our whole main floor. Don't you love when that happens? It was just perfect. It wasn't too shabby, had a touch of class with the old metal hardware, a rounded front, and best part of all, I didn't even have to paint it because it was already cute. Score.
No need to worry or feel sad if you are a natural wood lover, I am too — I love natural wood and have plenty of it in my house! But this piece IS adorable painted.
This new entry dresser tied in other painted pieces we have like our powder room vanity, our dining room table and our two white painted rattan chairs in the kitchen. Somehow having several places on the main floor with "white or nearly white" painted furniture seems to have established just the right cottage vibe without veering too far from my intended mix of styles. With the white planked walls on the other side of the entry, it feels very bright, light and pretty.
We also found that AWESOME painting at the same thrift store. My heart skipped a beat when I saw it. The sea? A boat? PERFECTION. You know it is feast or famine when you shop at flea markets and thrift stores, but lately it's been a feast for me. I'm on a roll! I found a couple of other cool things I'll show you later. That blue planter was not from a thrift store, it was from Target — another favorite place to shop.
And yeah, so I found that old water jug at the flea market too and turned it into a LAMP. A REAL WORKING LAMP. No biggie, right? Unless you are ME! I'm NOT a DIY Diva until suddenly I AM!
I was shocked that I could actually make a lamp — and it only took me about five minutes No actual electrical shocks occurred. I'll show you how easy this was in my next post. I'm now addicted to lamp making. I can't wait to make more!
Here is the follow up post with the details on How to Make a Lamp!…
So can you believe it? I made MY OWN LAMP!