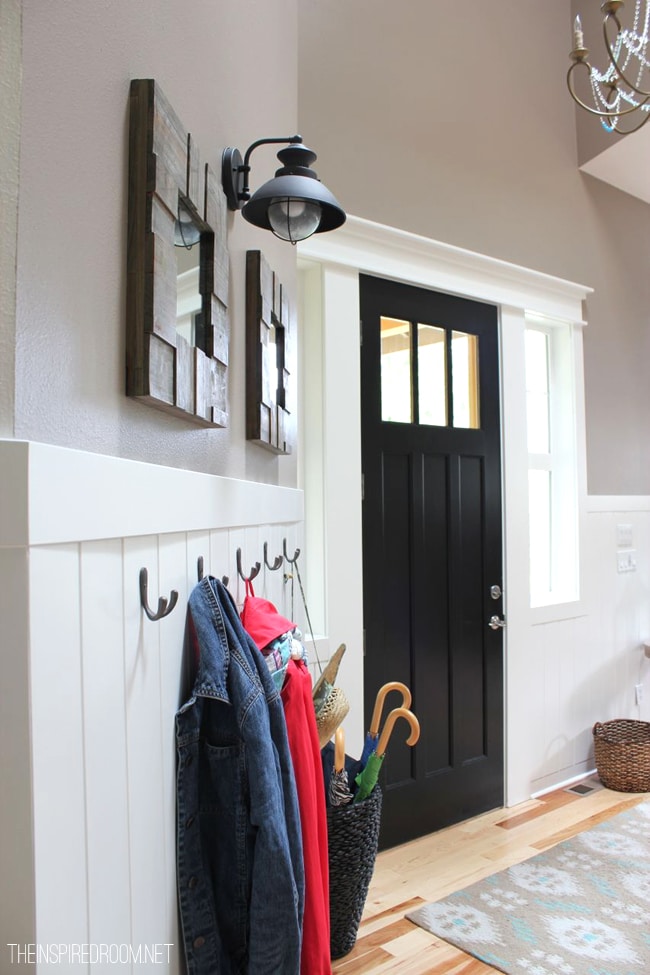 Entry Makeover
The entry should be a great first impression as you walk through the front door or invite guests in. Since our entry is an open two story space in the middle of the house, it requires extra consideration. It is not only where guests and family enter our home, it also connects so many spaces together.
We bought our house three and a half years ago. Little by little, we've been plugging away at our entry makeover. The goal in our new home is to add a little more charm and personality and make it an entry that really welcomes family and guests to our home. We've had a few twists and turns, but I feel like we are finally rounding a corner and things are coming together!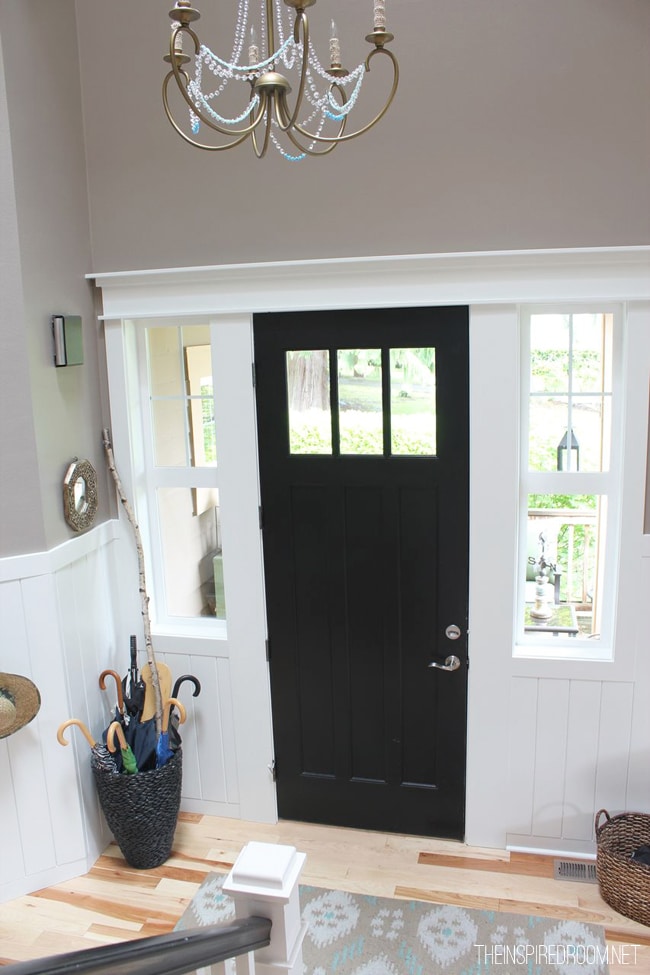 So far you've seen:
the striped wall makeover
the stairway makeover
the new personalized chandelier to replace the flying goblet light
the progress when we got the new wood floors
the plank walls
and the big trim and entry wall painting project.
And the front door makeover on the outside!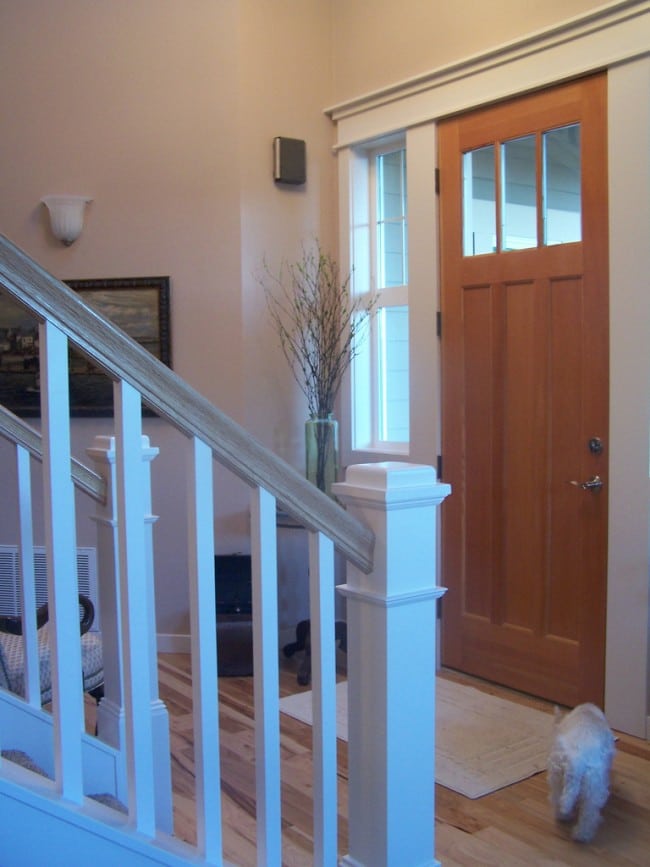 Let's reflect back on how the front of the entry used to look, in case you've forgotten, shall we?
A fine room with some nice features, yes, but it sure has come along way! It is feeling more and more like home every day.
Take note, there is NO MORE SWINE in the entry so for that alone we rejoice. Amen?
You might remember me saying our home has only one closet on the entire main floor.
We decided that it would be really beneficial to us to get better use out of the front entry.
We added hooks to the wainscoting, basically turning our entry into more of a functional mudroom type space.
I'm LOVING the hooks! It's amazing how a few simple hooks (ours are from Rejuvenation, source links at the bottom of the post) can transform how your home functions.
The cute little stool came from World Market and is the perfect spot for tying shoes.
And to finish off the wall space, I found the mirrors at Target. Don't you just LOVE the new Threshold line?
It's so exciting to look back at how this room and the front door looked in the early days of living here, and how it looks now.
So, there you go!
Progress and more progress in the entry! It's nice to be crossing things off my list. Want to see the latest in the entry? Here is a new post! Thrift Store Entry Vignette
**Update: We have now painted our door a dark gray! Come see the update here.
What rooms are you working on in your house?
Stool: World Market
Hooks: Rejuvenation Hardware
Mirrors: Target, Threshold line
Wall sconce: Lowe's
Hardwood Floors: Mohawk
Paint Colors:
Gray walls, Behr All in One Studio Taupe
White Trim, Benjamin Moore White Dove
Black Door, Martha Stewart