So, in the nesting frenzy around my house (it is Fall Nesting time, after all), I was determined to right a wrong that I've been living with for years now. You might remember me talking about my flying goblet lights. There was one in my dining room and we replaced it with an outdoor lantern.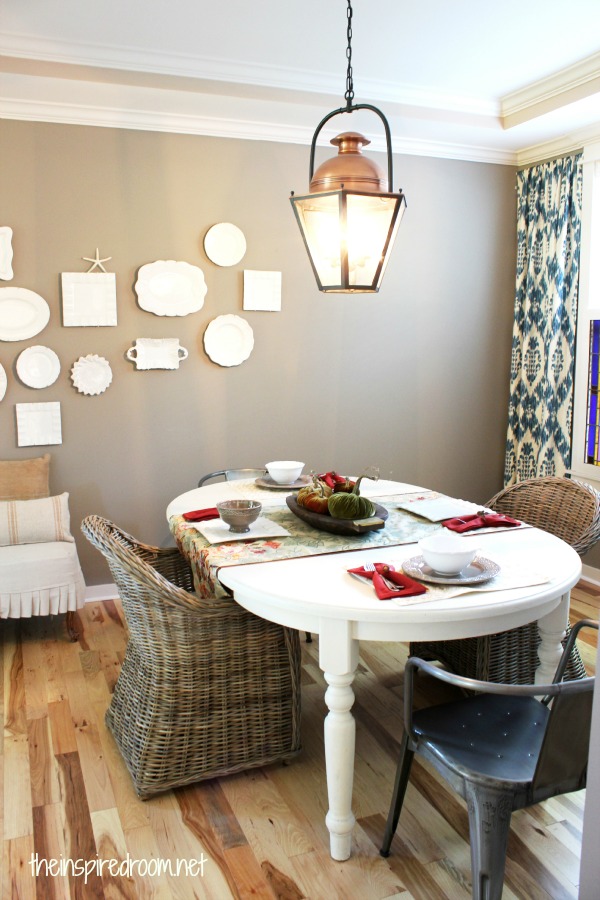 There were some coordinating sconces on the stair wall and we replaced those with outdoor lanterns as well.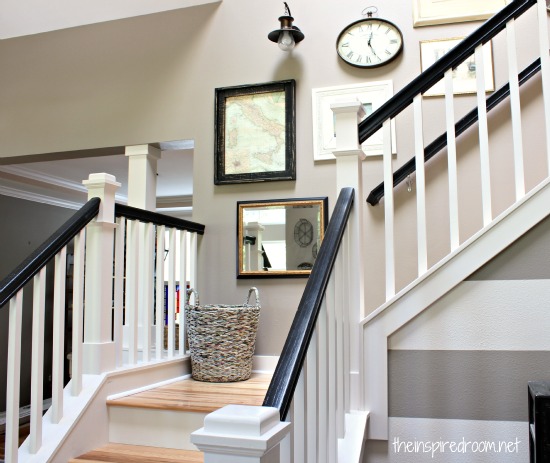 I'm all about creating ambience in my home and lighting is a great place to start! I'm slowly but surely replacing the choices the builder made with lighting that helps me create the mood I want to set in my home.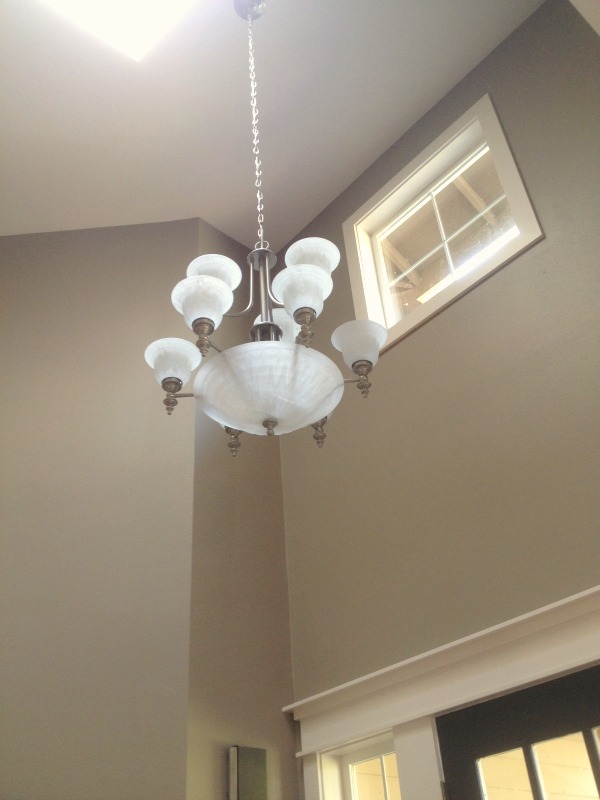 This past week, I was finally ready to address the looming fixture in my entry. The one lone flying goblet light fixture that hung over our entry like an alien spacecraft.
Now, let me backpeddle a little because I have to say that these lights are not the worst ever. So if you have one, as I assume many people do since they are nicer standard builder variety, please don't send me emails or go away depressed because I called your light a flying goblet light. I'm just being silly here, we all have things we don't love in our homes, but if we can change 'em, why not?  If we can't, we deal. I've lived with mine for nearly four years so I understand that sometimes you just deal with what you have and move on. And if you LOVE your fixture, then you have the right to keep it and love it!
Now, in my case, I was at the point where I was ready to change the light, I wasn't in love with it, and I found something I liked better that suited my own taste and budget. Win win win. Time to make the change.
The light I found was at a home improvement store so it wasn't from a fancy smancy lighting boutique, but it wasn't from goodwill either (darn!). If you luck out, you can find something you like at a crazy bargain from goodwill, an outlet store, or a thrift store.  I didn't luck out but whatever.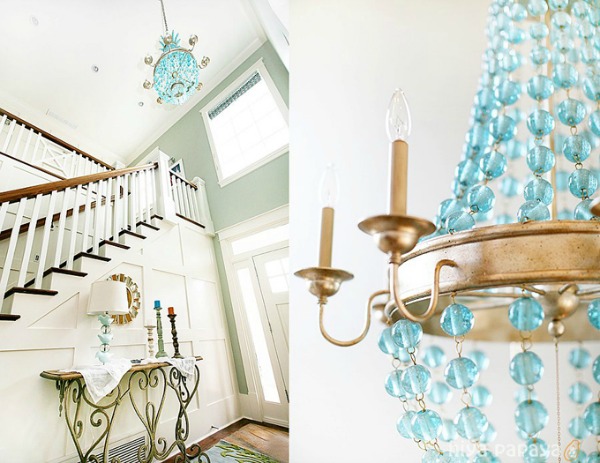 By the way, my dream was this fixture in my house crush. Gorgeous? YES. But on my budget that fixture, at $2,800, was a no go.
The light I found was the right shape, size and finish for my house and so we went for it.
While it was fine as is, we were able to add a little extra special sparkle with a few extra strands of inexpensive beads from Michaels strung from clear fishing line. We also had a strand of super sparkly crystals that used to hang on a chandelier in our old house so we strung those on as well and boy do they add just the right amount of sparkle in the right light! We added just a touch of blue with a few beads, but kept mostly crystal and clear beads.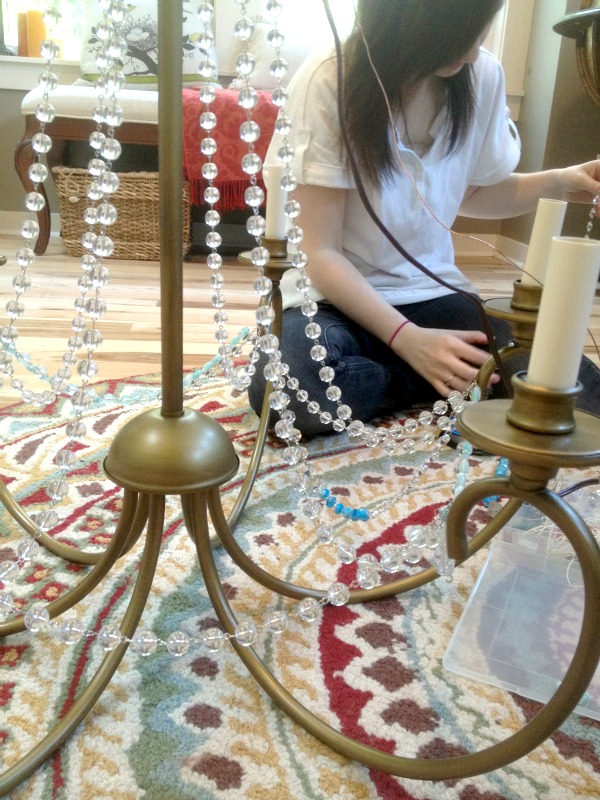 We covered the white plastic candlesticks with some strips of burlap. It is intentionally rugged and imperfect. I like the contrast between the fanciness of a crystal chandelier in the entry, the quirkiness of the ocean blue beads and the homey charm of a little burlap. It suits my indecisive style!
It's a charming fixture that hopefully helps set the tone for my home and plays nicely with the lanterns we have on the stairs and the adjoining dining room.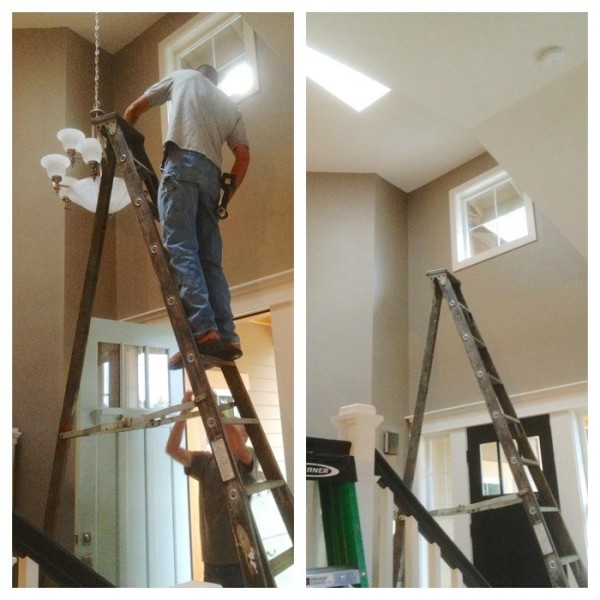 We had to hire help to take our old fixture down and put the new one up because we do not own a ladder that big nor do we trust ourselves suspended two stories up while doing electrical work. I snapped those pictures with my iphone, I'm sure the electrician was wondering why I kept taking his picture.
I love that with a little embellishment, this fixture is now one of a kind!
Little by little, this entry is coming together.
So far we've painted the stripes and walls, added the black trim to the railing, put up a gallery wall, removed the carpet and added hardwoods and put up some new lights! Slow but sure, we are making progress.
In other news, I cannot for the life of me figure out how to take a good photo of a hanging light fixture, particularly one that is hanging under a sky light. Putting that on my list of things I need to learn. Photography in general is a learning curve I guess I need to tackle. Lights on, lights off, it doesn't really capture what I see in person. Ah, the things bloggers need to learn!
So, just sayin' it is pretty and my photography needs help.
I have more projects coming up in this room, and several other rooms, so I'll keep you posted as things move along!
Do you have light fixtures that don't set the right tone for your home? I think even if you rent you could probably get permission to change a key fixture or two, and rehang the old ones when you move. It is worth asking if the lights bug you!

Don't let things you can change keep you from loving your home! And when you can't change something, move on to things you can! Even little updates can transform your space into a home you love!
The Fall Nesting sale at Joss & Main continues on through the weekend so if you haven't had a chance to take a look yet, go see! There are some good deals there and some fun finds for everyone! Thanks for checking it out!