How to Create an Eclectic Stairway Gallery Wall
Ilove to mix things up design-wise at my house. By playing with various textures, shapes and colors in a space you can come up with a unique look that has so much dimension and adds life to a space!  Along those lines, I've had a few questions on what I included in my stair gallery wall so I thought I'd share a few more photos and tips today!
Please excuse the fact that my stair treads and railing need to be repainted and there is dust galore and random other things out of place due to all the construction going on. Eh hem. Let's just call that "additional texture" ok?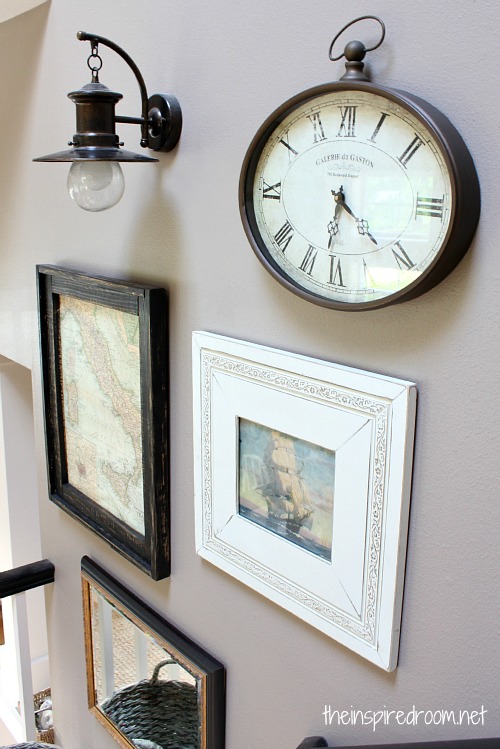 For this stair wall, my only "theme" to tie it all together was a bit of a sea or nautical feeling. It is important to me to not overdo an actual theme, so while several of my gallery wall items have maps or boats on them, many of the items I used are simple mirrors or a clock. By mixing things up, you get the feeling you want in your home, without a theme screaming at you.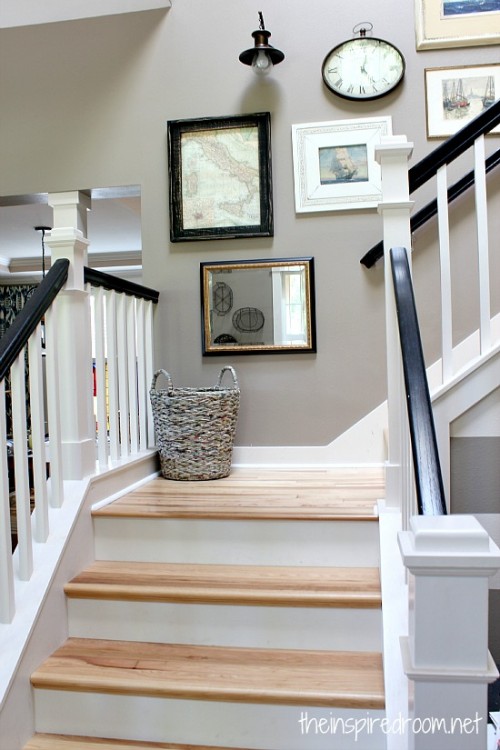 For this particular gallery wall, I also avoided the "matchy" approach of repeating the same frames. While simply matching frames is very effective and attractive for a gallery wall, for my entry I was looking for a bit more interest and personality to set the stage for the style of our home.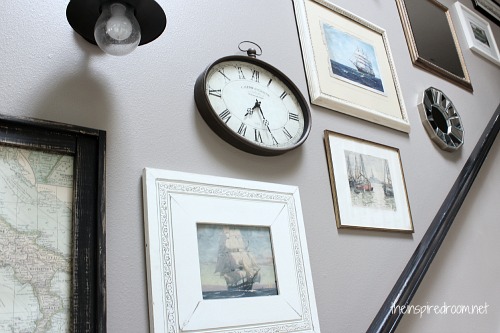 You will notice that I have gold and even silver toned metal frames, rugged black wood frames, antiqued white frames and random painted frames. Thin frames, thick frames, metal and wood items. Shiny and rough things. I also played around with various shapes. I have an oval clock, rectangular and square frames and even a round mirror. And of course, my coastal lantern (found at Wayfair.com awhile back).
To fill the frames I used old prints, real paintings and photo copies. I didn't worry about professionally framing things. In fact, some of my art is just taped on the matting, shhhh, don't tell anyone. I'm not too particular about it all. Most people won't analyze it. And if they do, we probably wouldn't get along too well.
And my stairs themselves play with texture and color. Black hand rails contrast with white railings and light but warm wood treads with plenty of their own texture and personality. And my recycled woven basket from HomeGoods is the finishing touch!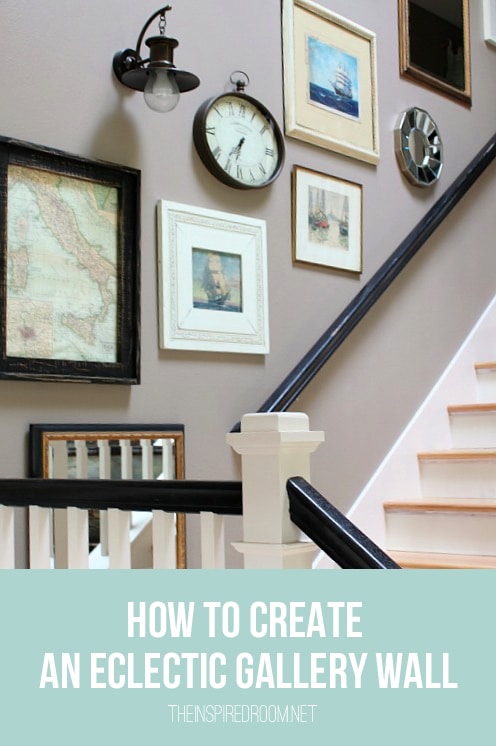 Question: Where did I get all my gallery wall items?
Answer: Shopping the house, ladies.
I love to shop around my own house. Since I pretty much emptied my entire house and all my walls in order to freshen up paint and rooms recently, I was able to pull from a few different collections of wall items and bring things together that seemed pleasing to my eyes.
Of course, shopping the house assumes you've been collecting items over time. If you haven't been collecting frames and mirrors or other interesting items for your home, you might want to start collecting things you love. It takes time if you are on a budget but the process is fun! I have a great shopping tip for you at the bottom of this post!
Question: How did I lay it all out?
Answer:  One the floor first, but then basically made it up as we went up the stairs.
First, my daughter and I put everything we wanted to use on the floor and kind of laid out a basic pattern that we thought would work. Then we started at the stair landing and just nailed stuff up. We didn't use any templates or any tricks or fancy measuring techniques because we like to live on the edge of risk and danger. Actually, we are just terrible with math.
We just kept working our way up the wall hammering nails and hanging pictures in small sections, adjusting as we went until things looked OK! It isn't perfect but we are totally fine with that.
Question: How do you build up a collection for a gallery wall?
Answer: One piece at a time.
Do you like to mix things up at your house or does that concept scare you a little bit?