So, it finally happened. YAHOO! I took out some paint and a brush and painted my front door. Oh yes, FINALLY, I did it! It actually only took about an hour for this front door makeover. But HOW LONG did I procrastinate because I couldn't decide what color and then the weather would turn cold and rainy and another season would go by without my front door painted blah blah blah excuses excuses? SIGH. Um, well, eeeeesh yeah it was a long time.
I'm not done with the door, so I'm just calling this progress rather than the after. I still have another coat, and lots of trim around the door to finish it up and make it look more amazing, but at least I took a first step, right? My husband will not be happy with me for showing pictures of it not done and kind of messy, but that's how I roll.
In blogland the illusion is sometimes things seem to go from before to awesome afters in the blink of an eye, but at my house it is before to some progress — and it takes a long time. Afters are kinda hard to get to so I just really try to embrace progress.
I'm happy to have taken a STEP! I just REALLY didn't want to face another winter with my door a little less than cheery and ready for holiday decor so I said to myself, "Self, you can do this one step." And I did. I painted it WYTHE BLUE by Benjamin Moore!
Let's take a quick peek at what it has looked like for the past couple of years, shall we?
So, nice door but just needed a little freshening up. It had been sanded a long time ago and that was as far as we got!
How did I finally choose the color? Well, I realized there was a lovely shade of blue in my new rug, which is just inside the front door in our former living room turned gathering space. I love getting a nice flow and connection with colors throughout my house and right now I am using many shades of grays and blues to tie everything together, so it just seemed right to go with a shade of blue! I have lots of maps and artwork with beautiful shades of blue as well so that color just POPS out now that it greets you at the front door too! And then on the outside we have grayish stonework on the front of our house that looks great with shades of blue too, so it all seemed to make sense.
So after a quick look for a good match in my blue paint options, I decided the famed Wythe Blue was already a favorite, so it was a no brainer. You can have any color matched in whatever brand of paint you like. This lovely shade graces my favorite front door ever. so that certainly inspired me! I also came to the conclusion that I wanted a color that I would love in all seasons, and this blue will look pretty with fall, Christmas, spring and summer decor so I am thinking it was a good choice for me!
Let's see the side by side comparison of the door before, and the door how it is today!
So, there you go.
A little bit fresher, doncha think?
COLOR: WYTHE BLUE, BENJAMIN MOORE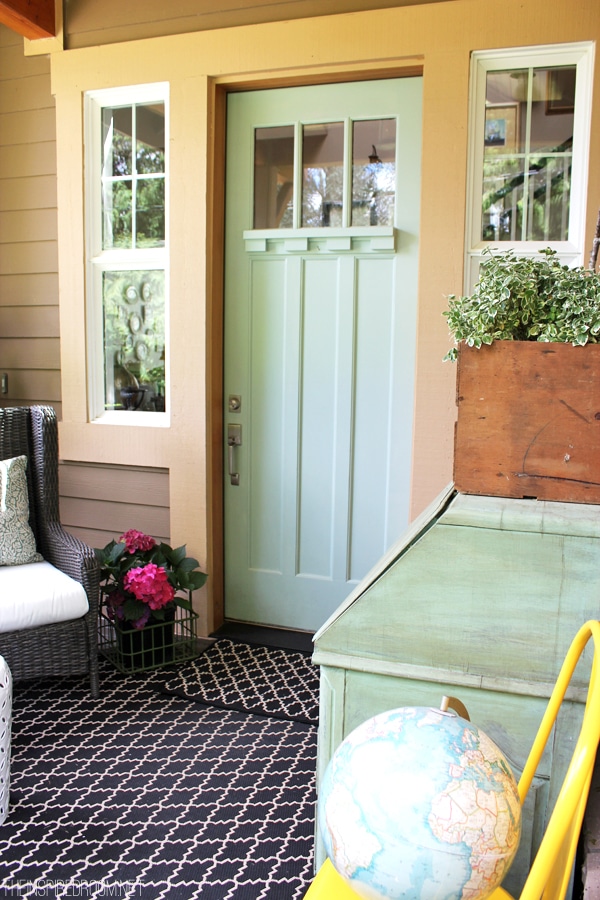 *Updated photo above!*
Need some front door color inspiration? Here is a round up of front door colors!