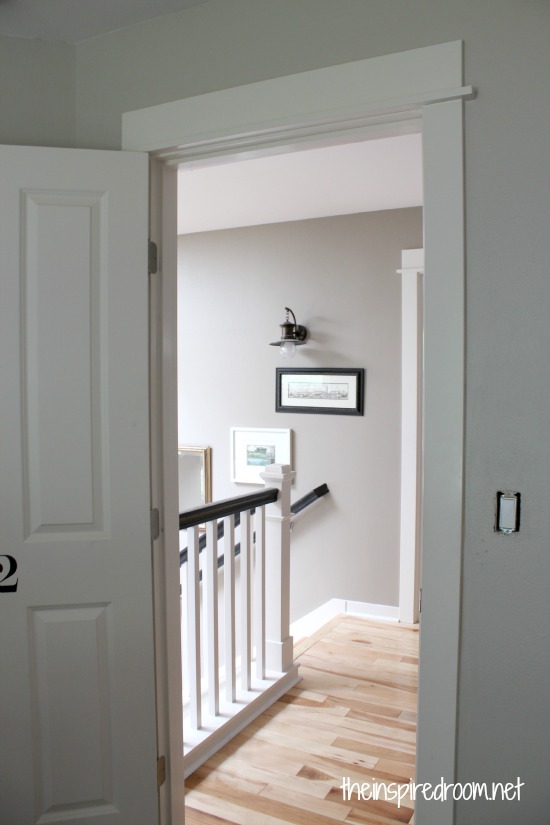 Creating Visual Flow Room to Room
Ilove when rooms flow, as in when you can be in one room and look through it to a hall or another room and you aren't jarred by something that looks wrong or undone. I don't mean my home has to be perfect, but having a flow from room to room gives my home a certain feeling of peace that is really important to me. Even though we've been painting rooms at our house for the past couple of years, FINALLY we are starting to see glimmers of that flow I've been wanting. Granted, I still have quite a ways to go in furnishing my rooms the way I want. All in due time, right?
Just being able to look from my bedroom, for instance, to the hall, to my daughter's room and see that colors are starting to feel pleasing together (good-bye, swine) and seeing the wood floors connecting the rooms instead of the carpet I didn't like… OH MY HEART just does a little happy jig at how pretty it is turning out.
Foundational elements like walls and flooring really make such a difference in how a house feels! Once you get those things right, other elements start to fall into place.
The picture above is from my middle daughter Courtney's room looking out to our stairway and upstairs hall. She just painted her room this weekend (another swine room DOWN!). Courtney's room is now the same color as the hall, which is Studio Taupe, BUT lightened with roughly 2 parts white and one part Studio Taupe.  It's a bit hard to tell in the picture above, but her room is quite a bit lighter than the hall. We are really happy with how the color turned out! You can see the color variation a bit better in the picture below.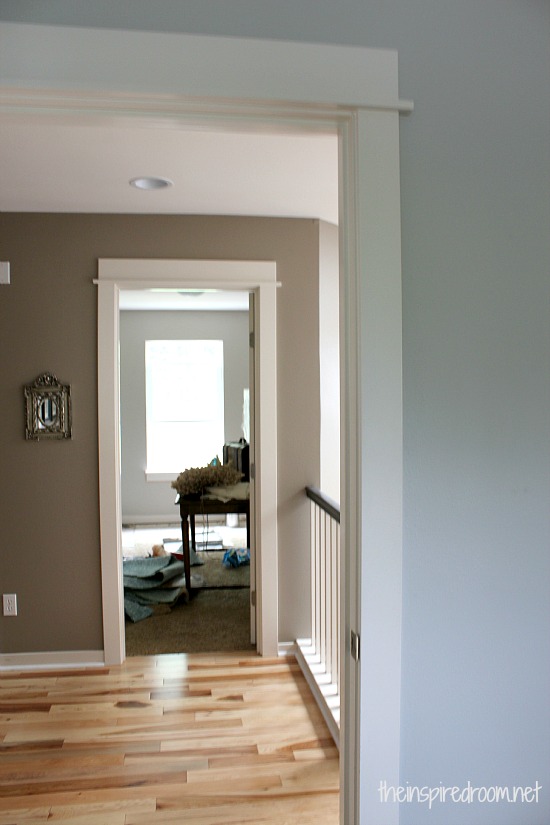 PAINT TIP: By taking a darker paint color used in one room and adding white, you can create a new complementary color which can create a nice flow to an adjoining room without changing paint. In our case we mixed the exact same paint brand and sheen of paint (satin) to ensure the paint went on smoothly and evenly when mixed together. 
This picture, above, is looking from our bedroom, which is kind of a blue-gray (Glidden Wood Smoke, lightened) to the hall into my daughter's room. Wood Smoke, lightened, is not the same as Studio Taupe, but it is a really nice soft gray with a bit of blue. I really like the variation from the brown based gray to the blue based gray. I'll have more pictures of my bedroom progress in an upcoming post, but I am really happy with the color.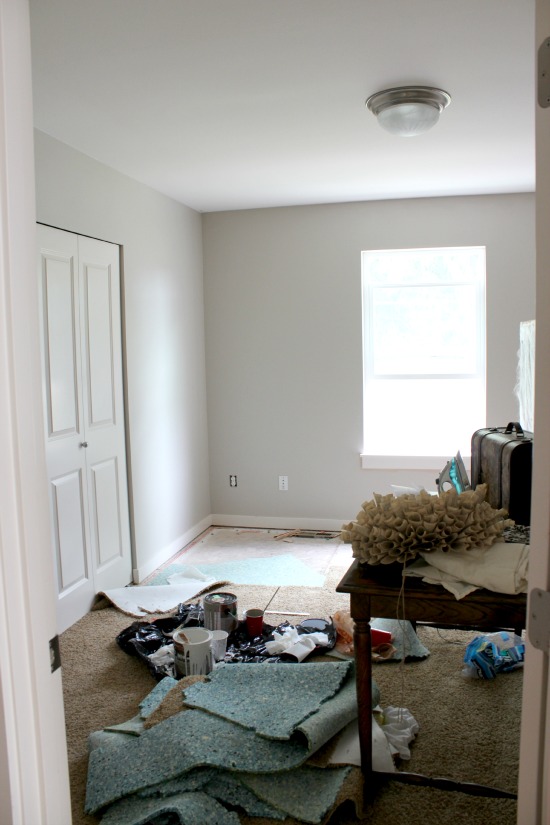 On Monday we are having this room measured for new cute but affordable carpet and I'm super excited about that too because it will finally complete the flow of the rooms at the top of our stairs. Plus, by redoing this bedroom we are making way for our new sectional in another room. Long story (sheesh, I'm trying to keep this short), but my daughter has switched bedrooms TWICE since we've lived here and she is moving back into her original room so we can use the bigger bedroom for an upstairs family TV space and hangout room for our son and his friends.
As a side note and decorating tip, I don't think all the rooms in a house need to "match" in order to flow. I happen to like a little more variety at my house, so while using all one paint color or intensity of color throughout would be simple (or sticking with all white) and would definitely create a nice flow, I find I get a little bored unless there are some creative surprises as I walk through my home. I like the variations from subtle color changes to a few dramatic changes (such as the more vibrant blue color of my office).
Good visual flow can be achieved in connecting rooms (even rooms painted different colors!) with well-placed accessories, furniture choices, and fabrics too. I suppose I can talk about that more when I start getting furniture and accessories set up again! We are getting closer to that phase of our redecorating season and I can't wait!
Do you like your house to flow from room to room?

How do you achieve that flow, do you like rooms to be all the same color or do you mix things up a bit?