In my crazy redesign frenzy of late, I came to the conclusion that we needed a new sofa. HA! But not just any sofa. I'm kind of picky. For starters, we need (well, I suppose this is actually categorized as a want) a sectional. Ah, that very thought sends me in a bit of tizzy because it is a big deal to get a new sofa!
And wanting a sectional just adds a dozen more choices and measurements to the mix. It isn't something you want to be hasty about bringing into your home,. My head has been spinning just thinking about it all! But, that is the season we are in right now with our house undergoing a little reorganization and metamorphosis. Decisions need to be made!
We've had three sofas in our married life, each has had its pluses and minuses.
MY PREVIOUS SOFA EXPERIENCES
Our current sofa, the Pottery Barn Basic with white slipcovers, was a happy Craigslist find quite a few years ago. I searched regularly for Pottery Barn furniture and was the first to call when this sofa came up! It has held up great in spite of it being "used" when we got it and now subject to Jack's daily destruction and antics. The down-filled back cushions are quite floppy and sloppy looking now, but I might have them refilled at some point.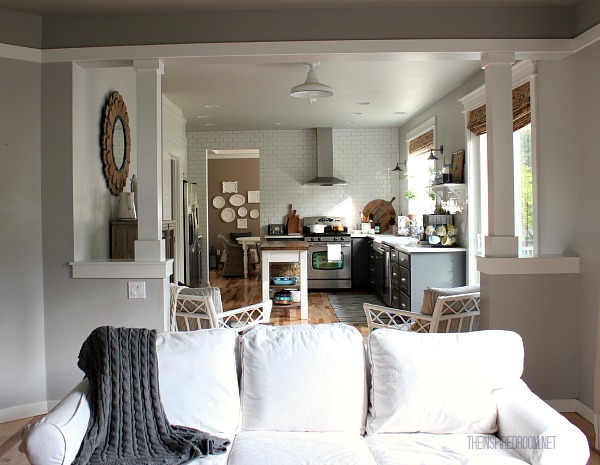 I eventually bought a new slipcover from Pottery Barn (they were a floor sample but still brand new) and it has lasted through bazillions of washings, so that is a big plus too! Yes, they do require regular washing and they can look pretty shabby in between, this is true. But I've grown to appreciate the washability of slipcovers even more since we've had Jack. 
At least I know I can whip the slipcovers off and have them fresh and clean again in a jiffy!
You can find the truth about my slipcover experiences (pre-Jack) and tips here. We are going to keep this PB sofa in spite of the issues with white slipcovers because overall it has worked well for us in our family room, even with Jack. We might actually get a new slipcover for it in something other than white. We'll see. ***Update: We have decided to make some changes with our white slipcovered couch. See my post here sharing my experience of having a white slipcovered sofa with dogs!
Our well-loved and rather expensive first sofa was a Thomasville Country Inns and Backroads love seat. I adored it's English Country style back in the day (the 1990's). While the upholstery is dated, I covered it at times with white ready-made slipcovers or just added tons of pillows to somewhat disguise it. It has been in our home for probably 19 years or so, so it lasted a good long time. It is a classic shape so it could easily be slipcovered and still look great if I had a need for it.
While the down cushions became flat and in need of refilling, the structure held up great through a half dozen moves, three kids and two dogs. The dark upholstery was a bit of an issue from the beginning, though. My kids would catch a cold when they were toddlers and then would bury their faces in the comfy sofa. Before I could stop them, they would wipe their noses right on the sofa. I could never really get those slimey snot smears clean. Glistening snot smears on a dark forest green sofa was really not OK with me.
TMI? Ha! Now you know why I'm a slipcover fan. Machine washable is good!
Before the Pottery Barn sofa and after the Thomasville one, we bought a leather sofa for our family room at an antique reproduction store. I don't seem to have a picture of it, but I loved the look and "realness" of leather and my husband loved the manliness of it (and Ralph Lauren was always a favorite of mine!). What I didn't like that I couldn't keep pillows or blankets from sliding off. Drove me nuts to see my pillows on the floor or slipping down all the time. I like versatility in decor and not being able to add throw pillows was slightly frustrating to me. And I didn't like that leather was cold when you first sat down.
Picky much? HAA. Yes I kind of am.
THE SEARCH FOR A NEW SOFA
In this season of reorganizing how we use our home, I had another room re-purposing idea! LIGHTBULB MOMENT! And it was brilliant. And it involved another new sofa, but this time a sectional as the foundational piece of furniture that will make this new space work for us. Thus, our first experience in shopping for a sectional!
So where are we putting a sectional and why are we getting one?
While I won't take time today to explain the all details as this is already going to be a long post, suffice it to say we'll be repurposing a little used bedroom. We want a space for our son and his friends to hang out to play video games and watch movies and just hang out in our home.
We are big believers in giving kids a comfortable space for friends (if you have it available!) so they'll WANT to bring their friends home and hang out at home. It worked wonderfully with our girls through their teen years and we want the same for our pre-teen boy. Plus, we'd like to host more family parties at our home and having a secondary hangout for kids (or the guys, as the case may be!) is a real plus. Fortunately we do have the space available with just a little bit of repurposing.
We decided that the key to the success and function of this new space is going to be the sectional.
Even though the room is not that big, a sectional should work great in the room. Too many pieces of furniture can look awkward and crowded in a small space. I'm really trying to get rid of stuff lately so being able to seat more with less pieces in a room excites me. A sectional would not only maximize the available seating and floor space but it would set the purpose of the room, which of course will be all about comfort and entertainment!
What were our main qualifications in choosing a sofa?
We wanted a sofa that feels like a COZY blanket (heh, yes, those were our exact terms), in a modern style but still a traditional shape (nothing that would look too trendy or too dated in a few years) and is comfortable for several people to sit or even lay down on. We wanted a solid velvety feeling solid neutral performance fabric that was easy to clean but that we could dress up and change the look of with pillows. Since it is in an upstairs family room, the style of it wasn't actually as important to me as the function and comfort. We also wanted a pull out bed for sleepovers and for when we have extra guests. Affordability was also huge on our list of considerations.
Right about the time I was researching my options for a new sofa, I got an email from La-Z Boy wondering if I might like to review a sectional. At first I didn't think I was interested because I don't really do many product reviews (unless they are awesome, of course!). I am so picky about most of my furniture I wasn't about to say yes to something I really didn't like, even if they sent it to me free of charge. Free isn't worth the hassle if you hate it, right?
Eventually I looked up La-Z Boy online and found that they had some great styles and lots of fabrics to choose from. When I realized there was a La-Z Boy store in my area I popped in and talked to a really nice salesman there. Ok, so I grilled him and took over the store for an hour or more sitting on all the furniture and asking questions.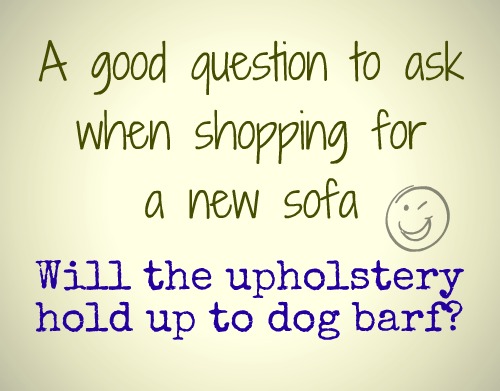 What types of questions did I ask about the sofa?
In purchasing our first sofa, the Thomasville, I asked all the expected intelligent furniture shopper questions about frames and construction of the springs, like Is it 8 way hand-tied? They were good questions. But this time around I remembered Consumer Reports saying that question was not as relevant any more.
Disregard the term "eight-way hand-tied springs." It's no longer synonymous with comfort or high quality. Other types of springs–coil, cone, S-shaped, and grid–can be just fine; they mainly influence how comfortable the sofa feels to you.
So, instead, I dove right in to more practical everyday concerns. Like, "What would happen to the fabric if a dog barfs on it?" Or, "What if a toddler wiped his nose on a cushion?" You know, day to day issues when you have kids and pets. Sorry to have to bring that up particularly if you are not a mom or an animal owner, but trust me, it is important to know. Questions I didn't think to ask before we had kids and dogs destroy sofas.
To figure out what to ask before you buy, think about how your family lives and how your sofa might be affected. Then ask the common everyday "what if" questions that might apply to your family now or in the future. Knowing about the construction is helpful as you evaluate what sofa is right for your family circumstances and budget. Be sure to ask about the warranty, as well as the option of fabric protection. And of course, ask yourself if you will still love this sofa style and the fabric in several years. If you decide on a more trendy shape or fabric, are you OK with it feeling dated before the sofa will wear out?
By the way, our salesperson was kind enough to assure me even dog barf would not destroy my choice of fabric.
That was a big relief.
My salesperson patiently waited as I sat in every sofa. I analyzed their shapes and measurements. I considered regular sofas and chairs and sectionals too. I touched and stared at every single fabric and leather sample. I carried fabric samples around to see them in different light. When I found a fabric and accent pillow fabric I really liked, I brought it home and rubbed it all over Jack's fur to test for the likelihood of it attracting dog fur.  I ran water on it to see what would happen when liquid was spilled on it. I visited the store several times in a two week period of time. I wanted to be SURE this sofa was worth trying!
So did I order the sectional? YES!
When it passed all my critical and highly scientific tests and questions, I decided a La-Z Boy Collins sectional would be worth bringing home to meet my family! You can see a sneak peek of the accent pillow fabric I chose in the photo above (the one with the round medallions)! The sofa fabric is a solid neutral. I'm really excited about having a designated kid zone family space that can still look put together and pretty.
I'll be sure and let you see it when it arrives! And I'll definitely share what I think of it and how it works out for us. And of course you'll get to see my upstairs family room transformation!
*Update: above is the sectional I ended up choosing! See my post when I got it here, and when I added ambience with wall sconces here.
What are your top considerations when you are looking for a sofa? Do you have questions you like to ask before buying?
 La-Z Boy is providing me a sofa but my opinions and experience with it are my own.
*Related Posts: 
The Truth About White Slipcovers Part 1
The Truth About White Slipcovers Part 2 (Pet Edition)
Click here to shop my house and latest furniture and decor finds
(and shop my favorites by category!)
Check out my bestselling decorating and organizing books here!