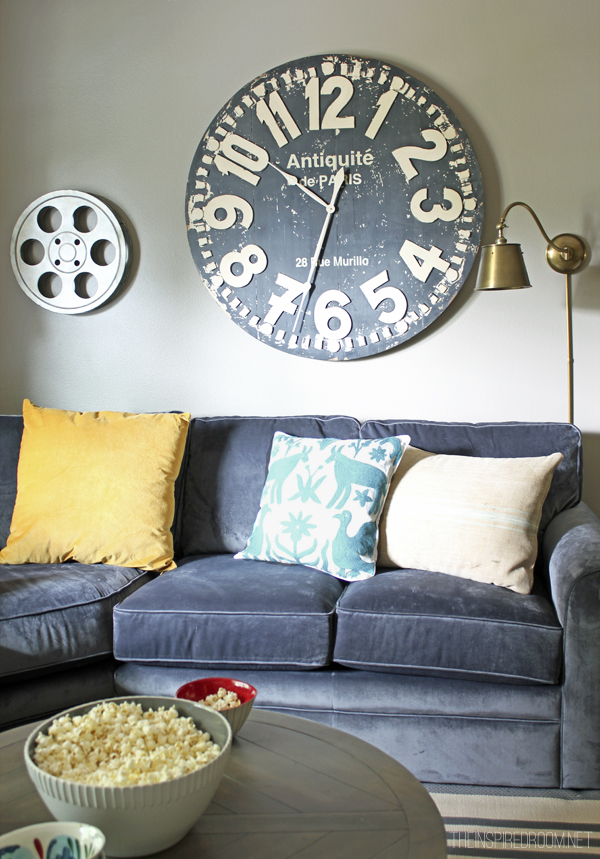 Lighting & cable knit throw blanket courtesy of Pottery Barn
You all probably know by now that I love cute lights. And of course, I LOVE fall nesting :-) One of the ways I like to add charm and personality to my house is through light fixtures. Lighting makes SUCH a huge difference in how a room looks and feels, especially in the Fall and winter months when you want to snuggle in on the sofa with a good book — the lighting needs to be just right.
Our media room is upstairs. I call it "the media room" because that makes it sound fancy even though we just have a normal TV. Actually we call it that just to distinguish it from our family room, which is downstairs connected to the kitchen. Our family room does not have a TV, just a cozy fireplace.
But this room is where we watch movies together, read, fold laundry and my son plays games video games. I didn't take a photo of the other side of the room because I haven't done anything to that side yet.. Heheh. I've got plans for  it though, so I will update on it when I can.  Meanwhile, let's talk about the new lights!
The lighting in this room was horrible. There is one window and a center light in the middle of the room and that is IT. Never ever have a room with only a center light, unless maybe you are lucky enough to have amazing windows all around the room. But even so, at night, you'll have dark corners unless you have more lighting.
The sectional takes up pretty much all the available space in the room so there was not enough space for end tables or lamps.
But without ambient lighting around the room, it didn't feel as cozy as I wanted it to.
So what was my solution?
With Fall nesting in full swing, I have been dreaming of wall sconces around the room as perfect mood lighting for snuggling up on the sofa all winter long. Since there were no existing sconces, adding wired in lamps was going to get expensive since we wanted THREE of them. The next best option was to find plug in lamps, which is sometimes easier said than done.
I wanted swing arm lights that I could move side to side to bring the best light for reading. So, I was SUPER excited to find these Pottery Barn Walker Sconces. They had the beautiful warm finish and library look I wanted, they could swing back and forth AND they were plug-ins, so all we had to do was measure and hang!
I think they were the perfect Fall addition to our room — it feels SO much more cozy and welcoming! And with the addition of a new cable knit throw (also from Pottery Barn) we are ready for SNUGGLING!
If you missed the previous with the details about my sectional, click here, and see my guide for choosing a new sofa here.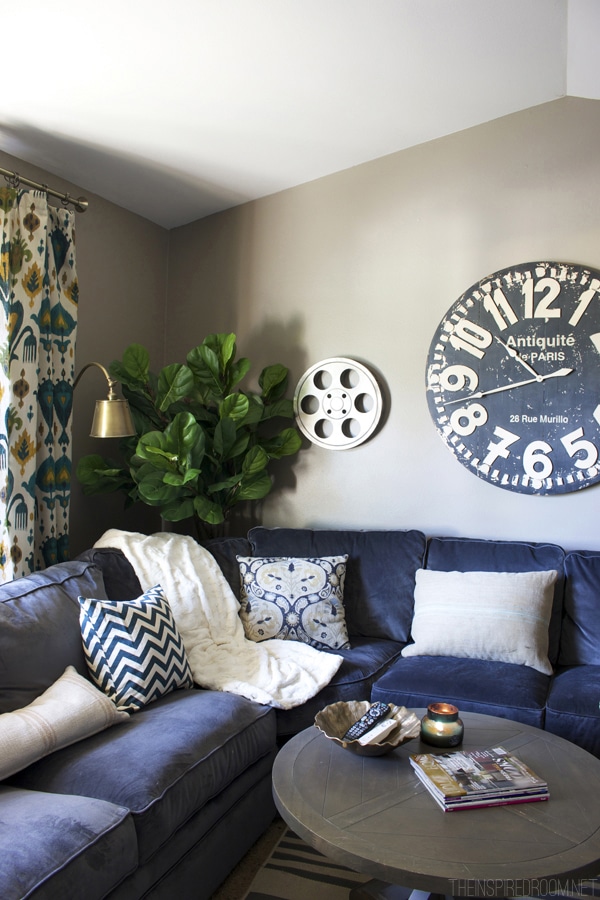 Update: Here is our media room as seen in our 2014 Fall House Tour!

Are there any rooms in your house that could be cozier with wall lights?
31 Days of Falling for Fall:
Day One
Day Two
Day Three
Day Four
Day Five
Day Six
Day Seven
Day Eight
Day Nine
Join the Party