One of my most favorite things about Fall, besides wearing boots and sweaters, is drinking a cup of coffee in the morning by the fire.
It's my Fall Nesting morning ritual.
But to really make the whole experience more special, I have a hot drink station set up in my kitchen with my favorite mugs and tasty coffees, teas and fun syrups for flavoring.
I love my coffee maker, but you don't have to have a fancy machine. Just fancy cups!
Making coffee in the morning is a little treat I give myself.
I especially look forward to it on those chilly mornings so I can wrap my cold hands around the mug and warm up inside!
What is it about pretty mugs that make drinks so much more delicious?
But the best part about coffee in a pretty mug?
It makes it challenging to rush around in the morning.
You want to hold on to a pretty mug carefully.
Sip more slowly. Linger.
Pretty mugs change everything about the day.
I got most of these mugs at Anthropologie, but I've seen some real cute ones at World Market too. I got the cup drying rack at World Market, and also the blue lidded jars. The little espresso cups came from JC Penney. You could use a basket to gather items in your station, or set things up on a shelf. Whatever you can find to make it cute!
Not only is having a pretty hot drink station an invitation for lingering on cozy Fall mornings by the fire, but it is fun when you have girlfriends over.
The first thing friends will want to do is pick out a pretty mug for their own coffee!
Now you've spread the Fall nesting love through your coffee station, and everyone is happy.
Yep. Pretty mugs and coffee stations are a Fall Nesting must-have.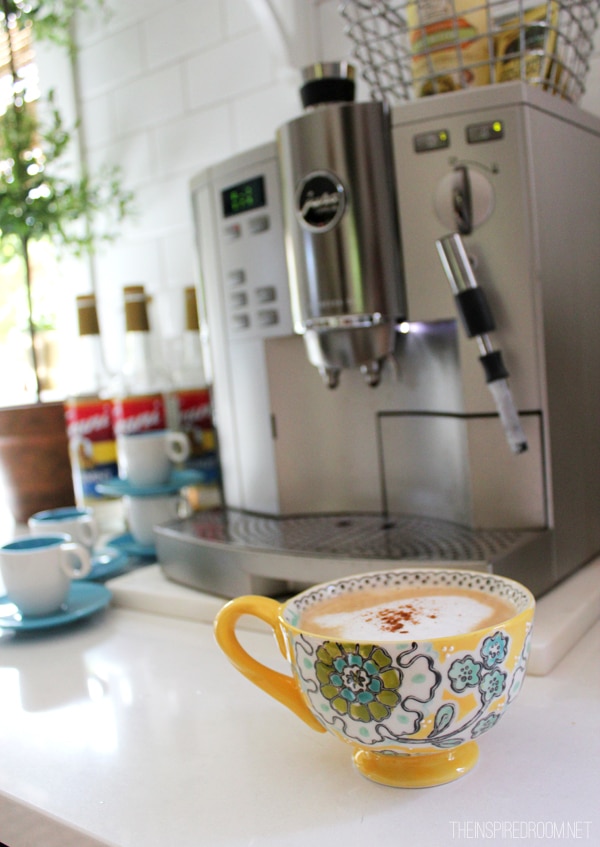 Related Posts:
How to Make Your Own Coffee Station!
My Kitchen Sources and Other Details
31 Days of Fall Nesting:
Day One
Day Two
Day Three
Day Four
Day Five