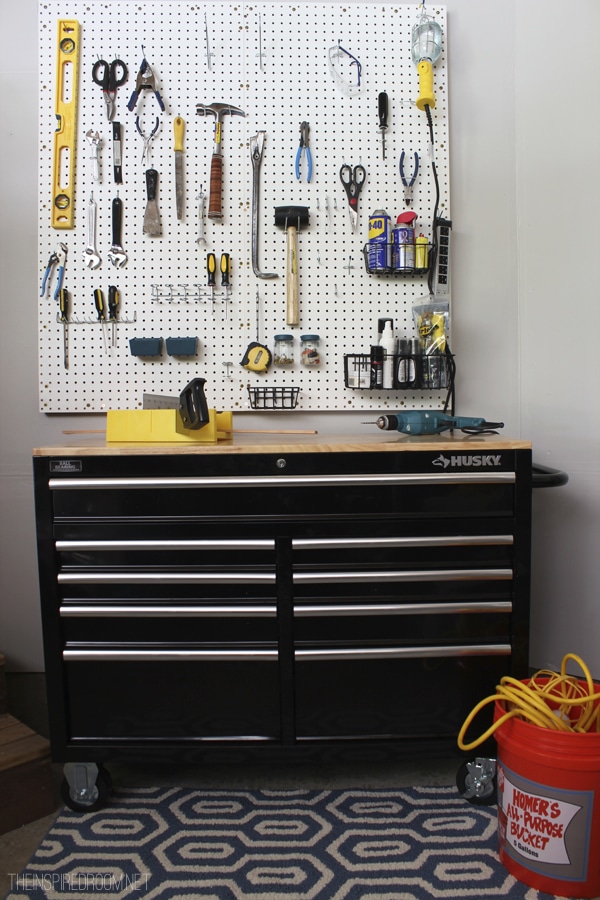 This Fall Garage Enhancement project was in partnership with the The Home Depot*

Do you have a space in your house to organize your tools for home projects this Fall and Winter? Every Fall I tell myself the same thing. Self? You should clear out space in the garage and organize your home project tools before winter. But then I ignore myself EVERY year and don't do it. And then I regret it all winter. But this time, I was determined to get my act together and stop procrastinating.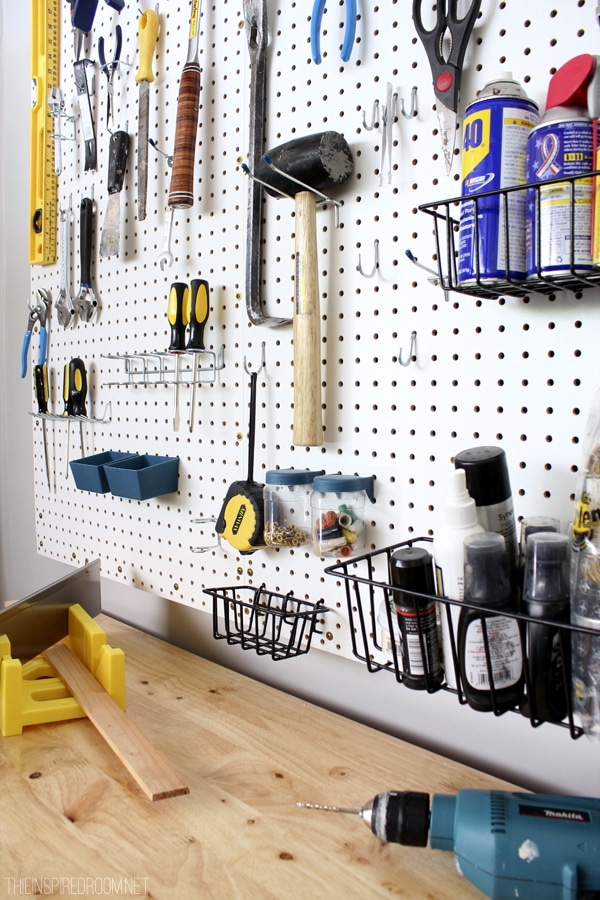 I was SO tired of risking life and limb to climb over stuff in our garage all winter to get to our fancy tool box (a.k.a. a cardboard box.) Honestly, who keeps their tools in a CARDBOARD BOX? SO embarrassing and inefficient.
I really wanted to get my WHOLE garage organized this summer, but since it was already September (and I was heading out of town for half the month) I lowered my expectations just a bit to at least organizing ONE CORNER. :-) I figured if we could at least get our tool area organized and functional I would enjoy my winter projects so much more this year.
So my daughter and I paid a visit to our local Home Depot in Poulsbo one evening last week in search of a simple solution to organize the tools.
The employees at The Home Depot were SO helpful. I described what I had in mind and they helped point us to this workbench. I loved that it had a beautiful wood top, industrial wheels, and drawers where we could store things. I also really liked that it was moveable, because once I clean out the whole garage (someday) I may decide to rearrange things a bit so it would give me flexibility in where it could be located.
The other thing I really wanted in this area was a large pegboard. I've always dreamed of having a pegboard with tools on it so I talked to an employee at The Home Depot about how I could make one. The next thing I knew he was offering to help me make a pegboard right there at the store. SCORE! He was SO awesome! And no, he did not know I was going to write about him or this project. Double score!
I wanted the pegboard to be pretty big, so I picked out two sections of white pegboard so it would be in total four foot by four foot. In order for the hooks to hang properly on the pegboard, it needs to be mounted a little bit out from the wall so a frame was built out of wood and the pegboard was screwed into the frame.
Instead of creating two smaller boards, they were joined together in the middle to make one large one.
The pegboard turned out beautifully. He even used fancy gold screws so it looks so nice! I was really pleased with how it turned out. Originally I was thinking about painting the pegboard with some sort of checkerboard or striped pattern, but when I saw how nice it looked white with the gold screws I decided I was happy with it as is.
When it was time to load up the tool bench and peg board into my car just before the store was closing, it became evident that pegboard wasn't going to fit with the tool bench! Oops! But the ever resourceful crew got it all secured on my roof rack so I could get everything home in one evening. Driving home was a little scary haha, but it stayed on the roof the whole time.
To hang the pegboard in our garage, we located the studs on the wall, drilled holes, and then used three inch screws to go right through the pegboard into the studs so it would be nice and sturdy. Our garage floors weren't really level but we did use a leveler for the pegboard so it would be hung straight.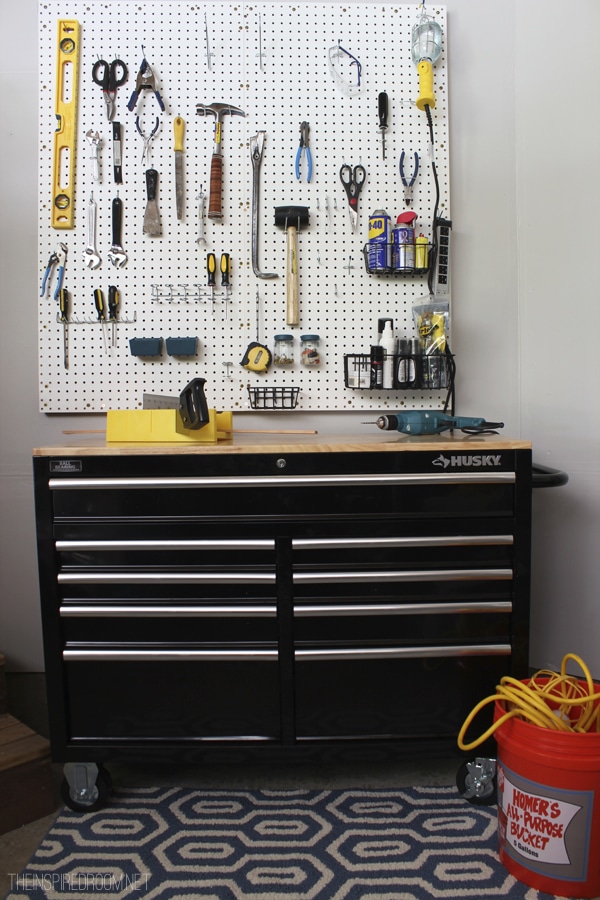 For the organizing part we just bought a starter pegboard organizer kit that came with various hooks and accessories for hanging things. We will probably tweak the system as we start to use it. I'm hoping this system will also mean we lose less tools :-).
I'm SO excited to have this area looking so much better and more organized! And I'm pretty proud of myself for finally tackling a project I've wanted to do ever since we moved in.
The rest of our garage is still embarrassingly full of stuff, but at least we have one corner ready to go for Fall projects!
Oh, I also got this nifty string of yellow work lights that I could hang up for better lighting for my projects.
Every girl should have yellow string work lights in her garage, right?
So do you have an area where you organize tools for Fall and Winter projects?
31 Days of Fall Nesting:
31 Days of Fall Nesting:
Day One
Day Two
Day Three
Day Four
Day Five
Day Six
*I acknowledge that The Home Depot is partnering with me to participate in this Garage Enhancement Project. As a part of the Garage Enhancement Project, I am receiving compensation in the form of cash and gift cards, for the purpose of promoting this project and The Home Depot. All expressed opinions and experiences are my own words. My post complies with the Word Of Mouth Marketing Association (WOMMA) Ethics Code and applicable Federal Trade Commission guidelines.