UPDATE: Summer 2014: I've received quite a few questions recently about my La-Z-Boy sectional and how it's holding up with our pups and family. I'm happy to say two years later that it's been a dream! The dogs try to destroy it on a regular basis and so far, they have been unsuccessful! We love snuggling up on it in the evenings, it feels so luxurious and everyone has room to spread out. Clean up is so easy I don't worry if anything gets spilled! I'm very happy with our choice! Click here for an updated post about the media room progress after we added brass sconces.
So, back in the dark ages I talked about making the decision to create a "media room" out of one of our little used bedrooms (aka storage rooms) on the second floor. It's high time we see how that project is coming along, right? We wanted a space where our son could invite friends over, where we could hang out together for movie nights with our family, where some chick flicks might happen with the girls. We wanted a big comfy sectional rather than multiple chairs and couches since the room is not really big. And we wanted it to be a space away from the hub of the house, which is our kitchen family room.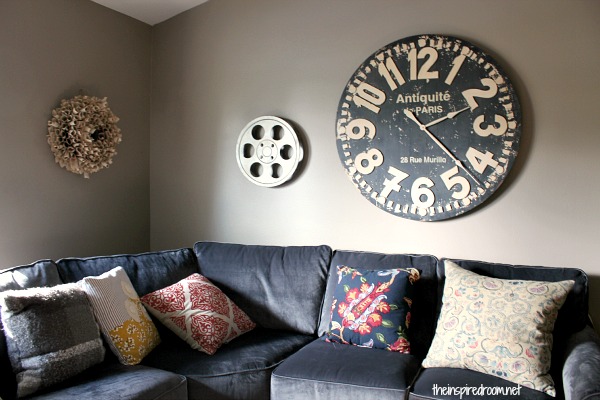 When La-Z Boy offered to send us a sectional of our choice, the timing was PERFECT so of course I jumped at the chance! Money doesn't grow on trees around here so FREE is always the right price for us. Knowing the sectional would arrive at our house this fall, we had a deadline to make enough room for it. Just the motivation we needed to get things rolling.
So, we began the process of clearing out the unwanted, the excess and reorganizing how we used our space upstairs. This room hasn't been a main focus for us, as we've been hard at work on 20 million other projects throughout our home. But, little by little we were able to make room for the new sofa.
This summer we decided on the La-Z Boy sofa we wanted. It is called the Collins and the fabric choice is # C982054. My daughter and I spent a lot of time in the showroom picking out a super cozy fabric that feels like VELVET! And, oh my, has it been exactly as we imagined! We wanted something soft. Something you can sink into and run your hands across and feel warm and comfy on. We wanted a durable fabric because this is a family space so we definitely steered clear of any fabric that was not labeled as such! We knew this gorgeous grayish navy  (changes with the light!) velvety feeling durable fabric was exactly what we wanted.
The white pillow with the gray medallion came with the sofa. It came with four of them! Score!
The rest of the wonderful pillows all came from Target or from our own stash.
I love pillows. I wanted plenty of pillows on the sofa so everyone will be super comfortable curling up and watching movies!
While we have a long way to go on accessories but we thought this gigantic clock and movie reel from Pier One are a good start to the feeling we are hoping to capture in this family media room.
Our plan is to get a few cube style ottomans so we can easily move them around, as well as give us access to the pull out bed!
Yep, we decided to make this room as practical as possible and ordered the sleeper version! It's a double but it will be perfect for the kids friends or extra guests.
We also want to add shades and curtains to our windows and an area rug to define our seating area. I'll be sharing more as we complete this room!
So far we really love the sofa and our experience has been great! Feeling pretty blessed to have it! It is the kind of sofa you curl up on and then you don't want to get up again. Ever. I'll keep you posted as it gets used more and will let you know how it holds up to family abuse. It isn't a room that Jack really goes in right now but I am sure he will want to join us too. He may not be allowed on it, we'll see. He may have to have his own corner with a blankie. We can't wait to put it to the test this winter, I think it will be the perfect nest for the long cold evenings ahead!
Oh, and keeping it real. There is the other side of the room where we didn't quite finish our decluttering. You might have seen this on Instagram or Facebook. Our plan is to clear out the rest of this corner, and move our flat screen TV in here above the desk. And then we can officially call this a "media room." I can't wait!
*Update – below is our media room currently, as seen in our 2014 Fall House Tour!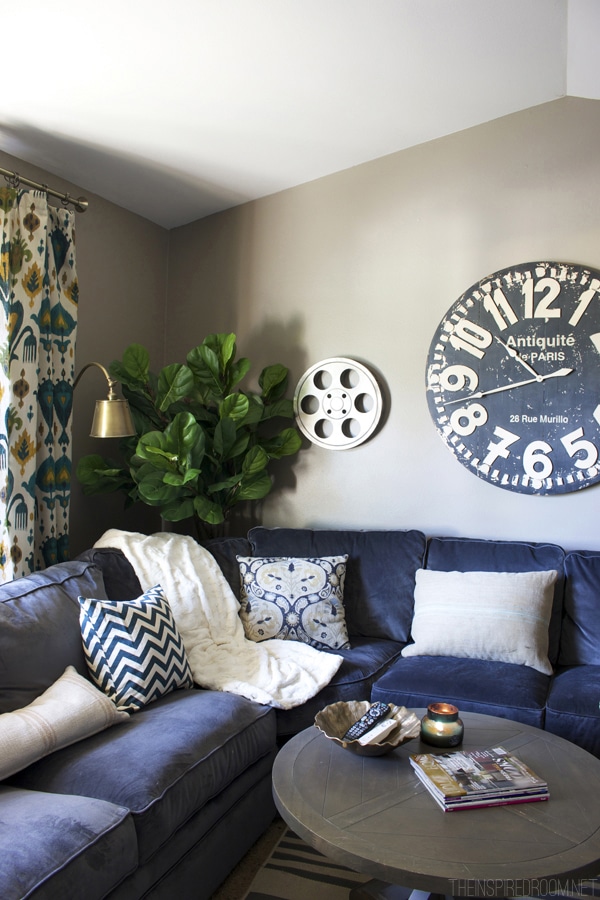 Do you have a cozy room for family nesting?
La-Z Boy provided me with this sectional for review. All opinions and experiences are my own.