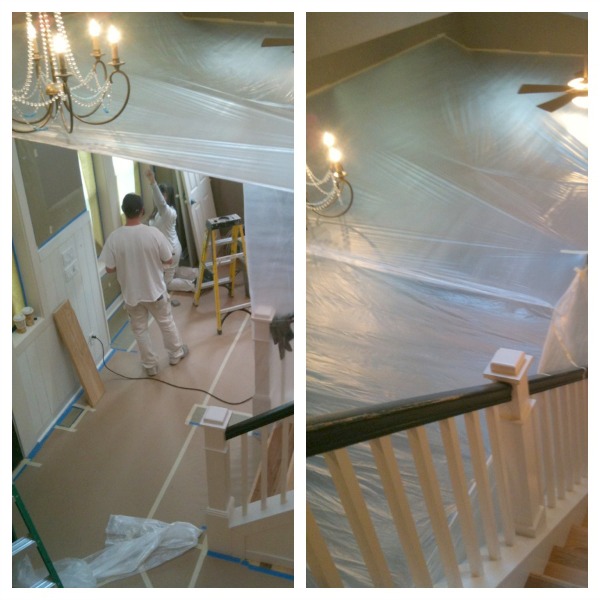 A a part of our home remodel projects at the end of last year (which included our kitchen remodel and new hardwood floors), we added some new trim work and wainscoting. We were excited to give our new house a little bit more charm and character and to cover up drywall with something a little more durable in the form of real wood tongue and groove wainscoting through a high traffic area in our entry and hall connecting to the kitchen.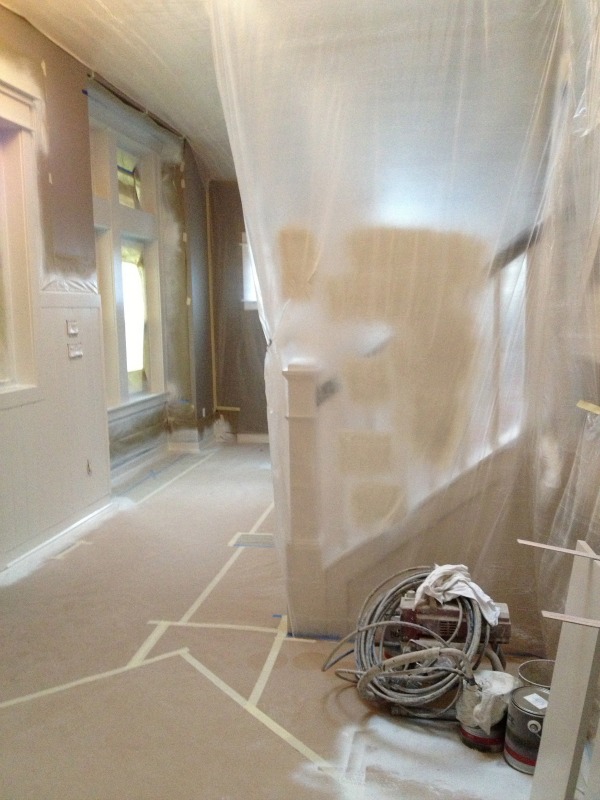 But since one project leads to another, you can't just add new woodwork without painting it. Well you could, but then you'd have another unfinished project and I have made it my goal in life to FINISH more things. While interior painting is obviously a project most people can do themselves, we decided to splurge a bit and hire professionals for this job.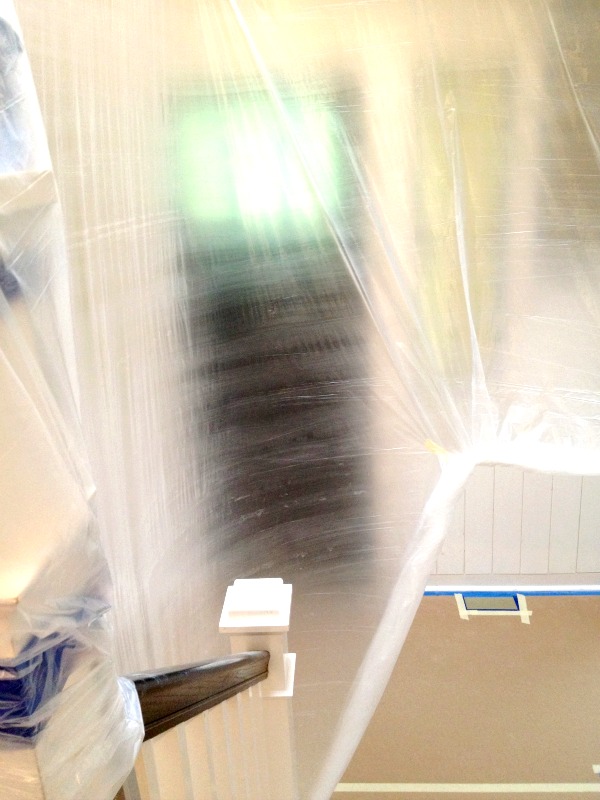 There were several reasons we opted for professional painters over doing it ourselves.
1. We are prone to painting accidents and mishaps.
2. Wood work is a bit tricky to paint. While we want our new woodwork to have the charm of yesteryear, we didn't want a less than beautiful paint job to drag our house down and make the house or our remodel look cheap. Old houses can handle a lot more imperfection and still be called charming. Newer houses can look pretty bad when projects or updates aren't done well. At least that is how I feel about it at our house.
3. We didn't have the time or patience or skill for doing a quality paint job ourselves. My husband doesn't love DIY projects or have the time for it, but he is a perfectionist when it comes to painting. I'm not a perfectionist when it comes to painting so hiring someone else to handle this project this was a marriage saving decision. 
4. We decided to have our woodwork sprayed on rather than brushed and that took this big job to a whole new level of preparation and skill. We have learned our limitations.
We chose spraying over brushing, to give the wood a smooth new looking finish since we have a newer house. I guess I wanted the best of both worlds, the charm of older style woodwork with the finish of new.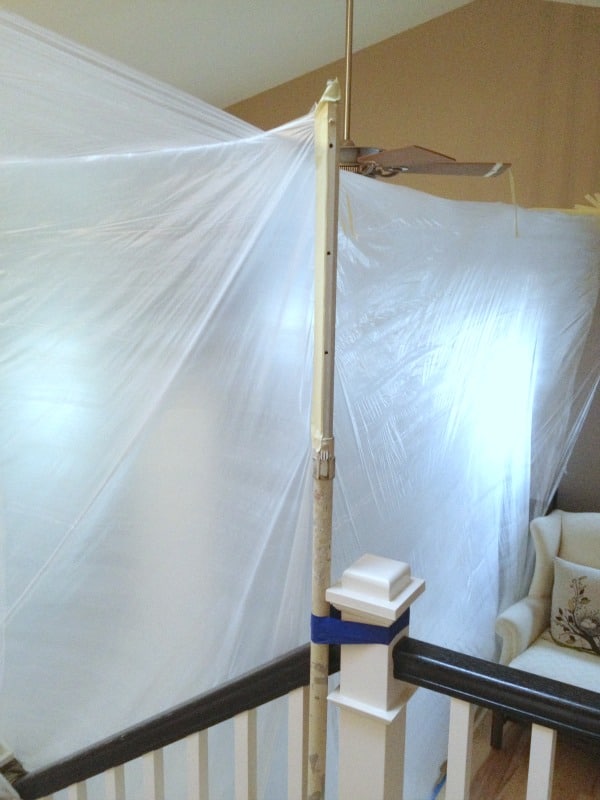 A project of this size requires a ton of preparation.
To get started, we had to move out all of our furniture (again, sigh). Fortunately we had space to move furniture into other rooms and didn't have to actually take furniture out of the house. But still, it is a pain in the rump to keep moving furniture.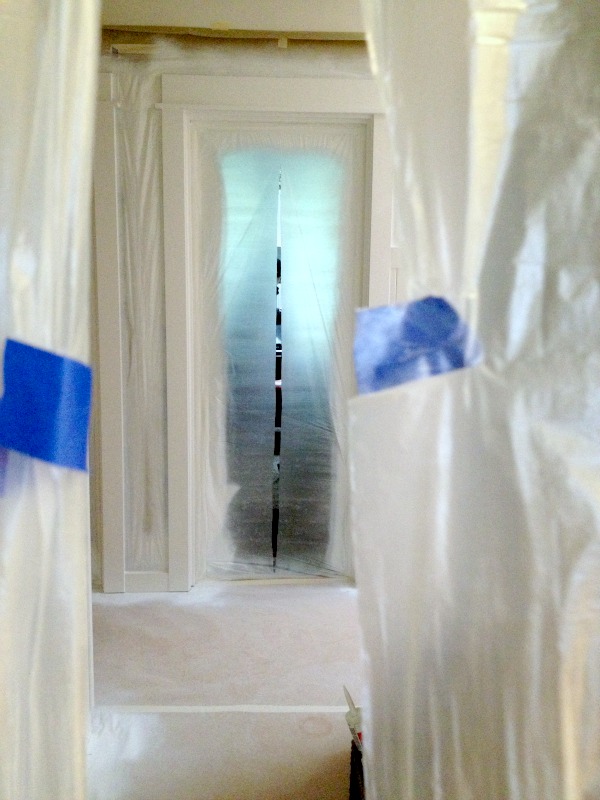 The painters made big tents out of  plastic, tape and even poles to basically create a "painting booth" for spraying in our living room and entry.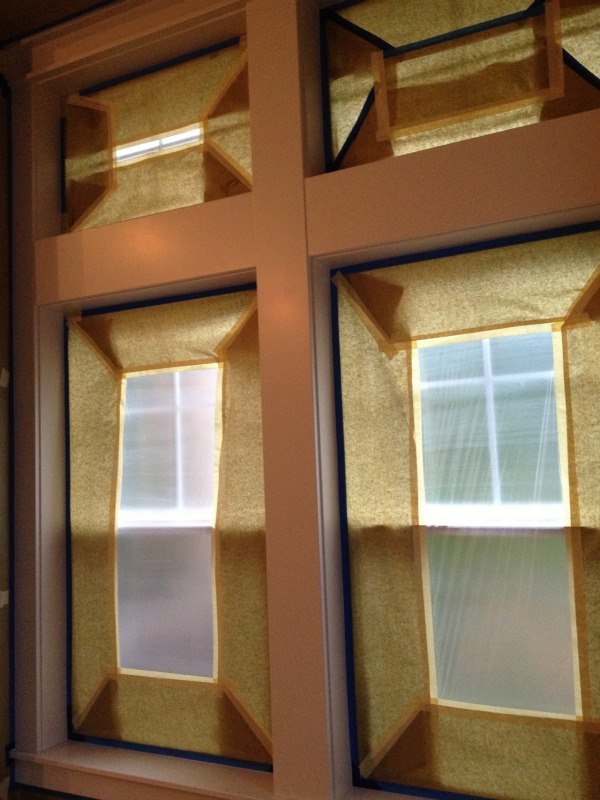 They covered the glass of the windows with paper so they can spray the trim without getting paint on the glass.
They also covered doorways with plastic and all of our lovely new floors and walls with paper and tape too, they aren't taking any chances of a mishap.
The painters also do a lot of caulking, sanding, sweeping and preparation BEFORE painting in order to ensure that everything is clean, smooth and ready for paint since so many things can negatively affect the quality of the finish.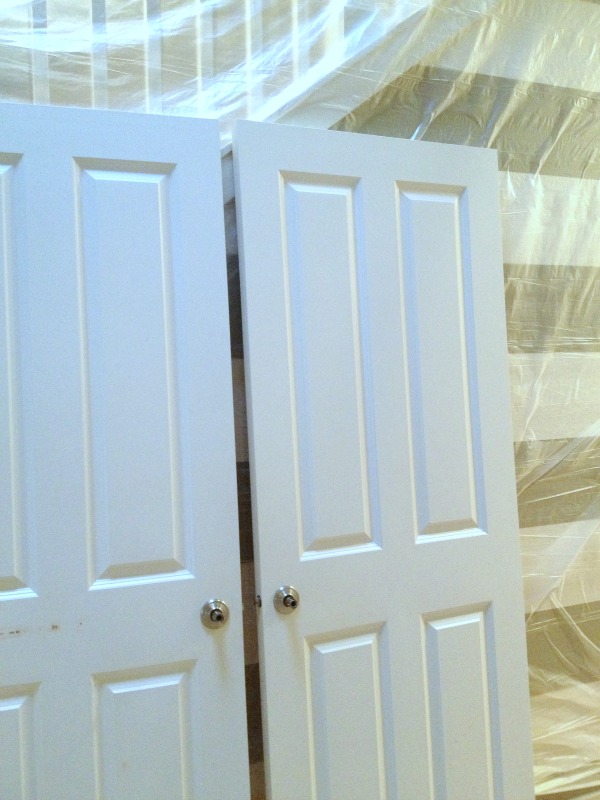 They removed the three interior doors they are going to paint (my hope is to someday put in more charming real wood doors instead of our "new house doors," but for now we are just freshening what we have with paint. All along I  intended to paint these doors gray, charcoal or even a color  to give them a little more personality, but decided for now to just stick with white for simplicity sake, until we can get new doors. This also made it easier for spraying since they could spray the doors along with the other white woodwork. Changing colors complicates things. Our front door will remain black on the inside.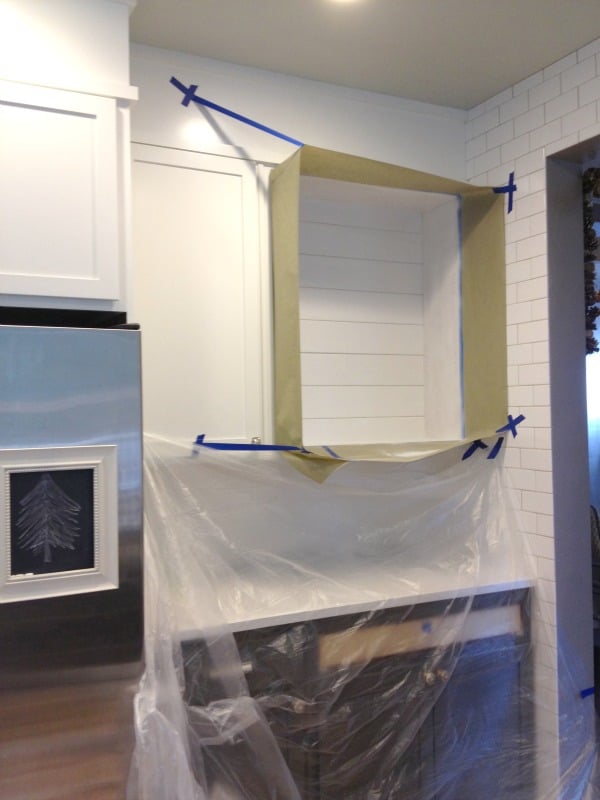 Once the trim is painted, we will need to be careful of it, both while it is drying and for the next couple of weeks as the paint cures. The painters also painted my open shelving in the kitchen, so we'll have to be careful there too to not set things on the paint until it is fully cured. So, basically the next couple of weeks we'll be being careful and then putting things away!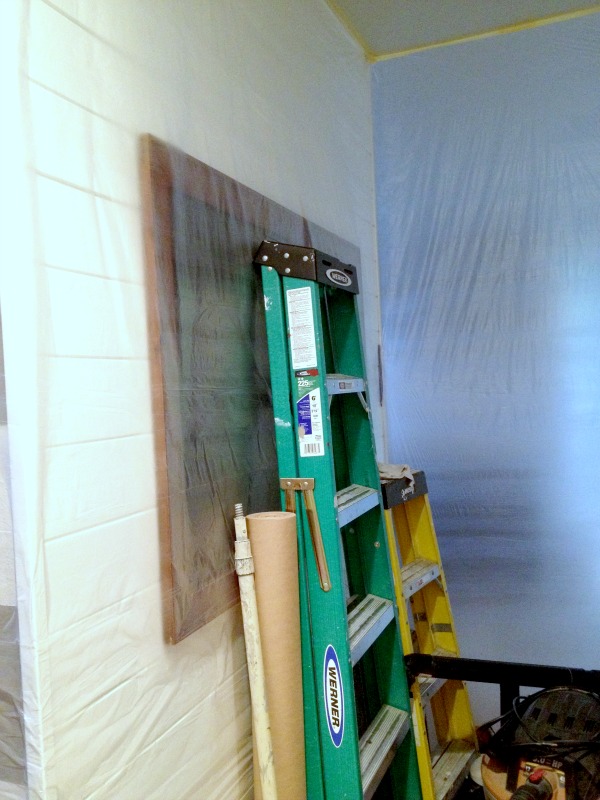 Then at that point I have great hopes we will be ready to get back to normal people life without being in the middle of so many messy remodeling projects! Of course, this certainly won't be the end of painting projects around our house. We have lots more trim to paint (someday down the road!).
 Have you tackled a big trim or woodwork painting project at your house? And more importantly, have you ever hired out a potential DIY job around the house as a marriage saving decision?